It is with sadness that NHF notes the passing of Retired Vice Admiral James H. Doyle, Jr., on February 23, 2018. Vice Admiral Doyle was a graduate of the United States Naval Academy and the George Washington School of Law. Over the course of his career he became an expert on maritime law and on military contracting. He will be missed by his shipmates as well as his family. The following interview was conducted in late 1996 and contains a special focus on  the pivotal role Vice Admiral Doyle played in the negotiations surrounding the U.S. – Soviet Incidents at Sea Agreement in 1971.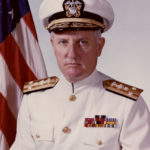 November 18, 1996
WINKLER: This is Dave Winkler with Retired Vice Admiral James H. Doyle, Jr. and we're going to be discussing his early years this morning, and talk a little bit about his father.  
            Sir, if you can start out, talk about your youth. I understand you come from a Navy family. If you could talk about your growing up and some of the places you were and perhaps the influence of your father and your eventual decision to join the Navy.
DOYLE: All right. I'm James Henry Doyle, Jr., born in Medford, Massachusetts, on March 27, 1925, the eldest son of James and Eleanor Doyle.  The reason I was born in Medford is interesting. My father was a career naval officer and his ship happened to be in the Boston Naval Shipyard for repairs. So although I was born in Medford, it was strictly by chance. I did not grow up there.
As a typical Navy family, we moved around a great deal and lived in many places: Panama, the Philippines, San Diego, Hawaii, Norfolk, Berkeley, and Washington, D.C.. My father left his hometown of Jamaica, New York and entered the Naval Academy in 1916. He graduated in 1919 (class of 1920), a three-year class during the World War I years. After duty at sea, he attended law school at George Washington University, under the Navy's postgraduate program and graduated in 1929. My father's subsequent Navy career included duties both as a line officer and a Navy lawyer. My mother was Eleanor Ruth Fields from Passaic, New Jersey.
In any event, I spent my early years at schools in San Diego and Washington, D.C.  Then in 1937, my father was assigned duty in the Philippines as the legal aide and flag lieutenant to the Commandant of the Sixteenth Naval District, headquartered at Cavite on Manila Bay. I remember that tour of duty very well because I was in junior high and high school and took a bus each morning from Sangley Point, where we lived, to the American school in Manila.
While we were in the Philippines, my brother, who is fourteen years younger than I am, was born in 1939. He is now a successful practicing attorney in San Francisco.
WINKLER: Did he ever join the Navy?
DOYLE: He did not join the Navy. He had a hearing problem, and would not have passed the physical. But he very much enjoys the law.
Our family left the Philippines in 1939 and went first to Norfolk, Virginia, where I continued high school, and my father assumed command of the USS Regulus, a supply ship. Then the Regulus was transferred to the Pacific and homeported at Pearl Harbor, Hawaii. So our family moved to Honolulu and was living there when the Japanese attacked Pearl Harbor on December 7, 1941.
At the time of the attack, the Regulus had just left Midway Island after discharging a group of Seabees to work on a military construction project. My father had a choice to make as to which way to return to Pearl Harbor, since he was not informed of the attack on Pearl Harbor until a day out of Midway. In any event, he made the right choice and took the southern route back to Pearl Harbor. Otherwise, he might well have run into the Japanese fleet which was steaming north to their home waters after their attack. Subsequently, in 1942, all military dependents were evacuated from Hawaii.
WINKLER: Did you have any recollection, or Sunday morning did you sleep through the attack?
DOYLE: My mother, brother, and I were awake at the time and we turned on the radio to hear the news that Pearl Harbor has been attacked. "This is not a drill." Everyone was told to stay inside and stay away from Pearl Harbor, so we did not get any details of the damage. I was made an air raid warden on my block, and told to check that the blackout was being observed. At the time I was attending Roosevelt High School. Our ROTC unit was mobilized to guard the beaches against possible enemy landings.
WINKLER: What was your first recollection of getting onto the base? Did you have an opportunity to see when your father's ship came back?
DOYLE: Yes. I got on the base, and it was chaotic. Ford Island was decimated. Ships were half sunk, or still smoldering in smoke. During the summers while in Honolulu, I worked on a tugboat. The tugboat operated in and out of Pearl Harbor, assisting in the mooring and unmooring of Navy battleships. So it was quite a shock to see what the attack had done to the battleships.
In January 1942, our family was evacuated to Berkeley, California, since the Regulus went into the shipyard at Mare Island for repairs. I attended Berkeley High School to complete my high school education. At that time I met my high school sweetheart, Jeannette Eleanor Blair, who was going to the Anna Head School in Berkeley. On June 5, 1996 we celebrated our fiftieth wedding anniversary.
Ever since I can remember–and, of course, my father was my role model–I wanted to be a naval officer. I also wanted to go to the Naval Academy because my father had gone to the Naval Academy, and that was the place that produced career naval officers.
But since I had moved around so much during my early years, and attended several different high schools, I needed a year of intense schooling before I could take the examination to get into the Naval Academy. So I enrolled in Drew Preparatory School in San Francisco, way out on California Street. Bryan Brown and Bill Small, who later became classmates of mine at the Naval Academy, also went to Drew. After a year of studying and reviewing, I took the competitive examination that was given by the local congressman from California and won an appointment to the Naval Academy.
I entered the Naval Academy in June of 1943 and graduated on June 5, 1946, in the class of '47. We were a three year class during World War II but retained our four year designation. I had some famous classmates‑-President Jimmy Carter; former CIA Director Stansfield Turner; Admiral Worth Bagley; Admiral, now Ambassador, William Crowe, Ambassador to the Court of St. James and former Chairman of the Joint Chiefs of Staff; Congressional Medal of Honor winners, James Stockdale and Thomas Hudner; and former Senator Jeremiah Denton.
WINKLER: A very talented group. During the war, what were some of the other duties that your father participated in?
DOYLE: After the Regulus tour, he was assigned as the operations officer for Admiral Kelly Turner and participated in the amphibious landings in Guadalcanal in the South Pacific.  He then came back to Washington and served in the Amphibious Warfare Section of the Chief of Naval Operations. After that, he was commanding officer of the USS Pasadena, a light cruiser, and participated in the final bombardments of the Japanese mainland. The Pasadena was also present in Tokyo Bay when the Japanese surrendered to General MacArthur on the USS Missouri.
WINKLER: So now you're a newly commissioned ensign in the United States Navy.
DOYLE: Right. The first thing I did as a newly commissioned ensign was to get married, and I married Jeannette Eleanor Blair, who, as I mentioned before, was my high school sweetheart. We had corresponded all during my time at the Naval Academy. She had come back on several occasions to participate in various Academy events, chaperoned, of course, by her mother. In fact, Jeannette was there in 1945 at the traditional Naval Academy ring dance when I received my class ring and presented her with an engagement ring, a miniature of my class ring.
We were married on the afternoon of June 5, 1946, at the Walter Reed Army Hospital Chapel, a lovely small church in Washington, D.C. Our wedding reception was at the Shoreham Hotel. Two days later, Jeannette and I took the train to Jacksonville, Florida, for training duty. All USNA graduates were required to be indoctrinated in elementary aviation. The month there was spent in lectures on naval aviation and flight training aboard Mariner aircraft (P5M), taking off and landing in the St. Johns River. We lived in a room in a boarding house and Jeannette got to know some of the newly married wives of classmates.
Upon completion of training, we made our way to California and had a very enjoyable month's leave. I then left Jeannette in Berkeley, California, for her senior year at the University of California, and flew across the Pacific to my first duty station, the heavy cruiser USS Chicago (CA 136). Chicago, homeported in Yokosuka, Japan, was the flagship of Commander Naval Forces Japan. On board I was quickly indoctrinated in the duties of a junior officer and eventually took over the number three turret, one of the three eight-inch gun turrets, as the third division officer. I relieved David Leighton, a boyhood friend who had graduated from the Academy the year before. He went off to postgraduate school at MIT and later joined Admiral Rickover's nuclear power team.
WINKLER: How big a division would you have as a turret officer?
DOYLE: We had about thirty men, as I recall, and I was the division officer as an ensign. At that time, many of the officers were leaving the ship, getting out on points. The Navy had a point system for officers who had served in World War II. When the officer had accumulated a certain number of points based on time served, he was allowed to get out of the Navy and begin his civilian career. Because of the outflux of World War II officers, the officers who reported aboard right after the war, as in my case, quickly assumed positions of responsibility that would not have been possible for many years. In other words, I was an ensign in a Lieutenant's billet, the third division officer, turret officer and catapult officer. We had a SC-1 seaplane on the stern of the Chicago for spotting the fall of shot in 8-inch gunfire.
The Chicago made various port visits in Japan. I remember Nagasaki; and visiting the supposed home on the hill where Madama Butterfly and Lieutenant Pinkerton rendezvoused.
In 1946, there were budgetary problems for all the services that resulted in shortages of money for steaming and training. So even though we had nine formidable eight-inch guns, we got very little chance to actually practice shooting live projectiles.
During my time in Chicago, I was sent to the Naval Gunfire Support School in Coronado, California. Jeannette and I rented an apartment and had an enjoyable few months sightseeing in the San Diego area while I was learning the lessons of shore bombardment in World War II. In the meantime, the Chicago returned home from Yokosuka because she was due to go out of commission in the Bremerton Navy Yard. After I completed school, we moved to Bremerton, Washington, and I rejoined the ship, which was in the process of being inactivated. Again we rented an apartment and got acquainted with the Seattle area.
In May 1947, I received orders to the USS John W. Thomason (DD 760), a long hull destroyer of the Sumner class. Jeannette and I drove to San Diego, the homeport of Thomason, and I reported aboard in June. We found another apartment to rent in Coronado.
I was aboard the Thomason for three years, and during that time we made two deployments to the Western Pacific. During the last deployment, we operated with the aircraft carrier USS Boxer and were part of the last task group to visit Inchon (this was in March of 1950,) before the North Koreans invaded the south in June and war broke out.
The Thomason also made several reserve cruises. One very interesting cruise was up the magnificent Inland Passage to Alaska. The Thomason also served as a school ship for the general line at Monterey. Officers, who served in World War II were sent to the school for training and instruction in surface ships. The majority were aviators who had flown from carriers or air stations. They would embark on Thomason for the day, participate in our training exercises and get a large dose of shipboard life. It was very enjoyable duty, because at that time Jeannette and I were allowed to live in one of the apartments at the Del Monte Hotel, which had been taken over by the Navy during the war.
WINKLER: And eventually became the postgraduate school.
DOYLE: The Del Monte Hotel complex eventually became the postgraduate school. When I first reported aboard the Thomason, there were only seven officers on the ship, counting the captain and the executive officer. I was very quickly qualified as an officer of the deck inport and underway. In fact, I stood only one watch at sea under instruction, before the Captain pronounced me qualified to stand OOD watches when steaming independently. I was thrilled with having that kind of responsibility on a destroyer as an Ensign, but it really was out of necessity.
WINKLER: Had you stood any watches, for example, as junior officer of the deck on the Chicago?
DOYLE: I had stood watches as junior officer of the deck on the Chicago, but had never qualified as officer of the deck underway which was the province of the Lieutenants.
My primary billet on Thomason initially was Communications Officer, responsible for all the communications on board including encryption, decryption, codes and ciphers, plus all the associated equipment and the crew assigned. I was also the Assistant CIC Officer initially and later became both the CIC Officer and the Communications Officer.
The Thomason, as I mentioned, made two deployments to the Western Pacific, operating with the fast carrier task groups and visited Tsingtao, China, Hong Kong, the Philippines, Midway, Okinawa, Guam, and Inchon, Korea.
In 1949, the Chinese Communists moved across the Yangtze River and took control of the capital of Shanghai, the Thomason was involved in a very unique way. We were anchored in the mouth of the Yangtze River, and our job was to handle communications for the American Ambassador, which we did. The Embassy would bring messages out to the ship for us to send. We would also receive messages. The messages were all classified involving a lot of encryption and decryption using the old style off-line equipment. At that time the Communists were moving down from the north and at night we could see the star shells and the artillery fire. In fact, instead of watching the movie, the crew used to go up on deck and watch the star shells.
At that time, a destroyer squadron commander was embarked, and he was responsible to evacuate the last remaining members of the embassy staff in Shanghai. As I recall, his name was Robert Cavanaugh. After we evacuated the embassy staff, the Thomason steamed down the Yangtze River at general quarters, with star shells bursting overhead, as the Communist troops crossed the river to take over the capital and the government.
WINKLER: What was the general morale on the ship with this impending wave of Communists marching down?
DOYLE: Well, at that point it looked inevitable that the Communists were going to take over, and we were concentrating on carrying out our orders in a professional manner. There was, of course, some apprehension as the ship proceeded down the river, because in the mid-1930s, the Panay, an American gunboat, was sunk by the Japanese on the Yangtze River, by mistake so they said. We were concerned that we might take a shot, probably inadvertently, so we were in full battle dress with all watertight doors and hatches closed.
We were mindful of that history. In fact, one of the British cruisers, the London, had been hit by Chinese Communist shells during the Communist takeover.
WINKLER: When you went down, you actually took on embassy personnel and dependents?
DOYLE: The dependents had already been evacuated. We took the last cadre of embassy personnel, those remaining. The incident sticks in my mind for another reason as well because when we anchored down at the mouth of the Yangtze River, I had to take my promotion examinations for advancement to lieutenant junior grade. At the time, examinations for promotion were required, so I had to take the examination before I could be promoted.
WINKLER: Now, you finished up on the Thomason. That was through 1950. The Thomason was homeported at the time in San Diego?
DOYLE: Yes, the Thomason was homeported in San Diego.
WINKLER: I assume your wife had settled at that time.
DOYLE: Jeannette and I had an apartment in Coronado, several different apartments. My father was also stationed at that time in Coronado since he had been promoted to rear admiral and he was in command of the Amphibious Training Command, Pacific Fleet.
During that deployment in 1949 while I was off at sea, my oldest daughter Kathleen was born on March 14th. Thomason was in Tsingtao at the time and I got the message with the good news. But I did not see my daughter until the ship returned three months later. Kathy was born at the Oak Knoll Naval Hospital in Oakland, California. Jeannette was in Berkeley, visiting her parents while I was away. When the Thomason returned to San Diego, our family was reunited in Coronado and Kathleen was christened at the Catholic Church.
WINKLER: You mentioned that previously, as far as gunnery duties on the Chicago, you had some school, but for communications officer it was pretty much on-the-job training.
DOYLE: Yes, it was primarily on-the-job training, although I went to a short course on publications and cryptology.
WINKLER: Were there any officers that you served under during this tour on the Thomason that provided as an example of some leadership traits that you admired?
DOYLE: The first officer that I served under was Lieutenant Commander Gordon Gemmil, an outstanding officer. He allowed the junior officers to take responsibility, but always under his watchful eye, and he was a real leader. He was relieved by Commander J.E.B. Stuart and then Commander Bill Samuels. Captain Samuels had not had a command during World War II. Thus, it became a learning process for both the Captain and the crew. However, he did allow me a great deal of responsibility.
WINKLER: You have the chief petty officer corps at the time, and part of the job description for a good chief petty officer is to take that ensign under his collar and help train that person. Did you have any chiefs?
DOYLE: Exactly. We had chiefs and first class who had a lot of experience and would take a junior officer, ensign or jaygee, under his wing and show him the ropes, particularly as to how to deal with the enlisted men. It is important to know how to be an example, how to persuade, and at the same time how to administer justice and discipline in a fair and impartial manner. Yes, that was very definitely a factor in becoming a good junior officer.
WINKLER: That sometimes gets overlooked.
DOYLE: I agree. I think it's terribly important to have that kind of experience in the junior ranks.
WINKLER: Is there anything else on the Thomason that we want to cover?
DOYLE: I can't think of anything. I had put in my application for postgraduate training and asked that I go to law school. I was motivated by the fact that my father had gone to law school while he was in the Navy, and I thought law school training would be invaluable to me in my naval career and in getting on with my education. I put in my application for law school, was selected and left the Thomason in June of 1950.
WINKLER: Now, what we're going to do, on a separate session, is talk about your legal career, so we'll pick up your tenure at George Washington University at that time. What I'd like to do is jump forward to after you graduated from GWU, where you're back at sea, assigned as the executive officer of the Bulwark. So we'll pick it up from there.
DOYLE: Upon completing law school, I anticipated returning to sea duty since I had been ashore for three years. I should mention my three years at law school (1950-53) coincided with the Korean War, and my father was Commander of the Amphibious Forces during the invasion of Inchon, with General Douglas MacArthur aboard the flagship, and also participated in the evacuation of Hungnam and the operation at Wonsan. He was very much involved with the Korean War as an operating amphibious task group commander.*
But getting back to when I finished law school, since I wanted early responsibility, I asked for destroyer duty, and was assigned to a minesweeper as executive officer, which was fine because it not only gave me responsibility, but also gave me training in a minesweeper, which I had not had. After completing a short course at the Naval Justice School in Newport, Rhode Island, I attended mine warfare school at Yorktown and then joined the USS Bulwark (MSO 425), at the Norfolk Navy Shipyard. There were four now in our family since our son James H. III was born on April 16, 1952, while I was in law school. We rented an apartment in Norfolk.
As you recall, during the Korean War there was a severe problem at Wonsan. The amphibious force could not make a landing for five days because the approaches were mined. At that time, The Navy had only a few old minesweepers to clear the approaches, and all of them were steel hull, vulnerable to magnetic mines. The Navy immediately funded a program for a class of wooden-hull minesweepers. The USS Bulwark was to be the second in the class, 165 feet, wooden hull, Packard diesel engines, controllable pitch propellers, new metallurgy, and new minesweeping equipment, to be built in a naval shipyard. I joined the ship and went through the final building and introduction into the fleet. We had our final inspection by the Board of Inspection and Survey, followed by sea trials, and them initially operated out of Norfolk, Virginia.
WINKLER: From a maintenance standpoint, how was it operating on a wooden ship?
DOYLE: It is different. The main problem was not the wood but operating the new Packard diesel engines. We had initial problems with the metallurgy in the diesel engines. The engines required a great deal of maintenance.
But aside from that, the wooden hull posed special problems of maintenance and repair. We had to sand the deck regularly, for example, similar to the old battleship decks. Any dent in the side or repair to the hull of the ship had to be done in accordance with certain standards for maintaining wooden hulls. These procedures were new to our crew. Yes, we did have some special problems with the wooden-hull ships.
The Bulwark had all the newest minesweeping equipment capable of sweeping acoustic, magnetic, and the older moored mines. We had no capability to sweep pressure mines. I was aboard Bulwark for one year.
WINKLER: So during this time period you're breaking the ship in–doing sea trials.
DOYLE: Sea trials and exercises in the Atlantic near Norfolk. We made one port visit to Havana, Cuba. This was before the days of Castro.
WINKLER: The experience of being executive officer‑-of course, you're dealing with a relatively small crew. How did that help in your maturity?
DOYLE: I very quickly had to learn how to be XO. The exec is required to be the jack-of-all-trades as far as personnel are concerned and the general maintenance and cleanliness of the ship. In addition, he coordinated all operational evolutions. As far as personnel were concerned, you really had to know the crew, know how to handle the disciplinary cases, and know how to motivate the crew. It was a very challenging experience.
Fortunately, I had a couple of very qualified chief petty officers who were invaluable, particularly the chief master at arms, who really could make or break your performance as executive officer. Fortunately, they were very good and very dedicated, and so that helped a lot. But it was certainly a very maturing experience, and I learned a great deal.
WINKLER: What was the complement on board a minesweeper at that time?
DOYLE: We had seven to eight officers and a crew of about eighty.
WINKLER: And you also developed that working relationship with the commanding officer.
DOYLE: Yes. When you have only a few officers on board, the exec and the CO have to work as a team, which we did.
I also got a lot of experience in seamanship and shiphandling aboard Bulwark. In the Thomason, I had qualified as officer of the deck underway and had conned the ship during underway replenishment and mooring and unmooring. But aboard the Bulwark, making landings, getting in and out of port and anchoring, plus handling the ship during minesweeping operations was wonderful training.
WINKLER: Now, the ship was homeported at?
DOYLE: Initially Norfolk, Virginia. Then after the Bulwark completed post shakedown availability, the homeport was changed to Charleston, South Carolina. There, the minesweeping base was located on the Ashley River. The headquarters was actually in an old rice mill. When the ship moved to Charleston, so did our family. The four of us rented the bottom half of a beach house on the Isle of Palms, across the Cooper River and right on the Atlantic Ocean. We thoroughly enjoyed getting to know Charleston. I should mention that in all of our moves the burden fell on Jeannette. She had to pack, clean the house, and then often go alone to the new station to find and settle a new house.
WINKLER: In June of 1954, you got your first CO billet.
DOYLE: That's correct. I was assigned as commanding officer of the USS Ruff (AMS 54), which was a smaller (135 feet long), again, a wooden-hull minesweeper.
WINKLER: When was the Ruff built?
DOYLE: The Ruff was built during the latter stages of World War II and was only capable of sweeping moored mines.
In any event, she needed a commanding officer. The previous commanding officer had been assigned to postgraduate school, so I was to relieve him as soon as possible. I relieved in Panama City, Florida, where the ship had been operating and performing tests with the Coastal Systems Laboratory in Panama City, a minesweeping research center. My first evolution was to get underway, I believe the next day, take the ship to sea and proceed on to Ruff's home port in Charleston, South Carolina. On the way, we were to stop in Key West. We steamed to Key West along the coast of Florida and refueled there, and then proceeded to Charleston, South Carolina. The Ruff's home port was on the Ashley River. The minesweepers were all moored to piers just a stones throw from the "Rice Mill."
WINKLER: How many children do you have in your family at this time?
DOYLE: Two, our daughter Kathy and a son, James III, who was born in 1952, during my tour at law school. He was born at Bethesda Naval Hospital. As I mentioned, we were living in a house on the Isle of Palms, one of the islands off Charleston, right on the beach. We had the downstairs part of the house. In those days the Isle of Palms was very isolated, particularly in winter. It was the first time for both of us living in the Deep South. We had been in Norfolk, but that is not the Deep South. It was a very interesting time. We enjoyed living on the Isle of Palms and loved Charleston.  We've been back to Charleston several times to sightsee, walk around, and visit the shops. We were there in the era when one of the department stores was installing the first set of escalators. Air-conditioning in our apartment and in the stores had not been introduced. We also had our first hurricane experience. Jeannette and the children evacuated Isle of Palms for high ground and I went to sea with the ship.
WINKLER: The Ruff had a smaller complement in contrast to the Bulwark.
DOYLE: Yes. Ship's crew numbered forty to fifty, with four to five officers.
WINKLER: How were the seakeeping capabilities?
DOYLE: Tolerable, but only if you had a strong stomach. In a storm, you rolled and pitched a lot. It was a rough ride in rough weather. On my last transit aboard the Ruff, en route to a small shipyard in Elizabeth City, North Carolina, one of those referred to as "bicycle shops," for repairs and maintenance, we ran into a violent storm. At one point our electrical system grounded out and we had water down in the engine room. Fortunately, we recovered and made it into port, but we had quite a bit of storm damage. It was one of those unexpected storms that suddenly generate around Cape Hatteras.
WINKLER: Are there any experiences‑-this is your first command‑-like lessons learned or an incident that gave you valuable insight for the future as far as how to operate?
DOYLE: Yes. On each tour of duty you learn, and when you jump from executive officer to commanding officer, it's a tremendous adjustment, because as commanding officer you are totally responsible. It is not somebody else that is responsible, but you are responsible for the ship, the crew, their safety, and for the totality of the mission. You have to think about that constantly as you are making decisions.
You can't make a decision and say, "Well, if this works out, if it doesn't work out, so what," or "It was just a recommendation." When you are an executive officer, you make a recommendation and it is up to the CO to either agree with you or to not agree and pursue another course of action. So, yes, it is a sobering experience and one that you assume with great humility and great appreciation for the safety of the ship and the crew. Yes, I learned quite a bit aboard that ship.
WINKLER: Any people on board that may come to mind as a leader or contributed to the ship's success.
DOYLE: In that particular case, except the executive officer, who doubled as the operations officer, the other officers were new and inexperienced. So I relied very heavily on the executive officer. Again, we had chiefs on board who were key to the proper performance of the crew and the ship.
WINKLER: The officers who came aboard, did quite a few of them come through OCS or ROTC?
DOYLE: Yes, quite a few of them came from OCS or ROTC. None of the officers on board the Ruff were Naval Academy graduates.
WINKLER: At that time you just had the Korean War, so there was a draft. Were the enlisted crew mostly drafted or volunteers?
DOYLE: This was after the Korean War. I think the draft had been terminated by then. Yes, these were all volunteers, serving on various hitches. They were ahead of the called-up reserves at that point, because we are now in 1954.
WINKLER: Actually, '55. You had command for two years there.
DOYLE: No, less than one year.
WINKLER: I jumped up ahead there, because then you had command, another command of another minesweeper in June of '55. How did you get orders for that ship?
DOYLE: There was no opportunity at that point to request a particular assignment. The BuPers detailer knew that I had not had a full commanding officer tour. Since the Ruff was going to be in the shipyard for six to eight months and the detailer needed a commanding officer, I was picked to proceed to Long Beach, California, and command USS Redstart (MSF 378) to fulfill a three-year CO tour. This was fine with me. I looked forward with great anticipation to having a larger ship, a bigger crew, and more responsibility. Also Jeannette and I were delighted to be going to the West Coast.
WINKLER: She had roots on the West Coast.
DOYLE: Yes. Her family lived up in Berkeley, California. Living in Long Beach, she could visit; we both could visit her family from time to time.
WINKLER: Had your father retired by this time?
DOYLE: Yes. He had retired from the Navy in either '54 or '55. I don't remember the date.
WINKLER: What was his last tour of duty?
DOYLE: His last tour was President of the Board of Inspection and Survey followed by Director of the Joint Amphibious Board. In my last year of law school, he was President of the Board of Inspection and Survey headquartered in Washington.
WINKLER: Where did he retire to?
DOYLE: He retired as a Vice Admiral, since he had been decorated during World War II, lived for a time in Florida, was Vice President of Varo, Inc., in Garland, Texas,and then eventually moved to Austin, Texas to start practicing law, since he really hadn't practiced in the Navy, in the civilian sense of practicing law.
WINKLER: Just out of curiosity, why Texas?
DOYLE: My brother was going to law school in Texas and Dad wanted to be near him.
WINKLER: Discuss your tour on the Redstart.
DOYLE: The Redstart was a 220-foot steel-hull minesweeper. She had older minesweeping gear aboard to sweep for moored mines and magnetic mines, but no capability against acoustic mines or pressure mines.
WINKLER: Just out of curiosity, MSF, what does that stand for?
DOYLE: Minesweeping Fleet. In other words, Redstart was the largest of the minesweepers, larger than the new Bulwark. She was diesel powered, built during the latter stages of World War II.
WINKLER: What was the complement on board?
DOYLE: We were around 150 or so.
WINKLER: So this is a significant jump up in size.
DOYLE: Yes, a significant jump with nine to ten officers.
WINKLER: This is a ship that's almost comparable to a combatant as far as ship's complement. Well, back then the destroyers probably had about 200 to 300.
DOYLE: That's correct. This was a major step up. I had command for two years. We operated out of Long Beach, California, training and participating in fleet exercises. We also deployed to the Western Pacific and operated out of Sasebo, Japan.
During this period, my youngest daughter, Anne was born on May 20, 1956.
WINKLER: Were you deployed when she was born?
DOYLE: No, Anne was born at Oak Knoll Naval Hospital in Oakland, California, very shortly after the ship returned from deployment. Jeannette with Kathy and Jim III were in Berkeley visiting her parents while the ship was away. With the baby due a very few days after the ship's return, Jeannette decided to remain in Berkeley and have the baby at Oak Knoll, where Kathy had been born. I had a brief visit to Berkeley, then picked out a house in Long Beach to rent after Anne was born and our family was together again.
WINKLER: Obviously this ship has better sea handling capabilities.
DOYLE: Yes, she had better sea keeping capabilities. Again, we had a strong cadre of senior enlisted and chiefs, and very good junior officers. It was a very interesting and rewarding tour. Again, the opportunity to exercise command was a valuable learning process. Also in sweeping mines, there is more ship handling and seamanship involved than in most other ships.
WINKLER: There's also quite a bit of coordination with other sweepers.
DOYLE: That's right, there is, and we trained together in minesweeping exercises both in the San Diego operating area, and off the coast of Japan.
WINKLER: Because that's a small community within the Navy, is there a esprit de corps that develops between the COs and the crews?
DOYLE: Yes, very much so. We knew most of the other officers and chiefs on the sister minesweepers. There was very much of a community aspect to minesweeping.
WINKLER: Any interesting sea stories that you may recall?
DOYLE: I remember one harrowing incident off Japan. We were operating with the task group, and ran into the tail end of a typhoon. We were caught in that typhoon for several days. All you could do was maintain steerage way, get the ship headed into the sea and just ride it out. It was impossible to try to get out of it. We just had to let the typhoon pass through. That was an experience that had its terrifying moments.
WINKLER: I imagine the maximum speed on one of those ships cannot be more than a dozen knots.
DOYLE: We could make 15 knots, but that was pretty much the maximum we could do.
WINKLER: The other thing you mentioned in your C.V. was, you analyzed the status of minesweeping systems, including training, while you were on board. Did you have tech reps come aboard and test different things?
DOYLE: What is really meant by that is not so much the introduction of new technology, but the analysis of minesweeping tactics, because we were pretty much stuck with the equipment we had. So it was simply a question of devising new tactics in conjunction with other minesweepers as to how best to handle a mine threat. Of course, a lot more attention is paid to that today because the Navy is operating close to the shore in the littoral areas. In the 1950's, the Navy concentrated on  tactics and crew training.
WINKLER: At that time we had the Wonsan experience in Korea, but as far as the focus of the Navy, was it fairly blue water at that time?
DOYLE: Yes. The focus of Navy training was on striking targets ashore from the fast carrier task force. The missile fleet, Terrier, Tartar, and Talos ships were under construction. Those were the early R&D stages of various missiles types such as Regulus, and the start of the building program for Polaris submarines.
Minesweeping at that time was very much a peripheral part of the Navy, but critical to amphibious operations. The main focus of the Navy was operations in the blue water (open ocean). The Soviet threat was beginning to be understood. The fleet was learning how to cope with the Soviet threat of submarines, and long-range bombers and missiles.
WINKLER: Did you feel confident with the equipment you had at the time that you were able to handle a potential mine threat?
DOYLE: At that time the primary threat was the moored mine. But to sweep these mines and clear a channel for the landing craft, you had to be able to fix the ship's position exactly. We were confident that if we could navigate precisely, we could sweep successfully, and we had the equipment to do the job, given enough time. Now this was before the era of very sophisticated rising mines and the bottom mines that could detect a ship and release a rocket to hit the hull of the ship. This was before that era.
WINKLER: Or the era where you had mines which would let you go pass and go off on perhaps the third or fourth ship that passed overhead.
DOYLE: These were just starting to be developed, along with sophisticated pressure mines.
WINKLER: That's World War I technology you're dealing with.
DOYLE: Absolutely, World War I technology.
WINKLER: Moored mines are still a threat today.
DOYLE: They're the greatest threat, because they're cheap to procure and easy to deploy from fishing boats and small craft. Just throw them overboard at night.
WINKLER: Anything else from your tour on the Redstart that you might want to elaborate on?
DOYLE: No, I can't think of anything else, except that the six month deployments were very hard on the families.
WINKLER: Now, your next tour of duty we're going to cover in a separate conversation, because you go to the International Law Division, the Judge Advocate General, for a period between June 1957 to June 1959. Now that tour was in Washington?
DOYLE: That was a Washington tour. That was the so-called payback tour for postgraduate legal training.
WINKLER: We'll go into details on your duties at a separate time. But then you had your duty as the executive officer of the USS John S. McCain (DL 3), which is a destroyer leader. It's one of the ships that were built in the early fifties.
DOYLE: That's correct, commissioned in 1953 as an ASW/gun ship, converted to a Tartar missile ship in 1969.
WINKLER: And you were the XO for about a year between '59 and '60. Talk about being XO on the McCain.
DOYLE: First of all, when I finished law school, I was given a choice of transferring from the unrestricted line to the legal specialist corps or staying in the line. I chose to stay in the line, because I wanted to go to sea. So I put in my request to get back into destroyers. I'd done my tour of minesweeping.
I was assigned as executive officer on the McCain, homeported at Pearl Harbor, Hawaii. This was a great opportunity to travel to Hawaii, and so my wife, I and our three children took one of the Matson liners, the Matsonia, and had a very relaxing voyage to Hawaii.
I reported aboard in June of '59. Of course, I felt that I had some previous experience as a commanding officer and executive officer, so I knew what an executive officer had to do. But here again we're dealing with a larger ship, about 320 crew and sixteen officers. The captain was a commander. I was a lieutenant commander by that time. Thus, with more people and a ship the size of today's cruisers, there were a lot more challenges for an executive officer.
WINKLER: Can you elaborate a little bit on how is it more challenging. Obviously you have a wider span of control.
DOYLE: Yes, a wider span of control. But, there were still the same problems of discipline and motivation and assigning people to this, that, and the other duty. Since we were scheduled to deploy in the Western Pacific, we had to establish a support community for the families left behind. A number of the crew were married and most of the officers were married, so we had to set up briefings for the wives as to where we were going and how they could keep in touch. Jeannette was involved with the other wives on how they could help each other–mutual support.
WINKLER: During that time period, most of the young enlisted were single. The chiefs probably were married. Whereas in the 1970s, the percentage of enlisted married jumped. But for those sailors who were married, how did the Navy support the families back then? Was this something just the ship did or was there a establishment ashore?
DOYLE: There was no support establishment ashore at that time. It was primarily left up to the ship to form their own support for the wives, which we did. This was the era when most wives were not working and would accompany their husbands from duty station to duty station. Thus, on McCain we had both officers and enlisted wives clubs. The wives would meet regularly, assist each other and work on Navy Relief projects. We put out lists of names, addresses, and phone numbers of where the wives lived and how they could get in touch with one another, all of that. We worked hard at trying to get them the briefings on where we were going, what ports we would visit and when we'd be back. We did get some assistance from the squadron chaplain and doctor.
WINKLER: How was the pay back then? As a lieutenant commander with a wife and three kids, were you getting by.
DOYLE: We're barely getting by. The pay was minimal, but we survived. We were living in Navy housing at Pearl Harbor, so that helped. But we didn't have any extra money to go around. That was sort of the way it was in those days.
WINKLER: The CO of the ship was?
DOYLE: The CO of the ship was Commander Louis L. Meier, Jr. As a matter of fact, he retired as a captain, and he lives up the street from me. We've been friends for years. Our families are still good friends. We had a good rapport and worked together very well.
We had a fascinating deployment to the Western Pacific, really quite a notable one. In addition to operating with various task groups and doing exercises, when we arrived in the Philippines, in Subic Bay, we were told that we would be going to Calcutta, India, to take food and medicine because of the floods in that region of the Hooghly River. The Hooghly River had flooded its banks, devastated the area and destroyed many homes. There was widespread suffering from dysentery and disease was prevalent. Food and medicine were urgently required. McCain was to pick up a load of food and medicine at Subic Bay, embark a doctor‑-we normally didn't have a doctor on board‑-and proceed to Calcutta, India, which we did. We spent five or six days there.
We not only delivered and distributed all the food and medicine, but also had a chance to sightsee in the city of Calcutta. The crew could go ashore and see what India was like. It was really a fascinating cruise and port visit, and we got to meet a lot of the locals and see the differences in India society between the haves and the have-nots.
WINKLER: On that trip, did you also make a couple of other port calls?
DOYLE: We stopped in Rangoon, Burma, on the return trip. Burma hasn't always welcomed Navy port visits, so we were fortunate to be able to get clearance to stop in Rangoon. We also made a fuel stop in Singapore. So it was Rangoon and Singapore on the way back, and then to Subic Bay. We operated with the fleet for the rest of the deployment, but also made port visits to Hong Kong, Yokosuka, Japan, and the southern island of Cebu in the Philippines. We rescued some crew members of a sinking Japanese freighter and took the crew members to Yokohama, Japan.
At that time, the Navy was emphasizing people-to-people programs during those port visits. We stressed the role of the crew as good ambassadors and briefed the crew on proper conduct ashore. We spent a lot of time on that, and it paid off since our deployment turned out to be humanitarian as well as operational.
WINKLER: We picked up your cruise book here. Some of the details you may want to fill in.
DOYLE: The John S. McCain was built in Bath Iron Works and commissioned in 1953. She's the second ship of the Mitscher-class. Originally designated a destroyer, she was re-rated a destroyer leader, and re-rated again as a frigate in 1955. Actually, the five ships of this class would be considered light cruisers in the modern Navy.
WINKLER: Yes, our definition of a frigate at that time period was out of sync with the rest of the world's definition of a frigate.
DOYLE: McCain was equipped with homing torpedoes, an antisubmarine rocket called weapon Alpha, and depth charges. She had two five-inch guns and a rapid-fire three-inch 70 gun, which was new in that type of ship. We carried a complement of about sixteen officers and 320 men.
WINKLER: Well, the three-inch 70 was designed as an anti-air weapon.
DOYLE: That's correct, against manned aircraft, not cruise missiles.
WINKLER: But otherwise didn't have any missile capability.
DOYLE: No missile capability at all. In addition to the operation when we were deployed to Calcutta, Rangoon, and Singapore, we also crossed the equator and had the traditional crossing the equator ceremony with King Neptune.
WINKLER: Is that the first time you had to cross the equator?
DOYLE: Yes, that was the first time. We visited Hong Kong, Okinawa and Sasebo, and then made an interesting trip down to Cebu City, Cebu in the Philippines, as a kind of a people-to-people ambassador tour. We called in at Kaohsiung, Taiwan, on several occasions. So we had an interesting and varied deployment. The families were living in Pearl Harbor, and there was a lot of mutual support. They looked after one another. It was a very successful deployment.
WINKLER: I understood those ships were notorious as far as the engineering plant.
DOYLE: Yes. The engineering plant was unique because of the high temperature, integral superheated boilers that we had. We were forever having a problem with the boiler tubes, which were constant maintenance problems. But through ingenuity, work-arounds and making our own parts, we were able to complete a full Western Pacific deployment. Because of her engineering problems and her inability to get under way and operate, some of the local Navy had referred to McCain as "Building 3." But in our case, we had a great deployment and met all our commitments. It was a very highly successful tour.
WINKLER: And I imagine the chief engineer was highly regarded?
DOYLE: The chief engineer was a mustang, limited-duty officer, who had vast experience in engineering. We also had a dedicated group of engineering chiefs and senior petty officers who performed superbly.
WINKLER: We are running low on tape so let's stop here and pick it up at this point next time.
                                                      November 25, 1996
WINKLER: We're going to pick it up here where you were assigned to become the personal aide for CinCPacFlt. You had just finished up a tour as executive officer of the USS John McCain. How do you get screened to be an aide?
DOYLE: I think it's mostly by your record. CinCPacFlt at that time was Admiral Hopwood. He was looking for a new aide and flag lieutenant, because he anticipated retiring in the near future and he wanted to pass on a new aide and flag lieutenant to his relief. He also wanted his new aide and flag lieutenant to go with him on his final tour of the western Pacific, his farewell visit to all the U.S. and foreign naval installations and ships and aircraft.
In any event, quite out of the blue I got a message one day on the McCain to report up to CinCPacFlt for an interview. I went in for an interview, and I guess I answered all the questions correctly and presented at least a neat, military appearance, and the first thing you know, I was selected to be aide and flag lieutenant.
I was detached almost immediately from the McCain, much to the consternation of the commanding officer. But he saw this as a promotion for me in assignments and thought it was a great opportunity. In July 1960, I relieved as personal aide and flag lieutenant to Commander in Chief Pacific Fleet. This meant a move for our family from quarters in Navy housing in Pearl City, Pearl Harbor, up to quarters in what was called Makalapa, where the senior captains and flag officers attached to CinCPacFlt live. We moved to a small set of quarters right next to the headquarters building so I could be available at all hours of the day and night to satisfy the requirements of the job.
Shortly after I reported aboard, I did make this final WestPac trip with Admiral Hopwood, and then he was relieved by Admiral John H. Sides, whose nickname was "Savvy" Sides. He and his lovely wife arrived on one of the Matson Line ships, and he took up his job as CinCPacFlt.
His previous job had been in the Office of the Secretary of Defense as the head of WSEG, which is the Weapons System Evaluation Group. Admiral Sides is considered by many to be the father of naval missilery. He was a naval ordnance postgraduate engineer, served in the Pentagon as head of missiles in OpNav, and as a flag officer was the first to fly his flag aboard the Boston and Canberra, the Terrier guided missile cruisers. When the Navy first got into missilery‑-Talos, Tartar, Terrier and Regulus‑-he was involved. He was also a key player in the early stages of the Polaris program. The Strike, Surface, and AAW Committee of the National Security Industrial Association, now the Strike, Land Attack and Air Defense Committee of the National Defense Industrial Association, has an annual award named in his honor.
In any event, I was two years with Admiral Sides. During that time, we made many trips to the western Pacific, and I had a great opportunity to become familiar with how senior officers and senior civilians in the Navy did the Navy's business. I was responsible for the Admiral's personal communications, schedule, and trip arrangements, and also communicating with other flag officers through their flag lieutenant. I should also mention some of the fine officers on CinCPacFlt staff at that time: deputy Admiral Ramsey then Needham; Captains Jesse Gay, Bunny Shupper, Wyman Packard, and Commander Jim Oliver, among others. It was a fascinating tour, and I learned a lot. My wife, Jeannette, enjoyed it very much since we both participated in the protocol activities for visiting dignitaries, U.S. and foreign.
An interesting sidelight is that during one trip when I was off with Admiral Sides on a trip, Jeannette decided that she would take advantage of the opportunity to go space available on a Navy transport to Japan with our three children. I got back before she did, and I received one day a message from her to "Meet me at the dock with a truck, because I've made a few purchases." She was returning on a Navy transport.
WINKLER: Oh, my.
DOYLE: So that was interesting. She and the children had a great time. Traveling space available from Hawaii was one of the great "perks" at that time.
WINKLER: During this time period, CinCPacFlt and CinCPac, was that a dual hat at that time?
DOYLE: No, it was separate. Admiral Harry Felt, Don Felt, was CinCPac at that time. And, of course, during that period we were in the early stages of the U.S. military advisory groups and missions in South Vietnam, Cambodia, and Laos. Southeast Asia was just starting to heat up, not with any direct U.S. involvement, but with our advisory groups and missions in those countries.
WINKLER: I imagine one of your visits probably was to South Vietnam during this era?
DOYLE: Yes. We went to Saigon. I didn't make the trip to Cambodia and Laos, but we went to Bangkok and Singapore. We went all over the Far East‑-Japan, Okinawa, Taiwan, Guam, Korea, and Hong Kong.
WINKLER: The real focus during this era was actually Laos versus South Vietnam. Do you recall any of the conversations as far as what the United States should do?
DOYLE: Well as I recall, all the military commanders and their political leaders were guided by the U.S. policy direction at that time: North Vietnam was essentially Communist, and that if we allowed the North to infiltrate and take over South Vietnam, the domino theory for Southeast Asia would apply. That is, all of Southeast Asia would be under Communist rule much like Eastern Europe.
Of course, history has questioned whether North Vietnam under Ho Chi Minh would ever have followed the direction of the Soviet Union, but that's all a matter of historical debate. The important thing was that it was believed without exception by our policy-makers and military commanders that we should continue to advise and build up the South Vietnam indigenous forces‑-navy, air, and ground‑-to resist being taken over by North Vietnam. Thus, the focus of the advisory groups was on providing assistance in terms of arms, logistics, and training.
I remember that Ambassador Maxwell Taylor, General Westmoreland and others who were involved, came through Pearl Harbor on their way to Saigon and received briefings at CinCPacFlt and CinCPac. Of course, CinCPac, as the unified commander, was very much involved in how the advisory groups would be supported. As you may recall, the emphasis at that time was on "unconventional warfare." I do remember that Admiral Felt (CinCPac) and Admiral Sides (CinCPacFlt) were frustrated by the constant micro-management from Washington, the increasing size of the advisory groups, and the political instability in South Vietnam.
WINKLER: Did the President make any trips out to the western Pacific during that time frame? That would be early in the [John F.] Kennedy administration.
DOYLE: No, not that I recall. I remember a trip by the Under Secretary of the Navy, Red Fay, who was a PT boat squadron shipmate of John F. Kennedy. But I don't recall any trips by the President.
WINKLER: How were the relations with other nations in the periphery, such as Japan. We had bases in Yokosuka.
DOYLE: We had shore facilities in Yokosuka and Sasebo, and we had airfields at Atsugi and Iwakuni. Yes, we had port facilities all over, and they were important to our presence in that area. And, of course, we had the Marines at Okinawa, and the Army in South Korea. At that time we had a security pact with Taiwan. Our ships made port calls in Kaohsiung and Keelung. The Commander, U.S. Taiwan Defense Command was headquartered in Taipai. Though we had troops and facilities ashore in the region, the critical U.S. presence in the Western Pacific, as it remains today, was the Seventh Fleet with its carrier task groups and amphibious forces ready to reassure our foreign friends and to deter potential enemies. The mobility of the ships and aircraft was important.
WINKLER: I imagine CinCPacFlt frequently met with counterparts from these different nations.
DOYLE: Yes. One of the purposes of the trips was to meet with the political and military leaders in South Korea, Taiwan, Japan, the Philippines, Thailand, Malaysia, Cambodia, and Laos and discuss mutual security interests and problems. CinCPacFlt had both a military and diplomatic role.
WINKLER: Would you go ahead as the advance person?
DOYLE: No, not as the advance person. We normally didn't need an advance person. On occasions, we sent some communication people ahead. But, no, I accompanied the admiral along with a few of his staff. The admiral would usually take his wife, because these visits were considered important protocol events, and we would fly in his airplane, which was a DC-7. It was a long trip, but fortunately we were able to rig for sleeping on board.
But in any event, it was a very interesting tour, and my children enjoyed living in the Navy base and going to the school there. We remained there in that assignment for two years, until 1962.
WINKLER: I take it being an observer there were things that you took on that later benefited you?
DOYLE: Absolutely. I learned how flag officers communicated with one another and how the flag assignment system worked. When the CNO wanted to assign flag officers, he'd usually send a message to the 4-stars saying, "This is what I plan to do," and assume if anyone had any real strong objections they would come back in. Or sometimes he would ask for recommendations. So it was an education for me.
WINKLER: During this time period, Anderson was the CNO, George Anderson was the Chief of Naval Operations.
DOYLE: Yes. Arleigh Burke was retiring, and George Anderson was taking over.
WINKLER: Any other recollections or events from that tour?
DOYLE: No, I really can't think of anything now, except that Admiral Sides visited all of the naval commands, bases, and facilities on the West Coast, and made several trips to Washington. It was a unique experience to see how a type commander did his job and how the shore establishment supported the fleet. CinCPacFlt was forever juggling plans, schedules, and funds to meet conflicting demands.
WINKLER: From there you go on to command. You already had tours as a CO, but this is your first combatant.
DOYLE: Admiral Sides asked me if I would stay on another year, because he anticipated being there another year before retiring. That was a great temptation, but I felt that I really needed to get back at sea. So I said, "No Sir, what I'd really like to have is command of a destroyer."
WINKLER: You did get promoted during that tour?
DOYLE: I was promoted to commander, right.
WINKLER: So you received orders to the USS John R. Craig.
DOYLE: I received orders to the John R. Craig. The Craig was in the Hunters Point Naval Shipyard in San Francisco, undergoing a FRAM 1 modernization. FRAM stands for Fleet Rehabilitation and Modernization. The Craig was a Gearing-class long-hull destroyer, and what they did during this modernization was to strip off everything above the main deck. She had three twin five-inch mounts. One of them was removed. A new deckhouse was installed and that new deckhouse housed in the center an ASROC [anti-submarine rocket] launcher. Then aft she had a small flight deck and hangar for ASW helicopters, including the DASH [Destroyer Anti-Submarine Helicopter] helicopter. She retained two twin five-inch mounts. She also had Mk 32 torpedo tubes, SPS-10 and SPS-40 radars, SQS-23 sonar, four boilers with separately fired superheaters and twin screws.
WINKLER: Didn't they cut the ship in half and add a section?
DOYLE: They added fourteen feet to give her more fuel capacity.
WINKLER: That's right, between the stacks.
DOYLE: Between the stacks, exactly.
WINKLER: Now, the DASH was designed to be an unmanned helicopter.
DOYLE: DASH was an unmanned helicopter, radio controlled by the ship. We had a DASH officer aboard who went through training and actually controlled the helicopter in taking off and landing. DASH would take off loaded with a torpedo after we had detected and localized a possible submarine with our SQS-23 sonar. At that stage the DASH officer's position would be on the hangar deck overlooking the DASH. He would launch the helicopter and then pass control into CIC. The helicopter would then be controlled by the CIC officer and vectored to drop the torpedo over datum, the predicted position of the submarine.
It was an interesting concept, but only worked if you could launch and get DASH to datum while you still tracked the sub on sonar. There are many fascinating stories of ships losing control of the DASH helicopter. I remember hearing of a DASH ship that lost control of the helicopter off Japan. The helicopter was last seen climbing in altitude and disappeared from sight. In the early '60s, the bugs had not been worked out in the drone concept. Besides ASROC was a superior weapon against maneuvering submarines. I should add that in good weather conditions, Craig was moderately successful against older diesel submarines. But as the first generation of nuclear submarines began to participate in exercises, our SQS-23 sonar and ASROC were totally ineffective.
WINKLER: Did your ship deploy with DASH?
DOYLE: No, we did not deploy with DASH. We used DASH in exercises in training in the San Diego operating areas. Incidentally, after modernization, the ship's home port was assigned as San Diego.
The ship's complement was about 250 officers and men, around twelve officers. Of course, we had the original Babcock and Wilcox boilers. Our family had moved from Pearl Harbor to Oakland, where we lived with Jeannette's parents across the bay from Hunters Point. Then we moved down to San Diego and rented a house in Coronado, and my children went to school in Coronado.
WINKLER: How long was the ship in Hunters Point?
DOYLE: Let's see, I reported aboard in July.
WINKLER: That's about right, June or July.
DOYLE: I think in the fall we completed and proceeded to San Diego. The ship was already well on the way to being finished when I reported.
WINKLER: Those last few months were probably very positive as far as the morale because you can see the light at the end of the tunnel.
DOYLE: Everyone's looking forward to finishing the job, getting on with sea trials, and, of course, moving back to the regular homeport. We finished up, completed sea trials and then operated out of San Diego on refresher training and fleet exercises until we deployed.
WINKLER: Any major problems detected during that fitting-out period?
DOYLE: There are always little things that need to be corrected as you're winding up, and it's up to the crew and the officers to stay on top of the situation and work with the supervisors in the shipyard to ensure that all the deficiencies are corrected. I don't recall any major problems. But our air search radar was always a problem. We had the SPS-40, which was hard to maintain and keep it in good operating condition, primarily because of repeated failures of the klystron tube.
WINKLER: You made a deployment with the Seventh Fleet?
DOYLE: Yes. We deployed to the Seventh Fleet and operated with the carrier groups. We also visited Subic Bay, Hong Kong, Japan, Okinawa, and Taiwan. During the deployment, Jeannette came out to Subic Bay to meet me when the ship was in Subic Bay. I don't recall exactly the date. In any event, it was about midway in the tour. The Craig came into Subic Bay for about five days of upkeep. Jeannette and I were going to have a little rest and relaxation (R&R) together up in Baguio located in the mountains in the Philippines. At that time Camp John Hay was a U.S. Army base. We had a cottage all lined up, and it was going to be great. Well, no sooner had the ship moored to the pier when I received a message from the Bureau of Personnel ordering me to report back to Washington for an interview with Admiral Rickover.
WINKLER: Okay.
DOYLE: I was highly incensed that I had to go back for an interview during that short in port stay since my wife had come all that way to join me. So I went over to see the Commander of the Seventh Fleet, Admiral Tom Moorer, whose flagship was in port, and asked him if he couldn't do something about this, at least delay the interview until I got back from deployment or arrange some other time. He said, "You'll have to go. If Admiral Rickover wants someone for an interview, they go for the interview, no matter where they are." So I hopped on a plane and went back to Washington for an interview with Admiral Rickover. Now, at that time I already had orders to command the Preble, a Coontz-class DLG, so I had mixed feelings about diverting my whole career into nuclear power.
WINKLER: The Preble was a relatively new missile ship.
DOYLE: She was a new Terrier guided missile destroyer, homeported in San Diego. My family could have stayed right there in our house in Coronado which would have been just fine. The interview was a traumatic experience. Admiral Rickover knew just how to humble one. He really bored in because I was a "sea-lawyer" and ended up throwing me out of his office at least twice the first day. That evening, Captain Jim Holloway, in training to be CO of Enterprise, counseled me on nuclear propulsion and my naval career. He prepared me for the next day which went better. Finally, Admiral Rickover said, "Get out of here. Go back to your ship." I should mention that I was also interviewed by several of Admiral Rickover's staff who probed in technical areas to see whether I could handle the nuclear power training.
I went back to Subic Bay, and fortunately I had a couple days with Jeannette there. While I was in Washington she went up to Baguio by car, enjoyed the cottage, and saw a little bit of the Philippines. I did not know when I got back whether or not I'd been accepted into the program. I didn't hear for some time, and then I received orders to nuclear power training.
In addition to performing all the usual destroyer duties–plane guard, shore bombardment, ASW–we had a unique experience that happened in the latter part of my tour aboard the Craig. We were on deployment and were ordered to go into Keelung, which was the port city for the capital of Taiwan, which was Taipei. That was unusual, because the ships usually visited Kaohsiung in the southern part of Taiwan.
The reason that we went into Keelung is that we were to embark a van that was to be put on the flight deck, lashed down on the flight deck. That van contained special communication equipment and special communication receivers. We embarked an intelligence officer, several ECM specialists and linguists, and were ordered to make a Desoto Patrol. A Desoto Patrol was a periodic patrol by a destroyer that steamed into the Tonkin Gulf and proceeded from the south of the Tonkin Gulf all the way north along the border of North Vietnam, close to shore, but not inside the twelve-mile limit, all along the coast. The idea was to provoke electronic activity from batteries ashore. We knew from previous patrols that the fire-control gun batteries of North Vietnam, as we steamed past the shore sites, would open up electronically and there would probably be communications between them. Our van with the special detachment aboard–the linguists and intelligence specialists–would intercept, translate and record the communication data and fire control signals and that would all be part of the intelligence picture. As the Craig came within the radar horizon of each site their gun fire equipment would light off and we would be continuously tracked. Our detachment was able to record the characteristics of the various electronic equipment, and verify positions and their procedures. That is exactly what happened during our patrol which was just before the famous Tonkin Gulf incident in June of '64.
All in all, I had a good tour on the Craig. We had a fine ship's company, with outstanding chiefs and officers, and we had a successful deployment. As with every tour as commanding officer, I learned a great deal. About that time, as I mentioned, I'd received my orders cancelling the orders to command the USS Preble and ordering me to nuclear power training. That was in June of '64.
WINKLER: I have a follow-up question. I was looking at the time span here, and an event almost everybody remembers is when the President was assassinated. You were CO of the ship at the time.
DOYLE: The Craig was in Kaohsiung to train with the Chinese Nationalist Navy when President Kennedy was assassinated. That was the era of Quemoy, Matsu, and the Taiwan Straits conflict. Seventh Fleet ships kept the Straits free and open.
WINKLER: I guess the defense condition was raised.
DOYLE: Yes, the defense condition was raised. I think it was up a notch, not up to attack imminent or probable, but just for all the ships to be alert, an attack possible situation. Nobody knew what the situation was at that time when we first got word.
WINKLER: How did the message come?
DOYLE: It came across as an operational immediate. Then, it was on the radio.
WINKLER: Any of the crew on the Craig that you recall, for any reasons whatsoever, as far as incidents or performance or personalities, for example, your executive officer?
DOYLE: No, I think they were just a superb crew. The engineers did an outstanding job in maintaining and operating the World War II plant. All on board performed as a team. The only real personnel problem was trying to keep the Squadron and Type Commanders from transferring your key people to meet some "emergency" on another ship.
WINKLER: Going on to nuclear power school.
DOYLE: I was ordered to report for nuclear power training, first to the school for six months, which at that time was at the Mare Island Naval Shipyard, Vallejo, California, then to six months at the destroyer prototype, which was in West Milton, New York.
Thus, my family and I were anticipating many moves; it would be first to Mare Island, then West Milton, and then where at that point I did not know. We decided that our oldest daughter, Kathy, who was about to enter into high school, really needed to get into a school that she could attend through the high school years. We applied to Madeira School in McLean, Virginia, and she was accepted. So although Kathy went up to Mare Island and spent the summer with us, she then started Madeira. Jim III and Anne remained with us.
I reported to Mare Island and went through, as a commander, a very rigorous nuclear power school course in mathematics, nuclear physics, thermodynamics, and chemistry, subjects I had forgotten more than I remembered. It was a long time since I'd had any of that at the Naval Academy, so it was a difficult time for me. The Rickover instructors were told to show no mercy on senior officers. They were to learn every bit of it, just like the junior officers.
WINKLER: Being accepted to the program was with the idea that you would be receiving a surface command?
DOYLE: Well, the plan was that I would be receiving a surface command, although when and which one was unknown. The reason they took in commanders at my level was because at that time they had not built up enough in the junior ranks to be able to have the rank and the experience necessary for commanding a nuclear surface ship, so they had to laterally take people in at that level, at the commander level. That's why I happened to be taken into the program.
In any event, I got through it and passed the examination. Then my family and I were off for West Milton, New York, the site of the prototype (D1G) of the engine room and reactor compartment of a nuclear powered destroyer. We rented a house in Saratoga Springs, New York. We spent the winter in Saratoga Springs and I started training, which was hands-on training on all the different positions in the engine room of a nuclear-powered destroyer. That was also a very demanding experience. It was round-the-clock training on a watch section basis.
WINKLER: Now, the prototype wasn't a Navy school, per se. Wasn't this a contractor run school?
DOYLE: That's right. It was a General Electric-run prototype, but under the control and administration of naval reactors in Washington, who had their own officer in charge, instructors who were Navy, and civilian engineers. It was essentially a naval reactors-run prototype. That's the way Rickover did business. He was in charge even though some of the plant managers were civilian.
WINKLER: As part of the training, did they have you operate every single watch station?
DOYLE: You train on every watch station, every single piece of equipment. You had to qualify on each enlisted watch station and also qualify as an engineering officer of the watch. In addition, every officer was required to pass a rigorous final written and oral examination.
Since I was a commander and most of my shipmates during the course were lieutenants plus a couple of lieutenant commanders, I was held responsible as a leader for my group. In other words, if one was not doing well or got into any difficulty, I was called in to exercise leadership. That was fine with me, because after we got to know each other, I was very interested in how these young officers were doing. I wanted all of us to survive and do well. I must say in all candor that one lieutenant junior grade, Tom Snedeker, who stood number 1 or 2 in his Naval Academy class, helped me immensely in getting through the chemistry, physics and mathematics portion of the training. I think I had a leg up on the others in watch standing and supervision based on my experience as a commanding officer, executive officer, and duty officer, so that portion was no problem.
Despite heavy snow and one severe ice storm that forced us out of our all-electric house, my family enjoyed Saratoga Springs. The schools were good and the small town atmosphere was refreshing. We completed training in June of '65. At that time there was not a CO billet available on a nuclear-powered ship, so I was ordered to be the executive officer of the USS Newport News, (CA 148) based in Norfolk, Virginia. I reported on board for my third executive officer tour. As you recall, I'd been executive officer on the McCain. But this was a bigger ship (20,000 tons), more crew (about 1,000), and she was also the flagship of Commander Second Fleet, who was also Commander Striking Force Atlantic, a NATO Command. We operated out of Norfolk, our home port. I reported aboard when the ship was in the yard completing an overhaul. Then we proceeded to Guantánamo Bay, Cuba for a six week period of refresher training. The flag officer at Guantánamo Bay at that time was Admiral John Bulkeley who later called Castro's bluff and cut off the water to the base. John was a colorful naval officer and a Medal of Honor winner in PT boats during World War II. He transported General MacArthur and family from the Philippines to Australia. When he was President of the Board of Inspection and Survey, I got to know him well as Op-03, particularly since he lived next door to me at the Navy Yard. Newport News was the last of the eight-inch gun cruisers. With 9 eight-inch and 12 five-inch guns, she was the most powerful cruiser ever built. When we opened up during gunnery practice, it was quite a show.
During that period, our family lived in the Larchmont section of Norfolk in a rented house. We decided that Jim III needed to get into a stable school environment like his sister, Kathy, at Madeira. He was accepted at Robert Louis Stevenson on the Monterey peninsula near Carmel, California, a private boy's school. So in the fall of 1975, he went off to school at Robert Louis Stevenson.
WINKLER: Did Newport News make any deployments overseas?
DOYLE: No. We made a cruise to Bermuda and participated in NATO exercises, but did not deploy.
WINKLER: Do you recall who Second Fleet was at the time?
DOYLE: Commander Second Fleet at that time was Vice Admiral "Chief" Masterson, an ordnance and missile expert. As executive officer, I had to look after the Commander Second Fleet and his staff. Dealing with the staff is not the easiest thing in the world for the executive officer. It seemed that they were never satisfied. But I got used to that.
WINKLER: How big of a staff do they usually bring on board?
DOYLE: Oh, my, they had about forty people. It was a big staff. The Admiral didn't bring them all aboard, but usually he had about at least thirty people aboard.
WINKLER: And basically, well, they're running the fleet from there?
DOYLE: Yes, they're running the fleet from the flagship and planning fleet exercises. It was a new look as to how an afloat staff does business.
WINKLER: During this time, of course, you're awaiting orders for that nuclear-powered ship.
DOYLE: I finally got orders to report to Naval Reactors for training and then to relieve the commanding officer of the USS Bainbridge (DLGN 25).
I reported in to Naval Reactors in Washington, and we found an apartment on the Virginia side to live. Two of the children were off at schools, as I previously mentioned, but we had our youngest daughter, Anne, with us. I was assigned to a cubbyhole office with another commander by the name of James Watkins, who was later to be the Chief of Naval Operations and the Secretary of Energy. He was there for final training before going to be executive officer of the nuclear-powered cruiser USS Long Beach. We became fast friends, and our families have been friends ever since.
The routine at Naval Reactors, then located in the WWII buildings on Constitution Avenue, was a three-month cram course where you reviewed all that you learned at the school and the prototype, plus studying the manuals that are used aboard the Bainbridge in the engineering department, which covered operating the reactor, the engine room, the chemistry, and all the administration. You were given weekly tests and a final examination, which took a whole day to complete, after which you were subjected to oral interviews. Then if you passed everything, you were called in and Admiral Rickover would present you with a large paperweight which was engraved on one side, "Oh God, thy sea is so great and my boat is so small," and the other side it read, "Presented to Captain James H. Doyle, Jr., USN, by Vice Admiral H.G. Rickover, USN." So once you got that, you knew you had passed and could proceed on to the next assignment, and my next assignment was commanding officer of the Bainbridge.
WINKLER: Now, the Bainbridge at that time was one of the most high-visibility ships. It symbolized the modern Navy at that time.
DOYLE: Yes. I've got a couple cruise books here so I run through this chronology pretty well.
WINKLER: The Bainbridge, with the exception of a nuclear reactor, was essentially a Leahy-class called by many a "double-ender." It had missile launchers fore and aft.
DOYLE: Yes. Bainbridge was the world's first nuclear-powered guided missile frigate. She displaced 8,400 tons, 565 feet long, and had a large sonar dome. She was powered by two nuclear reactors which furnished the steam for a twin-screw turbine-driven propulsion plant. She could develop more than 50,000 horsepower. Bainbridge was primarily an anti-air warfare ship. She had long-range air search radars, surface-to-air Terrier missile launchers fore and aft, which provided for a 360-degree missile envelope. She also had two twin three-inch fifty mounts midships.
WINKLER: She had ASROC, didn't she?
DOYLE: Yes, she had ASROC and two four-inch torpedo tubes. She had a helicopter deck, but not a helicopter hangar. But she had special electronic sensors which made her suitable for independent picket duty, and she had communication facilities for deploying as a squadron commander's flagship.
She was commissioned in October of 1962. In 1964, during her second Mediterranean deployment, she joined the Enterprise and Long Beach to form Nuclear Power Task Force I and steamed on an unprecedented 30,000-mile unreplenished voyage around the world. The task force completed a sixty-five-day voyage without receiving fuel, food, or other provisions en route. It was really a historic feat.
            Bainbridge had a crew of 500 officers and men. She could make more than 30 knots, had the capability to supply electrical power to a suburban community of 20,000 people.
WINKLER: Do you recall how fast you were able to get Bainbridge up to?
DOYLE: I remember thirty-two and a half knots, never thirty-five, but thirty-two, perhaps thirty-three. She could move right along, and, of course, she could move along at that speed without refueling.
WINKLER: The idea is to keep up with the carrier.
DOYLE: Exactly, and particularly the nuclear-powered carrier.
WINKLER: At that time, the Enterprise was the nuclear-powered carrier.
DOYLE: The Enterprise was the only nuclear-powered carrier. I relieved in December, 1966 as commanding officer. At that time the ship was deployed in the western Pacific, so I relieved Captain Hal Castle in the Tonkin Gulf after a turnover period at sea.
WINKLER: And you were going to be on board there for the next over three years.
DOYLE: Yes, but it turned out to be almost four years.
WINKLER: Where was the home port?
DOYLE: The home port at that time was Long Beach, California.
WINKLER: It looks like you have a ship's newspaper, newsletter?
DOYLE: Let me make sure that it's still part of the same deployment. In 1966-67, Bainbridge operated with the Long Beach and the Enterprise, primarily off Vietnam in the Tonkin Gulf on Yankee Station supporting the Enterprise as her airwing launched strikes against targets in Vietnam. We would provide plane guard services and were capable of defending the task group against cruise missiles and diesel submarines, if such threats materialized. We also provided Tacan, radar and communications back-up. Captain Jim Holloway was CO Enterprise and frequently the task group commander. It was a great pleasure to operate and learn from him. We, on Bainbridge, would rejoice with him when his airwing returned with all safely aboard.
In March of '67, while we were still on deployment, we were allowed to make a port visit not to Subic Bay or any of the nearby ports, but down to Australia, because we did not have to refuel. We departed on March the 8th and then arrived in Fremantle, the port city of Perth, the capital of Western Australia, on March the 13th. The total distance was about 3,000 miles, and our average speed was 25 knots. We had a delightful port visit in Fremantle and Perth. The townspeople treated our crew royally–beach parties, dances, meals in private homes, tours and visits to the outback. I called on the governor, mayors and the senior naval officers. After five days of superb R&R, we departed on March 18.
WINKLER: At the time, was there any problem about the fact that you were nuclear propulsion? Was there any opposition in any of the countries in the western Pacific to nuclear power port visits?
DOYLE: At that time, there was not any opposition at all. We were welcomed with open arms at Fremantle and Perth. Australians love Americans and were particularly grateful that we fought with them to turn back the Japanese in the critical Battle of the Coral Sea in WWII. Naval Reactors imposed the condition on where we could berth. We were not allowed in Fremantle to berth alongside the pier, but instead were assigned an anchorage. That was somewhat of an inconvenience, but the logic behind it was that Naval Reactors had calculated by various damage arcs that had there been a nuclear accident and a release of radioactivity, we would not pose a threat to the local community. This was the standard practice on later trips to Australia. We would anchor out, and our liberty parties and visitors to the ship would use small boats.
The only places where we were allowed to berth alongside, were Subic Bay in the Philippines and the British naval base in Singapore. In both places we could moor alongside.
WINKLER: The crew you had probably was, I don't know if it would be considered the creme de creme, but it would be very highly trained because of the engineering plant‑-
DOYLE: The officers and men were very highly talented, and we did exceptionally well in all our exercises and training, winning the Battle Efficiency pennant, the E. Our port visits went well. We tried very hard to be goodwill ambassadors when we were in a foreign port.
Incidentally, on the trip back from Australia, 3,000 miles to Subic Bay, our average speed was 29.2 knots without, of course, refueling or other logistic support.
WINKLER: I imagine you must have slowed down‑-well, did you come around through the north through the Straits of Malacca?
DOYLE: We steamed through Lombok Straits, not the Straits of Malacca, but Lombok Straits, which is one of the passages through the Indonesian archipelago, and, no, we did not slow down at all. The strait was wide and deep enough, and there was no traffic, so we just pressed on at flank speed.
WINKLER: Once you got back to Subic, was it then more time on the gun line?
DOYLE: Yes, more time with the Enterprise on Yankee Station on the Gulf of Tonkin. The routine was usually thirty days on the line and then back to Subic Bay for a few days of upkeep.
WINKLER: On one of the deployments, didn't the Enterprise have a major fire?
DOYLE: Yes, but that was during a later deployment, not in '67.
WINKLER: During this time off of Vietnam, was there any challenge from the North Vietnamese to the fleet out in the Tonkin Gulf that would cause you to go to general quarters?
DOYLE: No, not at this time, because we were not one of the ships that would be on the gun line. Five-inch gun destroyers were used for that purpose. So out in the Gulf where we operated, it was simply a question of supporting the Enterprise in her air operations. As you know, the task group was harassed by the intelligence gathering Soviet trawler that would attempt to interfere with underway replenishment operations. On a later deployment, we were stationed up in the Gulf as the PIRAZ ship for controlling aircraft operations in the Gulf of Tonkin and over both North and South Vietnam.
During the latter part of this deployment, Captain Kent Lee, aboard Enterprise to relieve Jim Holloway, embarked in Bainbridge for a week, during which time we made a port visit to Singapore. He took over the Squadron Commander's cabin and was great company.
WINKLER: How long was that first deployment?
DOYLE: We got back in July of 1967 into Long Beach, California, and my family was there to meet me. We settled in quarters in Long Beach at White's Point, which is really in San Pedro. We operated out of Long Beach on various exercises with the Long Beach and the Truxtun (DLGN 35), the second nuclear powered destroyer. The Truxtun was also in Long Beach, as was the Long Beach (CGN 9). The nuclear-powered carrier, Enterprise, was home-ported in the San Francisco area.
WINKLER: Was it up at Alameda?
DOYLE: Alameda, correct, homeported at Alameda.
WINKLER: I would imagine when you're back in the States the ship probably is subjected to some rigorous inspections.
DOYLE: Yes. We had our annual operational reactor safeguards inspection by the team from Naval Reactors, and we were notified that we would be going to Mare Island Naval Shipyard to be refueled.
WINKLER: This would be the ship's first refueling?
DOYLE: This would be the ship's first refueling.
WINKLER: What's involved in a refueling process?
DOYLE: The refueling process is one of the most complex operations a nuclear-powered ship can perform. The old fuel cells are actually removed from the ship. Before that the ship is put in a safe condition as far as against any possible outside contamination or contamination getting out. She is literally in a cocoon. Then the radioactive fuel cells are removed and replaced with new ones. This involves workmen who are qualified going into the reactor compartment itself and only working for a prescribed length of time to minimize exposure to radioactivity. Then various equipment and instrumentation in the engine room are overhauled. Every step of the refueling process had to be done in accordance with written procedures, with no deviation and hands-on oversight.This was the first refueling in five years. Actually, this was the first refueling.
WINKLER: How long did you spend in the yards?
DOYLE: Our refueling commenced on September 26th of 1967 and completed the following July in 1968.
WINKLER: So that's quite an extensive process.
DOYLE: It was an extensive process. I asked, and got permission, to have the home port changed to Mare Island so that the officers and men with families could move their families up to Mare Island. Some of the officers, including myself, were allowed to live on the base, and others found places to live out in Vallejo.
It was a great benefit to be able to move the families up to Mare Island and not have to worry about men commuting down to Long Beach during the period the ship was in the yard. During a ship's refueling, we had to maintain a three-section watch and man all the key stations to ensure that there was no lapse in safety and that the refueling was done properly. It was a very rigorous operation.
WINKLER: Mare Island itself recently closed as a facility, and was a very nice base.
DOYLE: Mare Island was a very nice base and the families enjoyed living in that area. At the conclusion of the refueling, the final "exam" is taking the reactor critical with the new fuel cells and proceeding to sea on initial sea trials with Admiral Rickover and his staff on board. So near the completion of our refueling, the officers, chiefs and enlisted men were examined, trained and qualified in all aspects of operating the nuclear propulsion plant, including drilling at casualty control procedures. Only then could we take the reactor critical and proceed to sea on trials.
One of the important evolutions that we had to pass on sea trials‑-and Admiral Rickover would personally signal when this would be done‑-was a four hour full-power trial with an emergency back full to see the transition in the reactor, that the reactor would respond to the demand for more steam or less steam. It was a critical operation, and fortunately we passed.
WINKLER: I imagine the most unenviable position aboard the Bainbridge must have been that of the engineering officer?
DOYLE: The engineering officer, the commanding officer and the executive officer were all involved. One of the three of us had to be aboard at all times. In other words, this was different from the commanding officer, executive officer, and engineering officer in the ship during the overhaul of a fossil fuel ship with no watches to stand. We were required by Rickover to be on board, one of the three of us, at all times during that period.
Now there was a great responsibility on the engineering officer because he naturally was more involved in the details of refueling and the overhaul than were the commanding officer and executive officer, but not all that much. We had to be involved every step of the way, and we were; and if you weren't involved every step of the way, you could be sure that I would be getting a call from Admiral Rickover. And Rickover did call frequently. In addition, I had to send in reports each week as to how the ship was doing. Also there was a Naval Reactor supervisor in the shipyard who also kept tabs on the progress and made independent reports to Admiral Rickover.
WINKLER: Was it difficult working with Admiral Rickover? I know he has a reputation of being very exacting or demanding.
DOYLE: Well, he was very exacting and very demanding, and not easy to work with. On the other hand, I must say that his organization was a superb one, and any time you needed help or assistance, it was only a phone call away. This was quite different from trying to get help in other technical areas on the ship, either the weapons system or the non-nuclear engineering portion, where you would call in to the bureaucracy at the Naval Sea Systems Command, or Bureau of Ships as it used to be called, and it would be difficult to find anybody who would stand up and be accountable for the information provided or the issue raised.
But there was no question about who was accountable for the operation of all naval reactors. Admiral Rickover was, and he made every one of his staff feel accountable. So although he was difficult to deal with, and I mean difficult in the sense of being very exact and demanding excellence in performance and you had to measure up–and sometimes I did not measure up–he was superb in his field, well respected, and supported me throughout my tour. Ted Rockwell, one of his longtime engineers, wrote an outstanding book in 1992, The Rickover Effect, which describes his philosophy, approach to engineering, and his legacy to Americans. It should be required reading by all naval officers and engineers.
WINKLER: Is there any time you found yourself banging your head against the bulkhead?
DOYLE: Oh, of course. But we got through it all. We passed our sea trials and changed our home port back to Long Beach. That's not quite correct. Let me correct that. Since we had another deployment coming up in January of 1969, Bainbridge's third, with refresher training and fleet exercises until deployment, I persuaded the Navy to allow the home port to remain in Mare Island during this period from the end of the shipyard until January, which included the Christmas period. Then change our home port back to Long Beach after deployment, which would be sometime in the summer of '69. On January 6, 1969, Bainbridge again deployed with Enterprise, and on the 14th of January, we entered Pearl Harbor. As both ships were just ready to enter the channel, a fire broke out on board the Enterprise. It was a very damaging and massive fire, and as a result, the Enterprise did not make that deployment. They had to return to a west coast shipyard to get repaired.
So we proceeded on to the western Pacific via Midway and Guam, and arrived in Subic Bay. Then at various times, we operated with the carriers Kitty Hawk, Oriskany, Bon Homme Richard, and Ticonderoga, supporting their air strikes in Vietnam–plane guard, communications, TACAN, and cruise missile and submarine defense.
WINKLER: Was this the deployment you mentioned you had some PIRAZ duties?
DOYLE: Yes, we had a tour on the PIRAZ station in the Gulf. All aircraft had to check in and be identified by the PIRAZ ship. We would verify the route and profile, and notify the search and rescue forces if aircraft were missing. We also had tours in the Gulf on the sea-air rescue (SAR) station, North SAR and South SAR, where we would embark a large SAR helicopter and steam close to the shore in a position to respond to downed aviators. We did that on three occasions during this deployment.
WINKLER: Did you pick up anybody?
DOYLE: Yes, we did. We picked up a pilot who had ditched after his plane had been hit. Our helicopter picked him up, brought him back to the ship, and eventually we transported him to the hospital ship. He was in pretty good shape and grateful that he was not picked up by the North Vietnamese fishing boat.
WINKLER: It must have been very tight back aft to land a helicopter due to the fact that you had the missile launcher.
DOYLE: It was very tight. It was a very tricky operation, and not only was it tricky, but when we lashed the helicopter down on deck, you had to make sure to avoid heavy seas or at least steam on the smoothest heading.
This deployment lasted until July 1969. During this period, we had another visit to Western Australia. We left Subic Bay proceeded on to Perth through the Indonesian archipelago and anchored off Fremantle. Then we had a port visit to a little town called Bunbury south of Freemantle. Both visits were very enjoyable. Bunbury particularly because the crew saw a small town and some of the outback.
WINKLER: I imagine being aboard Bainbridge you probably had quite a few VIPs come aboard.
DOYLE: Yes, there were a lot of VIPs. As well as many of the ordinary Australians of all ages. We also had visiting captains and flag officers who wanted to see the ship, because after all, it was a fairly new ship. However, the engine room was off-limits without Admiral Rickover's personal OK.
Actually, during this past trip we went through various Indonesian Straits. One was the Sunda Straits in Indonesia and then a return through the Lombok Straits.
Jeannette had made a reservation to fly out and meet the ship during one of our upkeep periods in Subic Bay. We were scheduled to come into port on a certain day, and the North Koreans shot down a reconnaissance EC-121. Our task group was diverted from port visits and ordered up north to respond in case of a crisis. Jeannette was already en route, and visited Japan, Taiwan, and Hong Kong. I sent a message to Captain Robertson, a close friend from law school days who was in the JAG Corps and stationed as the legal officer at Sangley Point. His wife Trish met Jeannette and she stayed with them until the ship finally arrived in the Philippines about a week later. This was truly a helping hand in the traditional Navy way. Jeannette and I finally had a few days together.
I must mention that the officers and crew on Bainbridge were splendid. The officers particularly were outstanding. My executive officer, Commander Hoss Miller, nuclear-power trained, was the first commanding officer of USS California, a nuclear-powered cruiser. He later was a cruiser/destroyer group commander as a Rear Admiral, and when he retired, he became president of his alma mater, the New York State Maritime Academy up on Long Island.
My engineer was Ted Almstedt. He later became a rear admiral and served as the military assistance czar. My operations officer was Jack Shaw, who later became a rear admiral and headed up the Aegis program as PMS-400 in NAVSEA. My weapons officer, Gil Gilbault, became the first commanding officer of Ticonderoga (CG 47), the first Aegis cruiser.
All of these officers were on the Bainbridge with me. Almstedt and Shaw later commanded Bainbridge as captains. Of course, Gilbault also became a rear admiral and commanded a Cruiser-Destroyer Group. So they had all at various times worked for me, not only in the Bainbridge, but Miller and Gilbault in Op-03.
WINKLER: You had a wardroom full of flag officers there.
DOYLE: Yes indeed. It was an outstanding group of officers. In any event, we completed a very successful deployment and returned to Mare Island, Vallejo, California, in July of 1969.
WINKLER: Let's pick it up from Mare Island next time.
                                                       December 2, 1996
WINKLER: What I'm going to do is pick up where we left off last time on your third deployment with the Bainbridge, and I take that was in 1969. Could you discuss that deployment.
DOYLE: Before we get into that, I would like to make a comment about my wife, Jeannette, and the part that she played as a commanding officer's wife during my tour aboard the Bainbridge.
The wives of the officers and enlisted were a very close-knit group, and during my whole tour, both at Long Beach and Mare Island, Jeannette was very much involved in their activities, and their problems and their concerns and played a big part in keeping that group together. There was quite an esprit de corps. Of course, when the ship was deployed during the three deployments, it meant a lot to have that kind of mutual support among the wives, and I just want to mention the key role that Jeannette played as the commanding officer's wife. She was looked to for counseling, for solving some problems, but also just for being there and being a friend.
WINKLER: That's a good topic to delve into a little bit more. Was she the ombudsman, or ombudsperson, as they call it today?
DOYLE: That's correct. We didn't have at that time a designated ombudsman, although she certainly served as that, and together with the XO's wife and the chief petty officers' wives, they formed a team to look after the wives of both the officers and the enlisted. There were wives clubs that met regularly.
WINKLER: What percentage of the crew would you think was married at the time?
DOYLE: I would say roughly 30 percent or so.
WINKLER: Because this is still in the era of the draft.
DOYLE: This is still in the era of the draft, but we had a good many that were married. Maybe 30 percent is a little high. Maybe it was more like 25 percent.
WINKLER: Do you recall any particular or an example of a problem where your wife in that network would intervene to the benefit of all involved?
DOYLE: On one of the deployments, shortly after we left the States for the deployment, the wife of one of the officers committed suicide.
WINKLER: Wow.
DOYLE: This was a major traumatic experience for all the wives left behind, and Jeannette and other wives were involved in sorting that out and taking care of matters until we could return the officer to the states as quickly as possible, which we did.
Otherwise, she was involved in the briefings before the ship deployed. Of course, I sent a monthly newsletter to all the families telling them what the ship was doing and where it was going and so forth.
WINKLER: When you're sending newsletters to the families, I would assume that it went to parents of crew members who were single, or did it just go to the wives?
DOYLE: Now that you mention it, I think we did send the letter to some of the parents directly. It was primarily for the wives. But it was addressed, "Dear Bainbridge family and friends," so a new crew member could send it to parents or friends, which they did.
WINKLER: What are some of the things that you would put in that newsletter?
DOYLE: Well, we would indicate what our deployment had been during the month, both at sea and in port, and the future schedule. We also reported on meetings, for example, of the enlisted wives club or questions that would be covered in briefings on the upcoming deployment. But also items of general interest, not only about what the ship was doing or the schedule‑-of course, they were very interested in the schedule‑-but also the activities during port visits.
WINKLER: How was the Navy shore establishment at that time as far as providing family support?
DOYLE: The primary support activity was the Navy Relief Society which was extremely helpful in providing financial relief. We did not have at that time the child care facilities or the support facilities that we have now, since many more of the crew are married. So it was mainly a question of Navy families looking after their own, as we say, with the help of organizations like Navy Relief and Red Cross. Also, the Chaplains office was available to help in more serious cases.
WINKLER: Now, you've experienced this yourself, where your wife gave birth while you were deployed. I imagine this must have happened several times.
DOYLE: Oh, yes, right. Generally speaking, that was taken care of by the families in the homeport at that time.
WINKLER: Your support network looked in to make sure everything was taken care of?
DOYLE: Absolutely.
WINKLER: Talk a little bit about the crew. During this era, this is a time, during the late sixties where the military is not, the view within society is at a low point due to the situation in Vietnam. What was the morale on board the ship?
DOYLE: I would say that the morale was good. As we progressed during this era and during the tour‑-I was aboard the Bainbridge from '66 to '70‑-as the general public got disenchanted with the war in Vietnam, I think that had an adverse effect on the morale. So it probably wasn't as good when we deployed for our last deployment, in April 1970, as it was earlier. In other words, we would be going out to the Gulf of Tonkin to do what we'd done before, and, of course, there was a lot of criticism and agitation over us being involved at all, particularly in the San Francisco area. I think that's one reason why on this last deployment our visits to Australia to take part in local events helped morale. But I would say that, although morale generally was still good, the officers and men took the outside criticism in stride and did what they had to do on board ship in a very professional manner. And there was a lot to do. The training, keeping up the standards of training and education, particularly for the nuclear power-trained people, was demanding, and we were always involved in qualifying and re-qualifying individuals.
WINKLER: For those coming aboard the Bainbridge to work in the engineering area, they had come through quite an extensive pipeline.
DOYLE: Yes. They'd come through various schools, both officers and enlisted, and they'd been to the prototype. It was the basic school first, and then the prototype at either Idaho Falls or up in West Milton, New York or New London, Connecticut. They'd been through that, but on board they had to become familiar with Bainbridge's nuclear-power plant and had to undergo a series of demanding oral examinations, qualification on watch stations, qualification as the engineering officer of the watch. This training went on and on at all times. Then we had our annual operational reactor safeguards inspection.
WINKLER: Did you have any recognition program, keeping in my mind now during the 1970s and 1980s there'll be a regime established where enlisted can qualify for surface warfare devices and there's other recognition mechanisms.
DOYLE: We didn't have the surface warfare qualification and insignia at that time, which was established in 1974. But we did have commendation medals, Navy achievement medals, and other recognition for their service records.
I think I ought to point out that we had outstanding support from Admiral Rickover and his staff on any maintenance problem. We had occasion during one of the deployments to change a reactor coolant pump in Subic Bay. We were the first ship to do that and accomplished that solely by ship's force. Usually that's a big job to be done in the shipyard with qualified reactor people. But we got all the support, guidance, and materiel from Naval Reactors. Since we had a spare reactor coolant pump on board, we were able to make the change in Subic Bay solely by ship's force. So this was testimony to the superb state of training of the crew and their qualification on maintenance and reactor safeguards procedures.
WINKLER: In our last discussion you mentioned the competence of your wardroom. This sounds like you also had a very capable chief's mess.
DOYLE: Absolutely. We had topnotch people, the best I had ever served with.
We deployed in April 1970, and before we reached Subic Bay, we visited Sydney and Melbourne, Australia, to participate in the Captain Cook bicentennial and the annual Coral Sea celebrations. We had a two-week visit to these Australian cities. The crew thoroughly enjoyed it. It was a tremendous boost to morale to be in Australia again, this time on the east coast of Australia. And following that, we sailed to Subic Bay.
WINKLER: I imagine when you were in Australia you were one of several foreign ships?
DOYLE: Yes, we were. The British were there, the Australians were there, and the New Zealanders were there, and I believe there were two other U.S. ships, a submarine and an icebreaker that had been on duty in Antarctica. But it was a grand occasion, and we saw Princess Anne rededicating the discovery of Australia at Botany Bay.
WINKLER: I understand the Australians really welcome American sailors.
DOYLE: Yes. This goes back to World War II and specifically to the Battle of the Coral Sea, which although the U.S. suffered great damage, as well as the Australians, to their warships, the allies succeeded in frustrating an invasion of Australia by the Japanese, who had a number of troop ships sunk and could not continue with the invasion. The U.S., together with the Australians, but particularly the U.S. Navy, was credited with saving Australia from the Japanese. So this friendship has continued, and it certainly was in evidence during the Coral Sea celebration.
WINKLER: That brings up a point. During that juncture, Australia and New Zealand were also contributing to the effort in Southeast Asia.
DOYLE: Absolutely. New Zealand had frigates that were involved; the Australians had missile ships that operated in the Tonkin Gulf and on the gun line. So, yes, they were very much involved.
WINKLER: That's often overlooked.
DOYLE: Right. As I mentioned, we had our upkeep in Subic and operated on Yankee Station with the carrier America. We had another port visit to Singapore, which was very enjoyable. We were in Singapore on the 31st of July 1970, and berthed at the Royal Navy dockyard. I was invited aboard the HMS Forth to participate in a ceremony marking the last day of issue of Navy rum aboard British ships.
WINKLER: Really? Last day. I'm holding a plaque here, and it commemorates from 1741 to 1970. Why did the British Navy decide to disband the practice?
DOYLE: They disbanded the practice of giving a tod of rum, a daily tod of rum to all hands, because of abuses and change in the customs aboard Royal Navy ships–bar locked up at sea for example. So there was a ceremony with a lot of sea stories and, a mock funeral for the occasion.
I was relieved as commanding officer of the Bainbridge during this deployment by Captain Bill Sheridan.
WINKLER: Was that during your stay in Singapore or was that a later port?
DOYLE: Actually, the change of command ceremony was at sea, and I got off the ship in Buckner Bay, Okinawa to fly home. This represented a delay in my being relieved. I was supposed to have been relieved early in the deployment. However, my relief had failed his examination at Naval Reactors and Admiral Rickover had declined to give him a re-exam and required BuPers to get someone else in the pipeline. So Captain Sheridan was in the pipeline.
WINKLER: How much of a turnover was there? I've seen long turnovers and I've seen very short turnovers.
DOYLE: Admiral Rickover required a long turnover, so Captain Sheridan was aboard a number of weeks. We went over all the details of the ship, particularly the status of the nuclear power plant, before he relieved me.
WINKLER: During this time, one of the things which the surface Navy takes pride in is excellence competitions. Did the Bainbridge earn some battle Es in different departments?
DOYLE: Yes. I've forgotten what year, but we won the E, the battle efficiency award, at least once during my tour. I also received‑-and the credit goes to the officers and men‑-two Legions of Merit and one Bronze Star for the various deployments and operations during that period of time.
Incidentally, the Bainbridge was deactivated on October 6, 1995 in Norfolk, Virginia. There was a unique ceremony attended by all but one of the previous commanding officers and a lot of the crew, particularly the plank owners, the original commissioning crew. It was a fond farewell and tribute to Bainbridge's active duty.
I'm not sure where she is right now. The fuel rods had to be removed from the ship. At the time of the deactivation, there was a controversy with the governor of the state of Idaho about receiving nuclear fuel. He had refused to receive the fuel of the South Carolina. That controversy has been resolved now, and Bainbridge had to go into the Philadelphia Naval Yard to get her fuel removed, which was eventually transported to Idaho and buried in a disposal site.
WINKLER: That's one of the problems with a nuclear-powered ship is that you can't just decommission and walk off the ship.
DOYLE: That's right, absolutely. The engineering crew must remain until the fuel rods are removed.
WINKLER: From our conversation of your naval career, the tour on board the Bainbridge is one of those that you seem to cherish the most.
DOYLE: Well, I think the length of time I was aboard, the uniqueness of the ship, the rigorous training program and standards and the association with such high-quality officers and men made it a very special tour, not that I didn't enjoy my other tours, but this was a very special one.
WINKLER: Originally you were supposed to leave the ship at an earlier time period. Did the delay change your prospective orders? Were you slotted for something else?
DOYLE: I was originally slotted to be part of the DD 963 program to get the Spruance ships to sea. When my orders were delayed, I was ordered instead to the Office of the Chief of Naval Operations in the Program Planning and Budgeting Office.
WINKLER: What Op code was that?
DOYLE: At that time, it was Op-90 in OpNav. I should mention that, because of the delay, there was a major disruption in our family plans. Since we were going back to Washington, we had already made such plans as shipping our furniture and giving up our house in Long Beach. When I learned of my delay and sent Jeannette a message, she went ahead and moved to Washington and rented and settled the house, and waited for me to return. This was an extremely trying experience for her, which she, in true Navy wife style, handled well.
WINKLER: At this time, how old are your children?
DOYLE: Okay, this was 1970. Kathy was twenty-one, Jim was eighteen, and Anne was fourteen.
WINKLER: So I assume your youngest daughter was still living at home.
DOYLE: Anne was still living at home. Kathy was away at Vassar College, and Jim was just finishing Robert Louis Stevenson high school.
WINKLER: I guess we can discuss a little bit about your tour in the Pentagon. What you may want to do is either provide an overview of Program Planning and Budgeting or you may want to discuss what your duties were.
DOYLE: In the Program Planning and Budgeting shop, we were responsible for putting together what they called the Navy POM, which was the Program Objectives Memorandum, which listed all the programs, weapons programs, ship and aircraft programs, support programs, the whole budget for the Navy. We operated under the fiscal and strategic guidelines we received from the Office of the Secretary of Defense to fit Navy programs into a balanced budget and present that to the Chief of Naval Operations and the Secretary of the Navy for decisions. Since obviously we couldn't fit all the requirements into one basket, we needed to make some decisions on what programs would be in the budget and the plan and what programs could not be in the budget and the plan. So in that very formalized process, which involved planning, programming, and budgeting, we were dealing with really three different years: the current budget year, the next year in which we were trying to prepare a budget for Congress, and finally the first year of the planning year, the out year. And, of course, this was based on a five-year program, the five-year defense plan, or what was called the FYDP.
WINKLER: This is 1970, and money is tight.
DOYLE: Money is tight. But also, we had the CNO, Admiral Zumwalt, initiatives during this period, so there were a lot of new initiatives that had to be accommodated in the budget. So all of this added to the problem of trying to come up with a balanced budget.
WINKLER: Some of the initiatives include, for example?
DOYLE: Well, new weapons systems, smart mines, mine countermeasures, and the new frigate program. Then there were all sorts of things in the personnel area to make life better for the enlisted personnel. The CNO looked at all of these initiatives in a project called Project 60. He and his advisors put together a priority list which we worked with in trying to prepare the budget.
WINKLER: As far as your specific job, did you find yourself basically looking at the different programs and, for example, preparing papers on, if you want to fund this, you'll have to cut this, those types?
DOYLE: Yes, I had to do that. But I also had to take part in the budget process and respond to the program budget decisions issued by our own Navy comptroller, and the comptroller in the Office of the Secretary of Defense. For example, we had to prepare reclamas to a budget decision that was adverse and write point papers justifying why these programs should not be cut. So the whole evolution was dealing with budgeting for the current year, programming for the upcoming year, and planning for the next out years.
WINKLER: Part of this era, there was a decommissioning of hundreds of ships. Was your office involved in the decision making to terminate the lives of many veteran warships?
DOYLE: Very much so. Decommissioning was part of the way to save the money for new ships and new initiatives. We would be very much involved with figuring out how much money we could save by decommissioning. Now, the actual decisions on what ships would be decommissioned were made by officers in other branches of OpNav, and ultimately by the CNO. But we would have to prepare papers showing what the savings would be, and sometimes the savings weren't as much as we had hoped because you have to spend money to decommission a ship.
WINKLER: I was going to ask if there was an example specifically you had in mind.
DOYLE: At that time a lot of the older cruisers were on the block for decommissioning, as well as the WWII destroyers and amphibious ships. These ships were really at the end of their useful life and difficult to maintain. So we came down drastically in the number of active ships in the Navy. The manning and the support required to keep the older ships steaming was unaffordable to the Navy.
WINKLER: I understand that because of the op tempo with the Vietnam War, a lot of ships had their overhauls or upkeep periods extended out.
DOYLE: That's correct. Many ships were overdue maintenance, because shipyard funds for repairs and modernization had been bow waved into the future and put on the back burner. So a decision had to be made as to whether it was cost-effective to fund repairs or whether it was just better to get on with new construction.
WINKLER: Was there much hemming and hawing about decommissioning any of these ships or was the decision clear?
DOYLE: There's always controversy about decommissioning ships, but I think everyone could see that we could not go on supporting the World War II ships. The Vietnam War was winding down at that point.
WINKLER: You decommissioned quite a few CVS carriers. In lieu of the rising Soviet submarine threat, was there some concern about eliminating this hunter/kill capability?
DOYLE: Yes, but very frankly, our studies showed and our operations at sea verified that going after Soviet nuclear submarines with hunter/killer tactics wasn't very effective. At that particular time, before the Soviet submarines really started to get quiet, the best way to detect and track submarines was a combination of our deployed SOSUS acoustic system, followed up by P-3 aircraft and our own nuclear submarines. Surface ships also played a part as they received their passive acoustic capability and LAMPS helicopter. World War II hunter/killer tactics and dipping sonars were still effective against older diesel submarines or newer snorkling submarines that have to come near the surface to charge batteries, but not against the modern nuclear submarines.
WINKLER: In addition to cutting back on the fleet inventory, there was also a cutback of the shore establishment at this time. Was your office also involved in that?
DOYLE: Yes, we were involved in that. There were cuts across the board in the shore establishment, as well as a general reorganization at this time. For example, the Chief of Naval Material was established to head up the Systems Commands (Air, Ships, Ordnance, Electronics), which did away with the old bureaus.
WINKLER: I imagine closing naval facilities must have been very difficult because you have pressures outside the Navy that come into play.
DOYLE: Absolutely, and today you can see it in the various base closings reviews that have been done. Even though a base is put on the base closing list, it may survive for years. It's very difficult to close bases, because it means jobs for the local populace. The politicians and their constituents don't like to see bases close.
WINKLER: One of the bases I think which may have been after you left that job was Newport, Rhode Island, a home port for many surface vessels. I think it was about 1972 or '74.
DOYLE: That's right. Newport, Rhode Island, was an operating base for surface ships, active duty ships, as well as reserve ships. It was closed down, and this was of great consternation at the time to the people of Newport. It later turned out that Newport has thrived on their own tourist industry, plus the Navy still has a very large presence with the Naval War College and other training facilities, schools of all sorts, including the surface warfare officers school, the naval justice school, and various enlisted training facilities.
WINKLER: Was that decision mulled around during your time frame or was that after?
DOYLE: I believe that was after, but I'm sure it was discussed. It might have been planned during my time.
WINKLER: Of the programs that were worked on during your time in the Planning and Budgeting Office that later came to fruition, is there anything that comes to mind as far as the different weapons systems or ship classes?
DOYLE: The late sixties had produced the major fleet escort study by the Department of Defense. The outgrowth was first a strategy to build destroyers and frigates. The Spruance-class destroyers were to replace the FRAM destroyers, like Craig, and were to be equipped with a high powered sonar, ASROC, LAMPS helicopter facilities, 5″54 gun, ship silencing, self-defense missiles, and the first gas turbine engines. The  Oliver Hazard Perry-class frigate was a smaller 3,500 ton ship with passive acoustic capability, LAMPS helicopter capability, short range surface-to-air missiles, Harpoon surface-to-surface missiles, and also gas turbine engines. The Perry frigate was to supplement and protect the Knox destroyer escort, both operating as convoy escorts in the NATO reinforcement scenario. The other half of the strategy was to build California and Virginia-class nuclear-powered destroyer leaders with Tartar-D surface-to-air missiles as major fleet escorts in primarily an anti-air warfare role. The  California-class was laid down in 1970; the  Virginia-class in 1972. In 1970, the advanced surface missile system (AEGIS), based on phased array radar and new computer technology, was in the early stages of development.
WINKLER: At this time, as far as shipbuilding, the only ships that were really being put to sea were the Knox-class frigates. The Perry and Spruance were still in planning stages.
DOYLE: Correct. Perry and Spruance were still in planning stages. USS Tarawa (LHA 1) was laid down in 1971.
WINKLER: Which flag officers did you work for?
DOYLE: At that time the overall head of Program Planning and Budgeting in OpNav (Op-090) was Vice Admiral Worth Bagley, who is a Naval Academy classmate and the first in the class to make flag. I'm sure there were others there in the chain of command, but I worked for him.
WINKLER: Any comments about his leadership style or his vision?
DOYLE: He was a strategic thinker who had a real knack for leadership, management and focusing on issues that would move the Navy ahead. As 090, he spearheaded the Zumwalt initiatives. I admired and enjoyed working for him. This was the second time, because, as a flotilla commander, he previously had flown his flag aboard the Bainbridge for a short time in Long Beach. His agenda for the Navy was revolutionary rather than evolutionary, and he was impatient with the bureaucracy and its resistance to change.
WINKLER: This is the Zumwalt era, and people have opinions of Admiral Zumwalt one way or another. But as far as ship acquisition and different programs, it sounds like you favored many of the moves he was making.
DOYLE: In ship acquisition, I was in favor of building nuclear-powered, highly capable, multi-purpose cruisers. I was concerned about the low mix of frigates and destroyers that were essentially single mission ASW ships. However, I cannot fault Admiral Zumwalt for trying to build a low cost ship that could be produced in numbers to meet the OSD study, direction and fiscal guidance. But we got out of balance on the ASW mission for surface combatants, and we needed to get back into strike and anti-air warfare. But that's a story that's really part of the whole business of my tour as Op-03. (I was not enamored with the sea control ship initiative since it featured a low capability, vulnerable ASW carrier).
WINKLER: I know at this time a major concern was Soviet cruise missiles and defeating those, and I think during your tenure as Op-03 the Navy made some serious steps to address that problem.
DOYLE: Exactly.
WINKLER: We'll address that at a later time.
DOYLE: Right.
WINKLER: Any other memories or experiences that you gained from your tour in the Pentagon‑-I understand it was from June of '70 to June of '71‑-that you took with you later in your career?
DOYLE: Well, it certainly helped to have that experience as a captain in the Pentagon in programming and budgeting, especially when I later came back to the Pentagon in '75 as Op-03. That was very helpful to me, an important step in the education and learning process.
WINKLER: It must have been almost a culture shock type thing, having spent four years on board a ship and then suddenly be thrown into this whole different world of numbers and dollars.
DOYLE: Well, it was. It was a real cultural change, and working in the Pentagon always is. Captains in the Pentagon are important, but so are the Commanders and the Lieutenant Commanders down in the trenches. I was glad I had the duty, but I must say, it was a trying experience.
WINKLER: Did you find yourself staying in late a few evenings?
DOYLE: Oh, yes, I certainly did. Long days.
WINKLER: Now, during this time I imagine you're screened for flag?
DOYLE: The Selection Board met early in '71, and I was selected for promotion to rear admiral. Of course, I was very happy with the news, and my family was very happy. I was finally ordered and, I believe, specially asked for by Admiral Thomas Moorer, who was the Chairman of the Joint Chiefs of Staff, to work for him on the Joint Staff, particularly because of my law background and the international negotiations that were going on at that time. We can get into that a little later as part of my legal career.
WINKLER: We'll go ahead and do that. You will spend two years in the international negotiations division up on the Joint Chiefs of Staff. After that two-year span, you're going to receive orders to go back to sea as commander of the cruiser destroyer group.
DOYLE: That's correct. I wanted to get back to sea as a flag officer, and I was particularly gratified to be ordered to command Cruiser Destroyer Group 12, which was homeported in Mayport, Florida. So my family and I moved down to Mayport, and by this time my daughter Kathy had completed Vassar College and was working, my son Jim had just completed the University of California at Santa Cruz, and my youngest daughter Anne was in her last year of National Cathedral High School in Washington, D.C. In any event, Jeannette and I moved to Florida, and we lived on base in the flag officers' quarters right on the ocean, and I had a great year as commander of Cruiser Destroyer Group 12.
WINKLER: Just how many ships are involved in the Cruiser Destroyer Group?
DOYLE: Well, it varied from time to time, but essentially I had all the cruisers, destroyers, and frigates that were homeported in Mayport. The number varied from time to time, but could be as many as ten or fifteen. Even though they deployed under another operational command, they were still under my administrative command.
WINKLER: Now, you would sometimes wear two hats.
DOYLE: Yes. I would wear an administrative hat as Commander Cruiser Destroyer Group 12 and an operational hat, depending upon the assignment, under Commander Second Fleet. For example, during the fall of 1973 my staff and I participated in several training exercises. During one exercise I flew my flag aboard the carrier America and commanded the task group in preparation for deployment. Later, in 1973, I deployed to the Mediterranean aboard the carrier Forrestal as Commander Attack Carrier Group Two.
WINKLER: Is it unusual to have a surface fellow in charge of a carrier attack group?
DOYLE: In the Atlantic it was becoming not unusual. The policy had been changed when a classmate of mine, Admiral Stansfield Turner, became the first surface flag officer to deploy aboard a carrier in the Atlantic and Mediterranean. Thereafter, it became accepted practice. Nevertheless, when I was deployed aboard Forrestal, I went out of my way to keep Admiral Mike Michaelis, ComNavAirLant, fully informed of airwing operations and problems.
I found out when I became Commander Third Fleet, that the Commander in Chief of the Pacific Fleet, Admiral Weisner, had not accepted that concept and would not at that time deploy a surface flag officer as commander of a task group aboard the carrier. It was not yet accepted in the Pacific. Aircraft operations from a carrier are complex. Admiral Weisner was not comfortable that a flag surface officer would have the knowledge and experience to handle aircraft operations and unforeseen problems in the vast reaches of the Pacific Ocean. He had a good point.
At that time, the procedures, tactics, and mode of operation in the Pacific and Atlantic were quite different, due to distances, logistic support, geography, the heritage of operating, and many things, including personalities. It was a marked difference in the way the ships operated.
WINKLER: Is there a good example of how an operation would be handled in the Atlantic versus in the Pacific that you can cite off the top of your head?
DOYLE: In the Atlantic, ships change operational control much more frequently. When deploying to the Mediterranean, for example, ships tended to break off from the deploying group, go to different ports, and then rendezvous for training and exercises with different groups. In the Pacific, there was much more unit integrity. Ships worked up, trained and deployed in the same group. Although they might break off for port visits, they would generally rejoin the same group for operations. Distances, logistic support, and the legacy of operations from the Vietnam War were all factors. Mutual support among ships was also much more important.
WINKLER: In the Atlantic you're dealing with NATO.
DOYLE: Exactly, you're dealing with NATO, the NATO command structure, and NATO ships‑-the British, the German; and although the French weren't part of NATO, we still operated with their ships from time to time; the Netherlands; and the NATO naval standing force was in place. So there were these considerations.
In the Pacific, except for a few cases where we had Australian destroyers or frigates there, we were mainly operating with U.S. forces. At that time, the Japanese Navy was not really an operational navy.
WINKLER: During this time, you mentioned that you had deployed to the Mediterranean.
DOYLE: I deployed to the Mediterranean and flew my flag aboard the USS Forrestal. Our task group (carrier, cruisers, destroyers, and frigates) conducted training exercises in the Mediterranean. We also had a crisis during that time involving Cyprus: the controversy between the Greeks and Turks over who owned Cyprus. The Sixth Fleet Commander, Vice Admiral Dan Murphy, directed my task group to position itself near Cyprus but take no part in the controversy, but to make sure that the Soviet Navy in the Mediterranean would not use that occasion to get involved. The  airwing kept track of all surface ships in the area. The Turks were convinced that a Greek naval force was en route to Cyprus. Although we continually reported that this was not so, the Turks were not convinced. Their shore batteries actually fired on Turkish destroyers thinking they were Greek.
WINKLER: I take it you were not in the Mediterranean at the time of the October '73 war. You arrived there afterwards.
DOYLE: That's correct. That's correct, I was not there during the October '73 war.
WINKLER: But the Russians were still in the Mediterranean.
DOYLE: The Russians were very much in the Mediterranean with ships and submarines.
WINKLER: I imagine probably the first thing in the morning you probably went to flag plot and got the update.
DOYLE: Exactly. I got the update and was very much involved with my staff in keeping track of all the ships in the eastern and western Mediterranean and planning the training operations. We conducted the so-called war at sea exercises, primarily geared against coping with the Soviet threat, which was the primary threat during the Cold War era. So we concentrated on anti-air warfare, antisubmarine warfare and launching our strike aircraft against hypothetical targets ashore.
WINKLER: At the time, what was your greatest concern? Was it Soviet submarines or their surface ships with their anti-ship missile capabilities?
DOYLE: Well, I think they were both a concern. They were both tough to deal with, probably cruise missiles from submarines was the greater threat. It became apparent to me in operations that we really didn't have systems to cope effectively with the cruise missile. Remember, we also had the threat of long-range Soviet Backfire and Badger aircraft from southern Russia launching a massive cruise missile attack against our naval forces in the eastern Mediterranean.
WINKLER: So your tenure as Cruiser Destroyer Group 12 really gave you an understanding of the needs of the fleet for your later tour.
DOYLE: Exactly. It was really very worthwhile for me in planning what new systems, new ships, and new capabilities were needed when I later became Op‑03. We also had some very enjoyable port visits during that period at Palma in the Majorcas; Athens, Greece; and Naples, Italy. As a matter of fact, my oldest daughter Kathy decided to get married during my deployment to Michael Watson, a young man she'd been going with for some time. Fortunately, I was able during a port visit to fly back and give the bride away.
WINKLER: I imagine your visit to Athens must have been kind of tense because of the situation with the Turks.
DOYLE: Yes, Athens was tense, and we were very concerned about that. Of course, the Greeks and the Turks have age-old differences based on many things, including who owns the islands off the coast of Turkey. This is still a major issue today.
We had one unique operation. In addition to operating nearby and being ready in the Cyprus crisis, we had to marshal our task group, which was in various ports all over the Mediterranean, join up, transit the Mediterranean, and exit through the Strait of Gibraltar in complete radar, electronic, and radio silence.
WINKLER: I guess the term is total EmCon.
DOYLE: Total emissions control, that was it.
WINKLER: You really have to rely on your lookouts in that situation.
DOYLE: That's right, and if you have any kind of overcast weather or fog, you really have to be very careful.
WINKLER: Now, obviously you do that exercise as something to prepare for against the Russians. How successful were you as far as getting out without the Russians realizing what was happening?
DOYLE: Well, very successful, because we had no indication that we had been detected. When we finally were outside the Straits of Gibraltar, the Soviet intelligence trawler that was located normally outside the straits, judging from her communications traffic, was totally surprised. As we went out of EmCon, opened up with communications and radar, and headed down toward the coast of Africa, she followed us.
WINKLER: So you went down the coast of Africa. Were there any port visits?
DOYLE: No, no port visits, just went down the coast of Africa, with the Soviet trawler following us, and that was sort of the end of the operation. But there was a downside. Since the entire operation was classified, the Forrestal's sortie from Athens under the cover of darkness and unannounced left some crew members ashore. Wives, including Jeannette, had to cancel a planned trip to Athens since the port visit was cut short drastically!
WINKLER: Now, from there, I assume you headed back to your home ports.
DOYLE: We went back into the Mediterranean and continued training. During deployment I had received orders to be Commander of the Third Fleet, and so I was relieved while the ship was at sea. Again, I was relieved overseas, and Jeannette, Anne, and I packed up and headed for Pearl Harbor via Berkeley in the summer of '74. Anne was planning to attend Mahattanville College in New York in the fall.
WINKLER: With selection to Commander Third Fleet, does promotion come with that?
DOYLE: Yes. Promotion to vice admiral goes with the assignment. It's not a rank that you automatically assume unless that is your assignment. My permanent rank at that time, without an assignment, was rear admiral.
WINKLER: Do you have any insights on how you were selected for
these various positions?
DOYLE: The only insight I can give you is that the CNO makes the final decision but he does get recommendations. The Commander U.S. Naval Forces Europe, who at that time was Admiral Worth Bagley, told me that he was going to recommend that I be assigned as Commander of the Third Fleet, and I was so ordered. So I assume that his recommendation carried great weight. The Secretary of the Navy also gets a final vote on flag moves.
WINKLER: Now, the Third Fleet was homeported?
DOYLE: At that time, Third Fleet was homeported at Pearl Harbor. Actually, the headquarters was on Ford Island, which was also the location of the Pacific Fleet's major Ocean Surveillance System (SOSUS) station, the premier SOSUS station that connected all the substations in the Pacific area.
Third Fleet had two primary missions at that time. The first mission was to detect and track Soviet strategic missile submarines (SSBNs) in the Pacific. I say Soviet strategic submarines, but it would have included all Soviet submarines, but at that time they were not operating their attack submarines in the eastern Pacific. The Soviet SSNs were operating close to bases in the Soviet Union, and keeping track of them was primarily the responsibility of Commander Seventh Fleet. To detect and track Soviet SSBNs, a combination of assets were used. For example, a SOSUS station would detect engine or propeller noise from the SSBN, analyze the SOSUS gram for a telltale noise spike, coordinate with other SOSUS stations, determine an area of probability, and report to SOSUS control on Ford Island. After further analysis and confirmation of probable submarine, P-3 aircraft from Barbers Point, Hawaii, or Moffett Field, California, flew to the area of probability (usually an ellipse) to localize and track. The P-3 would use MAD (Magnetic anomaly detection) to confirm and sonobouys to fix the submarine position and track. Then the aircraft would drop a small explosive charge to let the sub know the Navy was overhead.
WINKLER: At this time, I guess you're dealing with Russian Yankee-class submarines.
DOYLE: Primarily  ­Yankee-class, exactly. They were noisy and often the noise could be correlated with particular hull numbers.
WINKLER: The reason why you're dealing with them is because given the range in the missiles at the time, they were basically forced to deploy their submarines off the western coast of the United States.
DOYLE: That is correct. In order to be a credible threat, the Yankees had to get closer in to the United States. To be a credible deterrent we had to make our presence known.
Our other primary mission was to train and work up the ships and aircraft in the fleet that would deploy to the Seventh Fleet. Our job was to take the carriers, cruisers, destroyers, submarines, amphibious ships, and airwings after they had completed their type training, and then exercise them in task group and task force operations. In conjunction with that training, we planned and conducted major Pacific Fleet exercises that were held either in the southern California operating area or the Hawaiian operating area. These exercises were referred to as RimPac, (Rim of the Pacific), and often Australian, New Zealand, and Canadian ships would participate.
WINKLER: That's a series of exercises that still goes on today.
DOYLE: Yes, RimPac is alive and well with Japanese ships now involved. We were also very much involved in tactical development, experimenting with new tactics and equipment. The missile, gunnery, bombing and acoustic ranges in the Hawaiian area were under our control.
WINKLER: As a fleet commander, did you deploy much to sea?
DOYLE: I made it my business to go to sea with a small skeleton staff during the exercises. While I did not run the day-to-day operations as I did when I was a task group commander in the Mediterranean, I did get around to all the ships and air units and then participate in the "hot wash-up" critique and the evaluation of the exercise.
WINKLER: Did you find this a particularly challenging period, because there are a lot of social changes going on‑-for example, you went to an all-volunteer service, experienced budgetary cuts, and had a turnover in equipment. Then drugs were becoming a problem. Were these some of the challenges you found yourself dealing with?
DOYLE: Yes, but those kinds of problems were dealt with primarily by the Pacific Fleet type commanders, for air, including the carriers, surface combatants, submarines and amphibs. I was concerned, but my job really had to focus on the workup and the training and the tactical development.
What I really became concerned about was that it became obvious that there had to be a better way to work up the ships and airwings. I'm talking about the carriers, surface ships and submarines. We needed a command-and-control structure that provided the framework for fighting in all warfare areas simultaneously. It was obvious that the traditional approach whereby the task group commander aboard the carrier was responsible for the minute-to-minute, hour-to-hour, day-to-day tactical control of strike, AAW and ASW was not working. There was too much responsibility for one person and one staff, and the displays, equipment and instrumentation aboard the carrier were inadequate to perform the mission.
So my staff and I devised what we called the Composite Warfare Coordinator (CWC) concept. We issued a tactical memorandum in early '75 as a guide for organizing a task group to fight in all warfare areas simultaneously. The commander of the task would continue to be in overall command, but he would assign an anti-air warfare coordinator, an anti-submarine warfare coordinator and a strike coordinator, not necessarily located on the flagship. The task group commander would determine where best to locate the coordinator (later called commander) depending upon the make-up of the task group and what ship had the best facilities, displays, instrumentations, communications and experience to do the job. After issuing the TacMemo, task group commanders began using it, and gradually it became, for the next twenty years, naval doctrine.
This is one of the achievements that I look back on with much satisfaction, and it also played a great part in the later design of the first Aegis cruiser, which we can talk about later. With CWC, the task group commander would usually exercise tactical control by exception. That is, the warfare commanders had the authority to make tactical decisions and control the forces assigned to them keeping the task group commander fully informed, but he could weigh in at any time and give direction.
We did not direct a specific organization or dictate where a warfare commander should be, but as the TGC became familiar with the concept, he would normally assign the anti-air warfare commander to a missile ship but keep the strike warfare commander aboard the carrier, since the major strike weapon was the aircraft, and assign the responsibility to the CO or airwing commander. The ASW commander would sometimes be assigned to a squadron commander aboard an ASW destroyer. In other cases, the squadron commander would be located aboard the carrier in the ASW module where he could get the debriefs from the S-3s and the ASW helicopters. In any event, the task group commanders who would cycle through Third Fleet for training started using the CWC concept, and got good results.
WINKLER: The other advantage of that system is that you're not putting all your cookies in one jar.
DOYLE: Exactly. In the event of battle damage, you have alternative warfare and task group commanders.
WINKLER: Any other aspects of your tenure with Third Fleet?
DOYLE: No. I think that those were the highlights. We lived in quarters on Ford Island, which were adjacent to the Arizona memorial. It was a magnificent setting and we had our own pier. Nevertheless, although we had a barge, it was only used for official functions, such as meetings with CinCPacFlt and CinCPac. But for personal activities, there was the ferry, and the Ford Island ferry had a schedule. Although this could be inconvenient, it was a great excuse for leaving a party early; you just had to catch the ferry.
In any event, during that period Admiral Jim Watkins was Chief of Naval Personnel. He was also the first flag officer allowed by the Commander in Chief Pacific Fleet to fly his flag aboard a Pacific fleet carrier. He was a submarine officer and previously the executive officer of the cruiser Long beach, so he was really a hybrid submarine-surface warfare officer. Later, of course, he became CinCPacFlt, CNO and Secretary of Energy. He informed me that there was going to be a change in Op‑03 and that Admiral Holloway, with whom I had operated when he was commanding officer of the Enterprise, would soon be ordering me to return to Washington as Deputy CNO, Surface Warfare.
WINKLER: All right, that's a good place to close. I was going to ask a follow-on question about the CWC Concept. Was that something that a light bulb just went on overnight or is this something that had been discussed?
DOYLE: We discussed it on the staff and evaluated exercises. We really had to figure out a better way to do things within the carrier task group, so it wasn't a light bulb kind of situation. As most things in life, it was an evolutionary process. CWC was not intended to change traditional amphibious doctrine between the Commander Amphibious Task Force (CATF) and the Commander Landing Force (CLF) that orchestrated the Inchon landing during the Korean War. It should also be noted that during World War II there were divisions of responsibility. For example, the Third Fleet was the primary carrier striking force against the Japanese fleet and homeland, while the Fifth Fleet carried out the amphibious campaigns for the Marianas, Iwo Jima and Okinawa and controlled the escort carriers in the Battle of the Philippine Sea.
WINKLER: Was there one officer in particular who was the key concept guy?
DOYLE: Well, my plans officer, Captain Harvey Gray, was very much involved. Interestingly enough, his background was in P-3 aircraft. But he was a very astute individual and understood task group planning and tactics, so he was a key player.
WINKLER: Let's end it here for today.
January 13, 1997
WINKLER: Today we're going to talk about your legal career, because you did get a law degree at George Washington University, and you mentioned that your father had a legal background.
DOYLE: Yes. My father was a postgraduate student at George Washington University back in the twenties. He graduated from the Naval Academy and then got a Bachelor of Law degree while he was in the Navy. I think that's one of the reasons that I wanted to go to law school. He had suggested that the law education was very important to him in his career as a naval officer.
Also, I had been at sea since I graduated and away from my family much of the time. After four years, we needed some shore duty. So I put in for postgraduate training in law while I was on the destroyer John W. Thomason and my application was approved. I was very fortunate because that year only five were selected from the entire Navy to study law. Three went to George Washington, one went to Georgetown, and the other went to Catholic University. We had our pick of those three schools in the Washington area. Two others in our group made flag rank–Vice Admiral Bill St. George commanded the Surface Force, Pacific, and Rear Admiral Robbie Robertson was Judge Advocate General of the Navy.
I started law school in June of 1950. The procedure at that time was that the Navy students attended law school classes in the morning until one o'clock. Then we would walk down to Constitution Avenue, hop on a bus to the Pentagon and work the rest of the day in one of the divisions in the Navy JAG. There we would rotate through various branches of the law: administrative law, international law, admiralty, and courts and boards, which had to do with court-martials and special appeals.
Jeannette, daughter Kathy, and I lived in Parkfairfax, which is an apartment complex right off Shirley Highway in Alexandria, Virginia. Although it was a busy time and I was studying a lot, it was a great time to be with my family, since I was home each evening. Also we had our second child. My son Jim, James Henry III, was born in 1952 at Bethesda Naval Hospital. Law school was a challenge, but it was a very satisfying experience. The Navy student wives enjoyed the shore duty and made lasting friendships.
WINKLER: I think you mentioned during that time, as part of your studies, or as part of your involvement at the Pentagon, you had an influence on one of the naval warfare publications.
DOYLE: Yes. In my last year, I was a co-editor of the law review, along with Dave Eaton, who was also a Navy student, and I was given a lot of flexibility on what courses I could take. I took a course in international law, taught by Professor William Thomas Mallison, who had just come down from Yale University. This was his first teaching job at law school and I was in his first class in international law.
Tom Mallison was a former naval officer who served on board the battleship Colorado in communications during World War II and was injured during shore bombardment. It may have been an errant shell or friendly fire during the bombardment of one of the islands, or it may have been enemy fire. He was not sure which. In any event, he was wounded in the leg and finally retired on disability, but still kept active in the naval reserve.
During the course of the class, Mallison was asked by the Office of the Chief of Naval Operations in the Pentagon to write a manual on the legal rules of naval warfare. At that time, the Navy was in the process of issuing all new naval warfare publications, called NWP or NWIP, IP being an informational publication. So Tom was assigned, under contract from the Navy, to write a new NWIP, Law of Naval Warfare, that would update international law on the subject. Because of my naval background at sea, he asked me to help him. So during 1952 and '53, until I graduated, I assisted him in the development of that manual. The manual was eventually approved by the Navy and issued as NWIP 10-2 in 1955. Of course, after I graduated in 1953, I went on to sea duty.
WINKLER: Just out of curiosity, how much did you draw on experience? For example, there were laws for land forces.
DOYLE: Yes. We researched the laws of land warfare including the Lieber code that President Lincoln issued during the Civil War. We went back into history and looked at the Hague Conventions of 1907, the London Declaration of 1909, the London Protocol of 1936, the 1949 Geneva Conventions, and the actual practice during World War I and II. We did a lot of historical research and study of the various legal documents, legal opinions, and conduct of warfare. Also, we tried to take account of the judgments of the Nuremberg Tribunal. A particularly difficult subject at that time–and it still is debated–was the law of the naval warfare relating to submarines. So it was a very challenging task because the operators will not be bound by unrealistic legal rules in waging war.
WINKLER: How did you resolve that?
DOYLE: We did not resolve it completely. We decided there were situations where the submarine commander, in order to safeguard his crew and carry out his mission–at least in a World War II-like war where merchant ships were a part of the war effort–would not be able to carry out the provisions of the London Declaration of 1936, which required that the submarine surface and put all the crew of the merchant ship in lifeboats before destroying the ship. In the war crimes trial of Admiral Donitz, Fleet Admiral Nimitz had testified that the U.S. policy in the Pacific during World War II was not to search for survivors if such action would cause undue additional hazard to the submarine, or prevent the submarine from accomplishing its military mission.
WINKLER: Besides this one professor, are there any other individuals during that school that served as role models?
DOYLE: Yes, the dean of the law school at that time was Vice Admiral Oswald (Ozzie) Colclough who was a former Judge Advocate General of the Navy. Although a Dean, he started teaching and I took his first class in admiralty law. He was an outstanding naval officer who was a law PG student in the 1930's, so he was a role model. We had some excellent professors with whom I stayed in contact after I graduated.
WINKLER: You established a relationship with George Washington University that would continue on.
DOYLE: Yes, my relationship with the law school continued, and I stayed in touch with Tom Mallison throughout the years and saw him from time to time. I graduated in June 1953. I was number three in the class and received a juris doctor degree with distinction. I also took and passed the D.C. bar exam, and was admitted to practice in California..
WINKLER: Normally, wouldn't you follow that up with a tour doing law?
DOYLE: No, although the Navy students went up to Newport to take the six week naval justice course, which was primarily a short course in the procedures of court-martials, upon completion we went to our sea assignments.
WINKLER: Well, you completed your sea tour, and then you had your first tour with the International Law Division in 1957 to '59. Discuss some of the things that occurred during that.
DOYLE: All right. I reported into the Pentagon in 1957, and was assigned to the International Law Division, which was really the division I wanted to be in because of my previous association with the Laws of Naval Warfare project. It was a very interesting time, because the United States was preparing for the 1958 Geneva Conventions on the Law of the Sea, and so a main focus of our activity there was preparing for the Law of the Sea Conference.
But we also had other challenges and other legal situations that came up. For example, I was sent to Argentia to make sure that the CO of a DE did not surrender a Polish defector to the local authorities since this would violate the basic legal position that a U.S. warship was sovereign territory. It was also a time when we were negotiating base rights all over the world, and one particular negotiation I was involved in from the standpoint of the Navy's legal contribution, was the Philippine base rights negotiations, trying to make sure that, whatever jurisdiction and procedure was applied, our naval personnel would have treatment under recognized rules of common law justice. That negotiation required coordination with Op-61, the political military branch of the Office of Chief of Naval Operations, and International Security Affairs in the Office of the Secretary of Defense.
There were also various day-to-day problems that required a legal look, and I had a very close relationship with then-Commander Dave Bagley in Op-61. He later became a four-star admiral. Various political military issues would come up regarding port visits and ship operations, and he would usually get a legal "chop" (approval) from me. So we worked very closely together.
As I say, the main focus was on the preparations for the Law of the Sea negotiations of the 1958 conventions. My shipmate in the office was law school classmate Robbie Robertson who had completed his sea tour. He later became the Judge Advocate General (JAG), and a Dean at Duke Law School. Robbie was on the Defense Department team that was to go to Geneva to negotiate. That team was headed up by retired Vice Admiral Colclough who I mentioned was dean of the law school. Captain Will Hearn, the head of the International Law Division of JAG, was his assistant. The State and Interior Departments had representatives, and the entire U.S. delegation was headed up by Arthur Dean, a prominent New York lawyer.
I was left behind to coordinate the positions and to provide the backup for the Navy, and the Pentagon actually, and work out of the international law office. That was fascinating because it turns out that the Navy was the recognized lead agency in this. The Air Force was not particularly interested in this project at all. The Army had its own land warfare issues, and as far as they were concerned, this was a Navy problem. The Office of the Secretary of Defense at that point had other things on their plate. So it turned out that Jack Pender of the State Department and I were the sole people in the Washington area who really worked the day-to-day issues that came up during the Conference. What a difference that was compared to my later tour on the Joint Staff where endless approvals were required to get anything done.
WINKLER: I was about to say, the State Department has a definite role. The delegation, I imagine, was split 50-50 between the Navy and the State?
DOYLE: Not quite, there were a lot more State Department people, because they were involved in fisheries and the continental shelf.
Our main interest at that particular time was to maintain the three mile limit of territorial sea, because once that was conceded, there would be all kinds of territorial claims that would expand and cut off areas of high seas. The Navy's fundamental and traditional position was that the maximum area of international high seas was required for naval operations in order to carry out a forward strategy rather than rely on a defensive posture. So the U.S. delegation was firmly committed to the three-mile limit for national security and that coincided with the fisheries position of a narrow territorial sea. In 1958, distant water fishing off the coast of South America, for example, was much more important than our infant coastal fishing industry. The other important issue for the U.S. was to get international acceptance of the Truman Declaration which was the right to explore and exploit the continental shelf out to at least 200 miles.
In any event, we put forward a three-mile limit, but that was only acceptable to the major maritime powers. The British then put forward a proposal for a six-mile territorial sea and a 12-mile fishing zone as a compromise, because the Soviet Union and other states wanted a 12-mile territorial sea. The U.S. delegation decided that they would support the six-mile compromise to avoid Conference adoption of a 12-mile territorial sea. The word came back to the Pentagon for Pender and me to get approval from the Navy and the State Department to support the compromise.
Well, my job as a junior Lieutenant Commander was to sell this to the Navy. The chain of command was no help, so I went in to see Admiral Burke, then CNO, and explained the compromise and asked for his approval. He promptly threw me out of the office and said, in effect, "I'll be damned if we will give up a three-mile territorial sea." He understood very clearly the strategic issues involved and was not to be dissuaded by a "JO" from international law.
So I went back to my office and called Jack Pender over in the State Department. I said, "Look, I can't get anywhere in getting approval on this side. You're going to have to through your chain and have the Secretary of State call and try to convince Admiral Burke that this is in our interest."
Well, Pender did go up through his chain to the Assistant Under Secretary of State, who was Christian Herter. He called Admiral Burke and cajoled him, I guess, into agreeing–reluctantly, I must say–to the six-mile compromise. So the Navy, the U.S., the Brits and the maritime powers put forward the compromise. Well, all of that was to no avail, because a six-mile territorial sea failed by one vote, although a 12-mile fishing zone and 200-mile continental shelf were adopted. At that particular conference in 1958, there was no agreement on the width of the territorial sea. Another conference in 1959 also failed to reach agreement.
WINKLER: Some countries invoked the 12-mile. We maintained a three mile for a good period of time afterwards.
DOYLE: Yes, we did, and that's another story. In any event, I had a very enjoyable tour in the International Law Division, but knew it was time for sea duty again. Jeannette and my three children enjoyed shore duty in our rented house in Alexandria, Virginia.
WINKLER: Speaking of I guess determining territorial waters, I guess you were dealing with issues such as base lines?
DOYLE: Yes, we were. We were dealing with how you measure and draw base lines, which determines the actual breadth of the territorial sea. Yes, all of that was very important. Also, the passage through international straits was critical, as well as the concept of historic bays. As we get into a later period of the law of the sea negotiations in the seventies, many more issues came to the fore.
WINKLER: The one observation I would make is, you have a very strong freedom of the seas outlook.
DOYLE: Absolutely, very strong.
WINKLER: And that first tour, if not your tenure in law school, definitely molded your viewpoint, which would come into play later.
DOYLE: Exactly. I was very much influenced by that experience.
WINKLER: From there, you went back out to sea as executive officer of the John McCain. We discussed that previously. And then you had your tour on the Newport News and the Bainbridge, and then you came back to Washington. You were just newly promoted to rear admiral while in your Captain's tour in OpNav Program and Planning.
DOYLE: Yes, in 1971.
WINKLER: You were assigned to J-5.
DOYLE: I was assigned to the Plans and Policy Directorate (J-5) in the Joint Staff. At that time, we were in the era of détente with a number of ongoing negotiations. SALT I (including ABM restrictions), incidents at sea, and the threshold test ban were on the front burner with the Soviets. We had negotiations on chemical and bacteriological weapons, and amendments to the 1949 Geneva Conventions concerning the wounded and sick on land and sea. Preparatory meetings on a new law of the sea convention were just starting. NATO was negotiating with the Warsaw Pact on mutual and balanced force reductions. Finally, the Conference on Security and Cooperation in Europe was underway.
Admiral Tom Moorer, Chairman, Joint Chiefs of Staff, saw that he needed a focal point on the Joint Staff to handle these negotiations and provide an independent military input to the process, separate from a political input from OSD. When I was selected for flag rank, Admiral Moorer asked that I be assigned to the Joint Staff, primarily because of my legal background and looking ahead to handling these negotiations. When I first arrived, I headed up the Mideast Division for a short period of time. Then the new International Negotiations (IN) Division in J-5 was established with me as the first chief of the division. Also in 1971, Jeannette and I purchased our first house. It was in Bethesda, Maryland, across the Potomac River from the house we rented in McLean.
WINKLER: I think the person you directly worked for was Admiral Weinel.
DOYLE: Yes, Admiral Blackie Weinel. He was the J-5. And General Vogt was the Director of the Joint Staff. My immediate superior was Major General Crittenberger.
WINKLER: How do you go about starting an organization from scratch?
DOYLE: Well, you do your best to get the right people. The services assigned officers from the Navy, Army, and Air Force. An Army colonel who was a specialist in force planning was my man in charge of Mutual Balanced Force Reduction issues. I had a Navy captain who was primarily associated with law of the sea and incidents at sea. An Air Force officer was involved in threshold ban talks and the conference on security in Europe. So you got good people, and then you made assignments as events proceeded. For SALT I and ABM there was a permanent backup group for the negotiation team, but we were involved in the process.
WINKLER: How did you go about determining what the Joint Staff's interests were?
DOYLE: Well, I operated on the basis that my job was to make sure that the Chairman's interests were covered in all political-military issues. If no one else was going to take action, I was going to take action. If the subject smelled of negotiations, it was automatically assigned to me. There was just nowhere else to put it.
Now I had to coordinate with other divisions on the Joint Staff, force planning and the various regions, but I was given a pretty free hand in the whole area of negotiations, which was great. I would send people off to be part of a negotiation team, such as incidents at sea and the 1949 Geneva Conventions. We backed up General Ed Rowney, who at that time was head of Mutual Balance Forced Reduction negotiations in Europe. He later became the SALT II negotiator. We had an IN division representative on the State Department's negotiations team for all negotiations and the meetings that established the U.S. position.
WINKLER: You also had interdepartmental groups.
DOYLE: Exactly. It was a very busy time, because I was constantly going to meetings on this subject or the other at the State Department and in the office of the Secretary of Defense. At that time, Larry Eagleburger, who since became Secretary of State, was in International Security Affairs (ISA) in OSD. We had many meetings on the incidents at sea negotiations. And I dealt with Reggie Bartholomew–who later became an ambassador and still is an ambassador in the State Department –on a day-to-day basis.
WINKLER: Discuss some of the issues‑-for example, Mutual Balanced Force Reduction. I don't think there was much progress during the 1970s.
DOYLE: No, there really wasn't. NATO and the Warsaw Pact could not agree. It was really a question of each side putting forth its position. Tentative agreements were reached on reducing forces, but they were so hedged in conditions that nothing was resolved. Lots of talking and exchanging data. At least the U.S. found out more about the composition of Soviet forces and where they were located, because we were interested in getting the Soviet forces to withdraw east of the Urals and, of course, the Soviets weren't about to do that. At that time, we were adamant in maintaining a strong balanced force in Europe to offset Soviet tanks and armored divisions and their ability to reinforce quickly.
WINKLER: The difficulty there is measuring the quality of each unit.
DOYLE: Oh, yes. It's not a one-for-one thing. It was very complicated because we count units and assess strengths differently from the Soviets. But the discussions went on until they finally kind of petered out.
WINKLER: In those talks, were there also discussions about pulling back the tactical nuclear forces that each side had, or was that handled separately at Geneva?
DOYLE: TacNuks were really handled separately as part of the agreement to limit shorter and intermediate range nuclear weapons. The INF Treaty wasn't concluded until 1987.
WINKLER: SALT I, there's really two aspects of SALT I: the agreement to limit deployment of ICBMs and the Anti-Ballistic Missile Treaty. What were some of the positions that the Joint Staff put forward as far as our negotiations? We had invested, for example, a lot of money in building an ABM system, which was under construction out in North Dakota, and basically we were giving up that capability.
DOYLE: In the ABM negotiations the Joint Staff insisted on launchers and interceptor missiles to protect our ICBM silos. The Soviets wanted their ABMs to protect Moscow. The later debate was over developing and testing space based ABMs. The big issues in the strategic missile negotiations were numbers of missiles and launchers, where located, and accuracy and throw weight. At that time, the Soviets had many more ICBMs than we did and larger, more destructive missiles. We wanted to offset that with an ability to make improvements in accuracy and deploy a balanced nuclear force that consisted of land-based ICBMs, sea-based weapons on our invulnerable strategic submarines, and a certain number of strategic bombers. Also, we insisted on a provision in the agreement that would restrict the Soviets from converting lightweight ICBMs to heavy ICBMs. They in turn got a provision that limited the number of U.S. strategic submarines, although replacement and modernization was permitted. Thus, the ABM Treaty and the Interim Agreement was signed in 1972.
The actual negotiation of SALT I was conducted by a team headed up by Paul Nitze, but IN was involved in the backup and the Standing Consultative Commission (SCC) that was set up to monitor enforcement.
WINKLER: Well, Henry Kissinger also was very involved.
DOYLE: He was very much involved in that, right.
WINKLER: Doing his back channeling.
DOYLE: That's a whole different story.
WINKLER: Law of the Sea also was coming back.
DOYLE: Yes. Since the Conference failed to reach agreement on a three-mile territorial sea in 1958 and again in 1959, it was time for another attempt. Since that time, many nations had extended their territorial sea to 12-miles. Also, Chile, Ecuador, and Peru had claimed 200-miles of what essentially amounted to sovereignty in the oceans. There were numerous fisheries disputes. Fishing vessels off South America were arrested and their gear confiscated. Continental shelf exploration and how far out you could establish a claim beyond 200 miles was an issue because that wasn't defined in the 1958 convention. Also, there was the new prospect of mining the international seabed for manganese nodules. Protection of the maritime environment and oceanographic research had to be addressed. All of this amounted to a crisis in the law of the sea and generated international pressure for a new conference.
The U.S. was concerned about the instability of the situation. We wanted to stabilize the territorial sea at as narrow a limit as we could and arrest the unilateral expansion of territorial sea claims by other countries. The Navy's primary interest again was in a narrow territorial sea and the freedom to navigate and overfly the world's oceans with our surface ships, submarines, and aircraft, and enjoy traditional high seas freedoms as a matter of right.
We were particularly concerned about the freedom to use international straits, because we felt that if they were closed off, we would be at a disadvantage, particularly in places like the Mediterranean. During the Yom Kippur War, since we had been unable to get overflight rights from various countries, we had actually flown supplies and support in the air space above the high seas corridor in the Straits of Gibraltar in order to support Israel. We were concerned that we have access through the various international straits. Many critical straits would be closed off and become territorial waters with an extension beyond three-miles, including Sunda and Lombok in Indonesia, Gibraltar, Bab el-Mandeb and the Straits of Hormuz. Thus, the IN division, with service support, took the lead for the JCS and presented a very strong position that became the U.S. position–that is, that the U.S. would accept a 12-mile territorial sea only on condition that there would be free passage, which later became known as transit passage, through and over international straits. Through means submerged passage as well. Now, in addition to that firm position, the Navy was also in favor of maintaining the nation's oil reserves which included having access to the largest continental shelf possible.
The fisheries situation had changed. The United States, during the interim period between 1958-60 and the late sixties and early seventies, had changed from a distant water fishing nation to a nation whose primary economic interest was in coastal fishing off the United States. The JCS took the position of going along with anything that satisfies the fishing interest as long as we have our narrow territorial sea–i.e., 12-miles, no greater than 12-miles–and free transit through and over international straits. The result was a 200-mile economic zone for each nation that accommodates fishing and continental shelf exploitation.
We also needed to come up with a solution on the archipelagos. For example, Indonesia had put forth a position that the entire Indonesian archipelago, which consists of millions of square miles of ocean, was her sovereign waters. Then the Philippines adopted an archipelagic theory, as did some of the small states, such as Fiji and the Bahamas. So we needed to find a solution to that attempted appropriation of the high seas.
In any event, our division, the International Law Division, became the focal point for the Law of the Sea.
I was assigned by Admiral Weinel (J-5), General Vogt (Director) and Admiral Moorer (Chairman) to be on the U.S. delegation. So officially I had a seat on the U.S. delegation. The Office of the Secretary of Defense was represented by Stu French. Jared Carter and Leigh Ratiner, both lawyers, were on the delegation, as was Bernie Oxman from State. Interior and Commerce were also represented on the delegation. The head of the delegation was Jack Stevenson, Legal Advisor, State. The U.S. delegation was large, probably too large, but we worked together. I went to several preparatory sessions in Geneva, which were mostly in the summer, six weeks or so, where we would refine our position and present it to the other delegations. So I continued my association and interest in the law of the sea and became more acquainted with all the issues that were involved‑-seabed mining, fisheries, the environment, oceanographic research and, of course, freedom and mobility on the high seas for naval ships and aircraft including the navigation through and over straits.
WINKLER: They didn't come down to an agreement, was it, until 1982?
DOYLE: Yes. When I left in 1973, we had only had meetings of the preparatory committee. Starting after I left‑-and I'm not sure of the date when they started‑-the delegations started having regular meetings on the law of the sea, formal negotiations that led to the 1982 convention. That was a long period of negotiations, which I followed from a distance, but was not involved in at all.
WINKLER: We had an ally, for the most part, in the Soviet Union.
DOYLE: The Soviet Union was on our side on the territorial sea issue, because we had convinced her that a narrow territorial sea no greater than 12-miles was in their interest, and, of course, historically they always had a 12-mile territorial sea. So they supported us on that issue and also supported us on the transit passage through straits and archipelago. The Soviets were beginning to become a blue water navy. The Brits also supported us as did most of the Western naval powers.
WINKLER: The folks who had an interest in expanding the territorial sea was the coastal states of Asia, Africa, and‑-
DOYLE: Right. The developing countries were in all sorts of groups. The group of 77 developing countries was the largest and their position basically was that they wanted as much sovereignty in the ocean that the law would allow. They also wanted the West to provide technology and they did not want their coastal waters to be exploited by our superior technology. I guess you can't blame them there.
Their interest in fisheries actually coincided with ours. In other words, we agreed early on that there would be a 200-mile fisheries zone for each nation, so that really became a non-problem.
In 1975, Secretary Kissinger put forward his famous compromise solution, which set the framework for the remaining negotiations and committed the United States to an international seabed mining regime. This later became an issue in 1982 when the new administration, under President Reagan, decided that the U.S. would not sign the Law of the Sea Convention, primarily because of the onerous seabed mining provisions and its socialistic economic approach. But again, that's a whole other story, too. These provisions have been revised to a market-oriented approach.
WINKLER: Another issue, the Law of the Sea, when he was Under Secretary of the Navy, John Warner had some involvement with Law of the Sea.
DOYLE: He was head of the overall Department of Defense team on the Law of the Sea. So, yes, he came over to Geneva on a couple of occasions to attend the preparatory sessions. We would brief him on the overall status and the results of our many meetings with individual delegations.
WINKLER: I imagine once he became Secretary of the Navy in May of '72, his involvement with the Law of the Sea kind of ended.
DOYLE: It evaporated after that. But he was also, as you recall, in the incidents at sea negotiations. He headed up that team, which was a different problem.
WINKLER: In fact, we can talk a little bit about that, because that's an area I have an interest in.
DOYLE: Right, the Naval Institute plans to publish your excellent article on the subject and it is the subject of your dissertation.
WINKLER: You came on board, we had just agreed to meet with the Russians in October 1971, and the interdepartmental group had met. We had put together a position. Now you come on to the scene just before the delegation is heading over to Moscow for their first negotiations. I take it this is one of those things where you said, "Well, there's negotiations involved. This is something for us to be involved with."
DOYLE: Exactly. To my mind, this was a fundamental issue and would have an impact on the law of the sea negotiations and naval operations in general. So, yes, I took a strong interest in the ongoing talks. I'm not sure of the sequence here, but at some point after examining the U.S. position in the negotiations, I decided that it was wrong and basically flawed to agree with the Soviets on a fixed distance within which ships and aircraft of each side would be prohibited from operating or approaching ships and aircraft of the other side.
My position was that the U.S. did not want to establish a line on the high seas or airspace above that would limit the flexibility of our naval forces and set an undesirable precedent in the Law of the Sea negotiations, where we had always taken the position that we had the freedom to use the ocean as we saw fit, subject to a narrow territorial sea. Besides, I could not imagine how you could have a finite distance when every tactical situation would be entirely different, particularly when you're dealing with individual aircraft and ships. I was also concerned that a fixed distance formula would deny us the ability to get important intelligence information that we needed from a closed society.
Also, I was very concerned about the various Zone of Peace proposals that the Indian government was making at that time, which in effect stated that warships can't enter the Indian Ocean unless they have permission, or only certain warships of a certain tonnage and armament can enter, similar to the agreement in the Montreux Convention, which puts limitations on warships entering into the Black Sea through the Dardanelles. In the State Department, there were those carried away by the era of détente who saw these proposals as a great way to solve our international problems and reduce tensions. I saw this as extremely detrimental to the role of our naval forces and U.S. national security. I decided that I would mount an effort on the Joint Staff to try to overturn that position. I thought our position should be based on adherence to the rules of the road to avoid collisions, non-interference in each others operations, and a commitment by the Soviets to stop harassing our ships with their trawlers, not on a fixed distance formula.
WINKLER: My research following the paper trail, it appears that the delegation, they arrived in Moscow in October, and you made an effort just before the delegation was leaving to make sure that the Joint Staff–your view, which became the Joint Staff's view–greeted the delegation when it arrived in Moscow. I saw there were specific instructions from Washington, "Don't yield on fixed distances."
DOYLE: Right. We changed the U.S. position with Admiral Moorer and Weinels' backing.
WINKLER: And then when they came back from Russia from that first day, the delegation had a general wording statement. The Russians wanted to have the second round of talks, and there was another interdepartmental group, which the position was, "We won't yield on it." When they had the second round of talks in Washington, there came a point where the Russians said, "We're going to go home without, if you don't agree with us." Do you recall the circumstances?
DOYLE: Yes, before the second round of talks, there was a reassessment of the issue. Larry Eagleburger in OSD ISA was getting a lot of flack from the State Department, particularly Herb Okun, who did not like the position that the Joint Staff and OSD had on fixed distances. The State Department didn't see anything wrong with fixed distances and they desperately wanted an agreement for the summit meeting. So Eagleburger told the State Department, "Okay, I am going to have a study and reopen the whole issue," which he did. He convened a group, I was a member and Herb Okun was a member, and we argued our different points of view.
Eagleburger said at the onset, "Well, right now I am leaning toward the State Department position. Unless you convince me otherwise, that is going to be the OSD position," which could have ended up being SecDef's position.
So we went through a series of hearings in which each side presented his case with Larry very much involved in cross-examination. Finally he said, "Well, Admiral Doyle convinced me that we should stick with fixed distances." Of course, I used all the arguments I could, but was never sure what his decision would be. But he told the State Department that the Department of Defense position was against fixed distances, and that's the way it was going to be.
Now, after that reaffirmation of the U.S. position and when our negotiations returned for the second round of talks, the Russians indicated that if they did not get fixed distances, there would be no agreement.
The head of the U.S. delegation was John Warner. Rear Admiral Tom Hayward, who was head of the Office of Program Appraisal in the Navy, OPA, was also on the delegation. The day before the agreement was to be signed, the delegation sent a message to Washington recommending that they be authorized to accept the Soviets' fixed distance formula because, unless we agreed with the Soviets, there would be no agreement, and everyone on the delegation agreed that having an agreement with a "minor" flaw was better than no agreement at all.
Larry Eagleburger, after consulting with Warren Nutter, his boss in ISA, decided that he reluctantly had to agree with the negotiating team and recommend that we relax our position on fixed distances so we could get an agreement. I told Larry that our position was a good one, that we should stick with it no matter what the Soviets did, and that I was going to pursue this in my chain of command.
I went to Admiral Blackie Weinel and told him of this setback and that Eagleburger was preparing a message reversing our position. Admiral Weinel picked up the phone and called Admiral Dan Murphy, who was the Executive Assistant to Secretary of Defense, Melvin Laird, and convinced Dan that SecDef should stick with our position against fixed distances. Secretary Laird overturned the recommendation that came up the chain from Eagleburger and that evening gave the delegation firm instructions to reject fixed distances.
The delegation notified the Soviets the next day and they immediately caved in and agreed with our formulation of no fixed distances. So we reached agreement anyway despite the sky is falling in from our delegation. It also indicated just how bad the Soviets wanted an agreement.
WINKLER: In retrospect, that probably served the agreement well.
DOYLE: I think so, because it is a good agreement and it's workable. It has worked over the years without endless arguments about who approached closer than 1,000 yards. There was a provision in the agreement that the navies would meet and reexamine the no fixed distance position. To date, neither side has advocated a change.
WINKLER: I had the opportunity to interview Blackie Weinel several years ago.
DOYLE: Oh, you did? Did he remember any of the last minute gyrations.
WINKLER: Yes, he did. We spoke more of his participation as head of a team that went to Russia in November. There was a provision in the agreement to convene in six months and review the fixed distance issue.
DOYLE: Exactly.
WINKLER: And again our position was not to give in. And he discussed his meetings in Russia, and then the following May he had a protocol meeting, where we signed a protocol extending the accord to cover merchant ships. So I imagine you also reviewed that.
DOYLE: Yes, we did and approved it as a logical extension of the original agreement.
WINKLER: I met with him about three or four years ago. He's retired in Bonsall, California.
DOYLE: He's a great person.
WINKLER: How was it working for him?
DOYLE: It was wonderful. He's one of the best bosses I've ever had, because he let you formulate positions and argue and defend them up the line or in OSD or State. Then he would back you up. But if you were off the reservation, he would let you know. And you had to keep him fully informed. But he was a marvelous boss with a great sense of humor to deal with OSD and State. He was superb in educating fresh caught flag officers, like me.
WINKLER: I guess that was your first experience in a joint environment. Anything that was eye-opening for you?
DOYLE: Well, the process is very laborious, and to get something approved by the Joint Staff and get the other services to agree is a laborious process and takes a lot of patience. Many times the formal process didn't operate fast enough for the event. So there were many times when I had to take a position and later have it ratified by the Joint Staff in order to keep up with the Office of the Secretary of Defense or the State Department. For example, responses to telegrams from embassies on law of the sea matters usually required fast action. Time-sensitive issues often could not be dealt with by the Joint Staff if you went through the traditional process. So what I ended up doing was using the process when I could and where it would help, but then there were times when I had to bypass the system and hope for the best. I don't think I committed any mortal sins.
WINKLER: Some of the personalities‑-you mentioned, for example, Weinel was a great person to work for.
DOYLE: I also liked Larry Eagleburger very much. He was fair-minded and a gentleman, and I enjoyed working with him.
WINKLER: Was he like on loan from the State Department?
DOYLE: Yes. He was doing his Pentagon stint.
WINKLER: Well, he went on to bigger and better things.
DOYLE: Exactly. He was the ambassador to Yugoslavia, and later Secretary of State.
WINKLER: Yes. He had quite a bit of expertise in that region. Any other aspects of that tour?
DOYLE: We were involved, as I said, in the chemical warfare negotiations and Threshold Test Ban Treaty. Also, in the amendments to the 1949 Geneva Humanitarian Conventions, we tried to provide more flexibility for helicopter operations on sea-air rescue missions.
Then there were day-to-day things that came up with the embassies. As you recall, it really was an era of détente. The U.S. was trying to reach agreement with the Soviets on as many issues as possible.
WINKLER: Also during that time period, the War in Vietnam is coming to a close. Was there any aspects of that conflict that your office–
DOYLE: We were involved in the issues associated with the mining of Haiphong harbor, such as the warnings and notices to mariners. The 1907 Hague Convention VIII had prohibited a blockade by mines alone. By complying with all the significant provisions of international law on blockade (three day grace period for neutral shipping, etc.), a new legal precedent was established.
WINKLER: As far as the negotiations for the cease fire?
DOYLE: We were not involved in that at all.
WINKLER: That was quite a turbulent time as far as the military, with us pulling out and the whole cutback in that forces.
DOYLE: Exactly.
WINKLER: I'm trying to think, as far as your law degree, your legal tours. I think that fairly wraps it up.
DOYLE: It does, but we could go on to my post Navy—the subsequent involvement in the law following my retirement.
WINKLER: Okay, go ahead.
DOYLE: The Joint Staff was my last tour on active duty associated with international negotiations and the Law of the Sea. I was honored to be awarded the Distinguished Service Medal for that tour, but I had good people. Then I retired in September of 1980 after tours as ComCruDesGroup 12, ComThirdFlt and Op-03.
In 1982, I was asked by my good friend, Professor Mallison, who had been teaching international law at George Washington University for 30 years, if I would teach a course in the Law of the Sea. I thought about that, and because of my practical background and strong interest, I agreed to work it in with the rest of my activities. So I taught a course in International Law of the Sea from 1982 to 1989.
It was a course taught during the spring term, which ran from January through April. The course was two hours, one night a week, with about 15 to 20 students. Many of the students were graduate students who were getting their master's degree in law, usually including three or four Navy Judge Advocate General Corps officers who wanted to expand their knowledge of oceans law. Then there were a few foreign students, and finally regular students who thought that law of the sea would be an interesting course in their third year. There was a lot of informal discussion since it was a small class. It was challenging but fun. I spent many hours preparing for the classes and trying to keep up on developments in the Law of the Sea. So this went on for seven years. I still run into former JAG students in my work at the Naval War College.
WINKLER: Related to that faculty position, did you have an opportunity to get involved in any aspects of Law of the Sea, as far as sitting on any panels or activities?
DOYLE: During that same period I was Vice Chairman of the Council on Ocean Law, which was headed up by Elliot Richardson. I'm still a director of the Council. We were very concerned about the U.S. position in 1982 not to sign the recently concluded Law of the Sea Convention.
I felt that the Law of the Sea Convention, which protected the mobility of our warships with a narrow 12-mile territorial sea and transit passage through and over straits, plus archipelagic sea lanes passage and the traditional freedoms of the high sea, was in the U.S. national interest, and that we should do something to try to work out the unsatisfactory provisions so that the U.S. could become a party.
Attempting to correct the Convention was opposed by the administration at that time, which took the position that the entire Convention was flawed. So the Council on Ocean Law's mission was education. We tried to convince the administration and congress not to throw the baby out with the bath water, but try to fix the seabeds part and recognize that the navigation, fisheries, environmental, continental shelf and oceanographic parts served the U.S. interests. The U.S. finally did correct the Convention after years of negotiations.
From 1984 to '87, I also worked for the Centers for Ocean Law and Policy and Law and National Security at the University of Virginia. John Norton Moore was, and still is, the head of the Center. We had several projects, primarily educational in nature, that addressed issues of both policy and law. I organized monthly seminars on Capitol Hill and an annual conference to discuss the various parts in the Law of the Sea Convention–the territorial sea and the straits, fisheries, seabed mining, the continental shelf, the environment, and scientific research. We had a seminar on the declining state of the U.S. merchant marine in which Admiral Holloway participated. So all of this kept me up to date on my teaching course at George Washington University on various aspects of the Law of the Sea.
WINKLER: I interviewed Professor Moore last April, and I think he was more connected with the Reagan administration or had more influence.
DOYLE: Oh, yes. He took the administrations' view, but he was also convinced that the other provisions of the Convention, the provisions on fisheries and the narrow territorial sea and mobility were right on, and indeed, he headed the delegation that helped negotiate those issues.
But he took a very strong position that the seabed provisions, the Seabed Council, and all the supporting administrative bureaucracy was flawed and had to be changed. And subsequently, as you know, it was changed. We signed the Convention, but it is still awaiting ratification. As a matter of fact, the Council on Ocean Law gets periodic updates on where that stands. The Defense Department has come around now and is supporting ratification.
WINKLER: From my Navy War College class, we had to read an article which was the Defense Department position, which basically said, "Sign it now."
DOYLE: Yes, right.
WINKLER: Well, the question I guess is getting sponsorship up on the Hill.
DOYLE: Well, we still have some people on the hill who do not like the Convention. Senator Jesse Helms, who heads the Foreign Relations Committee, has not been convinced that the Convention, or most things having to do with the United Nations, are in the U.S. interest. This is a U.N. Convention, and, of course, that raises a red flag against it immediately. So whether he'll allow this to even be considered for ratification is a question. It's interesting because his executive assistant, Retired Admiral Bud Nance, was on the Joint Staff in the War Gaming Division when I was there and we are good friends.
So I have been involved since retirement with teaching Law of the Sea, the Council on Ocean Law, and the Center for Ocean Law and Policy at the University of Virginia.
WINKLER: So you've kept your oar dipped in the pond.
DOYLE: In the ocean, exactly. But I've also been involved in the Law of Naval Warfare. I'm on the Advisory Board for the Naval War College Operational Law Program, headed by Professor Jack Grunawalt, a retired Navy JAG Captain who heads up that department at the War College. Each year the Advisory Board meets to assess the departments' research, analysis and instruction in international and operational law. The instruction includes U.S. and foreign students, naval commands (e.g., sub school, strike warfare centers) and 13 foreign navies. Subjects covered are rules of engagement, weapons and targeting, maritime law enforcement, and lessons learned from recent operations, such as Bosnia, Haiti, and Somalia. Also, several years ago the War College revised the Laws of Naval Warfare and put out a new publication, NWP 1-14, which is being amended to cover United Nations sponsored operations–a complex subject. I used the publication on another project, which I'll tell you about in just a second. But the Naval War College has led the way for the other services in educating both line officers and lawyers in international and operational law.
In 1987, a preliminary round table on International Humanitarian Law Applicable to Armed Conflicts at Sea was held in San Remo, Italy. San Remo, Italy, is the home of the International Institute of Humanitarian Law. It was decided by the participants, defense officials, lawyers and naval officers from 30 countries, that they would convene a series of round tables to revise what amounts to the Law of Naval Warfare. The first round table was held in 1989 in Bochum, Germany, and it was decided that this project would go forward.
I was asked at a conference later in '89 at the War College by Mrs. Louise Doswald-Beck of the International Committee of the Red Cross (ICRC), if I would join the round table and participate in this project. Because of my interest in the subject and involvement at the War College in a seminar on submarine warfare, I agreed. So I joined the round table at their second meeting in October of 1990, in Toulon, France. We had a third round table in September 1991 in Bergen, Norway; a fourth round table in September 1992 in Ottawa, Canada; and a fifth round table in 1993 in Geneva.
At the fifth meeting, I was asked to prepare a special report with proposals applicable to aircraft in naval operations, and particularly with regard to military operations affecting civil aircraft. I prepared a set of articles and a commentary for a meeting of the drafting group in March 1994 in Geneva. Other members had written other parts of the text, so we put together a manual on the laws of naval warfare.
In June, 1994, at the final meeting of the round table in Livorno, Italy, the site of the Italian Naval Academy, the participants met and approved the manual and the accompanying commentary. I was, of course, very pleased that the manual was adopted, particularly the articles relating to aircraft operations. The San Remo manual was published by the Cambridge Press and I am included as one of the team of experts.
WINKLER: Now, how is this utilized?
DOYLE: Hopefully this will be used by international lawyers and naval officers in formulating rules governing the conduct of naval warfare. Thus far, the German Navy, the British Navy, and several navies from South America are using this manual to put together their own guidance to commanders relating to the Laws of Naval Warfare. It's also used by international lawyers for larger issues concerning armed conflict in relation to the Geneva Conventions and other issues that come up in United Nations sponsored operations. That was a major project I was associated with during retirement years, which was challenging and fun.
WINKLER: And it draws all the way back to your experience at law school.
DOYLE: Exactly, this traces all the way back to law school.
WINKLER: It completes the loop.
DOYLE: It completes the loop, right. So, I'm still trying to keep my hand in. I should mention that this year the Center for Oceans Law and Policy at the University of Virginia and the Naval War College Foundation decided to sponsor and fund two prizes each year for the best essays on the role of international law in military operations in peace and war, one to a U.S War College student, the other to an international student. They decided to name the award the "Vice Admiral James H. Doyle, Jr., Military Operations and International Law Prizes." In June 1997, I will have the honor of presenting the prizes ($500 each) to the winners at the Naval War College graduation ceremony.
WINKLER: Something to look forward to along with our next recording session.
January 23, 1997
WINKLER: Dave Winkler here with Vice Admiral Doyle, and we're going to talk today about his tenure as Op-03. And picking up from last time, you were in J5 in the International Negotiations Division. Quickly retrace the steps from there to getting a job as Op-03.
DOYLE: After the Joint Staff, I went to sea as Commander Cruiser Destroyer Group 12 in Mayport, which we already touched upon. And then from 1974 to '75, I was Commander Third Fleet, headquartered at Pearl Harbor, Hawaii.
While I was Commander Third Fleet, I was called back to Washington in January, 1975 to serve on a flag selection board. During that time, Vice Admiral Watkins, who was the Chief of Naval Personnel, told me that I would be coming back to Washington. Vice Admiral Frank Price, who was the Deputy Chief of Naval Operations for Surface Warfare, would be retiring in the Summer and Admiral Holloway, the Chief of Naval Operations, had selected me to replace him. Of course, I had gotten to know Admiral Holloway when he was commanding officer of Enterprise during the period when I commanded Bainbridge. As I mentioned earlier, the Enterprise and Bainbridge, both nuclear-powered ships, operated together in the Tonkin Gulf in the late sixties. I looked forward to joining Admiral Holloway's team in OpNav. I admired his leadership style, his emphasis on operational and technical excellence, and his ongoing efforts to restore the chain of command.
Jeannette and I packed up and came back to Washington with visits in California and Texas enroute. We moved into Quarters C at the Washington Navy Yard, and I commenced my tour as Op-03, relieving Admiral Price, on September 1, 1975. We continued to rent our house in Bethesda.
WINKLER: Op-03 was a relatively new organization. Talk a little bit about that.
DOYLE: Yes. In 1973-74, as part of a Navy reorganization, a Deputy Chief of Naval Operations for Submarine, Air, and Surface Warfare were established in the Office of the Chief of Naval Operations (OpNav).
Previously, surface warfare programs and requirements were housed in Fleet Operations and Readiness. So essentially we had a new Deputy Chief of Naval Operations for Surface Warfare and also a surface warfare community established with its own surface warfare insignia. So in a sense, I was coming in to build on what had been started as a focus on surface warfare requirements, programs, training, readiness and acquisition.
WINKLER: At the time, was there an outlook in the surface fleet of cruiser destroyers, amphibs, and the logistic ships, in their own sort of separate communities?
DOYLE: Another organization which took place in the fleet was the combining of the fleet type commanders. Previously, there had been separate type commanders for cruisers and destroyers, amphibious ships, and service force (logistic) ships, both in the Atlantic and Pacific. They were now combined under one type commander, the surface force type commander in the Atlantic and the Pacific. So now you had amphibious ships, logistic ships, and cruisers and destroyers all operating under one administrative command in each fleet. This was part of the overall reorganization.
WINKLER: Specifically, as Op-03, what was your mission?
DOYLE: Well, it was a very broad mission. Basically, it was to define the requirements, and develop and sponsor the programs for all surface ships, with the exclusion of the aircraft carrier, which was handled by the Deputy CNO for Air, Op-05. These requirements included all the weapons systems, engineering systems, command and control, and supporting equipment that would be placed on surface ships, in other words, the entire ship's characteristics. It also included analyzing the threat, recommending force levels, performing trade-offs, and budgeting for the development, engineering, construction and life cycle support of surface ships. In addition, I testified in Congress each year in support of the Navy's ship building and modernization programs. In addition, planning and programming the training and education of surface warfare officers was very much a part of my responsibility. Basically Op-03 was the OpNav focal point of all plans and programs involving the surface Navy. We worked closely with the Atlantic and Pacific Surface Force type commanders and, of course, under the direction of the CNO. It was a very broad charter.
WINKLER: This was a very challenging period now. You took the helm, was it, 1975?
DOYLE: 1975.
WINKLER: Two factors working were the cuts in our defense budget in the post-Vietnam War era, plus you have a rising Soviet Navy.
DOYLE: Exactly.
WINKLER: How did you work those two?
DOYLE: Well, it was very challenging, because we did have these two factors, the budget cuts, and actually the reduction in the number of ships during that period. Many of the older ships were put out of commission to make room for and to provide more resources for building new ships. So there was a reduction in force levels, but there was the growing Soviet naval and air threat, which required us to improve our capabilities, particularly in fleet air defense.
In 1975, the Navy was building two single mission ASW ships–the Spruance-class destroyer (DD 963) for task group operations and the Oliver Hazard Perry-class frigate (FFG 7) for convoy operations. Both ships were outgrowths of OSD's major fleet escort study of the late 60's. Their surface to air missile systems were limited to self defense and could not counter the Soviet missile threat from aircraft or submarines. We were also building the Virginia-class nuclear powered guided missile cruiser (CGN 38), but the Tartar D AAW system with rotating radars and a short range surface to sir missile would be saturated by sophisticated Soviet air to surface missiles launched from Badger and Backfire bombers. Thus, we needed to build a new class of multi-mission cruisers and destroyers, equipped with the latest technology in all warfare areas.
Fortunately, we were well along in the development of the Aegis weapon system consisting of a multi-function phased array radar, slaved illuminators and digital computers, and engineered to meet the operational requirements of firepower, reaction time, coverage, countermeasures and availability.
In an effort to restore the traditional role of the cruiser as an independent striking unit, in 1975, Admiral Holloway proposed a strike cruiser (CSGN) that would be nuclear powered with a speed of 30+ knots and a displacement of 17,000 tons. In addition to Aegis with Standard Missiles and Tomahawk, the CSGN would be armed with Harpoon, a new light weight 8 inch gun, 2 VSTOL aircraft or LAMPS helicopters, SQS-52 sonar, torpedoes, Phalanx, a towed array, a tactical flag command center, and robust ballistic protection. The Navy's program called for 8 CSGN's and 16 conventionally powered Aegis destroyers.
The CSGN program was terminated by OSD in favor of a less expensive (and less capable) Aegis CGN 42 class. However, this program was subsequently dropped when CVN 71 was canceled by the Secretary of Defense.
Nuclear propulsion in warships other than submarines and aircraft carriers was a major divisive issue in Congress and OSD. (Even in carriers it was an issue with SecDef Harold Brown and SecNav Claytor as I will mention later). At the urging of Admiral Rickover with CNO support, Congress had passed Title VIII requiring that all major combatants be nuclear propelled. The Navy wanted to capitalize on the operational experience and advantages of all nuclear powered carrier tasks groups–Enterprise, Long Beach, Bainbridge and Truxtun–in future shipbuilding programs. Nimitz (CVAN 68) had just been commissioned. Eisenhower (CVAN 69) and Vinson (CVAN 70) were building, so it made sense to fill out the all nuclear powered task groups with nuclear powered Aegis cruisers. The Seapower Subcommittee of the House Armed Services Committee strongly supported nuclear power in cruisers; the Senate Armed Services Committee and OSD did not. As a result of the impasse, neither an Aegis nuclear powered cruiser nor an Aegis conventionally powered destroyer was authorized in the 1976 budget. The Navy was twice the loser. A subsequent plan to land Aegis and Tomahawk in Long Beach (CGN 9) was partially funded by the Congress, but was withdrawn under the pressure from the Secretary of Defense.
Cancellation of the strike cruiser and the CGN 42 class shifted emphasis to building an Aegis conventionally powered destroyer. However, there was no support in OSD for building a "new" destroyer, but dramatic reductions in the size and weight of the Aegis system permitted installation in a redesigned Spruance (DD 963) destroyer hull. Rear Admiral Wayne Meyer, the program manager for Aegis and rightly known as the father of Aegis, challenged industry to down-engineer the system in size, weight and cost, and industry complied. Thus, Ticonderoga (DDG 47), later renumbered as CG 47, was finally authorized and funded in the 1977 budget. Admiral Rickover was unhappy and told me so, but we had absolutely no support for a nuclear powered Aegis cruiser. I felt we had to get the Aegis combat system to sea as soon as possible to counter the Soviet missile threat.
Earlier I mentioned controversy over building a nuclear powered aircraft carrier. When CVN 71 was cancelled by SecDef, SecNav Claytor proposed building three conventionally powered carriers for the price of two nuclear powered carriers. In testimony before the HASC, I presented the Administration's proposal but when asked my personal and professional opinion, I recommended building two nuclear powered carriers instead. Secretary Claytor was not pleased, but SecDef Harold Brown upheld my right as a career officer, not a political appointee, to state my personal and professional opinion when asked. The three conventional carrier proposal went nowhere and CVN 71 was subsequently restored by the next administration.
WINKLER: I guess Aegis initially went to sea on board the Norton Sound.
DOYLE: Yes. In order to work out the various complexities of the Aegis system, the Norton Sound performed a vital role as the test ship for engineering development models. The Norton Sound also provided a vital role in later ironing out the difficulties as we engineered the vertical launch system. She was a very valuable asset.
In any event, we had the plan and the support to get the Aegis system to sea on the Ticonderoga. Now we had to execute the program. Part of the problem was a divided approach in the Naval Sea Systems Command, which had not yet recognized the importance of combining the shipbuilding program with the weapons system program. So we went through some very frustrating times, until finally Admiral Mike Michaelis, Chief of Naval Material, made Wayne Meyer the program manager for Aegis shipbuilding, which combined the ship and the weapons system into one program. Now PMS-400 had the responsibility for engineering, design development, production, testing, fleet introduction and life cycle support of Aegis combat systems and ships.
WINKLER: I understand previous ship classes, such as the Spruance and the Oliver Hazard Perry, had significant teething problems coming on line. What were some of the differences that were incorporated or lessons learned and changes that were made to bring Aegis on line?
DOYLE: One of the big lessons learned was our previous experience with various surface-to-air missile programs on ships and the get-well programs in the '60s to overcome deficiencies in support, testing and training. In the case of new ships, however, we were still relying on a procedure which essentially said to the shipbuilder, "You build a ship, and at a certain time we'll deliver the weapons system down to the dock. And then you install them in the ship, and everything will work fine."
Well, this was a disaster as documented in InSurv reports for CGN 38, DD 963 and FFG 7. So we instituted a new program which essentially made the weapon system contractor, RCA, the lead contractor, responsible for system engineering and integration of Aegis. We required that the Aegis system be checked out and tested as a complete system at the Combat System Engineering Development Site in Moorestown, New Jersey before it was delivered to the ship. It would be installed in the ship by weapons systems engineers, not shipyard personnel. In other words, we keyed the whole acquisition process to the production and check-out of the weapons system rather than to the traditional HM&E milestones in building a ship. That was one major change.
The other major change was based on my experience in nuclear power, where the ship's crew, not civilian contractors, are the only people that can operate the reactor‑-that is, bring it critical, operate it and shut it down. I determined that if we wanted to have the Ticonderoga ready for sea and for deployment as soon as possible after commissioning and eliminate the deficiencies that usually arise after a ship is built, I needed to have the crew there early in the building phase. And when it came time to light off and operate the weapons system in the test period, then this function must be performed by the ship's crew, not the shipyard or weapon engineers.
I persuaded Admiral Watkins, who had sympathy for this approach since he was nuclear-power trained, to order the nucleus crew to the ship in plenty of time to be trained and to operate the Aegis system. So that was another major change. We embarked on a systems approach to acquisition which completely changed the way that the Navy introduced ships to the fleet.
WINKLER: Was there some grumbling at BuPers?
DOYLE: Yes, quite naturally, because this would upset the usual schedule and would require more money and more time since the officers and men of the nucleus crew would have to be in the pipeline for a longer period of time. So, yes, it affected their budget and their plans for people. It was a major change, but paid off because Ticonderoga deployed 8 months after commissioning and functioned as the AAW Commander in the battle group off Lebanon. Previously, the average time from commissioning to war ready status for surface ships was 22-24 months.
WINKLER: One of the things which related to this is that training, getting to the ship, learning the system, the training infrastructure within the Navy, I've read in some places that the infrastructure didn't support the modernization of the fleet. How did Op-03 address the training?
DOYLE: Well, we discovered in the case of the specific training for the Aegis system, that we could not rely on the existing training organization in the Navy. That training consisted of courses at various schools throughout the United States which focused on particular items, like radar, electronics, and damage control. We needed training that emphasized the weapon system as an integrated unit. Since computers are the heart and soul of Aegis, special courses in software were required.
So we prescribed courses, which were operated by PMS-400 in the Systems Command, to train up the officers and men in the operation and maintenance of the Aegis system. This was primarily done in classrooms at the Combat Systems Engineering Development Site. I commissioned that site in 1977, along with Admiral Meyer, and it's still operating today. The training of the Aegis operators and maintainers was patterned after the training in nuclear propulsion where the approach was on a system basis rather than on particular equipment.
WINKLER: Is that up at Moorestown, New Jersey?
DOYLE: Yes, at Moorestown. If you drive up the Jersey Turnpike, you'll see the so-called Aegis cruiser in the cornfield.
WINKLER: That's right. It's quite a distinct landmark.
DOYLE: Moorestown has been invaluable. Moorestown and the Norton Sound have been invaluable to the Aegis program.
WINKLER: I also noticed there was a site at Wallops Island, Virginia.
DOYLE: Yes, Wallops Island, where all the test firing was done and AAW command and control was exercised. That was also run under the auspices of the Aegis program manager, PMS-400.
WINKLER: You had a windfall late in your tenure with the four ships that were going to Iran, and there was a sentence here in this one 1991 paper you authored that talked about this introduction was relatively easy because the Shah demanded that the ships be characterized by America's existing logistics and base, something not always done by the U.S. What specifically was meant by that?
DOYLE: Well, the Shah insisted that his Spruance destroyers have TARTAR D missile systems that were fully capable at extended ranges and not NATO Sea Sparrow self-defense systems. Further, he wanted his ships to be supported by the industrial base developed for CG 47. In the construction of the original DD 963, a lot of equipment was left off because it simply wasn't ready at the time. In other words, the industrial base had neither provided the equipment nor provided for the support. The same thing happened in the FFG 7. There were a number of items that later had to be backfitted.
The Shah said, "Yes, I want these ships. I'll pay for them. But I want all the equipment to be not only in existence, but on hand and fully supported." The Shah was deposed before the ships were completed and the U.S. Navy got a bonus of four Kidd class destroyers (DD 993), essentially Spruance class ships with better missile systems.
WINKLER: Okay. That clarifies that statement. As far as experience with contracting, there's different ways you can go about, different types of bidding processes. In your experience, which types of bidding process seem to work best?
DOYLE: When you're building a ship like the Ticonderoga or the Arleigh Burke, the lead ship in the class, and you don't have any return costs, the last thing you want to do is contract on a fixed-price basis. That will inevitably get you into trouble, because as you build a ship, which takes a long period of time, you inevitably find things that you need to change. Furthermore, the threat keeps evolving, so in order to keep up with the threat, you have to make changes during the shipbuilding process.
So the best approach is to contract on a cost-plus, award-fee basis. In other words, you pay for what it costs to build the ship. But to make sure you're not goldplating or laying on excessive requirements, you work within a design and fiscal budget. At the same time, you provide incentives for the contractor who performs the job under budget and on time. This could be progress payments combined with award fees. In the case of a complex warship, particularly the lead ship, that's the only way to proceed and preserve a team effort with the contractors. The Navy has gotten into problems with fixed-cost contracts in both shipbuilding and aircraft construction.
In 1974-75, we were faced with large shipbuilding claims of over a billion dollars because of the "total package procurement" contracts used to build both the Spruance class and the Tarawa class (LHA 1) amphibious ships. The contracts were unrealistic because they were based on arbitrary schedules, costs and share lines. The Navy eventually settled the claims.
WINKLER: Now, as far as fixed price, once you built a ship and you've established cost, what it should be, would the fixed price then be a way to go?
DOYLE: Well, once you have reached the point where you have good solid return costs, and you're clear about how much time it takes to build the ship and you have frozen the design, you might consider going to a fixed-price basis.
But on the other hand, I still believe that fixed-price may not be entirely prudent, since it does take years to build a ship. A warship is a complex ship, and you have to keep up with the threat and preserve some flexibility for updating the combat systems. Fixed price contracts for complex ships and weapon systems impede production and encourage litigation, in my opinion. I also firmly believe that it's more economical to update the systems on ships, particularly software systems and computer programs, periodically in various block increments, rather than waiting until the mid-life of the ship, where it becomes a major cost in the shipbuilding program.
WINKLER: I imagine this is especially true of Aegis. We've seen the revolution and the advancement of computers in the past fifteen years, and the capabilities of‑-it seems like every year or so the capacity of computer systems is doubling.
DOYLE: Exactly.
WINKLER: There's great reductions as far as the size of the components and great improvements in capability.
DOYLE: Exactly. So we instituted a major change in how we built and acquired the Ticonderoga cruiser class. The next problem was to look ahead and see where we needed to go for the future. In 1978, Admiral Holloway tasked me to conduct a study to define the requirements and characteristics for a battle force capable destroyer to eventually replace the Spruance class (DD 963). Our assessment was that a battle force destroyer had to be a multi-mission ship‑-in other words, capable to the maximum in all warfare areas‑-ASW, strike and anti-air warfare. I gathered together the most qualified operational and technical officers and civilian engineers who spent a year analyzing, performing tradeoffs in capability and cost, and exercising a great deal of professional judgment.
About that time, we were moving ahead with the development and engineering of Tomahawk, the long-range surface-to-surface and surface-to-land missile system. In our study, we hypothesized a Tomahawk capability in the destroyer, as well as an Aegis capability and a robust antisubmarine warfare capability, and played those systems in various warfighting scenarios along with other possible systems and ship configurations.
The result was that the most capable multi-mission systems won out in terms of the overall capability of the ship. We actually introduced early on the notion of land-attack cruise missiles from surface ships. This idea was disconcerting to some people who thought we were trying to take over the role of the aircraft carrier. But that is not what we were about. We were merely trying to supplement and disperse the fire power of the task group, and assist in minimizing aircraft attrition by attacking land based SAM sites.
The Office of the Secretary of Defense, PA&E (Program Analysis & Evaluation) initially decided that surface ships did not need a capability against land targets. So we had a lot of obstacles even after we reported out our study in 1979, and reluctance in some quarters to proceed. But we put forth a requirement and characteristics for the Arleigh Burke-class destroyer, and after persistence, patience and repeatedly arguing the overall requirement, we were able to prevail. As a result, the Navy now has a class of very capable multi-mission destroyers, fully capable in all the warfare areas with Aegis, Tomahawk, vertical launch, and a very capable ASW suite. Together with 27 Aegis cruisers, they will be the surface Navy for a good part of the 21st century.
Also, about the time that this was happening, the vertical launch system was being developed and tested on board the Norton Sound. We immediately changed the specifications for the CG 52 and subsequent cruisers so that instead of Mark 26 launchers, the vertical launch system would be installed in order that Tomahawk missiles, as well as Standard missiles for surface-to-air engagements, would be in the magazines. Of course, one of the characteristics for the Arleigh Burke was vertical launch so it also could carry Tomahawk and anti-air missiles and ASW missiles. Although vertical launch was too late for CG 47-CG 51, we did program outfitting vertical launch into 18 Spruance destroyers, giving them a Tomahawk capability.
WINKLER: I think the debate between carrier and Tomahawk was probably really coming to a head during the nineties, because we've seen the effectiveness of the Tomahawk system in strikes to Iraq and use in Bosnia. You have this concept of the arsenal ship, which they see that as a threat to future carriers. We've seen what cruise missiles have made and what a difference in the Gulf War. I think at the time, was Harpoon just being deployed when you came into office?
DOYLE: Harpoon was in the last stages of engineering development. But it was ready to be deployed, and we installed Harpoon on the FFG-7 class, as well as the Spruance and Ticonderoga in box launchers. We still had Harpoon, but it was limited in range (about 60 miles) and was only a surface-to-surface missile system‑-that is, it wasn't useful in land attack, only against other ships, because of its seeker and type of warhead.
Let me go back to the point you raised about the cruise missiles, and missiles or bombs from naval aircraft at sea operating off carriers. In my opinion, we still need both. They both have their different purposes and operate in different scenarios. I think what Tomahawk in the surface ship and submarine provides is a long-range dispersed firepower against, at this time, certain fixed targets. We still have to use the aircraft to go against mobile targets and for a level of effort approach, because after all, the cost of the Tomahawk missile is much greater compared to iron bombs or aircraft missiles. So at this point in time, we need both weapons, and I believe we'll probably need both for some time in the future. The other points: in air systems there are the very important men in the loop, and the combination of weapons from aircraft, submarines and surface ships greatly complicates the enemies defenses.
WINKLER: Was there any thought to putting Aegis on carriers?
DOYLE: I had recommended to the Chief of Naval Operations, I believe in 1979, that he should consider in the next carrier not putting the entire Aegis weapons system, but at least installing the SPY-1 radar, the multi-function phased array radar, instead of the SPS-48 radar. I tried to make the case that, considering the cost of the carrier, this would be a small additional amount of money. I believe that the reason this was a non-starter was because the blue suit Navy was having such a fight in getting the carrier through both OSD and the Congress, they did not want to make any change at all to the characteristics of the ship.
WINKLER: What benefit would having‑-
DOYLE: Oh, it's a much more capable radar. It gives you precise tracking information in both range, elevation and bearing. It works on an entirely different principle than a rotating radar. It electronically scans in micro-seconds. It's an order of magnitude better radar in all aspects, virtually eliminating dual designations. With the SPY-1 radar, the task group commander finally has a coherent air picture.
WINKLER: There were combatant ships during the 1980s that we probably kept around longer than they should have: the Farragut and the Charles F. Adams-class destroyers. Was there any program to keep those updated?
DOYLE: We had a program that applied to the older missile cruisers and destroyers, and that was called the New Threat Upgrade Program. The program was designed to modernize the ships to the maximum extent possible by improving the existing equipment. Although the result was not up to the capability of the Aegis system, it was a definite plus and the ships were required to maintain force levels.
WINKLER: What were some of the improvements that were made?
DOYLE: Automatic detection and tracking was added to the SPS-48 radar. The missile system was upgraded to the Standard Missile. This really kept the ship from becoming obsolete.
WINKLER: Was the Standard missile on board at the time or were we still operating Terrier and Tartar missiles?
DOYLE: We were still operating Terriers and Tartars, but were in the process of shifting over to the Standard Missile (SM). We had an SM-1 and an SM-2 in production. In Standard the countermeasures are better and the commonality between various modifications has improved.
WINKLER: Beside combatants, you also had responsibilities for the logistics force and also the amphibious. With the amphibious, you worked closely with the Marines, because they have requirements. So talk a little bit about the amphibious requirements.
DOYLE: The amphibious requirements were several. Number one, we needed a new helicopter amphibious assault ship to replace the Iwo Jima LPH class, so we were continuing to build the Tarawa (LHA 1) class amphibious ship. We also needed a new dock landing ship that could discharge troops and equipment in landing craft when the well deck was flooded. This was the Whidbey Island (LSD 41) class program. Also, there was a requirement for the LCAC. We had a competition between two of the aerospace companies to design a landing craft that could not only transport equipment and marines from the LHA and LSD 41 to the beach, but also do it at a much greater speed and proceed right in over the beach. The LCAC was really a hover craft, powered by gas turbines and lift fans, that could skim over the water and the beach.
We also had another requirement that related to the amphibious mission, and that was to improve our gunfire support. So we engineered and developed an eight-inch gun, which was tested aboard the USS Hull, and our plan was to install it as the forward gun on the Arleigh Burke class. Unfortunately, even though the Chief of Naval Operations and the Commandant of the Marine Corps strongly supported the program, it was not supported by the Secretary of Defense. As a result, even today we're still trying to improve the five-inch gun and its projectile, and looking at other initiatives to satisfy the gunfire support requirement.
WINKLER: I remember as a midshipman seeing the Hull had the eight-inch gun up forward. It was a larger gun mount. I understand that gun actually performed quite capably.
DOYLE: It did. It performed quite capably, and we were very enthusiastic to install it aboard the Arleigh Burke, but it was not supported.
WINKLER: Speaking of gunfire support, we brought the battleships back in the 1980s. Was that even considered during your tenure?
DOYLE: We brought the battleships back during the latter stages of the Vietnam. We were putting them out of commission in the first period of my watch.
WINKLER: They were in mothballs.
DOYLE: They were in mothballs then. Yes, there were always people that advocated bringing the battleships back. It was a question of money and crew. We didn't have the money during my watch. Later, the Missouri was recommissioned and deployed during the Persian Gulf War.
WINKLER: Because of money problems, what you're saying it really wasn't a consideration as far as‑-it would have been nice to have, but‑-
DOYLE: Nice to have, but we had all the shipbuilding programs that I mentioned to fit in the budget. The new Cimarron (AO 177) class of oilers was another important new program.
WINKLER: When the Cimarron class was brought on line, you still had a lot of oilers out there that were still World War II vintage.
DOYLE: Exactly, and they were becoming obsolete, and we needed to get a new oiler out there. So the Cimarron class was operated and manned by a Navy crew. I think now they're manned by civilians. Incidentally, Jeannette was honored to be asked by the Secretary of the Navy to sponsor and christen Cimarron at Avondale Shipyard.
Another program that was started during my watch was the Maritime Prepositioned Ship (MPS) Program. These commercial ships were to be combat loaded with heavy equipment and prepositioned at strategic locations, ready to deploy when needed. In the Gulf War, MPS ships at Diego Garcia deployed to Saudia Arabia.
In addition to building new ships, we also had to make sure that we maintained a good ASW capability, and we had several programs during my tenure. The primary one was the LAMPS helicopter with the R&D funded entirely by Op-03. The acquisition strategy was innovative in that this was the first time that the integrator of the system and the lead aerospace industry responsible was not the aircraft manufacturer. In other words, IBM, who produced the software, computer programs and integrated all the sub-systems was the lead contractor, while Sikorsky, the aircraft manufacturer, was in a supporting role. Initially, this did not sit very well with Sikorsky, but they finally got used to the idea and it worked out very well. The LAMPS helicopter proved to be a very capable ASW aircraft.
WINKLER: You're talking about the Sea Hawk.
DOYLE: SH-60, wasn't it?  It was called LAMPS.
WINKLER: It was like LAMPS II or III.
DOYLE: Right.
WINKLER: Because the original LAMPS was that Kaman SH-2 helicopter.
DOYLE: Exactly. The SH-2 (LAMPS I) was deployed on the DE 1052 class. We did reinstitute production of the SH-2 to fill up shortages, but the LAMPS III was the new surface ASW system. Then during that time we also had the towed array.
WINKLER: That kind of struck me, because Op‑03 was managing the LAMPS program, and you naturally think helicopters as aviation. Was there any consideration for having that program managed in the DCNO for Air shop?
DOYLE: Op-05 considered LAMPS III  a surface program that was primarily going to be deployed from surface ships. The SH-60 ASW helicopter for carriers was equipped with a dipping sonar. Op-05 was very happy to have the funds supplied by Op-03. I was pleased because then I could insure that the development proceeded on schedule. The production costs, however, were in the aircraft building program under Op-05, and had to compete for funds with other aircraft programs.
WINKLER: Well, the towed array, we installed in quite a few of the frigates. During your time frame this completed fitting out the 1052 class.
DOYLE: Exactly.
WINKLER: And quite a few of those got the towed-array systems. How did that improve our ASW problem?
DOYLE: Well, at that time Soviet submarines were still noisy enough to be able to be detected by passive arrays. Since that time, as we found over the years, the Soviets have improved their silencing remarkably. Now I think the towed array's capability in detecting nuclear submarines is minimal, although it still can detect diesel submarines during the snorkel period.
WINKLER: Speaking of silencing, we took steps to silence our ships. Discuss a little bit about programs such as Prairie Masking.
DOYLE: We found out something that the submariners knew from the word go, that you simply cannot detect a submarine by either active or passive means using the systems we had if the sound signals, either outgoing or incoming, are interfered with by own ship's noise. Now, the ship's noise can be produced in a number of ways‑-by motors and generators that are not shock-mounted, by dishwashers, by all sorts of equipment, including propellers. So you needed to pay a lot of attention to your own ship's self-noise.
We instituted a test program to determine each ship's noise profile. Then we focused all hands attention on corrective action to quiet the ship. In the new ships built from the keel up, the equipment was shock-mounted and noise was limited from the word go. But in addition to shock mounting and turning off unnecessary equipment, we had to deal with propeller noise. A new system called Prairie Masking which generated an air bubble around the propellers masked the noise at slow speeds.
WINKLER: And also, I guess, made our ships more difficult to detect‑-for example, submarines trying to track you.
DOYLE: Exactly. It works both ways.
WINKLER: Two can play the game.
DOYLE: Exactly.
WINKLER: Was there much consideration, based on your previous experience, on mine warfare?
DOYLE: We relied at that time primarily on our helicopter minesweeping capability demonstrated in the Suez Canal. Our allies had some new minesweepers. Because of our problems with force levels, we really could not fit a new minesweeper into the program. I think now, because of our focus on littoral warfare, minesweeping ranks much higher. As a result, new minesweepers are being built.
WINKLER: The threat at the time was, we had a Blue Water Navy opponent in the Soviets.
DOYLE: Exactly.
WINKLER: Was there something, were there things that you were looking at with the Soviets that kind of caught your attention as far as warship classes and designs?  They were putting out quite a few ships with large surface-to-surface missiles.
DOYLE: That was one of the big problems, the array of various missile systems on their warships. So we needed to have a system like Aegis at sea in order to cope with cruise missiles, because the Soviet Navy was armed to the teeth. How well they operated or how well they were maintained is another issue, but they were certainly armed to the teeth with all sorts of weapons systems.
WINKLER: The professionalization of the surface warfare community is a very important issue to address. Up in Newport you had what used to be called the destroyer school, what became the surface warfare officer, and you had department and division officer courses. How did that evolve?
DOYLE: When I reported in, as I mentioned earlier, we were really creating and building on the framework that had been set for the new surface warfare community. I got my staff together to assess the situation, and we found that the education and training performed under the existing education and training structure of the Navy was not adequate for surface warfare officers and men. So I let it be known that I was going to take charge as Op-03 of surface warfare education and training development.
We reviewed the curriculums of both the basic school in San Diego for surface warfare officers and its counterpart in Newport and instituted changes. We also established the department head school at Newport for prospective department heads and a course at Newport for prospective commanding officers and executive officers, all under the sponsorship of Op-03. Captain Bruce Newell, my surface warfare training officer, was intimately involved in the curriculum and the execution of the programs of those schools. In addition, we established a command qualification program for surface officers.
About that time, Admiral Rickover had established an engineering school for surface officers in Idaho Falls, Idaho at the site of the nuclear power prototype, and we were also involved in monitoring the progress of the officers sent to that school. I would make periodic visits to Idaho Falls to talk with the class and see how they were doing. There was a lot of emphasis on engineering at that time, primarily in the older ships that had the pressure-fired steam boilers to operate and maintain. In establishing this course for engineers and commanding officers en route to conventionally powered ships, Admiral Rickover wanted to indoctrinate them in the hands-on, technical approach of naval reactors to operation and maintenance. The newer ships, like the Ticonderoga, the Spruance-class, the FFG-7s, and the Arleigh Burke-class all had gas-turbine engines, an entirely different situation. Eventually, with Admiral Holloway's approval, we moved the engineering schools to Newport and consolidated all surface warfare training.
WINKLER: I remember the challenges of p-fired plant.
DOYLE: Exactly.
WINKLER: The 1052 and the other destroyers built in the late fifties, early sixties. Your evaluation of gas turbine versus these old steam-driven plants.
DOYLE: I was very happy to see the last of the conventional steam-driven plants. Gas turbines are much easier to operate and maintain and much more efficient. They are also much safer, considering the high temperatures and pressures and the maintenance required to keep boilers in good operating condition.
WINKLER: Now, you were there for five years?
DOYLE: Yes, I was there for five years, which is a record.
WINKLER: Yes. Could you explain why that longevity, because normally a typical tour is about three years.
DOYLE: A typical tour is three years. I guess maybe they couldn't find anybody dumb enough to stay there for five years. But no, I think that one of the reasons was that we had so many important programs which were coming along, the Aegis fleet of cruisers and destroyers, the new combat systems and the other programs I mentioned. Continuity and tenure were required to make sure that they stayed on track.
In my experience as Op-03, one of the most important considerations is tenure and continuity. Every year and every day is a challenge. There are people around Washington, either in the Congress or in OSD and sometimes within the Navy, who want to challenge your program, either from the point of view of the requirement or its cost or for some other reason or some other agenda, and you have to keep fighting off challenges all the way through.
Many occurred in the Aegis program. There were people who had made up their mind that the Aegis system was too expensive and that the threat could be met by other means. None of them could tell us what other means they'd use, and we tested every other system and any other possibility and found them all to be wanting.
But the point is, all programs were challenged. Just because you got a budget through in one year didn't mean that it was safe the next year, because Congress considered appropriations and authorizations on a yearly basis. So I think that's part of the reason I stayed so long, the continuity required. And I'm glad I stayed there for five years, although it was a hectic five years, very busy years. I question whether some of the programs could have gotten through at all if I'd been moved around like they move the officers around these days, only one or two years in place. You really need to have continuity in the sponsorship and the execution of programs.
WINKLER: You worked for two CNOs, Admiral Holloway and Admiral Hayward. I take it Admiral Hayward was also very supportive of Aegis?
DOYLE: Well, let me say in all frankness that Admiral Holloway was much more supportive of Aegis. He understood the threat and the operational requirements. Admiral Hayward was very concerned about the cost associated with Aegis. He had been in the Office of Program Analysis in the Office of the Secretary of Defense, and he was always questioning, for example, why we needed to build an expensive destroyer like the Arleigh Burke. Also, he was continually being told by the Assistant SecNav (R&D), Dr. Mann, that there were less expensive AAW systems to do the job, which was not the case.
Also I think that Admiral Hayward was very concerned at the time with the lack of support for building aircraft carriers and using aircraft carriers offensively. He brought with him from CinCPacFlt some studies and analyses showing the value in a NATO war of U.S. carrier strikes in the Pacific against the Kamchatka Peninsula to divert the Soviet troops and armament from the battle in Europe. So he had other agendas and other concerns, and I was focusing on my particular program.
But let me say a word about Admiral Holloway. He was a superb CNO and a wonderful boss. He provided broad guidance, but gave me a free hand to pursue surface warfare programs. I kept him informed and there was never a disconnect. Our previous association and operational experience together was a benchmark for me in understanding his approach and complying with his direction. He deserves enduring credit for getting the Navy back on track and restoring the chain of command, and at the same time dealing with the tremendous challenges of maintaining a strong Navy amidst cost cutting and micro-management from OSD and the Congress. During his tenure the Navy was indeed strengthened. He also personally wrote the operational doctrine, NWP-1, for naval forces which emphasized battle group operations. I remember that he particularly objected, and rightly so, to cruisers and destroyers in a carrier task group being described as "escorts". They were, in his frame of reference, operating with the carrier in mutual support to carry out the mission.
WINKLER: A key partner with Aegis was Admiral Wayne Meyer?
DOYLE: Absolutely. He and I worked as a team. Of course, his continuity and tenure were absolutely vital. Mine was important; his was vital. He was the program manager for fourteen years, all the way from the initial development of Aegis until he retired. Under his leadership, PMS-400 had full responsibility for the entire process of combat system development, ships design and construction, tests and trials, fleet introduction and life-time support.
WINKLER: Could you elaborate a little bit about his efforts?
DOYLE: Well, he was a superb leader in that he was able to mobilize people, officers, civil servants, enlisted, contractors, into a team effort and common goal. He established all across the United States, in the various places where Aegis was manufactured and supplied, centers of excellence, so companies would be reorganized and rewarded for engineering excellence, and staying on schedule and within budget.
He kept right on top of the program, guiding the technical development. His philosophy was "build a little, test a little." He would stop programs if they got off track, without regard to an arbitrary schedule and would not resume until the problem was fixed. In most cases, and this applies to other programs gone astray, the primary problem was technical, so you had to return to basics and ensure that technical solutions were in hand. Look at what happened in the Challenger. It blew up because of defective O-rings. You can trace a lot of so-called cost and schedule problems to really technical problems. Meyer changed the culture in building surface ships. He fully embraced Admiral Rickover's philosophy of accountability and technical excellence in the Aegis Program. Recently, he was inducted into the Navy's Acquisition Hall of Fame, along with Rickover and Levering Smith.
WINKLER: Developing a constituency, selling Aegis before Congress, the capability, you would think it's a no-brainer. But there has to be for any weapons system to come on line a strong constituency.
DOYLE: Exactly. First, you've got to develop a constituency in the Congress, the authorization committees or subcommittees and appropriation committees and subcommittees, on the ships and the weapons systems. We would testify and answer questions regularly. In the case of Aegis, we also developed constituencies all across the United States and pointed out that not only was this a valid requirement that needed to be pursued, but it meant jobs and payrolls. That resulted in great support. That's how you have to sell a program. I mean, it's what everyone does, and you've got to compete with all the other programs. If you want to call this special interests, fine, but that's the way it works in a democracy.
The other point is that it seemed that I was always battling with the Office of the Secretary of Defense. Most were political appointees who were in charge at the time with their own agendas but had no long-term accountability. I would have to take that into consideration. When I testified before the Congress, I would have to make sure that I was asked the right questions, and you had to have good relations with the staffers to accomplish that.
In regard to Admiral Meyer, one of the key elements in the success of the Aegis program was the close linkage between his PMS-400 staff and my Op-03 staff. This was necessary not only for cost and schedule accountability, but also because so much of the operational doctrine was embedded in the Aegis computer programs. As an example, our staffs together designed at the Applied Physics Laboratory, John Hopkins, the CIC, location of displays and what inputs to the computer programs would be necessary in order that the Aegis cruiser could function as the AAW commander responsible for air/space battle management. We knew that Aegis would be used in the battle group to maintain a coherent air picture. This has proven to be true in spades for the Aegis system has truly revolutionized anti-air warfare and fleet air defense.
WINKLER: Most of your tenure was spent during the Carter administration.
DOYLE: Well, part of it was during the Jimmy Carter administration and part during the Ford administration, yes.
WINKLER: The Secretary of Defense during Carter was Harold Brown.
DOYLE:  Harold Brown, right, and Harold Brown was not a lover of the nuclear power program, as I previously stated, nor did he support the eight-inch gun, although he did support the Aegis system. At that time, Bill Perry was the Under Secretary of Defense for Research and Engineering, and he supported the Aegis system, although he was constantly being harassed by our Assistant Secretary of the Navy, Dr. Mann, to pursue a different approach than Aegis, which I mentioned earlier. So we had these challenges during my tenure.
WINKLER: Who in Congress did you consider your best friend?
DOYLE: Well, that's very difficult to say. I would say a lot of the staffers were helpful. Certainly Senator John Stennis was critical. Pascagoula Shipyard, builder of CG 47, was in his state. The Maine senators and representatives were important because Bath Iron Works was in their district. Then we had the various congressmen from all across the United States where the Aegis weapons system components were being built. It would be hard to name any one particular individual on the Hill.
WINKLER: But Stennis is a very important person to have on your side.
DOYLE: Exactly.
WINKLER: Well, let's see, your decision to come to retirement. This is now in 1980, is it?
DOYLE: Yes.
WINKLER: How did that all come about?
DOYLE: Well, I had decided that five years was enough and it was time for new blood. The CNO, Admiral Hayward, also thought it was about time to change the watch in Op-03. So he and I mutually agreed that I would retire on September 1, 1980 which I did. At my retirement ceremony, I was honored to be awarded a second Distinguished Service Medal for service as Deputy CNO, Surface Warfare. We moved out of Quarters C at the Navy Yard and back into our house in Bethesda, which we had bought in 1971 and lived in for a short time, but then had rented out while we were in Mayport, Pearl Harbor and at the Navy Yard. So we moved for the 21st time and I started a new career. We enjoyed our five years in quarters at the Navy Yard, a historic Navy site. Jeannette formed lasting friendships with the other wives living there. That group is still very supportive of each other in the traditional Navy way and still meets regularly over the Mah Jongg tiles.
WINKLER: That career will be the subject of the next interview.
January 28, 1997
WINKLER: Here in Bethesda, we're going to be talking about Vice Admiral Doyle's post-Navy career. So you retired from the Navy.
DOYLE: Yes, I retired on the first of September 1980. I was fifty-five years old at that time, and I wanted to start a second career that basically had two directions. One was to pursue law work, particularly in the international law field, and especially in the Law of the Sea area, and we discussed that previously. I also wanted to build on my experience of five years as the Deputy Chief of Naval Operations for Surface Warfare (Op-03) and contribute in the private sector by helping the aerospace industry understand Navy requirements.
In order to do this, Jeannette and I decided that the best route would be to form a family corporation, JHD Inc., and within that framework I would consult for various aerospace companies. So with JHD Inc. established, I made myself available to several companies who were pursuing Navy requirements in anti-air and antisubmarine warfare. I particularly wanted to capitalize on my association with the Aegis system. We had moved back to our permanent home in Bethesda, settled in and took some leave. In fact, Jeannette and I took the QE2 over to England and France and then drove down to Italy to visit our dear friends, Shirley and Bill Crowe. Bill was a classmate of mine at the Naval Academy. At that time he was the Commander in Chief of Southern Europe and headquartered in Naples. So we had a very refreshing and enjoyable vacation at their quarters, Villa Niki.
When we returned, I started consulting for RCA Missile and Surface Radar Systems. They had been developing the combat system tactical doctrine for Aegis cruisers and now were defining the engineering requirements for the Arleigh Burke combat system. Of course, RCA has undergone several changes since that time. It was first acquired by General Electric, then by Martin Marietta, and now it is merged with Lockheed.
I also began consulting for the Johns Hopkins University Applied Physics Laboratory, located in Laurel, Maryland. There I met with several groups to analyze and identify the key operational and technical issues in the Aegis combat systems. I chaired a team that developed modifications to the Aegis combat system that were incorporated into the first Aegis cruiser, Ticonderoga (CG 47), during post shakedown and before the first deployment. I have continued my association with Johns Hopkins to this day.
I also was involved in various studies from 1987 to 1991 with the Center for Naval Analysis. We did studies for the Chief of Naval Operations on force level and R&D requirements for future Navy surface ships, and plans for their construction and modernization. Along with Levering Smith, I also advised the Honeywell Corporation, which at that time was developing the advanced lightweight torpedo Mark 50. We assessed program organizational structures and adherence to cost and schedule. We also analyzed whether the computer programs in the MK50 system accurately reflected Navy doctrine and tactics.
Since 1980, I have also consulted for General Dynamics, Martin Marietta, Presearch, Burdeshaw, Kaman, General Physics, Bath Iron Works, Vought, Brunswick and Diagnostic Retrieval Systems. Not all of those associations continue today, but they've been very enjoyable and I hope they have contributed to the future of the Navy, particularly the surface Navy and the associated combat systems.
WINKLER: How do you bring that value-added‑-you had that experience in Op-03, so acquiring these different systems. There must have been times when you must have been very frustrated with the cooperation or the understanding of the requirements of industry or what they were expected to do. How did that experience play into your decision to do this consulting, and perhaps maybe an example of a frustration with industry, where you could see where you could make a difference?
DOYLE: First of all, industry, in their program manager structure to execute Navy requirements, generally have very talented engineers assigned. Some have had active-duty Navy experience. Still in all, there were a number who weren't up to date on Navy requirements, and so my job was primarily to assess their plans and resources in meeting the real requirements.
I wouldn't characterize that as frustrating. It just required a lot of patience, and in most cases they adopted my recommendations. Some even changed their way of doing business. But, of course, they were free, for whatever reason, to adopt a different strategy, and sometimes they did for overall company considerations that really were beyond my competence to assess.
For example, in the case of the Mark 50 torpedo, Levering Smith and I, as part of the consulting team, found that Honeywell was not taking into account in the development of the computer programs that the software had to accommodate certain tactical considerations in order to be used at sea effectively. We thought we made a difference in educating the program managers at Honeywell in the realities of antisubmarine warfare, particularly localization and attack procedures and likely submarine evasion tactics.
In the Aegis world, in the modifications we recommended for the cruiser Ticonderoga before she deployed, communication and processing equipment were added that allowed the ship to get the information from various intelligence sources as to the enemy threat. With that tip-off, Ticonderoga, as AAW Commander, was in a much better posture to direct the engagement of a potential enemy.
So those are just two examples. But it was a question of giving it your best shot and your best recommendations. Sometimes your recommendations were accepted and sometimes they were not. But after all, I was just a consultant and not running the company or their plan, as I was as Op-03. So I adapted to the cultural change, let us say.
WINKLER: Now, conversely, having the opportunity to sit down with these corporate program managers, sometimes there's a frustration within industry about changing mil specs and requirements put on by the Defense Department. Did you see any of that, where suddenly a light bulb may have gone off and said, "Hey, perhaps in the way that the Navy puts out its specs, there can be some changes made here"?
DOYLE: That issue has been addressed by the Packard Commission and other studies that have made recommendations to eliminate unnecessary military specifications and reduce the costs and the paperwork associated with the acquisition process. Those efforts continue, and now we have a major effort in acquisition reform. However, military specifications to conform to "shake, rattle and roll" requirements for battle are still important for warships.
It is also important that the Navy maintain its in-house technical leadership. Unfortunately, the trend has been to rely on industry to execute the technical part of the program, while the Navy program managers worry about the business end‑-the schedule, the contract, the cost, and so forth.
It's been my experience that when you have a program in trouble, if you trace it down to the roots, it usually turns out to be a technical problem. So it's vital that the Navy maintain technical leadership and have a strong cadre of engineering duty officers or acquisition specialists who know the technical aspects of the program. Of course, I've continued to recommend against any dilution of the Navy's technical role.
WINKLER: That's something I came across. I was out two or three years ago to China Lake, for example, and there's a lot of technical expertise being lost because a lot of our research and development and testing and evaluation that was conducted out there is now being farmed out to the private sector. That's in the air warfare sectors. You're seeing the same thing in the surface warfare area.
DOYLE: There's also been a tendency to do that in surface warfare, and, the big buzzword these days is outsourcing, outsourcing to save money. Well, outsourcing certain Navy tasks to the civilian community and private industry is perfectly acceptable, but you have to be very careful about weapons systems and other equipment that you depend upon in war. I maintain that developing and producing combat systems should only be pursued with a strong Navy technical leadership.
WINKLER: The one model that seemed to work very well was the Aegis system, where RCA took a program management role. How did the interaction between Navy management interact with RCA to keep the technical quality?
DOYLE: As we discussed earlier, the program manager for the Aegis weapons system, combined with Aegis shipbuilding into PMS-400, was Rear Admiral Wayne Meyer. He had a strong in-house technical team similar to the Naval Reactors' organization and they provided the technical guidance to the prime contractor, who was RCA and later GE and now Lockheed Martin. The lead laboratory was the Johns Hopkins Applied Physics Laboratory. All functioned as a team, but there was no question that Admiral Meyer, as the Navy program manager, was in charge.
Fortunately, the Navy has been able to maintain that structure and that cohesiveness, and I hope they will in the future because that's the key to building complex multi-mission warships, ready to go in harm's way and engage potential enemies.
WINKLER: Are there some other programs where you see that model should be applied to?
DOYLE: Yes, it should be a model for building amphibious ships, which are very capable and expensive. As a matter of fact, it should apply to all aspects of Navy acquisitions, aircraft, submarines, and surface ships. In some cases it's being applied, and other cases it's not. I believe that if you have strong Navy technical leadership, you're more apt to execute the program within budget and on schedule.
WINKLER: Maintaining that technical expertise, I guess the best way to do that is we grow that from within.
DOYLE: We grow that from within, and you've got to realize, it takes a long time to bring an officer up through the ranks so that he can function at the rank of captain as a competent program manager with the requisite education and experience.
Now, one of the ways we do that is education at the Navy Postgraduate School in Monterey in the technical fields. Unfortunately, there has been a decrease in the number of students going to the Navy Postgraduate School; hence, a decrease in the input at the bottom level that can grow to be a program manager. Also, the number of weapons system engineering duty officers has declined in recent years. I really believe that the Navy has got to pay more attention to the education and career development of their technical people, officers, enlisted, and civil servants. Their morale, assignments, experience and nurturing are very important.
Unfortunately, the Goldwater-Nichols Act removed the CNO from the acquisition chain of command, separating the officers and civilians in the material establishment from OpNav. The acquisition chain of command runs up through the political appointees in SecNav and OSD who are here today and gone tomorrow, with no real institutional accountability. This divided responsibility is wrong because development and engineering are inextricably linked to operational requirements, especially as more doctrines and tactics are embedded in computer programs. In addition, the new Program Executive Officer (PEO) and Program manager structure has resulted in fragmented and dispersed control over the development and engineering of individual assets and subsystems that make up an entire system. This has a negative impact on system engineering, cost control and adherence to schedule. Furthermore, to compound the problem, the OSD implementation of Goldwater-Nichols in the education and training of acquisition/material specialists has focused primarily on business and contracting procedures, rather than achieving technical excellence.
WINKLER: Yes. In the years since you retired, the Navy acquisition structure also changed. The Navy Material Command, for example, went away.
DOYLE: Exactly.
WINKLER: Did you see that as a setback?
DOYLE: I do, and did. Now, one of the criticisms was that the Chief of Naval Material and his staff were getting too much into the detailed business of running programs. And, of course, the reaction was, "Let's get rid of it," and what happened was, they threw the baby out with the bath water. On the other hand, SecNav Lehman may have wanted more direct control over acquisition.
What should have been done, in my judgment, would have been to redefine the duties of the Chief of Naval Material so that he would concentrate only on matters of policy and oversight. I believe if that had been done, then he could have still functioned under the Chief of Naval Operations to coordinate the efforts of the commanders of the various systems commands‑-Naval Air Systems Command, Naval Ships, and Space and Warfare.
WINKLER: Another major change that occurred more recently was the disestablishment of your old billet. You used to have the DCNO for Air, the DCNO for Surface, and a DCNO for Submarines, and they became known as the three barons. How do you view the consolidation into N8?
DOYLE: Well, of course, anybody who reads this will conclude that I am biased in my view because I operated under the previous organization with Op-02, Op-03 and Op-05, Submarine, Surface, and Air, being three-star officers.
But having said that, I think that reorganization was a mistake because it puts the responsibility for three tremendous undertakings‑-Air Warfare, Submarine Warfare, and Surface Warfare, and their plans, programs and requirements under one individual, the DCNO for Requirements, Assessment and Resources (N8). I think that's too much for one officer, however talented he may be.
Also, I believe that having a Deputy CNO for Air, Submarine and Surface Warfare at the three star level, who could argue and present their programs to the Congress and OSD and have direct access to the Vice Chief of Naval Operations and the Chief of Naval Operations, provided more cohesiveness and a better articulation of the Navy requirements and programs.
I hope that we will return to the previous organization but that is probably unlikely. One of the problems would be finding the three-star billets for the previous organization in view of downsizing and new requirements for three star joint billets. The rear admirals, who in the new organization are the directors of surface, air and submarine warfare, are doing their best to articulate the requirements and argue their programs and support them. I think they're doing a good job under difficult circumstances, especially when they are also saddled with a very flawed Goldwater-Nichols acquisition structure.
WINKLER: So they're kind of handicapped, in a way.
DOYLE: I think so. But then others will tell you that the new OpNav organization was needed to focus more on the joint aspect of requirements and programs that cut across all the warfare areas. But I believe that could have been done very easily under the previous organization.
WINKLER: That is a change, especially the Goldwater-Nichols, is the focus on jointness, and I'm trying to think, during your career‑-okay, you did have the one tour with the JCS.
DOYLE: Yes, in J-5.
WINKLER: To make flag rank today in the Navy, that's an important ticket to have punched.
DOYLE: Yes, that is a requirement of Goldwater-Nichols. Joint tours and more emphasis on joint warfare are important. However, I am not persuaded that the chiefs of the services should have been downgraded below the Vice Chairman of the Joint Chiefs of Staff. I liked the other system better, which formally gave the service chiefs direct access to the Chairman and SecDef, and, if necessary, to the President. Also, the CinCs new role in program and budgeting is questionable, in my opinion.
WINKLER: The term Chief of Naval Operations really is kind of a misnomer. He's now really a Chief of Staff, because the CinCs are really the operators.
DOYLE: Yes, the CinCs are really the operating commanders, but the Chief of Naval Operations is still responsible for the recruitment, education, and training of the people, setting the overall policies of the Navy providing the support. So he still has responsibilities essential to fleet operations that justify being called the Chief of Naval Operations.
WINKLER: Now, you had an opportunity to also do some consulting for the Center for Naval Analysis. How does an organization such as CNA‑-when you were Op-03, you probably turned to them from time to time for some advice. How do they bring value-added?
DOYLE: Well, the Center for Naval Analysis is an outgrowth of an organization called OEG, Operation Evaluation Group, which was a group of naval officers and civilian analysts who functioned during World War II to look at the tactics and results of engagements and extrapolate lessons learned. These officers and civilians were actually placed in the fleets to do that.
That organization grew into a Center for Naval Analysis which still has a fleet element in direct contact with the fleet. But it also has a much larger headquarters operation that does studies for the Navy. During the time that I was Op-03, I was the program sponsor for the Center for Naval Analysis. They did studies not only for the surface Navy, but analyzed requirements for submarines, air, personnel, logistics and overall force levels of the Navy and Marine Corps.
When I retired, I was asked by CNA in 1987 to join several studies which looked into future requirements. So I was familiar with the type of work that had been done and considered that CNA was really an adjunct to the Navy, although sponsored at that time by the University of Rochester.
WINKLER: Right. I guess they're now associated with Hudson Institute.
DOYLE: Now associated with Hudson Institute, but they still provide a very valuable function in various analyses and studies.
WINKLER: Is there a case you can think of off the top of your head when you were OP-03 where a bit of analysis may have changed how you went about acquiring a different weapons system, for example?
DOYLE: As I recall, CNA did an analysis of the logistics requirements and determined the numbers and types of the logistics forces (AOE, AOR, AO, AE, AD) that we should be building in the future, and that was very valuable.
Also, they did an analysis of the maritime pre-positioned ships that are now stationed at Diego Garcia in the Indian Ocean and Guam in the Pacific. CNA assisted in analyzing the loading requirements for weapons and equipment so that the ships could be dispatched to the scene of the crisis and unload in the proper sequence for an administrative amphibious landing.
They also were useful in looking at future technology and analyzing what R&D investments would be necessary to develop future sensors and weapons.
WINKLER: One of the points you brought out about the pre-positioned ships, I guess that came out of in the late seventies we had the situation in Iran‑-and this is towards the end of your tour as Op-03‑-with the hostage situation. President Carter came out with the I guess it was the Rapid Deployment Force.
DOYLE: Exactly. That was a program called the Rapid Deployment Force, and it was building some ships that would accommodate the pre-positioned material and which would be on loaded and off loaded easily.
WINKLER: Was that an Op-03 oversight?
DOYLE: Op-03 was the sponsor, exactly.
WINKLER: Because you think about those ships, and you think of Military Sealift Command but they would be your responsibility.
DOYLE: The Military Sealift Command operated the ships. The program was planned and sponsored by Op-03.
WINKLER: Then you had the National Security Industrial Association. There's a big bag of projects they were involved in.
DOYLE: Yes. The National Security Industrial Association (NSIA) was founded in 1944 at the instance of Secretary of the Navy James Forrestal. He was later the first Secretary of Defense. His vision was for a non-profit, non-political association of the industrial, legal and educational research organizations that could work closely with government in maintaining a strong defense and robust industrial base to satisfy military requirements. NSIA does its work through a network of committees, chapters and conferences that focus on government policy and practice in the entire acquisition process. This includes warfare requirements, research, logistics, procurement and manufacturing. Incidentally, in March, 1997, NSIA will merge with the American Defense Preparedness Association (ADPA), whose heritage was Army ordnance, to become the National Defense Industrial Association.
In 1982, I was asked to join the Antiair Warfare Committee. This committee had initially been a subcommittee under the Antisubmarine Warfare Committee, one of the first committees established in the early fifties.
The chairman of the subcommittee decided that anti-air warfare needed a separate focus, as a separate committee, and he asked me to be the vice chairman. It's been the practice of NSIA in the various warfare committees to have the chairman be an industry executive and the vice chairman a retired military at the three-star level.
WINKLER: "He" being–
DOYLE: The chairman was Bill Goodwin, Vice President at RCA in charge of the Aegis program. I've been an active member of that committee, as vice chairman, since 1982.
WINKLER: How does the committee work? Who uses your product?
DOYLE: We initially did studies for the Navy based on their requests to look into various aspects of anti-air warfare. We expanded in 1989 to include strike and surface warfare, so that together with the Undersea and the Expeditionary Warfare Committees, NSIA covers all the warfare areas in the Navy. We recently renamed our committee the Strike, Land Attack and Air Defense Committee.
We report the results of our studies to the Navy together with any recommendations that we have. We've done about fifty studies and reports since 1982 in all areas of strike, surface and anti-air warfare.
WINKLER: Requested by the Navy, who exactly within‑-
DOYLE: Our first sponsor in the Navy was the Director of Naval Warfare (Op-095). In the new OpNav organization, our sponsor is the Deputy Chief of Naval Operations for Resources, Warfare Requirements, and Assessments (N8). However, the requests for studies came from various divisions in OpNav and from the systems commands.
WINKLER: I assume there are other committees that look at situations for the other services, such as the Air Force.
DOYLE: The Air Force has chosen a different route in their studies, with their own think-tanks, primarily the Institute for Defense Analysis. We're structured to do studies for any of the services and for the Joint Staff in the joint warfare areas. But our focus has been primarily on Navy because the heritage of the NSIA has been Navy. We have done studies for the Army.
WINKLER: How does the group go about gathering the data required?
DOYLE: Our committee meets each quarter at various industry and Navy facilities throughout the United States. For three days we assess requirements, work on studies and receive briefings from the Navy and industry on requirements, programs and technology. We particularly focus on the technical aspects of various programs. In addition to that, each year we visit the fleet and type commanders in San Diego, Pearl Harbor, and Norfolk. We just completed a trip last November to London and Naples to meet with CincUsNavEur, ComSixthFlt, ComSubGruTwo and ComFAirMed. We discuss what we are doing in the way of studies and also get their views on what their challenges and concerns are. We try to understand from those visits how we can help the fleet in our future study programs.
In addition to the fleet visits, we also participate each August in a war game at the Naval War College in Newport, along with the members of the Undersea Warfare Committee and the Expeditionary Warfare Committee. Industry people actually man all positions and play the game. It's designed to introduce them to warfare planning and the operational environment, albeit ashore. Some of the equipment and systems that industry is developing are played in the war game.
Also, in April we have a one-day symposium at the Applied Physics Laboratory, where we have presentations from the Navy and from industry on strike and anti-air warfare. Last year, our subject was tactical ballistic missile defense. This coming April will be strike and land attack warfare.
Then we provide support through other NSIA committees and are involved in specific seminars that concentrate on one particular subject. For example, last September we had a seminar in which industry and the Navy discussed the requirements and the cost, schedule and technical issues involved in the 21st century surface combatant program.
Our study program is pursued through various subcommittees – fire control, weapons, surveillance, command and control, surface ship, air platform, and electronic warfare.
We also have a Systems Assessment Group, which looks at the results of all the studies and makes sure that they're completed in accordance with the task and that they make sense and are not on the wrong track. Normally, based on our fleet visits and our discussions with the Navy, we get ideas for the studies. Then we put together a task statement and have it approved by a sponsor in the Navy who will say, "Yes, I want this study. These are the guidelines I want you to pursue." Our subcommittees go to work but keep in close touch with the sponsor and his staff. Upon completion, the study is reviewed by the Systems Assessment Group and the Executive Committee, and then formally reported to the Deputy CNO (N8).
WINKLER: How large are these different organizations as far as people?
DOYLE: We could have as many as thirty people working on a study or as few as five or six, depending upon the magnitude of the study.
WINKLER: How do you recruit? Obviously we're talking about some very talented individuals here.
DOYLE: Exactly. Our talent comes from industry. We have about seventy companies that are signed up and are interested in our committee and the work we do. At each quarterly meeting we get about thirty to forty members, primarily engineers, who work on the various subcommittees.
All of this is pro bono. It's not for profit, and nobody is getting paid, but obviously there is access to Navy plans and programs. We're very careful in doing our studies that the individual members of the team and the subcommittees do not use this as a vehicle to market their own product. In other words, the study results are generally generic solutions to the problem. Of course, with the downsizing and mergers of companies, keeping a healthy interest in our committee and having the required number of people to work on the various studies is always a continuing challenge.
WINKLER: I guess there is always that concern, especially in that possible conflict of interest, because you have people representing certain industries looking at certain problems, and the solutions may generate contracts for those certain industries.
DOYLE: That really hasn't been a problem. In the first place, companies, if they have proprietary information and want to keep it proprietary, they don't divulge it in the study. In most all cases, proprietary information has not been critical to the study.
But also there's a lot of technology that's being shared by all the companies involved. Although one might think this would be a conflict of interest, we have not had a problem because so many of the companies are pursuing Navy programs on a joint basis anyway. They're always teaming with each other on a program. So we've generally been able to work that out.
WINKLER: Is there a case where you worked a problem and you saw how your solution generated a program, for example, that the Navy went out and acquired a certain system or something?
DOYLE: We have done studies that have resulted in improvements to existing Navy systems and we have changed some views in the Navy, particularly in the area of tactical ballistic missile defense. We did a study on third world anti-ship tactical ballistic missile capability, in which our analysis showed that a third world country, using off-the-shelf hardware that was readily available on the open market, could put together a very credible tactical ballistic missile. With a guidance package that was also off the shelf, the missile could target naval ships at sea.
Previously the Navy's position was that ships at sea which are underway could not be targeted by tactical ballistic missiles. Our analysis and research indicated otherwise. Thereafter, the Navy changed its view and said, "Yes, that's a threat we have to contend with."
WINKLER: When we're talking about tactical ballistic missiles, we're talking about something like a scud.
DOYLE: Exactly.
WINKLER: Well, I guess the viewpoint was that you fire a scud, and where it lands is where it lands, and what you're saying is that your study demonstrated that you can provide a scud enough guidance so that it could‑-
DOYLE: There's off-the-shelf technology that's available that can be put together by third world engineers to target ships at sea. This is a future real threat that cannot be dismissed.
WINKLER: You also have the Theater Ballistic Missile Defense.
DOYLE: Yes. We're doing a study right now on the requirements that would have to be met if an Aegis cruiser were to be assigned the role of an area air defense commander at sea controlling not only naval forces, but joint forces, assuming the Navy is the first one on the scene and is given this responsibility. This, of course, assumes that the Navy's capability for theater ballistic missile defense resides in the Aegis capability and improvements to the Standard missile. Our study analyzes the command-and-control requirements for the area air defense commander, that is, how is he going to coordinate the forces, what kind of displays does he need, what software will be required, etc.
WINKLER: It's interesting how the Navy has suddenly become a player in the ballistic missile defense. That used to be an Army-Air Force debate between those two services. Yet with Aegis, the Navy has a very capable system.
DOYLE: Right, based on the Aegis system, which is at sea and operating, and Standard Missile with LEAP, the quickest way to get a theater wide ballistic missile defense is through the Navy systems. The Army is improving their Patriot for area defense and the Air Force is pursuing THAD for theater-wide defense. The Navy's program is to develop and deploy both an area and a theater-wide ballistic missile defense capability in the Aegis cruisers.
WINKLER: I just had this vision of some day, let's say, a Libya or North Korea acquires an ICBM capability and threatens the U.S., so pull an Aegis cruiser into San Francisco.
DOYLE: Or more likely, in the case of North Korea, how can an Aegis ship protect vital areas of Japan?
WINKLER: True. That's a present threat.
DOYLE: That could be a present threat. Recently, we've seen an Aegis cruiser tracking Chinese missiles that were used in the Chinese exercise near Taiwan, an exercise which created a great deal of concern in Taiwan and the U.S. But the point is that the Aegis cruiser was able to track those missiles throughout their flights.
The other studies that we are doing involve precision strike weapons, surveillance, ship self-defense, and an unmanned air weapons system.
WINKLER: What's your viewpoint on the Navy strategy, Forward from the Sea? Do you think that's the way to go?
DOYLE: Yes, we need to concentrate on dealing with a threat and a crisis as far away from the United States as possible, so I think a forward strategy is a valid approach. In addition, by regularly deploying in all the oceans, the Navy is able to reassure U.S. allies and friends, and warn potential enemies. But the Navy has to improve its capability in the areas close to the shore, the littoral areas. They present new challenges, particularly environmental, such as shallow water, electronic distortion and the sea-land interface. I also think the Navy can never neglect the requirement for maritime supremacy on the high seas, because after all, you have to get the forces to the area and defeat any threats en route. I would hate to see us assume that everything will be fine in blue water and that we don't have to worry about threats that might affect movement of naval and logistic forces.
WINKLER: It seems to be a very pervasive attitude today with the demise of the former Soviet Union. There's an argument that there just is no potential threat out there.
DOYLE: Well, that's interesting. You will recall after World War II in the 1946, '47, '48, to '50 era, there was no Soviet naval threat. There was no Cold War threat. Yet the Navy exercised control of the sea in the far reaches of the Pacific and in the Mediterranean, and we never abandoned our role as the guarantor of freedom of the seas. So there was a period after World War II, before the Soviets started building up their submarine and air forces, when there was no threat, but the Navy continued to maintain a capability that could function in the blue water, as well as in the littoral areas. Thus, we were ready in the Korean War with carrier task groups and amphibious forces.
WINKLER: That's a true statement. It seemed the postwar leadership did have a focused strategy put in place. I'm trying to think, I recently read Origins of the Maritime Strategy by Michael Palmer. The maritime strategy put in place in the late forties was mimicked by the maritime strategy put in place in the 1980s.
Admiral Hayward and his successor, Watkins, and Secretary of the Navy Lehman really took a lot of credit for it, but I think it really was built on that strategy that had been laid in place in the late forties as far as taking the battle to, well, at that time the Soviet Union. That Maritime Strategy in the 1980s has been a source of some controversy. Do you have a take on that?
DOYLE: I thought it was a valid strategy for that period of time, with the threat from Soviet forces and the Cold War still on. Some people said that the Navy could not take on the Soviets at sea in the North Atlantic or near their homeland in the Pacific, and could not make any impact on the land battle. I don't agree with that. I think that we could have diverted Soviet ground forces by attacks in the Pacific and bloodied them at sea. At first we'd take hits and suffer casualties. But then don't forget, if we had gotten into a war with the Soviets, it would have been a bloody war anyway, make no mistake about it.
Now with the Cold War over, we still have threats in the world and we still have naval forces deployed in all the oceans. I think that's perfectly consistent with international interests and objectives and we should continue to emphasize forward deployment of naval forces. In gauging threats, we should not confuse intentions with capability. Many countries, not all of them friendly, have the capability to use ballistic missiles, cruise missiles, submarines, mines, terrorists and weapons of mass destruction, but no intention to use them at the present time.
WINKLER: I asked the one question. I had an opportunity to interview Admiral William Small, who was VCNO at the time, and I'm sure you had a working relationship. I guess he was stuck on "60 Minutes" one time, and they were talking about the Maritime Strategy where we had three carriers in the Barents Sea, and there were some studies saying that within a certain amount of time the carriers would be sunk. And he was asking himself, "Well, why would we really need three carriers in the Barents Sea?" He was questioning some aspects of the strike.
DOYLE: I think that whatever strategy you have, when war breaks out, the plans always change. This depends on the tactical situation which is often unpredictable. I think Admiral Small was questioning an immediate deployment to the Barents Sea. We would probably have to fight our way north, first dealing with submarines and attacking bomber bases.
WINKLER: One thing, the Aegis system, I guess that's being exported to Japan.
DOYLE: Yes, Japan has a base line Aegis system in their new destroyers.
WINKLER: Was there any concern about exporting that technology?
DOYLE: No. It was determined that the technology was common enough to be exported. Furthermore, we are relying on Japan, as a friendly nation, to provide for its own defense. This would reduce the number of forces that we would have to provide in carrying out our treaty obligations. Aegis on their destroyers increases substantially their surveillance capability, in addition to missile defense.
WINKLER: Russia also developed their own phased array technology and also their vertical launch systems, did you have an opportunity to ever, since the Cold War is over, with any of your groups to step on board Russian platforms?
DOYLE: No, we haven't had that opportunity. We are aware of their developments, particularly in missilery, and that they are selling weapon systems to other countries because of their poor economic situation.
WINKLER: Where do you see yourself now?
DOYLE: I'm still active, but not as much as I was in the consulting business. However, I'm still fully involved as Vice Chairman in the NDIA committee we've been talking about. I also continue to participate in international and operational law with the advisory group at the Naval War College. I'm still keeping up to date and trying to make a contribution where I can.
I am also a Vice President of the Naval Historical Foundation which was founded in 1926 out of concern for "our vanishing history and traditions." The current President is Admiral Holloway and the Chairman of the Board is Rear Admiral Elliott Strauss, a classmate of Admiral Arleigh Burke who was himself a former Chairman. The Board meets at least twice a year in the Navy Museum at the Washington Navy Yard. The Foundation maintains a manuscript collection, provides funds to the Navy Museum for artifacts and displays, provides funds to the Navy Historical Center for prizes, conferences and internships, operates a museum store, publishes monographs on naval history, and supports special programs of naval historical significance. We are now involved in supporting the conversion of Building 46 in the Navy Yard to a modern collection management facility for the Historical Center's art, artifacts, books and records. The Foundation does a superb job in keeping alive naval history and traditions. Since 1980, I have been privileged to be a part of the effort.
Also associated with naval history, from 1988-95 I was a member of the Exhibitory Commission of the Intrepid Sea-Air-Space Museum moored along the Hudson River in New York City, together with Vice Admirals Bill Houser and Phil Beshany. Our job was to assist Zachary Fisher, the founder and patron of the museum, and his staff in selecting exhibits that would accurately and tastefully reflect naval history and traditions. In addition to periodic meetings on board Intrepid, we attended special commemorative events and the annual New York fleet week. During this time, the museum acquired a Sherman class gun destroyer, a Regulus submarine, an ex-Greek DE, an ex-Coast Guard cutter and a retired oceanographic survey ship. I thoroughly enjoyed my association with the museum.
WINKLER: The arsenal ship, what's your take on that program?
DOYLE: The Navy will soon have over 8,000 vertical launch cells in 80 Aegis cruisers and destroyers and 18 Spruance destroyers, capable of firing precision guided weapons, such as Tomahawk or whatever new is developed. This dispersed firepower that maintains a balance between offense and defense is the best approach. Although the Arsenal ship could carry 750 weapons, it would be extremely vulnerable with no defensive systems. Such a ship would be a sitting target not only for torpedoes, missiles, and bombs, but also for terrorists atacks. Remember, the USS Pueblo that was captured by the North Koreans in 1968 because she had no weapons to defend herself. Also, to rely on remotely targeting and firing the weapons in battle with no onboard redundancy is risky. As I understand it, the requirement for an immediate launch of 750 weapons is based on a potential Korean War scenario where a change in the assumptions could change the requirement. It may be that the Arsenal ship will turn into a fire support demonstrator to lead new technology, but there are cheaper ways to do that. I am not enamored with the ship and the program.
I also think that the current proposal to build a new "land attack destroyer" (DD 21), with only a short range and limited capability AAW system, is counter to all the lessons learned over the years starting with the kamikaze attacks off Okinawa in World War II. The Navy already has a land attack destroyer in Arleigh Burke class with the highly capable Aegis system for AAW, in addition to a robust land attack capability. In my opinion, we need to focus on engineering the technology and building a new multi-mission cruiser starting in about 2006 to replace the Ticonderoga class cruisers.
WINKLER: I think you've had a chance to express most of your concerns about where the Navy is heading. Is there anything else that we didn't touch on that you see‑-
DOYLE: Well, I just hope that the Navy continues to support a full multi-mission capability in our cruisers and destroyers, that we support system engineering, that we do not revert to a commodity approach in acquisition, and that we don't rely solely on industry for technical leadership. I think that we need to have a strong, competent naval technical leadership and then put together a team with industry to build the ships, aircraft and weapons systems that we will need. I believe we have an opportunity in the ballistic missile world to provide both an area and theater-wide defense system at sea, based on the Aegis ships and the Standard Missile. Like all good football and basketball teams, the Navy needs to maintain a robust defense as well as offense. In this regard, any new destroyer or cruiser should have a long range, area air defense system, like Aegis, not only for engaging enemy missiles, but also to provide a coherent air picture for air battle management. This would be in addition to capabilities in strike and ASW.
I also think it's very important to continuously update and modernize our Aegis fleet, not waiting for mid-life conversions which are expensive and do not keep pace with the threat. The introduction of new technology is best done on an evolutionary basis in block upgrades rather than waiting for the ships to reach twenty years or so.
We need to keep in mind that missile defense is different from planning land attacks, where you've usually got time to do it. In missile defense, you've got to be ready at all times. The operational demands of reaction time, fire power, coverage, countermeasures, and availability must be met in order to provide an effective defense against ballistic and cruise missiles.
Finally, I think the Navy needs to take a hard look at the organization of the material establishment to execute requirements and programs. For example, under Goldwater-Nichols, the Program Manager (PM) works for the Program Executive Officer (PEO) who works for the Assistant Secretary of the Navy for Research, Development, and Acquisition. PEOs, or PMs responsible for development and engineering a combat system, in many cases, have no control over the development and engineering of critical assets and subsystems that make up the total system. In such situations, aggravated by geographic dispersion and ever increasing fragmentation of the shore establishment, the ability to do system engineering is thwarted and program execution is adversely affected. Cost control and adherence to schedule are difficult to maintain. In addition, this fragmented responsibility raises questions about just who is accountable for weapon system readiness, ammunition safety, test range management, in-service support, and budgeting.
Of course, organizational challenges are not new to the Navy. Rickover reorganized to get nuclear propulsion to sea. Burke and Rayborn created the Special Projects Organization to field Polaris. Eli Reich took heroic corrective action to centralize control over surface missile systems. Mike Michaelis consolidated the Aegis weapon system with the cruiser to get the Ticonderoga (CG 47) building program off dead center. I hope the Navy takes a page from this legacy.
WINKLER: I thank you so much for your time.
DOYLE: Well, it's been a great pleasure. I enjoyed it. In reflecting on my career, I am reminded again how truly blessed I am in having the love and support of Jeannette and three wonderful children and their families.
* The U.S. Marine Corps Historical Center Oral History Collection holds a presentation by the senior Doyle given at the Naval War College during the 1970s.