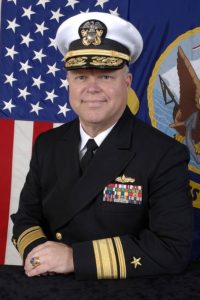 RADM Edward "Sonny" Masso, USN (Ret.)
Rear Admiral Sonny Masso assumed the duties of Executive Director of the NHF on 14 March 2019. A native of San Clemente, California, he served in the U.S. Navy as a Surface Warfare Officer retiring in October 2009 after 32 years in the active and reserve components, nine commands, and visiting nearly every country in the world.
His civilian career found him engaged in business development, strategic planning, and operations analysis in the areas of Data Analytics, Missile Defense and Cyber Security programs operating as a senior consultant with his company, Flagship Connection. He currently serves on the Board of Advisors of Blue Ridge Networks, a cyber-security company in Chantilly, Virginia, as well as serving as a member of the Strategic and Technical Advisory Team for the Commander of the Missile Defense Agency, and as a Senior Fellow at the Potomac Institute for Policy Studies in Cyber Disciplines.
As a Flag Officer, he was selected from the Reserve Component but spent his Flag tenure on the active duty list for the entirety of his tenure as a Flag Officer.  His flag assignments included:
Vice Commander U.S. Surface Forces Atlantic and Pacific Fleets

Assistant Deputy Chief of Naval Operations for Manpower, Personnel, Training & Education (OPNAV N1B)

Commander, Navy Personnel Command/Deputy Chief of Naval Personnel
Rear Admiral Masso was highly decorated and received eleven personal awards, including the Navy's Distinguished Service Medal.  Of all his personal recognitions, he is most proud of the Meritorious Unit Commendation his Command received for service in the Pentagon during 9/11. With his love and passion for Naval History, he considers this position as Executive Director, a dream job.
NHF Welcomes New Executive Director RADM Edward "Sonny" Masso
As I write this, I have been the Naval Historical Foundation's Executive Director for just over three months and am honored to be here serving this noble organization in preserving, promoting, and making more relevant, Navy history to our Naval Service and general public. I recall as a First Class Midshipman from the NROTC Unit at the University of Mississippi returning home to San Clemente, California for spring break in 1977, mentioning to a dear family friend and neighbor that I was chosen to serve in USS Paul F. Foster (DD-964) as my first sea assignment. The neighbor knew and served with Admiral Foster and most of the early namesakes of the Spruance Class Destroyers such as Thomas Kinkaid, Felix Stump, Jesse Oldendorf and others. I remember being awed by this as a 20-year-old aspiring blackshoe, especially as he patiently connected the dots for me as to other ship namesakes who sacrificed their lives in various battles by choosing "service over self" in the most perilous of times. Fast forward to today and it is now I who regale young Midshipmen with stories of ship namesakes that I served with, knew well, or had met over the years such as RADM Grace Hopper, ADM Rickover, RADM Wayne E. Meyer, ADM Arleigh Burke, ADM Elmo R. Zumwalt, RADM Dick O'Kane, COL Barney Barnum, LTGEN Frank Peterson, VADM Sam Gravely, John Stennis, VADM Stockdale, and others too numerous to name.
I believe profoundly that ships and aviation squadrons have souls and personalities and that to honor these namesakes and the battles inside and outside the beltway that they fought in both forms of combat (actual, and budget) to make our Navy and Nation great is an important and essential mandate for our Naval historical legacy. We cannot forget the heroes of our past and must stand on their shoulders to understand what it means to commit ourselves with the full measure of service and commitment to preserving their memories, heroics and accomplishments. The words of our Naval core values of honor, courage and commitment are much more easily understood when historical connections are shared, illuminating and enlightening these attributes and by keeping the memories and spirits alive of those who preserved our Republic in Naval Service.
The Naval Historical Foundation is a phenomenal national treasure led by a superb Chairman, President and Board of Directors. Our staff is stellar, led by GSGYT Harold Bryant, Events Director Sam Hall, our Membership Director Sean Bland, our Special Assistant Jacqueline Natter, and our staff historian Dr. David Winkler. We are assisted by other key individuals on a part time or volunteer basis without whom, we wouldn't be as effective. I hope in some small way my contributions as the Executive Director measure up to the high standards set by this leadership team. I thank you all for supporting our Foundation and ask that you invite friends to our membership and reach out to me and our board with your ideas and suggestions to promote Naval History.
To contact RADM Edward "Sonny" Masso email him at: emasso@navyhistory.org.