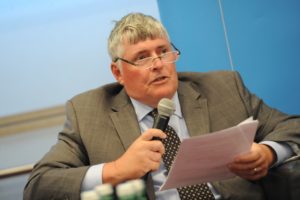 Dr. David F. Winkler
David F. Winkler earned his Ph.D. in 1998. from American University in Washington, DC. His dissertation Cold War at Sea: High Seas Confrontation between the U.S. and Soviet Union was published by the Naval Institute Press in 2000, was republished under the title Incidents at Sea: American Confrontation and Cooperation with Russia and China, 1945 – 2016  in December 2017. He was selected in early 2019 to be the Class of 1957 Chair of Naval Heritage at the U.S. Naval Academy for the 2019-2020 academic year and the Charles Lindbergh Fellow at the Smithsonian National Air and Space Museum for the following year. 
A historian with the non-profit Naval Historical Foundation for over two decades, he also wrote Amirs, Admirals, and Desert Sailors: The U.S. Navy, Bahrain, and the Gulf which also was published by Naval Institute Press in 2007, and was managing editor of The Navy, an illustrated coffee table book published by the Naval Historical Foundation. His 2014 book Ready Then, Ready Now, Ready Always covers the history of the U.S. Navy Reserve was published by the Navy Reserve Centennial Book Committee. In addition, he writes a monthly naval history column in the Navy League of the United States Sea Power magazine. Winkler received his commission as a Navy ensign in 1980 through the NROTC unit at the Pennsylvania State University. In addition to a B.A. in Political Science, he has an M.A. in International Affairs from Washington University. He is a retired Navy Reserve commander. Dr. Winkler currently resides in northern Virginia with his wife Mary and two daughters Katherine and Carolyn.   
To contact Dr. Winkler email him at: dwinkler@navyhistory.org.