The Naval Historical Foundation runs a thriving book reviews program, with reviews published electronically under Naval History Book Reviews. For those interested in learning more, here is the how the process works. Members of the Naval Historical Foundation are eligible to write reviews, and should contact us to begin participating.
Reviewing a Book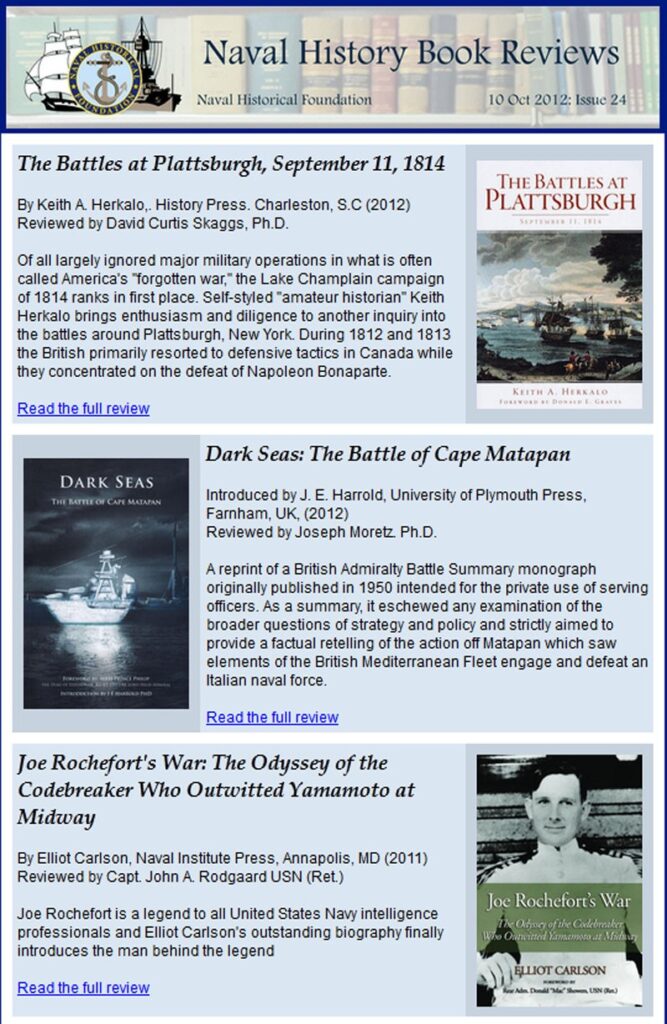 We regularly receive review copies of new publications about naval history from publishers around the world. The copies are provided to us gratis, with the intention of spurring reviews and informed dialogue about the book. Additionally, we encourage NHF members who have published books to provide us a review copy. Each month, we publish a new edition of Naval History Book Reviews, including a list of books available to review. Potential reviewers may contact Dr. Dave Winkler at dwinkler@navyhistory.org with requests to review a book. Books are sent out within 3 days of requests to review being made, and the reviewer is allowed to keep the book for their own collection. Draft reviews are submitted to NHF for an initial read, and comments are returned to the reviewer, working collaboratively towards a final, completed review.
Publishing the Reviews
Each month all of the completed reviews are compiled for the new edition of Naval History Book Reviews. Individual reviews are posted on our blog, you can view them here. In addition to the review, a link is provided to purchase the book on Amazon, with a small referral fee being provided to NHF for each sale. The reviews for each edition are bundled in an e-letter that goes out to NHF members and friends, an archive of those e-letters can be found here. Readers with an interest in responding to the review (including book authors) are encouraged to post their review in the comments on the book review blog page on our website.
The Naval Historical Foundation reserves the right to not publish reviews which we believe do not meet our guidelines. All reviews are approved by our Program Director,, Digital Historian and Executive Director.
Guidelines for Reviewers
A good book review takes craftsmanship, and is more than a second grade book report. A reviewer has a responsibility to be objective and to provide good analysis of the work. One of the the first things to look at are the bibliography, citations, and index. If one of those is weak or non-existent, this is a potential red flag that should be noted and is usually mentioned in the review. While reading the book from cover to cover, determine if the material is new or a synthesis building on the works of others. If this book does build on or differs from the work of others, it is well worth noting those works in the review. How does this book fill a void in our understanding of naval history? How well is the narrative written? Does the author get bogged down with techno-jargon? Finally, a word or two about the author's background should be noted. You may want to Google him/her to see what else he/she has written and how those books were reviewed. Many of our reviewers have every taken the opportunity to converse with the author to gain insights about the quality of research and motivation behind the writing. For our purposes, we are looking for 400-800 word reviews.
The opinions expressed in each review are the opinions of the reviewer alone, and do not represent the official position of the Naval Historical Foundation.