Throughout the Foundation's long existence, we've published a number of pamphlets on a wide variety of topics in naval history. We began publishing our pamphlet series in the early 1960's. In total, nearly three dozen pamphlets were published, and we continue to republish selected copies as needed. Some of the pamphlets were original works of historical research and analysis, while others were reprints of significant or uniquely interesting publications and primary sources from earlier periods of the U.S. Navy's history.
We are now making the full series of publications available on the web. The Navy Department Library has already transcribed and published selected pamphlets. We thank them for their diligent work to help bring these publications back to life in the digital age. In addition to the transcriptions of selected pamphlets, we'll be digitizing the original pamphlets and making them available to read on the web in an attractive and easy to use "flipbook" format.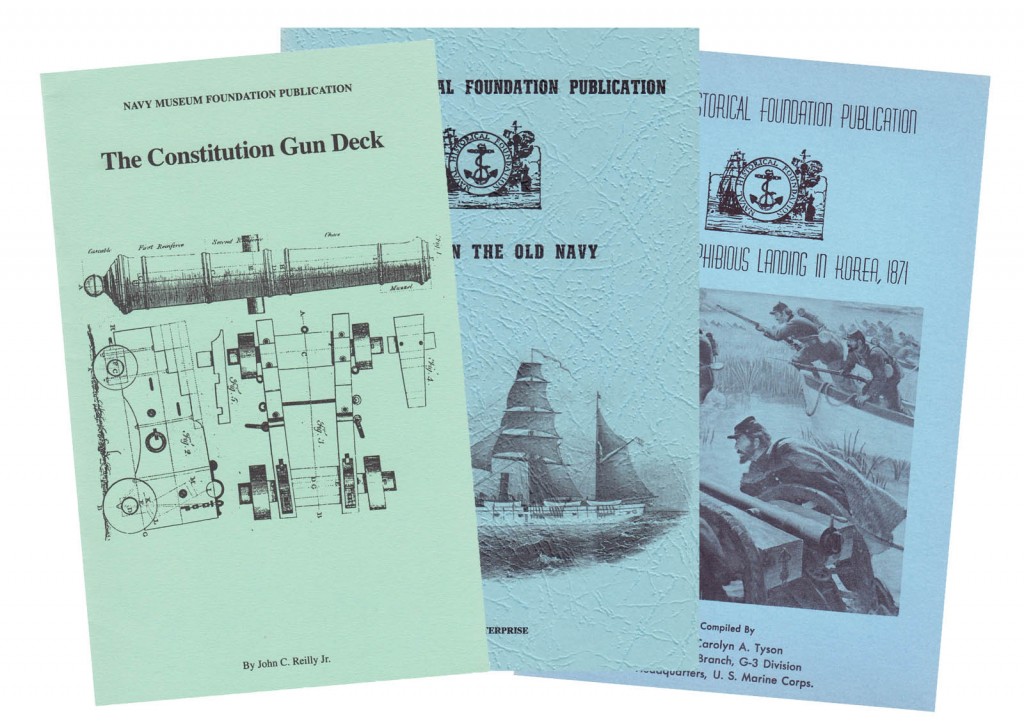 INDEX OF NAVAL HISTORICAL FOUNDATION HISTORY PAMPHLETS
Official Report of Flag Officer Franklin Buchanan of the Confederate States Navy Covering the Engagement between the CSS Virginia (formerly USS Merrimack) and the USS Monitor
An Eye-witness Account of the Battle between the USS Monitor and the CSS Virginia (formerly USS Merrimack) on March 9th, 1862 (Lieutenant Samuel Dana Green, USN)
Rules for the Regulation of the Navy of the United Colonies of North America (1944 (originally published 1775)
Training Ships (Captain Stephen B. Luce, USN, Jan. 1964 (originally published 1879))
"I Have Not Yet Begun to Fight," The Continental Navy (Jan. 1965)
Samoan Hurricane (Rear Admiral L.A. Kimberly, USN, Aug. 1965 (from an 1889 manuscript))
Marine Amphibious Landing in Korea, 1871 (edited by Carolyn A. Tyson, Series II, Number 5, Jan. 1966)
Fleet Admirals, U.S. Navy (Series II, Number 6, Aug. 1966)
I Was a Yeoman (F) (Mrs. Henry F. Butler, Series II, Number 7, Jan. 1967)
The Decatur House and Its Distinguished Occupants (Series II, Number 8, Aug. 1967)
The Incredible Alaska Overland Rescue (Series II, Number 9, Jan. 1968) ???????
Captain Raphael Semmes and the CSS Alabama (Series II, Number 10, Aug. 1968)
General Orders, USS Independence, 1815 (Series II, Number 11, Jan. 1969 (originally published 1815))
The Russian Navy Visits the United States (Series II, Number 12, 1969)
The Navy Department: A Brief History Until 1945 (Series II, Number 13, Jan. 1970)
Main Navy Building: Its Construction and Original Occupants (Series II, Number 14, Aug. 1970)
The David Taylor Model Basin: A Brief History (Virginia Conn and Robert G. Natelson, Series II, Number 15, Spring 1971)
Mathew Fontaine Maury: Benefactor of Mankind (Captain Miles P. DuVal, Jr., USN (Retired), Series II, Number 16, Fall 1971)
The Enlistment, Training, and Organization of Crews for Our New Ships (Ensign A.P. Niblack, USN, Series II, Number 17, Spring 1972 (originally published 1891))
United States Naval Hospital Ships (Series II, Number 18, Spring 1973)
The Maritime Canal of Suez (Professor J.E. Nourse, USN, Series II, Number 18, Spring 1974 (originally published 1884)
Cruising in the Old Navy (Rear Admiral R.R. Ingersoll, USN,Series II, Number 19, Winter 1974 (from a circa 1909 manuscript)
The Resignation of Admiral Brownson (Series II, Number 20, Spring 1976)
Report of the Secretary of the Navy – 1858 (Series II, Number 21, Spring 1977 (originally published 1858))
The Navy Department: Evolution and Fragmentation (Series II, Number 22, Spring 1978 (originally published 1970))
Battle of Lake Erie: Building the Fleet in the Wilderness (Rear Admiral Denys W. Knoll, USN (Retired), Series II, Number 24, Spring 1979)
Bayly's Navy (Vice Admiral Walter S. Delany, USN (Retired), Series II, Number 25, Fall 1980)
The Pivot Upon Which Everything Turned: French Naval Superiority that Ensured Victory at Yorktown (William James Morgan, 1981)
Going South: U.S. Navy Officer Resignations and Dismissals on the Eve of the Civil War (William S. Dudley, Series II, Number 27, Fall 1981)
A History of the Naval Historical Center and the Dudley Knox Center for Naval History (William James Morgan and Joye L. Leonhart, Series II, Number 28, Fall 1983)
The Reincarnation of John Paul Jones: The Navy Discovers Its Professional Roots (James C. Bradford, Series II, Number 29, Fall 1986)
Destroyers at Normandy: Naval Gunfire Support at Omaha Beach (William B. Kirkland, Jr., 1994)
Preserving and Promoting our Naval Heritage: The Naval Historical Foundation at 75, 1926-2001 (Dr. David Winkler, 2001)
The Constitution Fighting Top (John C. Reilly, Jr., 2002 reprint (originally published 1978)
The Constitution Gun Deck (John C. Reilly, Jr., 2002 reprint (originally published 1983)