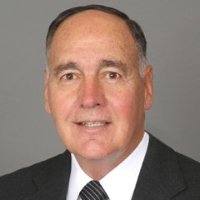 Vice President, Strategy & Business Development, Public Sector North America at Salesforce
Bud Langston leads SalesForce Public Sector government strategy and Business Development Group.  He is responsible for major strategic accounts within Federal/DOD, State & Local, provincial governments and Aerospace & Defense.
He joined SalesForce in 2016 after 16 years at Oracle Corporation, and 30 years in the United States Navy.  As a Naval Aviator, he accumulated over 5000 hours and 1200 carrier landings flying Strike-Fighter aircraft.  During his aviation career he flew over 300 combat missions in Vietnam, Persian Gulf/Iraq and was awarded the Distinguished Flying Cross 3 times for combat actions.
Retiring from the Pentagon as Director of the Navy Staff and Chief Information Officer, he had oversight of the Navy's IT infrastructure and orchestrated numerous business process reengineering initiatives as part of the Navy's Revolution in Military Affairs.
A graduate of San Diego State University, he did his graduate studies at the Royal Air Force Senior Staff College, London, England, and Naval Postgraduate School, CIO Seniors Honors Program, Monterey, California.
Bud remains passionate about naval history (preservation, education & commemoration) and was recently appointed as the 12th President, Naval Historical Foundation.
While he resides with his wife Pam in Ft Lauderdale FL, they also maintain a home in Vienna VA where they enjoy being close to their children and grandchildren.  The Langston family are avid boating enthusiasts regularly cruising the Bahamas and southern Florida.