Congratulations to the prizewinners:
Ms. Erica Bell
Mr. Jon Blasko
Ms. Amy Boehning
Ms. Pam Brown
Ms. Cheryle Redelings
Ms. Elizabeth Thornewood
Mr. Rosalio R. Garcia
Mr. Michael Lee
Mr. Alfred Meadows
Mr. Alan Plummer
Ms. Blair Hennessey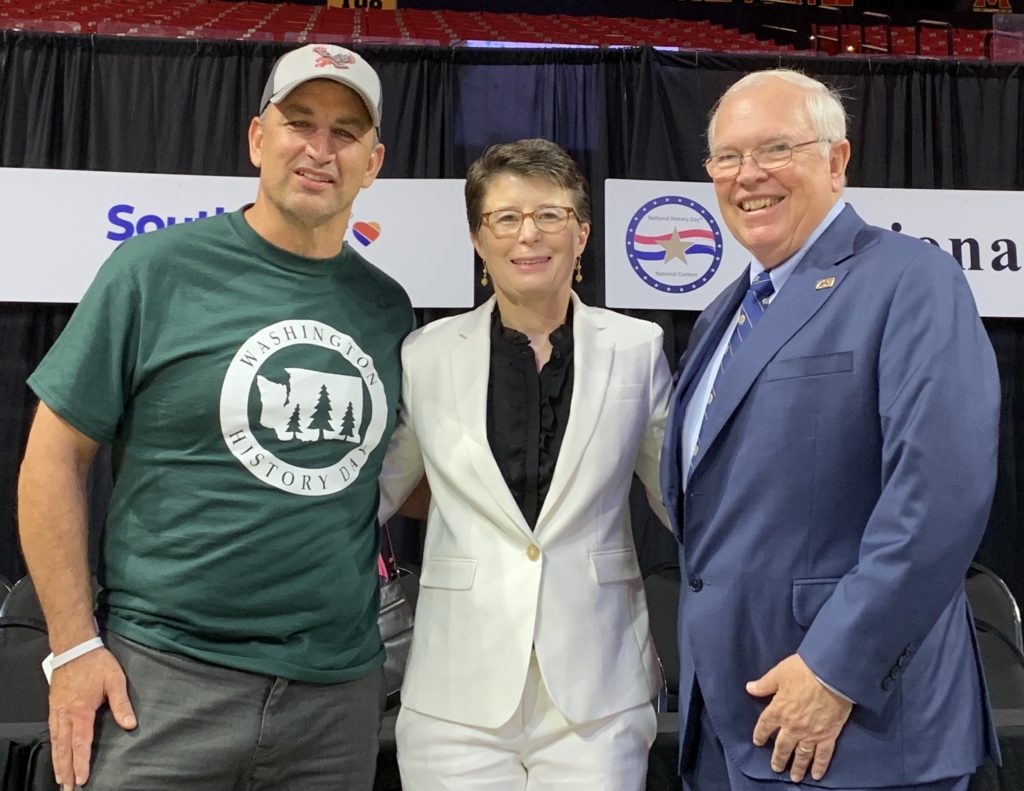 For two decades the NHF has sponsored prizes at the National History Day (NHD) competition held at the University of Maryland. Each year more than 600,000 middle and high school students from all states, the District of Columbia, and territories – including international students from Asia and Central America – participate in NHD. There are five project categories: Papers, exhibits, documentaries, websites, and performances. Each year NHD has a broad theme for the competition. The theme for the 2019 contest was "Triumph and Tragedy in History."
Competition began at individual schools with the top two middle and high school winners in each of the five categories advancing to regional, state, and national competitions. Some 3,000 students and several hundred teachers participated in the national competition this past June 9-13. After the results of the judging, the NHF is pleased to announce Ben Kvale and Ella Ratliffe of Edison Middle School in Sioux Falls, SD, collaborated on a winning website project entitled, "The Art of Confusion: The Triumph of Dazzle Camouflage After Tragedy." Also Armaan Needles of Mililani High School in Hawaii was honored for a performance, "Hawaii's Workers Assist US Triumph after Tragic Pearl Harbor Bombing." The prizes are named after the late Captain Ken Coskey, a Navy pilot and Vietnam prisoner of war who had served as NHF executive director. Captain Coskey established the first NHF Prizes in Naval History with NHD in 1999. At present, a $1,000 prize was awarded for each winning project.
Recognizing these students and other prize contenders lean on the assistance and expertise of their teachers for success, last year the NHF began recognizing outstanding history teachers who steered students to projects having naval history themes.
---
Continuing a program initiated in 2018, NHF honored 11 "Teachers of Distinction" whose students developed award-winning projects with a naval or maritime theme.
Two of the awards went to teachers whose students received the NHF's annual Coskey Prizes. The other nine Teacher of Distinction awards were given to middle and high school teachers whose student projects were ranked first, second or third in their categories in the national competition for naval-related projects. Demonstrating widespread interest in maritime and naval history, recipients came from nine different states stretching from South Dakota to Texas and Maine to California.
The Teacher of Distinction awards consist of a $200 honorarium, an NHF certificate of achievement, one-year membership in NHF, and access to NHF Navy-related historical research assistance.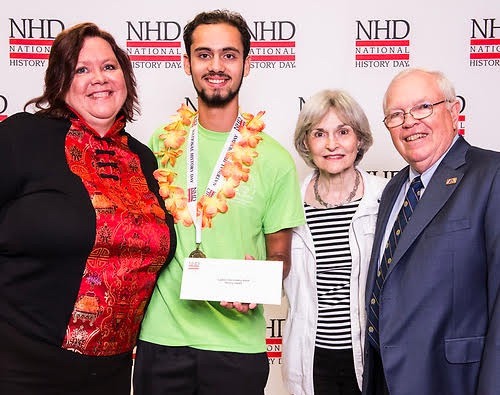 Congratulations to the two Coskey Teachers of Distinction for Naval History:
Erica Bell, a teacher at Edison Middle School in Sioux Falls, SD who supervised Ben Kvale's and Ella Ratliffe's winning website project.
Amy Boehning, who teaches at Mililani High School in Mililani High School in Hawaii oversaw Armaan Needles' performance project.
The Coskey Prizes were presented to winning students and teachers at the June 13 NHD awards ceremony in College Park by Captain Coskey's wife, Rosemary Coskey. Representing NHF at the presentations was Capt. Charles C. Chadbourn, NHF member who helped establish the Teacher of Distinction awards and is a nationally recognized judge in the competition.
In accepting her award, teacher Amy Boehning of Mililani, HI, wrote, "I would like to express my deepest gratitude for the honor to be recognized as a Teacher of Distinction by the Naval Historical Foundation. It was also a great honor for my student, Armaan Needles, to receive the Ken Coskey Naval History Prize. As a National History Day teacher of 23 years I understand how special it is to be chosen to receive a special prize at the national contest and am thankful for your organization's support of such a prize."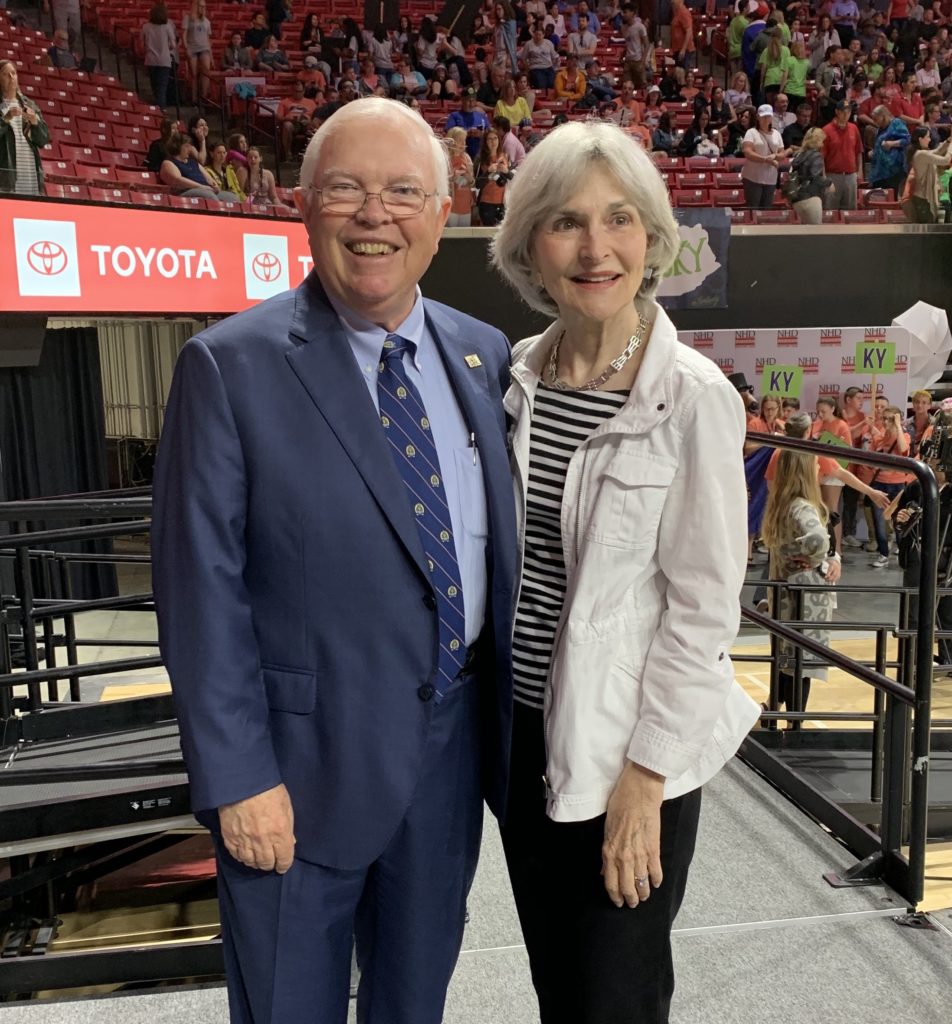 ---
National Finalists
            We would also like to recognize the following nine Teachers of Distinction and their schools, along with the names of the students and their projects that were ranked in the top three places nationwide in their categories:
Al Plummer, teacher at Northshore Junior High School in Bothell, WA. Student Andrew Da's paper, "Raising the Flag on Iwo Jima: A Triumph Arising from Tragedy," got 2nd place.
Pam Brown teaches at All Saints Catholic School in Moore, OK. Student Sydney Brown's individual documentary project, "By Chance: The Story of the First Code Talkers," was ranked 2nd.
Alfred Meadows, Wilbur Cross High School, New Haven, CT. Student Margo Pedersen won 1st place for her paper, "Malaga Island: How the State of Maine Devastated a Resilient Island Community in the Name of the Greater Good."
Michael Lee, Winchester High School, Winchester, MA. Student Maggie Eid won 2nd place in the individual website category with her project, "The Exxon Valdez Oil Spill: The Tragedy that Struck Alaska."
Blair Hennessy, Lincoln High School, Portland, OR; Elizabeth Thornewood, Sunset High School, Beaverton, OR.    Students Kyler Wang of Lincoln HS and Alan Zhou of Sunset HS collaborated on a group documentary that won 1st place.  The project was titled, "Echo of Falling Water: The Inundation of Celilo Falls."  
Jon Blasko, Nimitz High School, Humble, TX. Students John Castaneda, Isaac Veloz, Nicolas Gonzales, and Soraida Sosa collaborated on group website project entitled, "Tragedy in a Texas Town: The Texas City Disaster of 1947." The project won 3rd prize.
R. Rodrigo Garcia, Veterans Memorial Early College High School, Brownsville, TX. Students Joel Santivanez, Andrea Urbina, Mathew Montiel, Monserrat Sandoval-Malherbe, and Alden Anzaldua collaborated on a group performance project, "The Triumphs and Tragedies of Operation Iceberg," which won 3rd place. Operation Iceberg was the code name for the World War II Battle of Okinawa.
Cherie Redelings, Francis Parker School, Bonita, CA. High school students Emily Park, Maya Chu, Amanda Wasserman, Sonali Chu, and Victoria Comunale collaborated on a group exhibit, "The Panama Canal: A Triumph Entrenched in Tragedy." The project won 2nd place in its category.
---
Illustrating the impact of NHD in our nation's schools, teacher Rodrigo Garcia of Brownsville, TX, said of his award, "I thank you for all that this organization is granting me and my students. NHD has been a passion I have shared with over 20 years of students ranging from 6th to 12th grades throughout my career. Never had my efforts been recognized at a level beyond my own community until this distinction. Proud to be an educator and advocate of NHD."
NHD has already announced the theme for its 2020 competition: "Breaking Barriers in History." According to NHD, the theme is chosen for its broad application to world, national, or state history and its relevance to ancient history or the more recent past.
---
This article was written by Jim Noone, and will be featured in our next Pull Together coming out in Fall 2019.