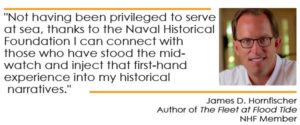 Connecting Naval History to our Economy, the Environment & National Security
Naval history and the maritime domain connect every aspect of our nation's history – national security, the economy, the environment and foreign policy. Whether documenting naval strategies that protect our interests, capturing oral and video histories, securing artifacts or digitizing important naval records and artwork, the Naval Historical Foundation is at the center.
Why Naval History?
History is constantly occurring and shaping our future. Successful leaders on the battlefield, in the air and on the seas credit lessons they've learned from history combined with preparation as key to keeping our Sailors safe and our country strong. Understanding our past with the help of today's latest technologies allows NHF to remain relevant to the public's growing interest in our shared fascination with the Navy.
Global Impact
Like the U.S.  Navy, NHF's work extends beyond our borders. Since our maritime domain impacts our lives as individuals and as a nation, it is crucial to study and chronicle the process behind our transformation from a young republic to a dominant worldwide maritime power.
Preserving the Past
From its initial focus on safeguarding the material culture of the Navy in the 1920s, the Foundation has developed into a non-profit organization dedicated to not only preserving, but promoting the full range of naval history through leveraging partnerships with a wide variety of organizations like the Naval History and Heritage Command (NHHC) and Ocean Exploration Trust (OET). We take pride in honoring those who gave their lives to protect us through our various preservation and commemorative efforts in Washington, D.C., and beyond.
Looking to the Future
NHF has its eyes on the future while capturing our naval history past. We provide:
Guidance and expertise in the discipline and dissemination of naval history

Scholarship incentives for K-12 students, Midshipman, and NROTC

Historical perspective, content and context for deep sea explorations

STEM education fellowships with historic ships, museums, and K-12 teachers

The premier resource naval history education at www.usnavymuseums.org
Membership in the Naval Historical Foundation is open to all who share an interest in the promotion and preservation of U.S. naval history. As a member, you know that preserving and commemorating the U.S. Navy's history is of the utmost importance. Your generous contributions enable us to do so, and thereby educate the American public about that proud heritage.
Level
Annual Dues
Benefits

Student

Complimentary

All individual benefits for one year for one student

Teacher

$35

All individual benefits for one year for one teacher

Individual

$50

Benefits include:

Receive a weekly Thursday Tidings Naval History email

Invitation to annual meeting

10% off purchases at the Navy Museum Store

Facilitated parking at the National Museum of the U.S. Navy

Subscription to Pull Together, NHF's quarterly publication

Family

$75

All Individual benefits for one year for two adults and their children or grandchildren under age 18

Supporter

$250

All individual benefits plus:

Recognition in the annual report

One complimentary invitation to attend annual history-related webinar

Discounts on 8″x10″ reproductions from the Navy's historic photograph & art collection

Life

$1,000

All Supporter benefits plus:

Priority access to historical documents

Early invitations to special events and lectures

20% off purchases at the Navy Museum Store

Guided historical tour for two of the Washington Navy Yard

Organization

$5,000

Up to twenty individual memberships plus:

Guided historical tour for six of the Washington Navy Yard

Company name listed in quarterly publication & annual report

20 complimentary invitations to attend an annual history-related webinar

10% off rental fee for the National Museum of the U.S. Navy or Cold War Gallery

Company logo on NHF suite of websites (navyhistory.org; usnavymuseums.org; ijnhonline.org)

To join online, click the "Join" button above for a secure transaction through GiveDirect, run by the "America's Best Charities," of which NHF is a proud member. Just be sure to indicate your level of membership ("New Membership") or "Membership Renewal" in the Program Area section.
If you prefer to join by mail, please print out this membership form, fill it out, enclose payment, and mail to:
Naval Historical Foundation
ATTN: Membership
P.O. Box 15304
Washington, D.C. 20003
Please contact our membership director Tyler Robinson if you have any questions at (202) 930-5244.