2016 Annual Meeting
June 11, 2016 @ 11:00 am

-

1:00 pm

Dear Member or Friend of the Naval Historical Foundation,
You are cordially invited to attend the Naval Historical Foundation's Annual Membership Meeting on Saturday morning, June 11th, 2016 at the historic Washington Navy Yard, as we celebrate the Foundation's 90th Anniversary and look ahead to new directions in the coming years.
Refreshments will be available starting at 11:00 am in the Navy Museum's Cold War Gallery (Bldg. 70) at the Washington Navy Yard.  The Annual Meeting and Leighton Lecture will commence between 11:30 and noon with Chairman Admiral William J. Fallon leading the discussion for a new "vector" for the Foundation. A buffet luncheon will follow! After the lunch, as in past years, Dr. Dave Winkler will offer a 30-minute walking tour of the Navy Yard for interested members.
Due to new access regulations for entry to the Washington Navy Yard, members who do not hold DoD credentials (i.e. Retired or Active Military ID cards, or Government CAC cards) will have to go through a vetting process. For those guests, when you RSVP that you will attend the meeting, we will send you a form by mail or email that you must fill out, sign, and return to us by mail or email not later than Thursday, June 2nd. The Navy Yard security office will run your information through a database and then you will be on the access list at the gate for the June 11th meeting, and will be waved right through after showing your driver's license. On weekends the only gate open at the Navy Yard is the 11th and O St. gate; for those who RSVP that they will be attending, we will provide you with detailed instructions and a map for getting to the meeting!  Those who already possess the DoD credentials named above need merely display one of those ID cards in order to be waved through the gate; and without any further screening, you can serve as an authorized escort for any guests in your car who don't have those IDs. If this is confusing, don't worry-we'll take care of you!
William J. Fallon
Admiral, USN (Ret.)
Chairman

Membership Map and Details for 11 June: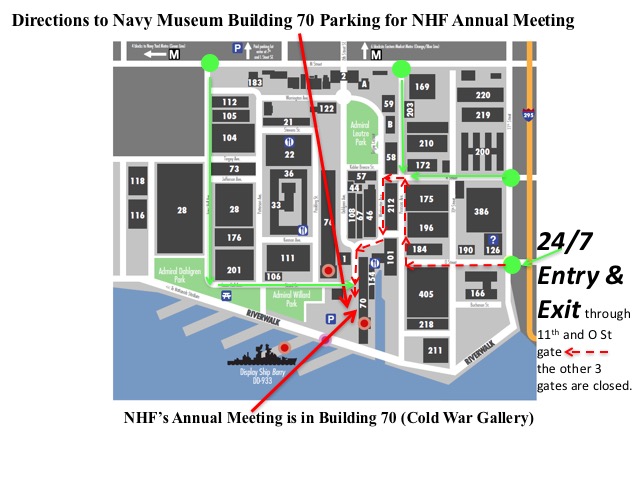 Guests attending the annual meeting will enter through the gate at the intersection of 11th and O St. As you enter through the gate, we will have signs to follow you to the parking area near the Cold War Gallery (Building 70). Please note that base and DC/metro area traffic may be increased due to a 12:05pm Nationals game in the vicinity.
Membership Materials:
2015 Annual Meeting Minutes
Bud Langston Bio
2015 Annual Report
ByLaws for 2016 Amendment
Annual Meeting Agenda