Captain Kenneth Coskey National History Day Prize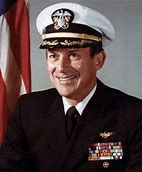 At the annual National History Day festivities that occur every June at the University of Maryland, special prizes are awarded to high school and middle school history projects that best capture an appreciation for naval history. Two such prizes are awarded, one each in the Junior and Senior Divisions, for $1000 each. Judging is conducted by the organizers of National History Day.
The prize is named for the late Captain Ken Coskey, a Vietnam War combat aviator and Prisoner of War, and former Executive Director of the Naval Historical Foundation.
---
2021 (Senior Division)
Jesse Henderson of Cleveland, TN
"Aerographer's Mates: Communicating Weather from Sea to Shining Sea"
2021 (Junior Division)
Rebecca Bemiss of New Haven, CT
"Mavis Batey and the Geese That Never Cackled"
2020 (Senior Division)
Jesse Henderson of Cleveland, TN
"Unwelcomed Soldiers Invading a Fraternity"
2020 (Junior Division)
Kathryn Lucente of Milford, CT
"Breaking the Wrong Barriers"
2019 (Senior Division)
Ben Kuale and Ella Ratliff of Siouz Falls, SD
"The Art of Confusion: The Triumph of Dazzle Camouflage after Tragedy"
2019 (Junior Division)
Armaan Needles of Milani, HI
"Hawaii's Workers Assist U.S. Triumph after Tragic Pearl Harbor Bombing"
2018 (Senior Division)
Caroline Maxon of Henderson, NC
"The Quasi War: The Undeclared Conflict"
2018 (Junior Division)
Andrew Karafa of Ada, MI
"Temporary Truces: How America's Handling of the Barbary Bullies Molded the US Navy"
2017 (Senior Division)
Joseph Horne of North Berwick, ME
"The Portsmouth Naval Shipyard: Helping America Take a Stand against the Axis Powers"
2017 (Junior Division)
Jason Benyousky, Ryan Hoffert, Keller Bailey, and Geoffrey Hochstetler of Warsaw, IN
"The Many Stands of Pearl Harbor"
2016 (Senior Division)
Allie Tubbs of Johnston, IA
"Grace Hopper Dared to Explore Computer Coding, Encounter the Glass Ceiling, and Exchange Intellectual Concepts"
2016 (Junior Division)
Cassi Taylor of Mobile, AL
"Exploring the CSS Alabama: Encounters of the Confederate Raider and the Fiery Exchange with the Kearsarge"
2015 (Senior Division)
Mickey Sloat of Davenport, IA
"Leadership in the Cyber Sea: The Legacy of ADM Grace Hopper"
2015 (Junior Division)
Shaeffer Quinn, Nick Moon, Andrew Bow, Olivia Lennon, and Riley Sproowl of Boerne, TX
"James and Sybil Stockdale: A Heroic Duo"
2014 (Senior Division)
Katharine Journaey, Mark Cochran, Hannah McDonnell, Colby Gould and Emily Pierce of Exeter, NH
"The Golden 13: Civil Responsibility Before Self"
2014 (Junior Division)
Jethro Abayo and Logan Gilbert (Junior Division) of Vancouver, WA
"Vietnam Prisoners of War: Taking Responsibility When Deprived of All Rights"
2013
Maria Sutton of Wilmington, DE
"The Sinking of the USS Maine: A Turning Point in American Foreign Policy"
2012
Mia Keyser, Challis Debenham, and Hallie Whitmore of Anchorage, AK
"The Trials of Truth: The Amistad Revolution"
2011
Lawrence Alcairo and Marten Lai of Guam
"Guam Military Buildup"
2010
Sarah Sadlier of Tacoma, WA
"The Marine Chronometer: An Innovative Solution to the Longitude Problem"
2009
Karissa Kleinschmidt, Katelynn Scallan, and Jesse Adcock of Cantonment, FL
"Grace Murray Hopper: America's Amazing Grace"
2008
Adam Sherman of Scottsdale, AZ
"Prelude to Pearl Harbor: The Panay Conflict and President Roosevelt's Compromise"
2007
Chris Carpenter, John Bergquist, Ridley Heyrend, and Matt Miller of Salt Lake City, UT
"The Attack and Capture of U-505: A Treasure Submerged in Code"
2006
Justin Schoonmaker of Longdale, OK
"Midway: America's Stand against Japanese Expansion"
2005
Brynne Piotrowski of Pensacola, FL
"Anticipated Arrival: Communications Intelligence in the Battle of Midway"
2004
Sarah Miles of Cheraw, SC
"Grace Hopper: Exploration of Women's Careers in the Navy, Encounters With Technology and Exchange of Knowledge in the 20th Century"
2003
Steven Pelcovits of Providence, RI
"Military Ships and Citizenship: Rights and Responsibilities of Blacks in the Civil War Navy"
2002
Katie Pauley and Amy Paul of Des Moines, IA
"RADM Grace Hopper"
Andy Pope and Zack Piper of Pensacola, FL
"Port Chicago Mutiny"
2001
Andrew Morrison, Rebecca Stover, and Ivan Borissow of Owings, MD
"CDR Wesley A Brown"
2000
Thomas Thompson of Prince Frederick, MD
"Five Minutes at Midway: Turning Point of the Turning Point"
1999
Michelle Ow of Pensacola, FL
"Forging a New Era Through Ironclad Technology"