By Michał A. Piegzik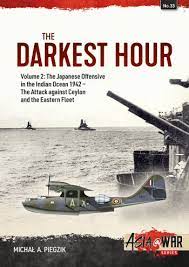 Reviewed by Charles C. Kolb, Ph.D.
The initial volume in this two-part work, The Darkest Hour, Volume 1: The Japanese Naval Offensive in the Indian Ocean 1942 – The Opening Moves, was reviewed by me and published in Thursday Tidings on 1 September 2022: www.navyhistory.org/2022/08/the-darkest-hour-volume-1-the-japanese-naval-offensive-in-the-indian-ocean-1942-the-opening-moves/. The concluding volume became available on 15 September and is considered herein. Briefly some background: the Polish author, Michał A. Piegzik, holds a doctorate in law from the University of Wroclaw (2015) and lives and works in Japan as a researcher in Japanese family law at the Tokyo Metropolitan University. He has a keen interest in Pacific War history and has conducted research in the Japanese Archives, Center for Asian Historical Records (Tokyo, Japan) as well as The National Archives (Kew, UK), and United States National Archives (Washington, DC). There have been about a dozen books written about the Japanese attacks in the Indian Ocean and the British Pacific Fleet, notably by Stephenson (2021), Hobbs (2011 and 2017), and Robb-Webb (2016). I reported in my earlier review that Piegzik provides the latest information obtained from British, American, and Japanese archives – something few other writers have been able to employ because of his ability to read and translate original Japanese documents. Hence, the reader is presented with materials from both the Allied and Japanese points of view.
The second volume picks up the story beginning in April 1942, covering specifically the period 2-9 April) and reports on the Japanese objective to "destroy" the British Royal Navy in the Indian Ocean. This slim
second volume (72 pages: eight chapters, nine appendices, bibliography, and notes), The Darkest Hour,
Volume 2, contains a useful "Bibliography" (pp. 63-66) which includes mostly primary sources: Japanese
Archives, Center for Asian Historical Records (Tokyo, Japan: 81 sources, www.jacar.go.jp/english/); The National Archives (Kew, UK: 51 sources [Cabinet, RAF, Admiralty, Colonial Office, Churchill Centre, and National Archives of Australia]; and nine Memories: Audio-Visual Records. He also cites 76 secondary "most important" sources (nearly all books) in English but including seven works in Japanese, three in Polish, and one dissertation in Danish. There are extensive chapter-by-chapter end note citations (pp. 66-70) and a "List of Abbreviations and Symbols" (p. 2) with 24 entries. Additionally, he includes 46 black-and-white photographs, eight line drawings, and a five-page color insert (14 British aircraft, one Japanese carrier with an ingenious system of landing lights, and a Japanese postcard). Lastly, there are five splendid color maps depicting the naval engagements, as well as 31 tables in the narrative and nine more in the appendices. There is no "Index."
The first chapter, "Raid on Colombo" (pp. 2-9), focuses on ADM Nagumo's Operational Orders 71 and 72 (3 April) and 73 and 74 (4 April), the planning for the surprise attack scheduled on Sunday 5 April targeting the main British base on Ceylon utilizing two battleships, three heavy cruisers, and five aircraft carriers, with CDR Fuchida leading Kate torpedo bombers, Val dive bombers, and Zero fighters. Yes, this is quite similar to the Pearl Harbor attack nearly a month before, and employs nearly the same naval task force and aircraft. The Japanese attained full operational surprise at 0730 hours and the British lost aircraft on the ground and in dogfights, plus damage to shore installations and naval ships in the harbor; merchant vessels at anchor were nearly untouched with one merchant cruiser (HMS Hector) sunk. A submarine repair ship (HMS Lucia) suffered "minor" damage, and a destroyer (HMS Tenedos) received two hits. The British launched a counter offensive at 0830 hours with Blenheim bombers but the Japanese carriers avoided detection. The Japanese after action report differed from the British documents with the claim that three merchant vessels were damaged. See also "Appendix I: The Composition of the Kidō Butai striking group during the raid on Colombo on 5 April 1942" (pp. 48-51) and "Appendix II: Japanese CAP pursuit after Graham's Catalina, 5 April 1942" (p. 52). CAP is "Combat Air Patrol."
Chapter 2, "The Sinking of HMS Cornwall and HMS Dorsetshire" (pp. 9-23) documents the loss of two British heavy cruisers on 5 April which were accompanied by a destroyer escort and had been located by Japanese reconnaissance aircraft. Fifty three aircraft (Vals and Kates) attacked, see "Appendix III: The composition of the Special Striking Group during the attack on Cornwall and Dorsetshire, 5 April 1942" (pp.52-53). The British Summary (pp. 11-12) and eye witness accounts recorded ten direct hits and six near misses on Cornwall and eight hits plus other near misses on Dorsetshire. British and Dutch PBY Catalinas' searched for the Kidō Butai on 6-8 April while destroyers HMS Paladin and HMS Panther located and rescued 1,122 survivors. ADM Nagumo originally avoided detection by heading northeast and began planning a strike on Trincomalee scheduled for 9 April in Operational Orders 78 and 79. However, the British feared that merchant ships and the carrier HMS Hermes were in peril and sought and located and began tracking the Kidō Butai.
In Chapter 3, "Raid on Trincomalee" (pp. 23-28), a Jake seaplane from the Japanese heavy cruiser Tome provided reconnaissance and weather reports to the Kidō Butai located 200 miles east of the British base at Trincomalee. The fleet included four battleships, one light and one heavy cruiser, and aircraft carriers with 91 Kates armed with 800 kg bombs and 38 Zeros. The force was spotted by a Canadian Catalina which radioed its location but was intercepted and shot down before the strike began. However, the British were prepared and mustered several squadrons of Hurricanes to meet the attack on British merchantmen and the airfield at China Bay and dockyard and workshops at Tricomalee harbor. The British and Japanese after action reports differ in a number of respects. See "Appendix IV: Hiryu's air reconnaissance missions (Kates) and anti-submarine patrols (Vals), 7 April 1942: (p. 54) and "Appendix V: Composition of Kidō Butai's striking group during the raid on Tricomalee, 9 April 1942" (pp. 54-58). The British documented one British merchant ship as sunk, and the monitor HMS Erebus and Dutch light cruiser HNLMS Sumatra damaged by the enemy's attack by 66 torpedo bombers and 40 fighters, while the Japanese claimed 38 Hurricanes and three other British aircraft destroyed and their own losses as three Zeros and damage to six fighters and 11 bombers.
The "British Counter-attack and the Sinking of HMS Hermes and HMAS Vampire" (pp. 29-32) characterizes how nine Blenheim bombers without fighter escorts located the Kidō Butai and attacked the carrier Akagi and heavy cruiser Tome – only five bombers escaped; "Appendix VI: Composition of the Special Striking Group against Hermes and Other British ships; 9 April 2022" (pp. 58-60). Meanwhile, the Japanese attacked the aircraft carrier HMS Hermes and her Australian escort Vampire with 32 Vals and 13 Kates, claiming 37 hits on Hermes (the British report states18 about hits with 19 officers and 288 sailors killed). Nonetheless, three Commonwealth ships were lost in this engagement: the carrier HMS Hermes, destroyer HMAS Vampire, and tanker British Seargant.
However, the Japanese feared a counterattack by the British Eastern Fleet, and thus began an eastward retreat toward the Strait of Malacca: Chapter 5 "Kidō Butai Retreats" (pp. 32-34). The Japanese reported sinking not only HMS Hermes but also two cruisers, HMS Birmingham and HMS Emerald, the Dutch survey ship Tydman, a destroyer, one patrol vessel, and six merchant ships. See "Appendix VII: Japanese CAP during No. 11 Squadron's attack on Kidō Butai, 9 April 1942" (pp. 60-61) and "Appendix VIII: Kidō Butai's losses during the operation in the Indian Ocean, 4-9 April 1942" (p. 61). The force divided into several groups with most ships transiting the Strait, passing Singapore, and cruising into the South China Sea by 14 April near Taiwan. The Fifth Carrier Division was detached and proceeded into the South Pacific to join the Fourth Fleet and participate in Operation O which led to the Battle of the Coral Sea 4-8 May 1942. Hence, Operation Indian Ocean was to be the last victorious expedition in Japan's First Stage of the Pacific War.
Chapter 6 "Malay Force in the Bay of Bengal" (pp. 34-39) documents Japanese actions beginning on 1 April when VADM Ozawa sought to enter the western part of the Bay of Bengal and interdict British supply lines to Australia with the light carrier Ryūjō (with 19 Kates and two spares, and 12 Zeros and two spares), five heavy cruisers, one light cruiser, six destroyers, and a tanker. The force was to intercept British merchant ships and then split into three smaller units beginning 6-7 April to accomplish the task (Table 9): Central attacked 3 British, 3 Dutch and 2 American cargo ships), Northern attacked 5 British, 1 American, and 1 Norwegian vessels).and Southern intercepted 2 British and 2 Norwegian ships). Most of the 19 were sunk and three damaged. See Appendix IX: Operations of Ryūjō's air group against Allied shipping in the Bay of Bengal, 6 April 1942" (p. 62).
In Chapter 7 "Epilogue" (pp. 39-42), Piegzik reports that the British Cabinet was "horrified" by the extent of Japanese operations in the Indian Ocean but the British had kept intact the Eastern Fleet. Royal Air Force and the Fleet Air Arm had failed against Japanese striking groups at Colombo and Tricomalee. Churchill lamented the loss of merchant ships, however, the loss of Ceylon and the invasion of eastern India had been avoided but there was a great need to bring modern capital ships and aircraft carriers to the Indian Ocean, as well as bring more American heavy bombers to India. Lastly, Chapter 8 "Japanese Summary and Reaction" (pp. 43-48) focuses on official Japanese archival documents that assessed the Indian Ocean offensive. No. 287 Weekly Report (8 April 1942) includes mostly reports on submarine activities west of Singapore but also contains information on the seizure of the Andaman Island by Imperial Japanese Naval troops. No. 288 (15 April) documents the expansion of operations into the Indian Ocean and damage to Colombo and Trincomalee. NHK Japanese News Broadcast No. 99 (28 April) a 9 minute 22 second newsreel emphasized the air attack and sinking of Hermes as does Japanese No. 219 Weekly Photo Review (2 May). No. 220 Weekly Photo Review (13 May) concerned the sinking of Cornwall and Dorsetshire. Post-war documents written by CDR Fuchida expressed negative opinions about the Japanese operations in the Indian Ocean. Most interesting are "Battle Lessons from Hiryu's Action Report" which focus on issues and corrections involving including bombs, aerial cameras, antiaircraft artillery, signals, spare sets of anemometers and anemometers, and refueling operations.
The two volumes comprising the Japanese naval offensive into the Indian Ocean during World War II are by far the most comprehensive and detailed account of these often minimized or neglected military actions. The use of Japanese, British, Australian, and American archival sources is a real plus, indicative of dedicated scholarship. Dr, Kolb is United States Naval Institute Golden Life Member.
---
Michal A. Piegzik is a Polish Ph.D. in law, living and working in Japan as a researcher, bringing new light on the Pacific War campaigns. In his academic career, he was awarded the Japanese Ministry of Education (MEXT) scholarship for exceptional research results and putting in practice the modern approach in science: presenting significant issues to the general audience, yet deeply investigating the Western and the Japanese archives sources and publications.
The Darkest Hour: Volume 2 – The Japanese Offensive in the Indian Ocean, 1942. By Michal A. Piegzik (Gliwice, Poland:2022).