By Ken W. Sayers, McFarland Publishing (2021).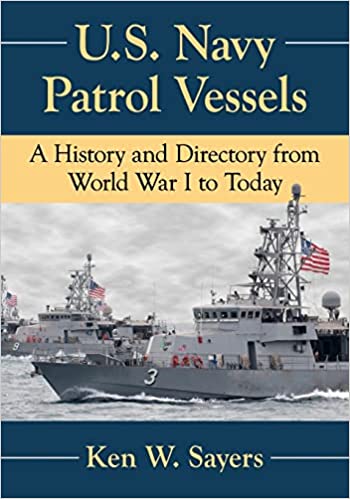 Reviewed by Jeff Schultz

Ken Sayers's U.S. Navy Patrol Vessels: A History and Directory from World War I to Today provides a thorough look at the multitude of patrol vessels from the mid-19th century USS Michigan to the modern Cyclone-class which have served the United States Navy in varying capacities since World War I across many oceans and waterways.
Sayers, a former USN officer who served on a Pacific Fleet destroyer, at the Pentagon, and later worked for IBM, assembled this 550-page tribute to the lesser US Navy surface combatants from the World Wars, into the Cold War conflicts and even the modern day.
Sayers argues although widespread and utterly unsung, "patrol vessels punched above their weight," [1] and due to their overlooked contribution, deserve more attention which thankfully they now receive. This ambitious volume is divided into acknowledgements, preface, glossary, introduction, bibliography, and index. In between, there are thirty-one chapters supported by many black and white photographs organized alphabetically primarily by hull type, while the last few chapters are more varied topics like "Patrol Potpourri" and "Patrol Vessel Transfers." Sayers follows a general pattern of providing important details about each ship type and then offering "select" or "summary" histories to allow discussion of certain examples of the various ship classes without being able to offer comments on necessarily every vessel due to the occasionally vast number, although some chapters do offer individual histories.
Owing to the many chapters covering thousands of varied surface craft below destroyer size, a handful of examples will be highlighted to show the range and detail of his analysis of these smaller but vital combatants which range alphabetically from the Patrol Air Cushion Vehicles (PACV), to chapters like the Experimental Patrol Rescue Escorts (EPCER), the Patrol Gunboat Hydrofoils (PGH), the River Gunboats (PR), the Motor Torpedo Boats (PT), the Fast Patrol Boats (PTF), and finally to the Coastal Patrol Yachts (PYc) which grace the pages of this exhaustive work.
In Chapter 3 Sayers discusses the steel-hulled 173-foot-long submarine chasers (PC) of World War II meant to relieve heavier escorts from coastal and harbor duties. A photo features PC-564, which fought in a little-known March 1945 battle against Kriegsmarine minesweepers off Granville, France in a surprise raid from the starving German-occupied Channel Islands. This vessel, although run aground, later served the US Navy as training vessel USS Chadron until finally transferred to the South Koreans in 1964 as Seoraksan. [41]
In Chapter 9 Sayers explores the Patrol Craft Fast (PCF) or "Swift" boat which proved itself in the innumerable South Vietnamese coastal and riverine settings. These off-the-shelf oil company support aluminum-hulled vessels filled the gap between the smaller Patrol Boat River (PBR) [Chapter 2] and the Asheville-class Motor Gunboats (PGM) [Chapter 19] that operated offshore. PCFs conducted patrol, troop insertion, and surveillance missions such as during Operation Market Time, among many other tasks. PCFs were among the many vessels handed over to the South Vietnamese Navy as part of Nixon's Vietnamization program. [122-133]
In Chapter 12, Sayers forays into the River Rouge Plant's Eagle Boats (PE) which occupy a convoluted place in World War I history as Henry Ford's mass-produced contribution which contrary to his grandiose claims, did not arrive in time for the war, nor were that easy to produce. Some served in the 1919 Allied Intervention in North Russia, with the Coast Guard during Prohibition and in World War II. The only Eagle lost to enemy action, Eagle 56, escorted convoys and sank in the Gulf of Maine in 1945 due to a U-boat attack. [158-167]
In Chapter 15, Sayers examines the Prewar Gunboats (PG), including the USS Wilmington (PG-9), which served the US Navy almost 60 years, spanning two centuries. Starting with the Spanish-American War, the storied gunboat later spent WWI in the Pacific until 1922, then the Great Lakes in the 1930s, was renamed Dover and served as convoy escort and gunnery training vessel until war's end. [204-205]
In Chapter 25, Sayers delves into the thirty-two Patrol Yachts (PY) used by the US Navy in the World Wars. Of particular interest is USS Isabel (PY-10), which is significant for service in both major conflicts but also because much of that service was in the Pacific Ocean and nearby waterways. In a far-reaching and outsized career Isabel fought U-boats in World War I, served as flagship of the Yangtze River Patrol, conducted a secret pre-World War II reconnaissance mission off Japanese-occupied Indochina, survived hostile air attacks, escorted convoys, nearly missed Imperial Japanese naval forces multiple times and served as a training vessel for Allied submarines operating from Fremantle, Australia. [372-375]
Lastly, in Chapter 28 "Patrol Potpourri," Sayers profiles the Hiddensee, an ex-Volksmarine (East German) Tarantul I guided missile patrol craft, which after German reunification came under US Navy control in 1991. This interesting floating Cold War artifact served as a test platform for several years and is now a museum ship in Massachusetts for visitors to enjoy. [434-435]
Ken Sayers's U.S. Navy Patrol Vessels: A History and Directory from World War I to Today should find a wide audience, not only among veterans, their families, and researchers alike but also naval enthusiasts. Detailed access to over 3,000 US Navy vessels spanning such a wide range of American history makes this a prized encyclopedic gem that demonstrates the importance of these overlooked "bantam warriors" [246] in an accessible and coherent manner.
Jeff Schultz teaches at a community college in northeastern Pennsylvania.
---
Ken W. Sayers is a former naval officer who served on board a Pacific Fleet destroyer escort and in the Pentagon on the staff of the Assistant Secretary of Defense (Public Affairs). An IBM veteran, he lives in Ridgefield, Connecticut.
U.S. Navy Patrol Vessels: A History and Directory from World War I to Today. By Ken W. Sayers (Jefferson, North Carolina: 2021)