By Edward Farley Aldrich, Guilford, CT: Stackpole Books, (2022).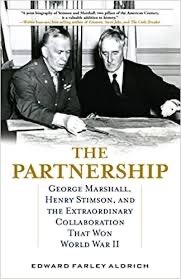 Reviewed by Ed Calouro
When he first set out to write The Partnership: George Marshall, Henry Stimson, and the Extraordinary Collaboration That Won World War II, author Edward Farley Aldrich did not plan to write a dual biography. His original intention was to focus on the five years Secretary of War Henry L. Stimson and US Army Chief of Staff General George C. Marshall, worked side-by-side in the War Department. While undertaking his extensive research on these two major World War II leaders, Aldrich concluded their stories could not properly be told without also describing their upbringing, education, and early careers. Their early lives strongly influenced the leaders that they became. The result is this splendid joint biography, which provides insightful revelations about how Stimson and Marshall played major roles in ensuring American victory in World War II.
Aldrich is not a trained historian, though he conducts research and writes like one. He is an international commodity banker who was bitten by the history bug. For fifty years, he pursued his love of the subject, and this book is the culmination of his efforts. The Partnership is clearly grounded in the appropriate primary sources, such as Stimson's diary, his autobiography, and General Marshall's papers, his multi-volume biography by Forrest Pogue, and many others. The twenty-two pages of endnotes testify to the wide-ranging research as do the six pages of sources, which include recent scholarship.
The Partnership is divided into four parts. The first, entitled "Training," provides background information about Stimson and Marshall before they took on their wartime posts. Parts two to four: "Preparing," "Fighting," and "Finishing," deal with the five years the Secretary of War and Army Chief of Staff led the War Department and is the focus of the book. An epilogue looks at Stimson and Marshall's post-World War II years. The former went into retirement in 1945. General Marshall, despite desiring a well-deserved retirement, answered President Harry S. Truman's repeated calls for him to lead a delegation to China, become Secretary of State, and then head the relatively new Defense Department. With one notable
exception, General Marshall was finally able to retire in 1951.
General Marshall became the Army chief of staff on 1 September 1939, ironically, on the same date World War II began. Republican Henry Stimson was sworn in as secretary of war on 10 July 1940, shortly after the fall of France. They worked in adjoining offices, where the connecting door was intentionally left open by mutual agreement. This was done so they could know what the other was doing and thereby better coordinate their efforts. They oversaw the U.S. Army and much of the overall war effort until Stimson's retirement on 21 September 1945, his seventy-eighth birthday.
Their primary responsibility for the first seventeen months working together was to prepare the U.S. Army and the country for war. When Marshall became chief of staff, there were only 170,000 soldiers in the U.S. Army, and it ranked seventeenth behind Romania's land forces. They had a herculean task since the army faced shortages of almost every type of equipment. Furthermore, Marshall and Stimson had to make these preparations while not upsetting the isolationists in Congress. The attack on Pearl Harbor changed all that.
One of General Marshall's fixed goals during the first three full years of the war was to get a second front opened to help take pressure off the Soviet army in the east. In this, he was fully supported by Secretary Stimson. At almost every wartime conference, Marshall pushed for a cross-channel invasion, but the British successfully delayed this dangerous undertaking until mid-1944.
In focusing on their five years together, Aldrich has not written a hagiography of Stimson and Marshall. Rather, The Partnership is a balanced account which assesses strengths and weaknesses, accomplishments, and faults and failures. The author gives General Marshall and Secretary Stimson major credit for America's victory. Prime Minister Winston S. Churchill called General Marshall "the organizer of victory," but Aldrich wrote that Stimson also deserved a good deal of the credit.
Stimson focused on civilian affairs, while Marshall oversaw military matters. Marshall's two primary responsibilities were to prepare the US Army for war and to advise President Roosevelt on strategy. Stimson and Marshall most often were in general agreement, though Aldrich notes the rare times they had significant differences.
One of Secretary Stimson's major achievements was to recognize talent. His most important appointees were: Robert Patterson, John McCloy, Robert Lovett, Harvey Bundy, and George Harrison. Likewise, General Marshall had an eye for good leaders. His most noteworthy appointees were Generals "Hap" Arnold, Dwight D. Eisenhower, Omar Bradley, Lesley McNair, and Brehon Somervell to name just a few. Both Stimson and Marshall thought it was important to find good men, put them in the correct position, and then let them do their jobs. The author cites General Marshall's insistence on unity of command for each theater of the war (with the exception of the Pacific front, largely so as to accommodate General Douglas MacArthur).
As one might expect, the US Navy does not get much coverage here. The admiral who gets the most space is Ernest J. King, Marshall's fellow Joint Chiefs of Staff member. Marshall admired the irascible admiral because he was a fighter, but while his managing the friction between the U.S. Army and Navy was among Marshall's greatest accomplishments; his having to mediate between General MacArthur's demands and Admiral King's recalcitrance was taxing.
Readers may be disappointed to not find here the reasons why the Chief of Naval Operations, Admiral Harold Stark, was shunted to Europe in March 1942, while Marshall retained his post. On the surface, Stark and Marshall appeared to be equally culpable for not keeping their respective Pearl Harbor subordinates better informed.
The author levels his strongest criticism at Stimson's support for the internment of approximately 110,000 Japanese-Americans starting in 1942. Equally damning is the fact the internees were generally held until FDR was reelected in November 1944, well after the US Army reported there was no military justification to continue to detain them. Aldrich terms this a "discreditable episode" which damaged both President Roosevelt's and Stimson's legacies (p. 278). General Marshall was taken to task in a 1944 Army report and a postwar Congressional investigation for his failure to keep General Walter Short in Pearl Harbor better informed of the threat posed by the Japanese. Both men have been criticized for their advocacy of a cross-Channel invasion of France in 1942 and 1943. Most historians think the prerequisites were not in
place before 1944. Yale University Professor Paul Kennedy, in his recently published Victory at Sea, added his voice to this chorus. Aldrich's airing of these criticisms is evidence of the fair and balanced account presented in The Partnership.
Even readers well versed in World War II history will benefit from reading this fine dual biography of two of the most noteworthy American wartime leaders. Almost everyone will find themselves educated about how much these two men contributed to American and Allied victory.
Winston Churchill said General Marshall was "the single greatest figure produced by the war" (p.8). Stimson called Marshall "'the finest soldier I have ever known.'" (p.1). Aldrich has admirably succeeded in bringing Stimson's and Marshall's joint accomplishments into the historical limelight.
 
Ed Calouro is a freelance writer and adjunct instructor in the History Department at Rhode
Island College.
---
Edward "Ted" Aldrich is an international banker and commodity specialist. He and his wife, Susie, have three children and live in Westport, Connecticut.
The Partnership: George Marshall, Henry Stimson, and the Extraordinary Collaboration That Won World War II. By Edward Farley Aldrich (Guilford, CT: 2022)