By Michał A. Piegzik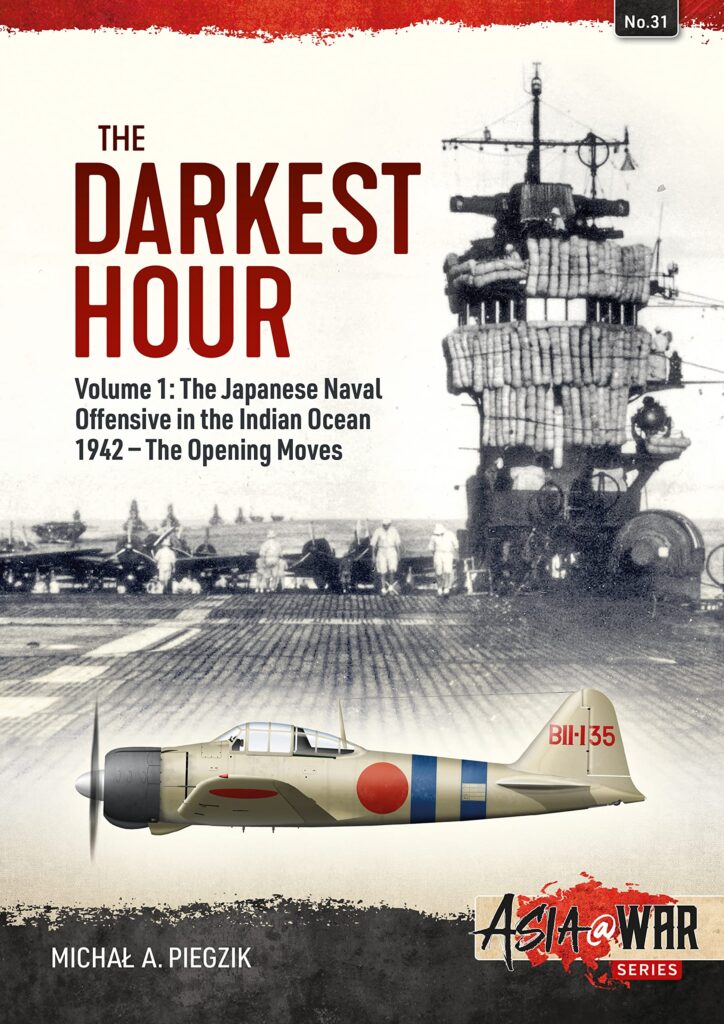 Reviewed by Charles C. Kolb, Ph.D.
Readers won't confuse this book, just published in the Asia @ War Series No. 31 (Warwick, England: Hellion and Company Limited, 2022) with similar titles: The Darkest Hour by Caroline Tung Richmond (New York: Scholastic Press, 2016) is an espionage novel about women in World War II designed for teens and young adults. Neither will it be confused with "The Darkest Hour" a science fiction film or "The Darkest Hours" British television series (8 episodes, 2013) Nor with the award winning "Darkest Hour" with Gary Oldman (Universal Pictures, 2017), the historical fiction war film about Winston Churchill's early days as Prime Minister of the United Kingdom during the Second World War. Closer to the topic is Anthony McCarten's Darkest Hour: How Churchill Brought England Back from the Brink (New York: Harper, an imprint of HarperCollins Publishers, 2017) and Nick Shepley's Darkest Hour, Finest Hour: Norway, Dunkirk and the Battle of Britain: Britain at War: Part One (Luton: Auk Authors, 2013).
The Darkest Hour, Volume 1: The Japanese Naval Offensive in the Indian Ocean 1942 – The Opening Moves is the initial book in an anticipated scholarly two-volume recounting of the Nippon Kaigun (Imperial Japanese Navy's) main naval campaign early in World War II in the eastern Indian Ocean from late March through early April 1942. The Japanese objective was to "destroy" the British Royal Navy in the Indian Ocean. This slim volume (84 pages: six chapters, four appendices, bibliography, and notes) is to be followed by a three-chapter book, yet unpublished and postponed to September 2022. Interestingly, this brief period is not well covered (or covered at all) in most of the other books written to date about the Japanese advances into the Indian Ocean (more about this later in the review), so author Michał Piegzik is to be commended for his stellar effort in documenting this significant period and especially for his research in Japanese sources as well as British and American archives. Hence, we are presented with a unique and valuable resource.
Piegzik holds a Polish doctorate in law, University of Wroclaw in 2015, and lives and works in Japan as a researcher in Japanese family law at the Tokyo Metropolitan University. The Pacific War is his life's passion, which also remarkably influenced his academic skills and career path. Hence, he sheds new light on the Pacific War campaigns and has authored five monographs and more than 20 articles related to the Pacific War and Japanese law mostly in Polish – one article and this book are in English. His British publisher, Hellion, established in 1996, specializes in military history and has published almost 1,200 titles. The volume under review is a well-bound paperback printed on heavy 8 ¼ x 11 ¾ glossy paper. The format is larger and more durable than another British military history publisher, Osprey – founded in 1968 and publishers of nearly 2,500 books — owned by Bloomsbury Publishing.
The Darkest Hour, Volume 1 provides a useful "Bibliography" (pp. 74-78) which includes mostly primary sources: Japanese Archives, Center for Asian Historical Records (Tokyo, Japan: 80 sources, www.jacar.go.jp/english/); The National Archives (Kew, UK: 50 sources [Cabinet, RAF, Admiralty, Colonial Office, Churchill Centre, and National Archives of Australia]; and Memories: Audio-Visual Records 9. In addition, he cites 86 secondary "most important" sources (nearly all books) in English but including twelve works in Japanese, seven in Polish, and one Danish dissertation. There is extensive chapter-by-chapter end note citations (pp. 78-84) and "List of Abbreviations and Symbols" (p. 2) with 20 entries. There are 70 black-and-white photographs and eight line drawings, and a 12-page color insert (four Japanese and British aircraft carriers; 20 Japanese aircraft with explanations of their insignia, 1941-1942; three Japanese and British uniforms of the period; five illustrations of Japanese carrier deck markings; and a color map of the India Ocean, 1942); plus 31 tables.
The first chapter, "Japanese Strategic Plans in the Indian Ocean" (pp. 3-14), characterizes the Japanese Southern Operation (Nampō Sakusan), a second front against British targets on Ceylon and in the Indian Ocean paralleling the Pearl Harbor attack. Planning and war game simulation (20-22 February 1942) with actions by the Japanese 16 th Army in Java are reviewed as is a planned raid on Ceylon (Order 86) that was postponed because of Admiral Halsey's unexpected raid om Marcus Island (4 March). Japanese Order 145 was for an attack on Ceylon by the Malay Force of five carriers and tasks assigned by seven Japanese submarines (I-1 through I-7).
Chapter 2 focuses on the "British Defense Plans" (pp. 14-28) which were based on the deployment of Force Z (HMS Prince of Wales and HMS Repulse) but both vessels had been sunk on 10 December by Japanese aircraft operating from Vietnam. General Yamashita's 25th Army landed in Thailand and Hong Kong fell on 25 December and Singapore on 15 February, with Dutch East Indies, most of the Philippines, and southern Burma also in Japanese hands so that the depleted Allied forces escaped to Australian, but Darwin was also raided. These losses left Colombo and Trincomalee in Ceylon as the British major naval assets in the southwest Pacific and Indian Ocean. The British Army in India was faced with Japanese incursions into northern Burma while the Royal Navy regrouped with the Eastern Fleet under Admiral Somerville in Ceylonese waters charged with the defense of the Indian Ocean and the American Navy tasked with defending the western Pacific Ocean. Both Allies anticipated Japanese carrier raids that would take place in March and April.
The third chapter, "Aircraft Carriers in the Indian Ocean" (pp. 28-41), provides a review of April 1942 operations by Japanese and British aircraft carriers. The author provides detailed descriptions of six Japanese ships from dates of construction through commissioning, armaments, numbers of officers and men, and aircraft capacities. During the early months of the war, these IJN ships served in many engagements, and most served at the attack on Pearl Harbor: Akagi (China coast, Hawaii, Rabaul, Darwin, and Dutch East Indies), Sōryū (Nanjing, China Coast, Hawaii, Palau, and Dutch East Indies), Hiryū (Indonesia, Hawaii, Wake Island, Palau, and Dutch East Indies), Shōkaku (Hawaii and Japanese mainland), Zuikaku (Hawaii, Rabaul, and Japanese mainland, and Ryūjō (Shanghai, Nanking, Guangzhou, the Philippines, Palau, and Dutch East Indies). The carriers were mustered to then serve in the Indian Ocean and later many would engage the U.S. Navy in the south Pacific at Coral Sea (4-8 May 1941) and Midway (3-7 June 1942).
Piegzik also documents the development of Japanese carrier doctrine from 1937 to 1941, the formation of the First Air Fleet, carrier weaknesses, and characteristics of attack bombers ("Kate'), dive bombers ("Val"), and fighters ("Zero"). Tables 6-8 document their characteristics. The United Kingdom had three carriers which he describes in a like manner to the Japanese vessels: HMS Indomitable (based in the West Indies and later in Ceylon), HMS Formidable (Atlantic patrols/convoys, East Africa coast, Suez, Matapan near Greece, and the Far East), and HMS Hermes (Hong Kong, China Station, Atlantic against anti-German submarines and raiders, Dakar, and Colombo). British aircraft doctrine and aircraft are also detailed (Tables 9-13).
Chapter 4, "Occupation of the Andaman and Nicobar Islands" (pp. 41-53) characterizes these British-held Bay of Bengal lands and plans for British defenses – an almost impossible task as the Andaman archipelago consists of 576 islands and the Nicobars of 22 islands. Several were penal colonies with ca. 6,000 prisoners (mostly anti-British Indians). These were of secondary strategic importance in Admiralty plans but a direct threat to Allied convoys enroute to Singapore and Burma and threatened shipping to Ceylon and India. In addition, the islands could accommodate Japanese submarine bases and possibly German U-Boats headed to Japan. The British evacuated troops from Nicobar and the Andaman Islands to Ceylon, leaving 23 British officers and 300 Indian militia who were captured in the latter. The original Japanese operational plan was not to capture the islands but early successes in the Dutch East Indies and capture of Singapore lead to the planning of Operation D, a coordinated Imperial Japanese Army and Navy effort to seize the major islands 18-24 March. Native populations were initially positive about the Japanese occupation, but cruel atrocities, torture, and forced labor to build a new airfield quickly changed to an anti-Japanese feeling.
In Chapter 5, "Christmas Island Invasion Operation" (pp. 53-61), Piegzik documents an action that most historians have ignored. This 135 km 2 island located in the Indian Ocean 350 km south of Java was controlled by the British East India Company since 1615 and then by the Christmas Island Phosphate Co. Ltd. after 1887. On 18 February, 48 mining personnel were evacuated but destroyed most of the mining equipment in anticipation of a Japanese attack which occurred on 17 February with invasion on 7 March. The British garrison was composed mostly of Indian troops, which were either pro-or anti-British; some soldiers were murdered but the initial insufficient Japanese force was withdrawn and on 31 March an invasion force of 850 men occupied the island. Admiral Kondō's cruiser Naka was attacked and damaged by the USS Seawolf (SS 197); the Americans had claimed a sinking. The Japanese left a 23-man garrison to excavate phosphate but the transport Nissei Maru, which was loading phosphate, was torpedoed by USS Searaven (SS 196) on 17 November 1942.
The final chapter, "Kidō Butai in the Indian Ocean" (pp. 61-70), is a detailed account of air reconnaissance anti-submarine patrols in the Ombai Strait by aircraft from the Sōryū 26 March through 2 April 1942. While several cargo ships were sunk, the British were initially unable to send warships or air reconnaissance to the area as the Japanese had sent patrols from the Andaman's to Colombo to assess Allied shipping and defenses. Ultimately, a newly arrived Catalina PBY with Squadron Leader Leonard Birchall and a Canadian crew located Admiral Nagumo's task force on 4 April complicating the Japanese invasion plans. The Royal Navy began to conduct patrols for the British Eastern Fleet with reconnaissance craft flying from HMS Indomitable and HMS Formidable. Admiral Somerville considered four options to check the Japanese offensive actions.
At this point, Volume 1 ends and the sequel (not yet available) begins: The Darkest Hour: Volume 2: The Japanese Offensive in the Indian Ocean 1942 – The Attack against Ceylon and the Eastern Fleet. There are four appendices in the first volume: I Kidō Butai's and Malay Force's Order of Battle during The Indian Ocean Operation; II List of Japanese Aircraft; III Japanese Terminology Relating to the Operation in the Indian Ocean; and IV Japanese Submarine Operations in the Indian Ocean (February-April 1942).
Piegzik has presented an incredibly detailed account of the first part of Japanese naval actions in the Indian Ocean in 1941 and early 1942. He provides the latest information obtained from British, American, and Japanese archives – something no other writers have been able to include. The information on Kidō Butai is especially enlightening and the volume is enhanced with 70 monochrome photographs, some not published elsewhere, and 31 tables including materials not previously published about Japanese aircraft and the names of their pilots. The volume is by far and away the best detailed account of the action.
There are a few other books that are worth noting. John Clancy's The Most Dangerous Moment of the War: Japan's Attack on the Indian Ocean, 1942, Oxford: Casemate, 2015. The title is derived from a statement by Winston Churchill regarding World War II, and the title looks intriguing but the book is focused on Ceylon and the loss HMS Cornwall and HMS Dorsetshire on 5 April, and the author's father, Charlie Clancy (1915-2009), who served as a stoker on the former. John Clancy, who passed away in 2016, includes the stories of other survivors and the loss of the old aircraft carrier HMS Hermes, but not the accompanying destroyer HMAS Vampire (he does not mention that this was an Australian vessel). HMS Repulse and HMS Prince of Wales are hardly mentioned in the narrative. There are no publications cited or referenced in the text and the 13 books listed in "Further Reading." Are all secondary sources.
Charles Stephenson's The Eastern Fleet and the Indian Ocean: The Fleet that Had to Hide (Barnsley, South Yorkshire, England: Pen & Sword Maritime, 2021) previously reviewed in these pages (Naval History Book Reviews December 2, 2021, www.navyhistory.org/2021/12/the-eastern-fleet-and-the-indian-ocean-1942-1944-the-fleet-that-had-to-hide/) has very little on the Japanese actions in early 1942 in the Indian Ocean. The same is true for David Hobbs, The British Pacific Fleet – The Royal Navy's Most Powerful Strike Force, (Barnsley, South Yorkshire, England: Pen & Sword Books Ltd, 2011, 2017); David Brown, The British Pacific and East Indies Fleets: The Forgotten Fleets' 50th Anniversary, (Liverpool: D. M. Ratter, Brodie Publications, 1995); and Jon Robb-Webb, The British Pacific Fleet Experience and Legacy, 1944-50 (London: Taylor and Francis, 2016).
Piegzik's notable hard to find secondary sources do include Tilak Raj Sareen, Japanese Occupation of the Andaman and Nicobar Islands: 1942-1945: Reports and Documents (New Delhi: Life Span Publishers, 2002, 2014); Jayant Dasgupta, Japanese in Andaman & Nicobar Islands: Red Sun over Black Water (New Delhi: Manas Publications, 2002, 2004); Michael Tomlinson, The Most Dangerous Moment: The Japanese Assault on Ceylon 1942 (Dehiwala, Sri Lanka: Tisara Prakasakayo Ltd, 1993, ©1976); and John Graham Hunt, Suffering Through Strength: Men Who Made Christmas Island (Canberra, Australia: John Hunt, 2011). The latter, self-published, and based on original research recounts the story of Christmas Island from 1899 to 1948, with particular emphasis on the Chinese coolie experience, and includes many photographs never before published.
Dr. Kolb is a United States Naval Institute Golden Life Member.
---
Michal A. Piegzik is a Polish Ph.D. in law, living and working in Japan as a researcher, bringing new light on the Pacific War campaigns.
The Darkest Hour, Volume 1: The Japanese Naval Offensive in the Indian Ocean 1942 – The
Opening Moves. By Michał A. Piegzik (Gliwice, Poland: 2022).