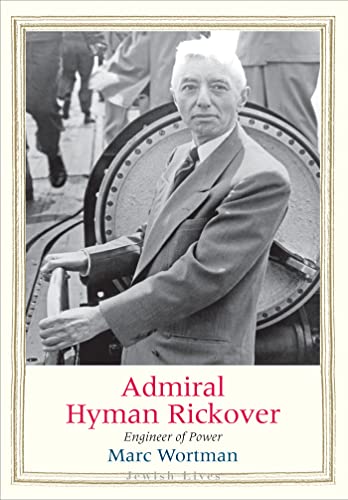 Reviewed by Dr. Ernie Marshall
The author is an award-winning freelance journalist and independent author/historian whose previous books include: The Millionaire's Unit: The Aristocrat Flyboys Who Fought the Great War and Invented American Air Power; 1941: Fighting the Shadow War; and The Bonfire: The Siege and Burning of Atlanta.
With half a score of books written about Admiral Rickover, Wortman's book is largely a retelling of the story but with his interpretive view of the man. Rickover is one of the most interesting figures in U.S. Naval history. He was born Chaim Godalia Rykower in the small Polish town of Mako'w-Mazowiecki to devoutly orthodox Jewish parents. His family immigrated to the U. S. to escape both their poverty and a dangerous antisemitic environment. Americanizing their names, Chaim was changed to Hyman. In 1918, he received an appointment to the United States Naval Academy where he discovered a form of antisemitism to be alive and well. There were few Jews among the midshipmen and Hyman, diminutive in stature, was often referred to by his fellows as the "little Jew." He was not widely liked but battled through to be graduated with the class of 1922.
In the 1940s, the secrets of the atom were being revealed and the Manhattan Project led to the creation of the atom bomb. Simultaneously, however, scientists and engineers recognized the potential of the atom as a source of nuclear power for non-destructive purposes such as generating electricity, and the Navy embarked on a number of programs to develop nuclear power for the propulsion of surface vessels and submarines. Most of the nuclear projects were federally-funded hybrids of military and civilian personnel. Rickover had transferred to the restricted line in 1937 as an Engineering Duty Only (EDO) officer which meant that command on the high seas was not his future. Nonetheless, he had found his place in the Navy – nuclear power.
The Navy sent Rickover to Oak Ridge to become involved in nuclear projects, but his education was multifactorial, and he read anything he could get his hands on dealing with the science and engineering of nuclear power. He made himself indispensable within the Navy's nuclear development program. Rickover was a difficult – often abrasive – personality with a single-minded quest for power. He knew how to achieve power and, fortunately, how to put it to appropriate use for the benefit of whatever project was in front of him. Yet, his methods created enemies.
Rickover was a driving force behind the timely development of the nuclear powered U.S.S. Nautilus (SSN 571) and he went on to develop other nuclear powered surface ships and submarines. Secretary of the Navy Dan Kimball referred to the Nautilus as the most important piece of development work in the history of the Navy. Rickover came to be known as "the father of the nuclear Navy," and Wortman claims – justifiably – that Rickover emerged as "the greatest engineer in military history and among the most influential engineers ever."
Among his other achievements, Rickover became the longest-serving admiral in U.S. Navy history and, true to his nature, his final days were at times rough when it came to interpersonal matters, but, just as he had "survived" his four years at the Academy, he "survived" a remarkable career. Wortman notes Rickover's commitment to and track record of nuclear safety while also emphasizing his commitment to education.
Because other books about Admiral Rickover have dealt with the issues described above, one must ask, "Why another book (Wortman's)?" Almost no new primary source material was introduced, and his endnotes are replete with primary and secondary source materials given by previous authors. Wortman feels that the previous books dealt heavily with technical matters such as nuclear reactor development, ship building, etc. and did not deal sufficiently with Rickover-the-man – i.e., his education, philosophy and work ethic. Wortman has sought to add more "human" touches to the story and to make him and his contributions accessible to a larger audience while emphasizing that Rickover's legacy is a living one.
Wortman's writing style is elegant and makes for easy reading. A minor – and perhaps insignificant – critique relates to the cover image – it is a cropped version of the same photograph of Rickover that appears on the cover of the Allen & Polmar book. Wortman's book contains no photographic images in support of the text.
Wortman's book fills an important void. It is a title in the Jewish Lives award-winning series published in partnership with Yale University Press and the Leon D. Black Foundation and, thus, cements a place for Admiral Rickover and the American Navy in the Jewish experience. While not highly original in content, it is a delightful, entertaining, and informative read. Highly recommended to anyone interested in the history of the American Navy.
---
Admiral Hyman Rickover: Engineer of Power. By Marc Wortman (New Haven: Yale University Press, 2022).