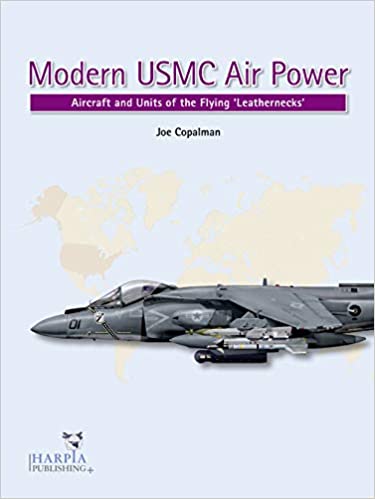 Reviewed by LtCol Robert Weingart, USMC
In Modern USMC Air Power Joe Copalman offers a comprehensive overview of the platforms and units of Marine aviation as well as an array of stories and vignettes from the past twenty years of continuous combat operations. Mr. Copalman is a freelance writer and photojournalist whose work has appeared in numerous print and online aviation journals; this is his first book.
As the author points out in his introduction, this book comes at a time of momentous change for Marine aviation. Every platform in service on September 11th, 2001, has been or is in the process of being replaced by a new generation of aircraft. At the same time, the organizational structure of Marine aviation is also adapting to meet the challenges of a return to competition among great powers following years of focus on the fight against terrorism.
Mr. Copalman ably captures this inflection point with succinct yet comprehensive overviews of units, platforms, and current and emerging operating concepts. Enriching and animating his descriptions are the stories of the Marines who operated and maintained the aircraft he describes. These first-hand accounts of combat in Iraq, Afghanistan, Libya, and Syria and humanitarian assistance operations worldwide demonstrate that the true driving force behind Marine aviation is not the aircraft but the men and women who employ them in support of their fellow Marines and others on the ground. Together with plentiful color photos of each platform, the narratives bring the Corps' aviation to life on each page, with the faint scent of burned JP-5 the only missing element.
The depth and breadth of Mr. Copalman's research for this volume are impressive. Based on dozens of personal interviews with active duty, retired and former Marines, as well as publicly available official Marine Corps sources, the book captures the present state and future direction of Marine Corps aviation admirably. If the book has any flaw, it is that the pace of change in the community is such that any effort to describe it becomes outdated as soon as the words appear on paper. This drawback is more than overcome by the balance Mr. Copalman strikes in describing the past, present, and plans for the future of Marine Aviation. At a key transition point, the book remains an up-to-date reference for anyone interested in the airborne hardware and organizations Marines employ to support their brothers and sisters on the ground. It is also a rich source of personal narratives from two decades of combat.
---
LtCol Robert Weingart, USMC, is a Military Faculty member at the Joint Forces Staff College.
Modern USMC Air Power: Aircraft and Units of the Flying "Leathernecks" (Joe Copalman, Harpia Publishing, Vienna, Austria, 2020).