On Monday, August 2, as record numbers of attendees gathered for the first day of the 2021 Sea-Air-Space Conference, Rear Admiral Lars Saunes, Royal Norwegian Navy (Ret.) moderated a panel on the Arctic domain including Vice Admiral Andrew Lewis, Commander, 2nd Fleet, USN; Vice Admiral Scott Buschman, Deputy Commandant for Operations, USCG; Dr. Alyson Azzara, International Trade Specialist, Department of Transportation; and Mr. Richard Jenkins, CEO of Saildrone.
Admiral Saunes remarked on the need to share international perspectives, and noted that from his country's perspective the Arctic is not a naval but a joint domain. He also noted that there is a great need for knowledge based equipment plans & partnerships. The uniquely inhospitable conditions necessitates international cooperation between Arctic states, Russia included, in order to reliably provide security for our respective peoples. This is particularly important as the Arctic Council, currently chaired by Russia, has formed a joint Arctic Coast Guard.
While Russia has a legitimate basis for involvement in Arctic affairs as an Arctic nation, China has also been looking to become more involved, claiming to be a "near-Arctic nation", which has not gone down well with the true Arctic nation's, Russia included.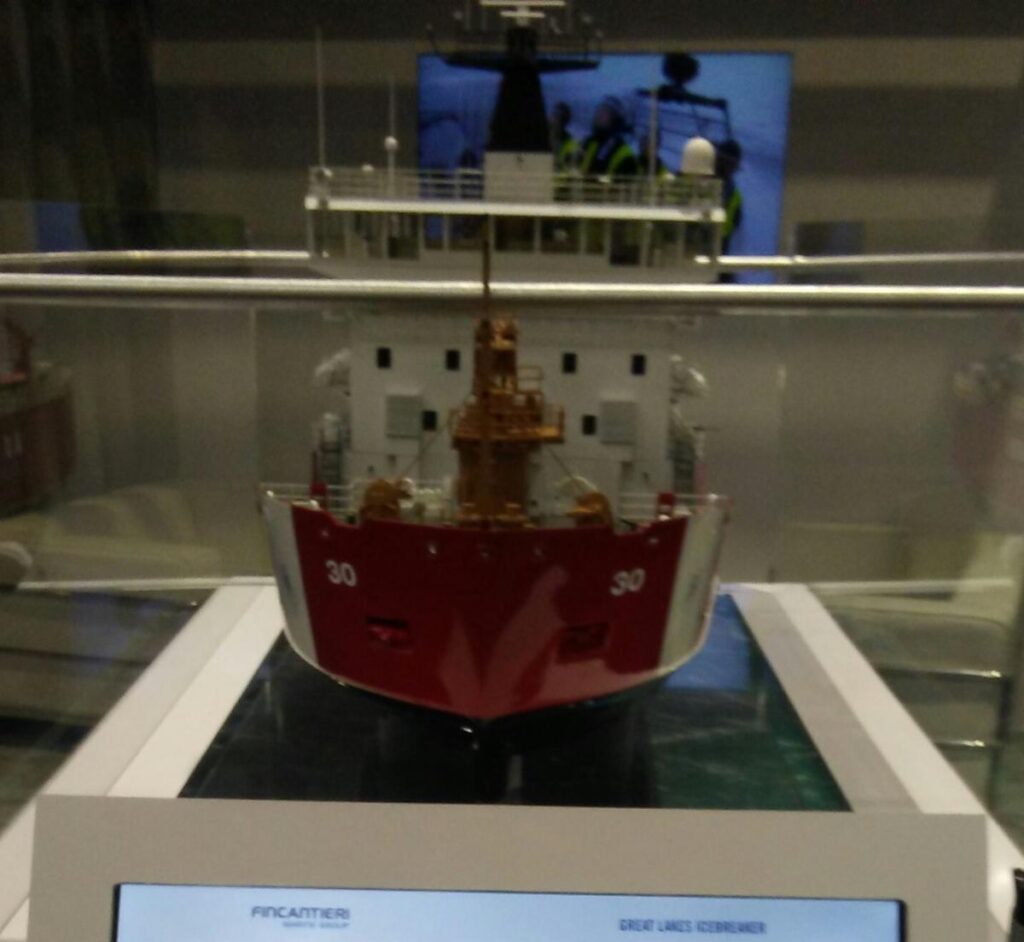 Admiral Lewis expressed his agreement with Admiral Saunes regarding the need for cooperation among all Arctic nations, especially as those smaller nations of the far north can lend valuable experience due to living in the Arctic on a daily basis. He noted how he had observed the challenges inherent in operating around Greenland with the Coast Guard. Admiral Buschman similarly suggested that knowledge comes down to all domain awareness, echoing Admiral Saunes' sentiment that the Arctic is not a naval but a joint domain. He noted the icebreaker USCGC Healy (WAGB-20), the largest and most sophisticated vessel in the Coast Guard was currently embarked on a 4 month voyage around North America to be followed by traversing the Northwest Passage, engaging with Arctic allies in nations such as Canada and Denmark along the way.
Dr. Azzara, remarking on civilian activity in the Arctic, demonstrated that the amount of traffic has been steadily growing for years, which is particularly striking given the lack of infrastructure in place in the region. Moreover, not merely the number of vessels, but also the number of flag states present in Arctic trade routes is increasing.
Climate change may create greater ease of access even as interest in the Arctic's resource wealth increases. Admiral Saunes noted that climate change is likely to exert a particularly disruptive influence in future as a new North West passage opens through the ice, and while this is widely regarded as threatening to ignite greater conflict, he does not believe this dire scenario is inevitable. It could instead be a route to peace. Nevertheless, militarization in the area is leading to a security dilemma.
Legal restrictions on current fuels in order to preserve the Arctic environment may also have unpredictable effects on the future of the Arctic, and indeed our Arctic fleet of the future will need to be environmentally conscious, though Russia has not been paying any mind to this.
The panelists stressed that maintaining a rules base system is the core priority, and to do so we need to maintain a human presence in the Arctic, citing the precedence of 150 years of USN history in the region. Nevertheless, logistically challenges have prevented the establishing of entrenched Arctic bases. As advocated most notably by Mr. Jenkins, autonomous space, surface, and subsurface unmanned capabilities may be able to assist with monitoring and alleviate the burden on manned patrols attempting to traverse some of the least hospitable waters on earth. Saildrone relies on solar power to avoid the need for controversial fuels and the attendant logistical requirements for refueling, and uses AI to identify suspicious behavior and track suspect vessels before calling in the cavalry of manned vessels.
Indeed, partnerships with scientists and private sector technology companies will be critical in addition to international cooperation.
Later that day, as part of a panel discussion on international partnerships more broadly, NHF Board Member Admiral James Foggo also remarked on the prior presentation and the importance of the Arctic, which is too often neglected in favor of discussing the South China Sea as a potential future flashpoint for conflict. Like Admiral Saunes, however, he noted that there may be unique opportunities as well as challenges, particularly as China's "near-Arctic" claims may drive a wedge between them and Russia.