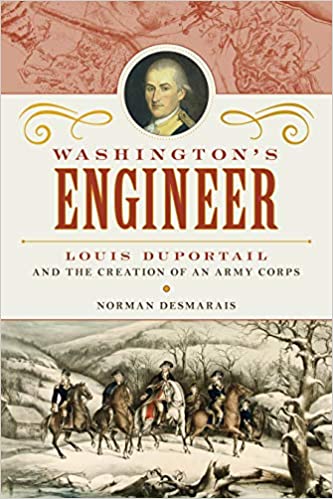 Reviewed by Capt. Charles "Herb" Gilliland, USN (Ret.)
Raise your hand if you've heard of Lafayette! Now keep it up if you've heard of Louis Duportail! I thought not. This reviewer knew nothing of Duportail either before reading this book, in which Prof. Norman Desmarais presents strong evidence that such obscurity is undeserved. As the back-cover claims, Duportail was indeed "instrumental in the American cause of independence."
To fight and win the Revolution, George Washington needed more than the colonies could provide: more troops, more weapons, more money, more ships. All these were generously provided by France. But America also needed military engineers, and naturally sought them in France. Benjamin Franklin and Silas Deane, the American representatives in Paris, recruited a small group led by Antoine-Jean-Louis Le Begue de Presle Duportail. Given leave by Louis XVI and promised rank higher than they held in the French army, they were eager to go. Duportail, then a thirty-four year old major, had been studying or practicing military engineering for half his life. He had even "written the book"—that is, at the request of the Minister of War, he had written the new edition of the training manual for the Royal Corps of Engineers, printed in late 1776. He and the other French engineers were experts in designing and building all sorts of defensive works, as well as evaluating the defenses of an enemy and considering how best to deal with them.
France was not yet at war with England, so they traveled surreptitiously. The transition to positions as Continental officers also involved financial, political and practical complications, but after all America was still creating itself while fighting a war.
Nevertheless, by November 1777, we find Duportail a brigadier general in the Continental Army, in charge of the army's engineers. As a working engineer, Duportail designed and constructed the miles of defensive works surrounding the Valley Forge encampment. The resulting position was, according to British General William Howe himself, imprudent for him to attack. Prof. Desmarais calls this "the most significant of his services," that "established his reputation."
 As a general, Duportail attended all of Washington's staff meetings. Washington's habit at critical junctures was to ask all of the dozen or more generals with him to provide written opinions on short notice. Receiving help with his English from fellow officers, Duportail swiftly (within an hour in one case) produced what might be called point papers that presented impressive analysis of the strategic, political and tactical issues with a combination of great tact and candor. Prof. Desmarais comments that Duportail's "Memorial" to Washington of April 1778 is "a very significant document, as it had a profound influence on Washington's policy." In it Duportail argued at length for a defensive strategy rather than directly attacking the British army. Washington, said Duportail, should be like "Fabius, that wise Roman who ruined Hannibal by refusing to fight him in plain." How much weight Duportail's arguments had for the other generals is unclear, but they unanimously supported the defensive posture he recommended.
Duportail arrived in Charleston in 1780 seeking action, unfortunately just as terms of surrender were being discussed. With the city's surrender three weeks later he became a prisoner of war. Freed half a year later in exchange for a British general captured by the Americans, he rejoined Washington, who was eager to have him back. The following year, Duportail was crucially involved as Washington shifted his focus from the northern arena southward. Early the morning of September 1, 1781, after a hard and hasty journey he boarded Admiral De Grasse's flagship off the mouth of the Chesapeake. Following a conference with the admiral he went ashore the next day to join Lafayette in operations against Cornwallis in Yorktown. With the American forces soon completed by the arrival of Washington and Rochambeau's combined strengths, the siege of Yorktown was fully in progress. This involved, among other things, 15,000 men digging and piling dirt and preparing obstacles and approaches. Duportail directed that process, aided by two of his French colleagues and other engineers. When Cornwallis surrendered on October 19, Duportail was too disabled by dysentery to attend, but was personally commended by Washington.
Duportail's plan for the Corps of Engineers detailed an organization approved by Congress and Washington and it envisioned the formal and permanent shape the Corps needed and eventually attained. In 1783, with the war won and a farewell promotion to major general, Duportail returned to France. With his formalizing of the Corps, his advice and assistance to Washington, and his oversight of the works at Valley Forge and Yorktown, Duportail did more for the new nation than many who are better remembered, while his "memorials" to Washington might serve as models of military analysis and communication.
Resuming his service in the French army, initially as a lieutenant colonel, he retired in a few years as a general. With the French Revolution, he served for a time as Minister of War, then again as a general, but soon found it prudent to flee to America. There he retired to a farm in Pennsylvania but in 1801 he took ship for France, apparently to serve in Napoleon's army. He never made it; dying aboard ship, he was buried at sea. He was fifty-eight.
Prof. Desmarais' mastery of primary and secondary sources is thorough; inevitably perhaps he relies considerably upon the earlier treatments of Duportail by Paul K. Walker and Elizabeth S. Kite. The most fresh and interesting elements in this new book are especially present in the latter sections. Here Prof. Desmarais has provided new information on Duportail's last years and death. The bibliographic essay brings Duportail scholarship nicely up to date. Also, an appendix listing the contents of two ships sent to Washington's army by French arms merchant and playwright Pierre Beaumarchais gives fascinating details (255,000 gun flints! Clothing for 12,000 men!). Because his focus is so much on the somewhat overlooked Duportail, at times the less specialized reader may wish for more context. This reviewer would have liked the maps to be larger, thus more readily interpreted, and indeed would have welcomed an additional map or two.  However, those interested in the role of engineers in the American Revolution or indeed in the history of engineering in America will learn things from this book. It offers scholars or the reading public a renewed and augmented story of this remarkable Frenchman and American patriot.
---
Captain Herb Gilliland, USN (Ret.), is Professor Emeritus at the United States Naval Academy and a frequent book reviewer for the Naval Historical Foundation.
Washington's Engineer: Louis Duportail and the Creation of an Army Corps (Norman Desmarais, Prometheus/Rowman, Lanham, MD, 2021).