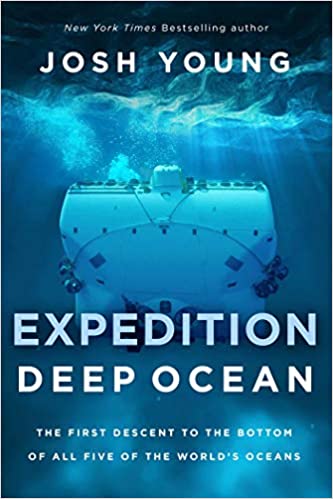 Reviewed by John Grady
New York Times bestselling author Josh Young's Expedition Deep Ocean brings to life a detailed portrait of Victor Vescovo. A very rich Texas equity-fund founder and Navy intelligence reservist educated at MIT, Harvard, and Stanford, Vescovo flew fixed-wing and rotary aircraft and climbed the world's seven highest mountains, but his latest ambition was to plumb the oceans' depths.  As the author notes, "Owing partly to the danger of his climbing, his side career in the Navy, and an almost obsessive dedication to his work, Vescovo has never married and has no children", though he is in a long-term relationship.  Vescovo was also recognized recently for his team's discovery of the wreckage of USS Johnston (DD-557), famous for the critical role it played in the battle off Samar. 
In this compelling narrative, Young probes the many gremlins Vescovo's "Deep Five" dives were forced to address. None were more dangerous than those affecting the diving vessel itself, though one setback, losing a manipulator arm, actually enabled the success of a dive by revealing "a method to fix all of the other faults by rewiring the sub."
The need to secure certification of the vessels as seaworthy and able to operate at the depths anticipated, as well as obtaining permission from a host of governments for the dives themselves, further complicated matters. Given the presence of undersea cables moving voluminous data from continent to continent, financial market to financial market, and embassy to capital, these governments had substantial concerns. After one dive, Vescovo's party departed without ever returning to Indonesian shores for fear of their vessels being seized and crews' detained. Afterwards, the Indonesian government "passed a law that 'imposes criminal charges on foreign researchers who steal biodiversity samples with a prison term of two years and a fine"' of about $143,000.
John Ramsay, the designer of the submersible, wept when the final dive in the Arctic Ocean was completed. Vescovo upon surfacing said, "I trusted you guys with my life. You went out on this journey with me and no one got hurt". However, relationships were strained with some individuals not aboard his vessel that day.
The breaking point for Bruce Jones, a partner in Triton Submarines, which built the submersible, came when Vescovo decided not to allow Jones' wife to be aboard Limiting Factor in its discretionary dive at Challenger Deep. The friction over budget, scheduling, and involving other partners had fractured any relationship the two men might have had. As Young writes, "Jones felt like the rug had been fully swept out from under him by Vescovo. 'If you want to get to me, start with my son and end up with my wife and then you have an enemy for life.'"  This acrimony was largely kept private. By contrast, a dust-up with director James Cameron over who reached the deepest point in the Pacific publicly cast a shadow over Vescovo's enterprise. But even so, the main point remains unencumbered by controversy: Vescovo, his team, and its submersible successfully reached each oceans' deepest point.
The DSSV Pressure Drop's short transit up the Thames River to London's Canary Wharf in September 2019 alleviated Ramsay's nail-biting worries over what could go wrong on Vescovo's odyssey. Don Walsh, the famous oceanographer and retired Navy officer who made the first dive to the bottom of Challenger Deep via the bathyscape Trieste in 1959, was also onboard for the sail up the Thames. Regarding Vescovos' odyssey, Walsh, said it was "the most ambitious exploration expedition of the century."
The Trieste was not as maneuverable as Vescovo's vessel, Limiting Factor, and left any applied scientific pursuits to planned subsequent dives that never transpired. Vescovo's one-of-a-kind vessel designed by Ramsay at Florida-based Triton was also equipped with "landers" to return to the surface specimens and species and transmit video. This spring the Naval Institute will publish Norman Polmar's and Lee J. Mathers' "Opening the Great Depths, The Bathyscape Trieste and Pioneers of Undersea Exploration", for a better overview of the differences between the two missions.
Newcastle University's Alan Jamieson headed up the science effort for Vescovo's Deep Five dives. He was also the leading expert for the exploration of the Hadal Zone, at depths exceeding 20,000 feet. His plan was to gather rocks and sediment from each of the oceans' bottoms for microbial study. Other scientists would tackle geological questions and examine species of life at different depths. Finding plastic at the deepest parts of the ocean was not on the scientific to-do list, but it was a news hook that drew worldwide attention.
Nevertheless, getting to the deepest reaches of the Atlantic, Pacific, Arctic, Indian, and Antarctic oceans topped Vescovo's agenda. Young joins numerous other authors in reminding us that earth's oceans remain less explored than space, yet the larger question of what was gained by all this time, energy, effort, and capital remains unanswered. Asserting that he was inspired by Arctic explorers, Vescovo said, "We don't know where some of these things are going to take us," like the Wright Brothers at Kitty Hawk or Neil Armstrong on the moon.
Josh Young provides scientific, technical, mechanical, and personal perspectives in this unique story of ocean exploration. It is a great starting point for the curious, and critical reading for the knowledgeable.
---
John Grady is the author of "Matthew Fontaine Maury: Father of Oceanography". Grady has contributed to Sea History, Naval History, Civil War Monitor, and the New York Times "Disunion" series. He was also a blogger for the Navy's Sesquicentennial of the Civil War.
Expedition Deep Ocean: The First Descent to the Bottom of All Five of the World's Oceans (Josh Young, Pegasus Books, New York and London, 2020)