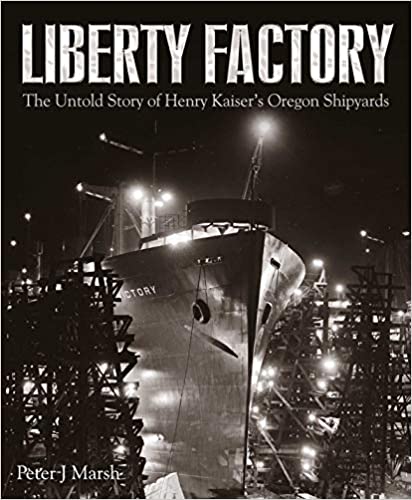 Reviewed by Charles C. Kolb, PhD
Peter J Marsh was born in Greenwich, UK, and combined a career in teaching with time spent boat-building, offshore racing, and voyaging under sail, but a chance visit to the United States convinced him to sell his boat and emigrate. Settling in Portland, Oregon, he returned to a sailing life, exploring large parts of the Pacific Northwest in a boat he built himself. These adventures presented him with the raw material for articles in regional boating magazines, his first published works. As a freelance journalist, he broadened his scope to cover all aspects of local maritime interest from fishing to commercial shipping. In the course of this work he became friends with Larry Barber (1901-1996), a retired photojournalist and marine editor of the local newspaper, The Oregonian, who had been active from 1930 to the 1960s. Upon Barber's death, Marsh was granted access to an archive of images and papers relating to Portland's maritime heritage and ultimately this corpus was given to him by Barber's widow. The region's history of shipbuilding during World War II had intrigued Marsh and led to research in the Barber collection and other materials covering the period. This investigation resulted in the selection of images and the inclusion of some of Barber's writings with a goal to revive interest in the period and elaborate our understanding and appreciation of Portland's "remarkable wartime achievements."  
Liberty Factory is a hardbound book published by Seaforth Publishing (an imprint of Pen & Sword Books Limited, UK) with 20 chapters divided into three topical parts and is available from the Naval Institute Press in the United States. Both the front and back endpapers provide identical illustrative black-on-white maps of the Columbia River region showing Vancouver, Washington and Portland, Oregon, and a detailed inset plan of Vanport City (1942-1948). There are 236 figures: 233 monochrome glossy images mostly of ships and a few portraits of individuals, plus one map (the Kaiser Vancouver shipbuilding facility, p. 74), a ship's plan (wood-hulled minesweeper, p. 244), and an illustration (a gasoline ration card and coupons, p. 194). The majority of the images came from the Barber archive and it is abundantly clear that the magnificent, sharp monochrome photographs selected by Marsh had been taken by a professional who understood composition and shadow. The book also provides "Sources and Further Reading" (17 annotated sources and seven book titles) and 14 "Sources of Photographs" – more than two-thirds of the 233 images are from the Barber collection. The four-page double-column "Index" includes topics and proper nouns.   
Three important individuals may come to mind when considering the challenges of America's massive construction needs at the beginning of World War II, before the United States entered the conflict. Two were military officers and one was a civilian. The former included Brigadier General Brehon B. Sommervell, Chief of the Construction division of the Office of the Quartermaster General who conceived the plan for building the Pentagon, originally known as "Arlington Farms", in Northern Virginia close to Washington, DC. Construction began on September 11, 1941 (yes, the same date as 9-11-2001) with the initial group of what was to be 33,000 occupants arriving by the summer of 1942. The original purpose of the Pentagon was to provide a temporary solution to alleviate the War Department's critical shortage of space. Today it is the headquarters of the Department of Defense (DoD). The second officer was Lieutenant General Leslie R. Groves, a United States Army Corps of Engineers officer who, in 1940, had become special assistant for construction to the Quartermaster General. He was tasked with inspecting construction sites and ensuring their progress. In August 1941 he was appointed to actually construct the Pentagon. However, by September 1941, Groves was appointed as director of the Manhattan Project. He was involved in most aspects of the atomic bomb's development; Groves participated in the selection of sites and the supervised the construction of enormous facilities for research and production at Oak Ridge, Tennessee; Los Alamos, New Mexico; and Hanford, Washington.
The civilian, Henry J. Kaiser, headed a consortium named "Six Companies," that collaborated under the New Deal to construct major hydroelectric facilities in the Pacific Northwestern United States. Kaiser's own company had experience in the Western United States and Cuba and the consortium won a Federal government contract to build Boulder Dam (later renamed Hoover Dam) on the Colorado River in southern Nevada. Completed in 1935, it was at that time the world's largest dam, and Kaiser had also built Boulder City, Nevada, a planned community for 5,000 people to house the construction workers and their families. It was the first planned city in the United States during the twentieth century. "Six Companies" won more government contracts to build the Bonneville and Grand Coulee Dams in the late 1930s on the Columbia River in Oregon and Washington. Bonneville was completed in 1938 and Grand Coulee in 1934. The consortium failed to win the contract to build the Shasta Dam in northern California, but Kaiser's own company became the major supplier of cement for that project beginning in 1939 and constructed the world's largest cement plant, Permanente Cement, located south of San Francisco that same year.
Marsh states that Kaiser, "a man with no previous shipbuilding experience" was an entrepreneur of vision and drive. This is partially incorrect, as Kaiser had been building cargo ships for the United States Maritime Commission since the mid-1930s, partnering with Todd Pacific Shipyards and the Bath Iron Works. Kaiser was also a junior partner of the Seattle-Tacoma Shipbuilding Corporation which constructed five C1-B cargo ships in 1940. Orders for ships from the British government, already at war with Germany, allowed for growth in shipbuilding. Kaiser began to build his own shipyards beginning in December 1940. Four Kaiser Shipyards were located in Richmond, California in the San Francisco Bay East Bay region and collectively called the "Richmond Shipyards." In April 1941 the Maritime Commission requested an additional Kaiser yard, to be used for "Liberty" ship construction, and after the attack on Pearl Harbor, Kaiser started his third and fourth yards at Richmond. The subject of this book is three other Kaiser shipyards located in the Pacific Northwest along the Columbia and Willamette Rivers: the "Oregon Shipbuilding Corporation" and "Swan Island Shipyard," both located in Portland, Oregon, and the "Vancouver Shipyard" across the Columbia River in Vancouver, Washington. By war's end, Kaiser would become a major industrialist with steel, aluminum, concrete, automotive, and aircraft companies. He also created Kaiser Permanente, California's largest non-profit health plan, likely because his mother had died when Henry was very young and due to the fact that he himself had multiple sclerosis.
Marsh's book focuses on how Kaiser established huge new yards using novel mass-production techniques in a "surprising location"—Oregon, at that time one of the least industrially developed areas of the United States and one initially without an existing pool of skilled labor. But this area also had vast forests to provide the essential timber and manufactured plywood for building shipways, buildings, and the ever-important wood models of the vessels and wood 1:1 scale prototypes of the components that, when assembled, creates a ship. Crucial to this achievement was the British-designed "Liberty Ship," a basic cargo ship capable of a 10,000 long ton load that could be built rapidly, combined with the untapped industrial potential of the United States that could build them in vast numbers.
Marsh appropriately characterizes the "design debate" whereby the British-American Ocean/Liberty version was selected over the all-American C2 plan and how Portland became the "Liberty ship capital of the world." He utilizes and acknowledges Barber's unpublished notes (30 December 1940 – 31 December 1941) to augment the illustrations. Marsh's "Introduction" includes a brief review of the Great Depression, Spanish Civil War, America's isolationism, Europe's descent into war (1938-1940), and Nazi Germany's attacks on Poland and the fall of the Low Countries and France, with the Battle of Britain and U-boat menace.
Part 1 of the text, "The Emergency Shipyards" (Chapters 1-6) centers on Kaiser's shipyards and development of the Liberty ship, Pearl Harbor, and the war through 1945. The Portland-Vancouver area produced large numbers of both merchant and naval vessels during World War II. Kaiser was based in Richmond, California and initially had seven shipyards: three built by H. J. Kaiser and four smaller independent yards, plus an additional two in Portland, Oregon and one across the Columbia River in Vancouver, Washington. The first Liberty ship built in Portland, SS Star of Oregon, was launched 27 September 1941. Marsh notes that 18 shipyards across the United States could produce 300 Liberty ships at the same time and that a Liberty ship could be built in less than ten days (a record set in September 1942). By late 1943, the construction of Liberty ships gave way to the production of "Victory" ships (longer and wider and with "sharper" bow). The SS United Victory was launched 12 January 1944. Another new ship design, the Attack Transport (APA), based on the Victory hull, was also built in Vancouver. Overall, American shipyards produced 2,710 Liberty ships and 413 Victory ships, with the Kaiser yards fabricating 1,490 of the Liberty ships (747 in Richmond and 743 in Portland-Vancouver) and 99 of the Victory ships and Attack Transports. In addition, Kaiser shipyards produced flat-bottomed LSTs (Landing Ship Tank) which sailors dubbed "Large Slow Targets" but could be built quickly (the record was 71 hours). CVEs (Escort Aircraft Carriers) capable of transporting up to 28 planes and troopships (C4-5-A3) were also constructed. During the war, a total of 533 T-2 tankers (16,660 tons) were constructed at four locations: Sun Shipbuilding near Philadelphia (206 hulls), Kaiser Swan Island with eight shipways near Portland (147 hulls), Alabama Gulf Coast (102 hulls), and Marinship in Sausalito, Ca). (78 hulls). These tankers had welded hulls and turbo-electric propulsion. The Kaiser Vancouver shipyard, with ten shipways built "from scratch" starting in January 1942, would produce more than 100 ships of five different types. The standardization and prefabrication of vessel components constituted a revolution in ship construction. Though early Liberty ships suffered brittle fractures of the hull and deck, and three were lost due to these structural defects, more than 2,400 of 2,710 Liberty ships survived the war and nearly 2,000 were auctioned soon after V-J Day.
Part 2: "The Kaiser Yards in Close-up" (Chapters 7-13) takes a step back to characterize Henry J. Kaiser and his shipyards. This set of chapters begins with a short biography of Kaiser, who was born in 1882 in upstate New York, and his two sons, Edgar and H. J., Jr., who became executives in the Kaiser companies. The growth of the conglomerate began in the 1930s with the "Six Companies" construction of Boulder Dam (renamed Hoover Dam) Bonneville Dam, and Grand Coulee Dam leading to expansion into the steel, aluminum, concrete, and automotive industries. Subsequent chapters focus on the building of "obsolete" but dependable steam engines initially at Iron Freeman Manufacturing in 1942 and ultimately by 18 companies which collectively produced 2,744 identical 135-ton engines. This endeavor led to refining the prefabrication of components and mass production methods adopted in all of the Kaiser shipyards. A single Liberty ship consumed 3,425 tons of hull steel (2,725 tons of plate steel and 700 tons of shaped steel) as well as 50,000 castings, five miles of wire, and seven miles of pipe. A single vessel was composed of more than 250,000 separate parts.  The fabrication loci were spread throughout the United States, as far away as New York State, so rail and truck transport were essential. The shipyards included a "forest" of cranes to move the components into position for assembly; the largest prefabrication units weighing up to 100 tons. Banks of automated welding machines, and teams of men and women welders, and teams of shipwrights and carpenters were also employed. Statistics for assembly come from Frederic Lane's book Ships for Victory: A History of Shipbuilding under the U.S. Maritime Commission in World War II (Baltimore: Johns Hopkins University Press, 1951, reprinted 2001).  Marsh also reports on cleaning crews, and injuries (but not fatalities).  He details management practices and early forms of "crowd-sourcing" solutions to construction problems and even the shipyards' earning of awards and flags, and how thousands of unskilled men and women were recruited from all over the United States and trained in Oregon to build the ships and maintain the shipyards.  Recruits came from as far away as the East Coast brought by "Kaiser Karavan" trains. Notably women and blacks were among both the skilled and unskilled employees which numbered 150,000. In 1942, the company built Vanport City, Oregon, a community of 42,000 which had all the attributes of a community with Child Service Centers (nurseries and daycare) and schools for the workers' families.  A chapter, "Daily life on the Homefront," characterizes the city which lasted through 1948.    
Part 3 is titled "Other Portland Area War Industries (Chapters 14-20). This section provides brief histories of major and minor producers of navy and maritime craft and related products. Commercial Iron Works built subchasers, armed fleet tugs, experimental minesweepers, and escort carriers; Albina Engine & Machine Works focused on subchaser construction. Willamette Iron & Steel Corporation built 1,200 steam locomotives for Russia, converted cargo ships to troop transports and contracted with the Royal Navy to construct escort carriers. The Oregon War Industries Collective, which consisted of small companies, provided a variety of needed products: furniture and flight decks (Buckler-Chapman Ship Joiners); ship repairs (Northwest Marine Iron Works); anchor chain and valves (Electric steel Foundry Company); anchor winches (Hesse-Ersted Iron Works); propeller and anchor castings (Columbia Steel Casting); an assortment of chemical companies that provided carbide, oxygen, acetylene; and others that produced aluminum, nuts and bolts, and sub-assemblies. Portland Shipbuilding Company specialized in the construction of wooden barges, while Gunderson Brothers built plywood lifeboats and floats and LCMs (Landing Craft Mechanized), and Astoria Marine Construction Company constructed yard minesweepers for the United States Navy and Royal Navy.
This important volume is a labor of love by the journalist Peter J. Marsh, a visual masterpiece thanks to Lawrence Barber, and a tribute to Henry J. Kaiser's vision and the Portland area's natives and migrants from throughout the United States whose efforts contributed to winning World War II. The photographs and maps are excellent and the narrative compelling. It is certainly an important contribution to our understanding of wartime industrial production issues, problem-solving, and supply and demand as well as the unsung importance of the region. It is sometimes difficult to understand the production statistics regarding the numbers of vessels built at Kaiser in Portland-Vancouver versus Richmond, California or the 17 other production centers located on the East, Gulf, and West Coasts. A few tables would clarify this concern. The narrative also does not differentiate the Liberty Ship (EC2-S-C1) cargo design variants, namely the EC2-S-AW1: Collier; Z-EC2-S-C2: Tank carrier; Z-ET1-S-C3: Tanker; and Z-EC2-S-C5: Boxed aircraft transport.
---
Charles C. Kolb, Ph.D., is a USNI Golden Life Member.
Liberty Factory: The Untold Story of Henry Kaiser's Oregon Shipyards (Peter J. Marsh, Seaforth Publishing, Havertown, PA, & Barnsley, South Yorkshire, Great Britain, 2021)