Reviewed by LCDR David K. Sturges, USNR (Ret.)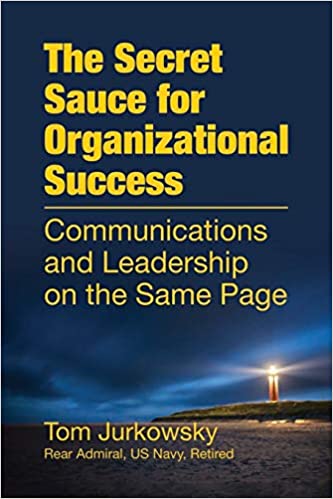 "Experience keeps a dear school." Retired RADM Tom Jurkowsky's new book gives fresh and useful meaning to that old saying of Benjamin Franklin. His "Secret Sauce for Organizational Success." recounts his 45 years of exceptional communication and public affairs leadership within a rare, three-way panoply of military, private business and government service. He is currently President of the U. S. Navy Public Affairs Association.
For both historic and instructive purposes, there is a lot anyone can and should take away from it to keep its message of "communication and leadership on the same page". It's vital in this day of social and twenty-four hour media cycles, and its cyber omnipresence. For convenience of all active duty, retired, reserve military and active civilian DOD employees, it's available for free from the Air University Press (Contact AirUniversityPress@au.af.edu. It is also available from Amazon in both paperback and Kindle versions.)
Within his first 31 years, serving an initial enlisted term and then as a commissioned public affairs officer in 1973, Tom helped see the Navy through some of its best and worst periods of public confidence, including the Tailhook scandal and the cheating, sexual abuse and drug problems at the Naval Academy. He served with a staffer's insistence that media contact time be given equally by senior flags absorbed in headier fleet, diplomatic and government matters. For a PAO, this can be the most intense part of the assignment.
In 1989, after a year of 75 aircraft and ship accidents, collisions and high fatalities, CNO ADM Carlisle Trost ordered a two-day safety stand down of the entire Navy. Droves of inquiring media descended on Tom's office seeking time with the CNO to visibly explain his action. The Admiral had spent all day in "the Tank", was exhausted, hungry and not wanting to do anything more. Tom stressed the importance with him and a meeting with the Pentagon Press Corps was immediately worked in. Appreciative coverage resulted. Shortly after, Tom got a grateful acknowledgement that "it was the smartest thing we ever did." In successive billets, he proved himself to be a master of persuasion.
He rose to be the Navy's Chief of Information (CHINFO) before retiring in 2000 as a Rear Admiral. As such, he drove his principles home to the right people. Media contact and trust is an exponent of taxpayer reassurance in their armed forces and government. In the military authority sense, trust can be and should be a two-way street. However, for crotchety correspondents and their networks, you don't "send them to the penalty box" but just "give them a five-yard penalty". You still cultivate them, remembering the old byword that "their organization buys ink by the barrel, paper by the ton and has unlimited digital pages and server space."
When lawyers are involved, their job is to provide advice only while the Commander remains the final authority. As further good media engagement, granting access to operations for news anchors, though risky, pays surprising dividends of encouraging public appreciation of defense mission.
Tom next joined Lockheed Martin as Media Relations Vice President. The company was then advancing its Joint Strike Fighter prototype and it was being mired in glitches, design shortfalls and base line cost reset. A reporter filed a story pointing out resulting cost overrun and lack of timely response caused a company stock bump. Tom's take away: company leadership and its PR staffs should be quick to respond to such queries to head off any negative impact before deadline.
After eight years with Lockheed, he continued his career eleven more years with the U.S. Treasury Department as the U.S. Mint's Chief of Corporate Communications. The Mint was struggling with its manufacturing cost of pennies at twice their worth. It was attracting TV news features. Political Treasury leadership said no, but Tom argued to keep the door open for the feature to proceed, maintaining that the public had a right to know how and why its money is being spent. The same situation erupted with its effort to replace the dollar bill with a dollar coin. The public still preferred to use the dollar bill and the coins ended up being stored and then eliminated. In both these product situations, management behavior, in Tom's view, wasn't a solid example of how to do business with the media.
Finally, with regard to organization in his book, Tom stresses empowering and trusting employees. Look out for them and get to know them. Directing and urging them to stay ahead of problems maintains the best climate for good media relations.
With all these ingredients and more, "The Secret Sauce for Organizational Success" puts forth the nourishing balance Theodore Roosevelt had in mind when doing business with the people: "You've got to have the same interest in public affairs as in private affairs or you cannot keep this country what this country should be."
---
LCDR David K. Sturges, USNR (Ret.) NHF Life Member & 20 years service in Navy Public Affairs including Flag Journalist, Personal Staff, Chief of Naval Operations (ADM Thomas H. Moorer) and Vietnam, journalist aboard USS Enterprise. Life Member, USNPAA.
The Secret Sauce for Organizational Success: Communications and Leadership on the Same Page (Tom Jurkowski, Air University Press, Maxwell AFB, Alabama, 2020)