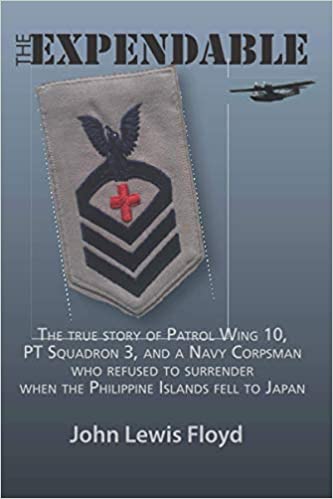 Reviewed by David F. Winkler, Ph.D.
Earlier this year I had the pleasure of reviewing The Silver Waterfall: A Novel of the Battle of Midway by retired Captain Kevin Miller, I praised the value of well researched historical fiction as an effective means to convey past events to the reader. In The Expendable, author John Lewis Floyd, a retired physician and Air Force veteran, describes what he wrote as "creative non-fiction" and quotes the Lee Gutkind, editor of Creative Nonfiction magazine who defines creative non-fiction as a means "to communicate ideas and information in a cinematic way using the literary techniques employed by fiction writers—dialogue, description, detail, action, scenes, to introduce the characters behind the facts with action and excitement in a more compelling story-oriented way than with straight exposition or traditional journalism." Gutland concludes: "But unlike fiction, the story is true, the characters real, the facts accurate."
I'm not so sure I agree with that thesis. There are some historians and journalists who write some very compelling material. For example, NHF board member Jim Hornfischer has been known to put out an occasional page-turner. That said, Dr. Floyd's account of the saga of Charles Conrad Beckner, a hospital corpsman who would later become the author's father-in-law offers a most credible screenplay for a potential Hollywood blockbuster.
Over the years Dr. Floyd was able to extract a remarkable narrative from Beckner, who eventually retired from the Navy as a chief warrant officer. A Hoosier, raised in Princeton, Indiana, Beckner joined the Navy in 1939 and after Basic Training at Great Lakes, receives his Hospital Corpsman training at Balboa Naval Hospital.
After a tour at Mare Island where he develops a crush for Nurse "Tillie" Finian, a composite (fictional) character, Beckner finds himself transferred to the Canacuo Naval Hospital, at our naval station at Cavite where nurse Finian is also assigned. Beckner does not have time to get too involved with Finian as he is transferred to airplane tender Langley for further orders to Patrol Wing TEN – composed mainly of squadrons of Catalina PBY seaplanes. Attached to a squadron based out of Subic Bay, many of the planes are destroyed by Japanese strafing following the breakout of the war. With his claustrophobia, a follow-on stint at the Malinta Tunnels at Corregidor was most disagreeable. Thus, Beckner gets reassigned to Motor Torpedo Boat Squadron THREE, commanded by Lt. John D. Buckeley. Needless to say, Dr. Floyd's bibliography had ample source materials to augment the recollections of his father-in-law about PT boat actions against the Japanese and the squadron's role in evacuating General MacArthur to Mindanao where he was flown out to Australia.
With his PT boat needing repairs, Beckner finds himself in Cebu City on the island of Cebu and is hospitalized having contracted dengue fever. Recovering, Beckner escapes as the Japanese arrive and he and some of his PT Boat compadres cross the island and swipe banca boats to the nearby island of Negros where they hitch rides to the shore opposite Mindanao and pay a fisherman to shuttle them to the large southern island where Beckner sees himself retreating to the hills when the Japanese eventually arrive. But fate is kind to the Hospital Corpsman and he is one of the last American service personnel to get flown out courtesy of a Patrol Wing TEN Catalina.
As in my critique of Captain Miller's fine book The Silver Waterfall, the use of citations and explanatory notes would have added credibility to the "creative non-fiction." Acknowledging the work of others is a fundamental principle in scholarly work. Also, citations allow space for an author to provide additional material about the subject at hand. Done well, citations can be as entertaining as the narrative! A missed opportunity here.
With that nit-pick aside, Dr. Floyd's homage to his father-in-law – a member of the greatest generation who passed on in 2009 and lies in rest at Arlington Cemetery – is a wonderful read and not only honors Charles Conrad Beckner, but pays tribute to the thousands of other Americans who were not so fortunate to escape from a situation that befell them due to strategic miscalculations in Washington. For a preview of The Expendable visit www.expendable.us.
---
Dr. Winkler is the Staff Historian at the Naval Historical Foundation and current Charles Lindbergh Chair of Aerospace History at the Smithsonian Air and Space Museum.
The Expendable: The True Story Of Patrol Wing 10, PT Squadron 3, And A Navy Corpsman Who Refused To Surrender When The Philippine Islands Fell to Japan (John Lewis Floyd, Trou de Lapin Press, Tucson, AR, 2020)