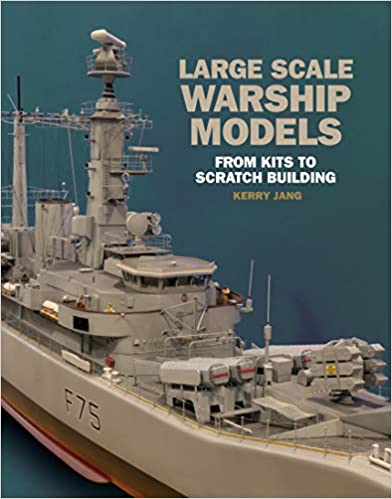 Reviewed by Jeff Schultz
Kerry Jang's Large Scale Warship Models: From Kits to Scratch Building fills an important gap in the literature meant for the ship modeling enthusiast, whether novice or intermediate.  This short but lavishly illustrated book provides valuable instruction on how to conceptualize, construct, paint and finish large-scale ship models for display and years of enjoyment.
Jang divides the book into eleven brief chapters: #1-3 deal with the rationale for large-scale ship models, the relevant existing model kits and the requisite tools; chapters #4, 5, 7, and 8 deal with the hull, decks, superstructure and relevant fittings; leaving chapters #6, 8, 9, 10 to cover radio control modifications, small details, painting and final completion. The book rounds out with chapter #11 featuring the finished product-style images of the "Gallery," along with resources and references. Each chapter is well illustrated, with over 180 images in just the first ten chapters. Jang is a Canadian university professor and known for academic writing; this is his first book related to his passionate hobby of naval ship modeling.
Jang apprises the reader of the entire large-scale ship model process in 110 pages, a very ambitious goal, especially given the obscure nature of some of the elements involved and the varying experience level of the reader. Jang provides useful content at differing stages of scale model construction; modelers may benefit from a given chapter or perhaps a particular subsection while others might find the entire book useful. While Jang focuses on British warships enthusiastically, the lessons are universal. Notable throughout are his encouraging comments; such as painting techniques even when often unavoidable mistakes were made in the construction process, "…a coat of primer will transform this amalgam into a ship and deft paintwork will bring it alive." [81]  Jang injects his chapters with useful advice, images that show aspects related to the advice and/or feature products or techniques, etc. Since there are many such nuggets revealed in the work a few will suffice as examples. After important preliminary chapters, Jang discusses the potentially complicated installation of radio control in a hull using not only a diagram for two channel, single-motor approach allowing both forward motion and steering [51]. He then follows with a more intricate two channel, double-motor approach [52], augmented by tips, safety concerns and finally a thorough 20-step guide for successful implementation [55-57]. 
Jang considers a relatively certain issue for modeling when he muses, "Despite all your best attempts, something will be crooked somewhere." [68] Readers with any experience in ship modeling, especially scratch-building, will welcome his acknowledgement as a truism. While he suggests using a strip of styrene "kicking strip" for this bit of cosmetic repair that hides gaps mating the superstructure to deck, he remarks amusingly it is "the most authentic fashion disguising the modeling dodge" [68] yet leaving the visual effect of being an intended part of the model.
Jang delights in the everyday objects that make quality ship models come alive, his concern is evident not merely in the larger details but equally the mundane such as the bollards, doors, rigging and other minor impedimenta that larger scale models could bring to life. On a small scale ship these routine elements would be lost to the imagination or perhaps detailed as tiny bit of plastic molding like the ship's anchor or a watertight door. In Jang's workshop these humdrum elements transform from two to three-dimensional surfaces that catch the eye like photoetched brass ladders [71] or molded resin rigid hull inflatable boat [74]. Also, worth mentioning is his creative integration of stock scale models with large-scale ship models: such as mating a Hobby Boss 1/72 "Lynx" helicopter with a heavily modified, partially scratch-built HMS Charybdis [101]. With painting, puttying and other relevant methods provided the novice can cover their mistakes, which invariably follow when engaged in creative endeavors. His admonition to not return useful parts like tubes or wire [14] even when it does not fit illustrates the trial and error required which can lead to a much-improved product given the requisite patience and eye for detail.
"Gallery," the last chapter, contains detailed images of the completed versions of four ships, such as the modern offshore patrol vessel HMS Tyne (P 281) in 1:96 scale [96-98], the Cold War frigate HMS Charybdis (F 75) in 1:72 scale [99-101], the recent Type 45 destroyer HMS Daring (D 32) in 1:72 scale [102-106], and finally the WWII-era "D" class destroyer HMS Daring (H 16) in 1:96 scale [106-108].
Kerry Jang's Large Scale Warship Models: From Kits to Scratch Building provides an adept look at the daunting world of large-scale ship modeling, doing so with patience and painstaking professorial methodology which can inspire those seeking to build their dream vessel which may have seemed out of reach for multiple reasons. Now with Jang's book, the appropriate resources he details and some pluck, the task can finally be realized whether the goal was a large-scale USS Iowa or Oliver Hazard Perry's famed 19th century flagship, USS Lawrence.
---
Jeff Schultz is an Associate Professor of History at Luzerne County Community College.
Large Scale Warship Models: From Kits to Scratch Building (Kerry Jang, Seaforth Publications, Barnsley, South Yorkshire, Great Britain, 2019)