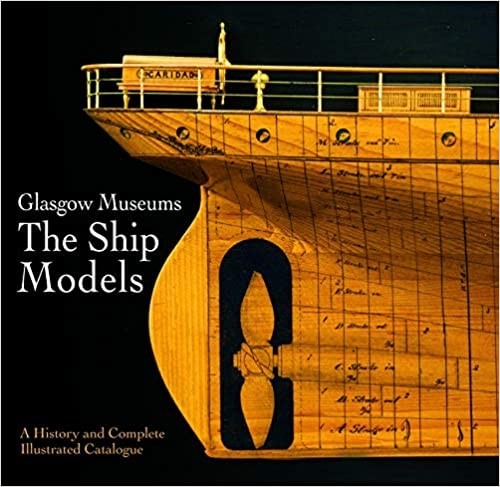 Reviewed by Ingo Heidbrink
Sometimes there are books that feel special from the very first moment you receive them. Glasgow Museums The Ship Models – A History and Complete Illustrated Catalogue is without any doubt such a book. First of all, catalogues of museum collections have become to a certain degree a rare species, and if they are not just a pure technical catalogue but a book that appeals equally to the quest for high quality information as well as to an aesthetic mind, they are a rare feast.
Many maritime museums all around the globe have large collections of all kinds of ship models reaching from half-hull design models used by shipbuilders to owner's models used for representative purposes, amateur models built by mariners, sailors and hobby model builders, exhibition models presented at trade shows, bone models made by prisoners of war, or even toy models and miniature die-cast models. Basically, the only aspect that these types of models have in common is that they are a scaled three-dimensional representation of a ship. Although ship models are often the mainstay of exhibitions at maritime museums, the literature on this type of artifact is still somewhat limited – at least the literature that deals with ship models per se and not with the specific type of ship or aspect of maritime history that is represented by the model.
With this book Glasgow Museums decided not only to put their collection of ship models centerstage but more important to deal with them as a group of artifacts in their own right.
Basically, the book is divided into two parts. The first part comprises five chapters presenting and analyzing ship models, their history, their builders and their purpose from five distinct perspectives, and the second part of the book is the actual catalog.
The first of the five thematic chapters is devoted to the use of ship models in shipbuilding and explains how models from the simple half-hull design model to the test-tank models used for optimizing hull shapes not only contributed to shipbuilding but were a critical component of the design process at a time when the theoretical understanding of hydrodynamics was limited and the computing capacity available to naval architects and shipbuilders was even more limited. The simple but ingenious process of using a half-hull model to generate the shapes for individual frames and plates with their complex curvatures and three-dimensionality is not only explained in detail, but individual models of the collection are used to illustrate the development of these processes over time in various shipyards in the wider Glasgow region. The remainder of the chapter deals with how display models were used by shipyards and shipping companies and presents some absolutely unique models like the half-hull model of the Swanley (built 1924) that has a detailed cross-section of the ship painted on the flat side of the model.
The next chapter deals with the history of professional model making, clearly telling the story of model building as not just a side job for some shipyard worker, but a skill and trade in its own right. Company portraits of a number of model makers from the Clyde region are the main focus of this chapter, providing a clear and nuanced description of individual model makers as unique as shipyards. Even if the name of the individual behind a certain model can no longer be identified, his 'handwriting' often can. Like shipbuilding itself model making became industrialized and companies with 30 or even 60 people were part of a model making industry that was different to the earlier individual model makers often directly working at the shipyard, but still of utmost importance for the shipbuilding industry.
Chapter Three is devoted to amateur models, from pond yachts to bone ships and kit models made of all kinds of materials from paper to plastic. This Chapter showcases the breadth of amateur ship model making and the reasons why people become involved with this hobby. Professional mariners building ship models to pass the time during long journeys, prisoners of war using what little material is available to them, and young folks gluing together a simple plastic kit model, are building models for very different reasons than the model makers discussed in the first two chapters. Consequently, the models serve different purposes, which can often be distinguished simply by looking at them.
Chapter Four discusses the function of ship models in the context of the various great exhibitions of the second half of the 19th century, and is a real historical gem as this topic has rarely been discussed before despite the important function of ship models for the exhibitions and the extremely high quality of the models built for exhibitions and fares.
The concluding chapter finally discusses the origins and development of the ship model collection at Glasgow Museums beginning in the mid-19th century with the City Industrial Museum. The history of collections and acquisitions is an often-undervalued topic and this chapter clearly shows not only how but why ship models were a relevant part of the history of museums in Glasgow.
The more than 200 pages remaining comprise the actual catalog's 676 entries. As opposed to many other museum catalogs, the entries are not presented as a table, but as high quality 'blue-screened' photographs of the models accompanied by a short, standardized description including technical details of the model and some brief remarks on the history of the original vessel. It might be questioned if a tabular approach might have provided easier access to the collection for the professional maritime historian or museum professional, but the great visual appeal of this catalog easily compensates for that criticism.
For a various reasons, Glasgow Museums The Ship Models – A History and Complete Illustrated Catalogue is one of the few recently published books on maritime history that can be recommended to a broad audience. The catalog makes an important collection accessible to maritime historians without requiring they visit the museum, and the hundreds of high quality photographs—showcasing either the complete model or just a tiny intricate detail of high aesthetic quality—will appeal to history enthusiasts. The discussions of provenance and difficulties in managing such a collection will be of particular interest to the museum professional or museologist. For the general reader, it will also make a great coffee-table book and a sure conversation starter. With a retail price of £35 it's a bargain for a nearly 400 page, 11" X 11.5" hard-cover book with roughly a thousand high quality photographs.
Whether you have previously thought about ship models mainly as toys, decorative items, tools for shipbuilding, presentation objects of shipyards and shipping companies, or simply museum artefacts, this book will provide a good number of stories. Glasgow Museums need to be congratulated for having demonstrated that the catalog format is by no means outdated.
---
Ingo Heidbrink is a Professor of History at Old Dominion University in Norfolk, Virginia.
Glasgow Museums: The Ship Models – A History and Complete Illustrated Catalogue (Emily Malcolm & Michael R. Harris, Seaforth Publications, Barnsley, South Yorkshire, Great Britain, 2019)