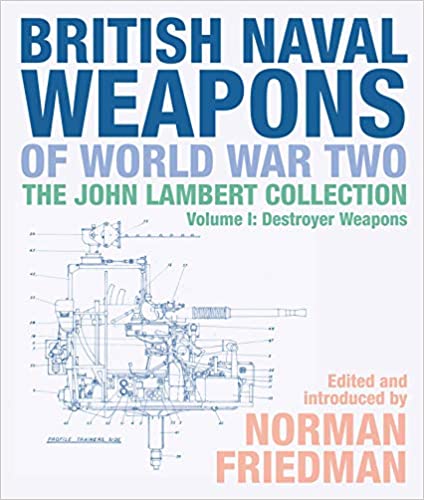 Reviewed by Charles H. Bogart
This book consists of two sections, a 52-page introduction written by Norman Friedman and 173 pages of line drawings executed by the late John Lambert. These line drawings show both the profiles of World War II Royal Navy destroyers and the weapon systems they carried. With the death of John Lambert in 2016, the world lost a superb illustrator who, through his drawings, introduced to the naval modelers and historians a visual understanding as to how various weapon systems were constructed and operated. During his lifetime, he executed over 850 sheets of drawings that were used to illustrate various Anatomy of the Ship books and other publications. Seaforth has taken upon itself the task of reintroducing these drawings to the world.
Norman Friedman, upon the death of John Lambert, took on the job of sorting the collection of drawings into three coherent collections. The result led Seaforth to publishing three books centered on John Lambert's drawings: Destroyers; Escorts and Minesweepers; and Coastal Forces. The volume under review again makes John Lambert's destroyer drawings available for perusal by the naval and weapon historian. While many of these drawings have appeared in other publications, others are new to print.
In his introductory chapter, Norman Friedman provides thoughtful insights into the Royal Navy's employment of destroyers in the years leading up to and during World War I. This war would see the Royal Navy's destroyers taking on various roles that had not been considered in their pre-war design, foremost that of convoy anti-submarine operations. Failure by the Royal Navy to anticipate many of these new destroyer duties revealed a glaring design flaw in these ships, a lack of endurance.
The unexpected naval events of World War I: anti-submarine operations, fleet actions, control of the English Channel, and operations far distant from established naval bases resulted in a post war re-evaluation of the role of the destroyer. Thus, the Royal Navy's post-World War I destroyer differed substantially from its pre-war ancestor in size, armament, and endurance, the potential enemy now being envisioned as Japan not Germany.
Unfortunately, while much was gotten right in the design and construction of the between war destroyers, much was also gotten wrong. The main faults centered on arming these ships with guns designed for ship-killing at the expense of anti-aircraft duties and not giving them sufficient cruising range. The section on the development of optical fire control apparatus for these guns is a fascinating story of technology not being pushed to its limits, while that of radar is of technology pushed beyond its conceived limits.
Within the book there are detailed profile drawings of six destroyers ranging from HMS Whitehall of 1924 to HMS Caesar of 1944; fifteen drawings of various anti-ship guns, 12 pdr, 3-inch, 4-inch, 4.5-inch, and 4.7-inch; eleven drawings of anti-aircraft guns, 0.50, 2 pdr, 6 pdr, 20 mm, and 40 mm; ten drawings of fire control systems covering surface, air, and dual mode that were placed in service between 1918 and 1944; five drawings of 21-inch torpedo tubes and their fittings; and three drawings covering other destroyer mounted weapon systems to include mine sweep, depth charge, and smoke generators. Each drawing is presented on a two-page layout that includes all of the text and drawings found on the original single page layout. The single page drawings have been digitally rearranged for the two-page layout so that no drawing detail falls into the center seam. The Royal Navy's 4-inch quickfire Mk V gun mounted on its high angle Mk III mounting is the subject of eight pages of drawings. The level of detail in the individual drawings is beyond belief. All of the drawings are accompanied by notes that provide in-depth specifications that explain in detail what one is viewing.
If the design and employment of naval weapons is of any interest to you, I can guarantee you will spend hours examining the pages of this book, for nowhere else will you find the wealth of technical information displayed on these pages. If a picture is worth a thousand words, then these drawings are worth ten thousand words. I'm looking forward to reading the other two books in this series.
---
Charles H. Bogart is a frequent contributor to Naval History Book Reviews.
British Naval Weapons of World War Two: The John Lambert Collection – Volume 1: Destroyer Weapons (Norman Friedman, Seaforth Publications, Barnsley, South Yorkshire, Great Britain, 2019)