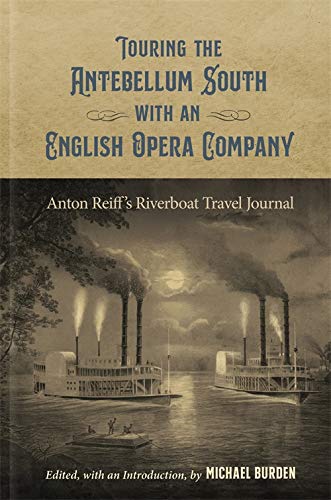 Reviewed by Charles H. Bogart
Anyone who has studied the United States' Antebellum period has, during the course of one's reading, encountered snippets or lengthy excerpts from the Diary of Anton Reiff. Until now, if you wanted to read Reiff's complete diary, you had to travel to Baton Rouge, Louisiana, and make arrangements to visit Louisiana State University Library's special collection holdings. Due to the demand of scholars seeking to consult Reiff's diary, Louisiana State University has seen fit to publish the diary in its entirety. Not only have they published the diary, but they have seen fit to annotate it. Thus, one only has to read the footnotes provided by editor Michael Burden to gain the historical background needed to identify a location or person mentioned within the text. I was impressed with the completeness and accuracy of the footnotes provided on persons and places mentioned that centered on Kentucky, my home state.
Anton Reiff Jr. was an American who was living in New York in 1855 when he was hired by the Pyne and Harrison Opera Troupe as their musical director. The company was preparing to undertake a winter journey from November 1855 to May 1856 to cities along the Ohio and Mississippi Rivers. The round-trip journey started by train from New York to Wheeling (West), Virginia, where the company switched to steamboat for the journey south to New Orleans, Louisiana, and Mobile, Alabama. Anton did not start his diary until part way through the tour. The diary entries start in January 1856 at Louisville, Kentucky, and were written by Anton, it appears, in hopes of publishing the diary upon return to New York, as he entitled the work "Scenes in the Back Woods." The diary, unfortunately, was never published and, as an incomplete manuscript, a number of pages are missing, and entries that were to have been expanded instead lay fallow. It was purchased in 1978 by Louisiana State University.
The text of the book has little to do with the nautical scene that encompasses the journey Anton takes with his fellow performers on the Ohio and Mississippi Rivers. Yes, he does list the boats he travels on and encounters and provides some information on their workings. The boats, however, serve only as a stage on which encounters take place between him and his fellow travelers. He is enthralled with recording his observations concerning the people he encounters, men and woman of various ages and races, and the cities, towns and settlements they live in. It is clear from his jottings that the land of the Ohio and Mississippi Rivers he in 1856 goes ashore to explore, is truly frontier country, land in which Eastern norms are only slowly beginning to penetrate.
It must be noted that on the return trip to New York, Anton and the opera company traveled by boat from New Orleans to St. Louis, Missouri, and then by train from that city via Indianapolis, Indiana, to Louisville. From Louisville, they again traveled by boat up the Ohio River to Wheeling (West), Virginia. From there they travel by train to Washington, D.C.
Surprising to the modern reader is the lack of Jim Crowism Anton reports encountering on board the steamboat he rode during his voyage to and from New Orleans. In his diary, he constantly records the mixing of men and women of various races onboard the boats and within the towns he visits.
On one packet boat, Thomas Swann, he partakes in a spur of the moment race between that boat and a rival packet boat, Princess. He expresses a mixed feeling of exhilaration and fear as the two captains jockey their boats to prove who has the fastest boat. All in all, his tales of life aboard the various steamboats he traveled upon is a look into mid-19th century society.
Anton frequently notes that the types of entertainment available to the general population living along the Ohio and Mississippi Rivers centers around music and cards. Cards allowed a social mingling of various classes of men, while music allowed encounters between males and females. He is enthralled by the 1856 Mardi Gras celebration and the social events spawned by the unveiling of the statue of Andrew Jackson at New Orleans. In this vein, one finds interesting his jottings concerning going to church. The question arises as to whether he goes to church because he is pious, or is his purpose for going to church based on social encounters and entertainment?
Anton's writings and language reflect the norms of the day, and those who are dogmatic about today's political correctness will be easily offended by his colloquialisms. His discourses on the topic of slavery are inconsistent. Slavery, as he observes it within households, causes him no revulsion, and he thinks of purchasing his own household slave. Yet he does question the idea of slavery after attending a slave auction.
This book is an excellent introduction to the cultural and social heritage of those living along the lower Ohio and Mississippi Rivers. In five short years the lower Mississippi River would be the scene of armed conflict, as the American Civil War was fought on its waters and along its shore lines. If pre-Civil War social history is of any interest to you, this is a must-read book.
---
Charles H. Bogart is a frequent contributor to Naval History Book Reviews.
Touring the Antebellum South with an English Opera Company: Anton Reiff's Riverboat Travel Journal, (Edited by Michael Burden, Louisiana State University Press, Baton Rouge, 2020)