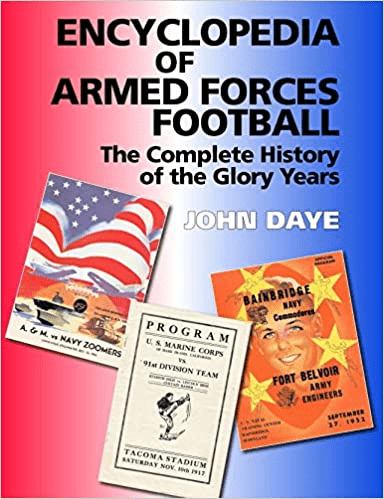 Reviewed by LCDR Brian Hayes, USNR
In 2017, New York Times sports reporter Victor Mather wrote an article entitled "The Best College Football Team You've Probably Never Heard Of." He was referring to Iowa Pre-Flight, one of dozens of armed forces football programs that competed against collegiate teams (and each other) during the world wars and Korean conflict. John Daye's Encyclopedia of Armed Forces Football is an engaging and valuable work covering this relatively unknown chapter in college football history.  
The wartime armed forces teams were distinct from the service academies' intercollegiate football programs (which continue to this day).  As college athletes left school for military service, particularly during the world wars, many colleges suspended their football programs, and those that did not needed new opponents. Many former players, having enlisted or joined pre-commissioning programs, joined newly-organized armed forces teams, representing their installation or program instead of their alma mater. The armed forces teams not only played against each other, but also helped fill the gaps in college football schedules. Moreover, with rosters stocked with former college stars, the best of these teams rivalled the top college football powers of their eras (according to Mather's article, four of the Associated Press top 10 teams of 1943 were armed forces teams). Several military coaches, often commissioned specifically for their football skills, went on to storied careers in the college and professional ranks. College football fans will immediately recognize the names of George "Papa Bear" Halas, Paul "Bear" Bryant, Charles "Bud" Wilkinson, and Paul Brown, all of whom coached World War II era service teams while serving as naval officers.
The author, a retired high school football coach and a historian of the college game, has written a book that is part reference work and part narrative "highlight reel." Using historical game programs, he has compiled a comprehensive almanac of players, coaches, win-loss records, and individual games. The level of detail is outstanding and, where available, even includes game-day lineups. To add color and interest, Daye also viewed game film from the period, allowing him to describe dozens of the era's best games and players almost as if he were a contemporary sportswriter. The book's opening chapters, as well as the introductions to each era and individual season, provide valuable background and context and are genuinely interesting in their own right.
Daye writes well and with the perspective of a former coach, and he is a fine historian of the game, but this is not per se a work about naval history. Daye does acknowledge the notional military objectives behind the armed forces' football programs – first, to promote physical fitness and toughness; second, to provide healthy recreational opportunities in the hope that service members would avoid less wholesome activities. He also includes several anecdotes about the wartime service of notable players and coaches, including a thoughtful section dedicated to Ensign Nile Clarke Kinnick, Jr. (winner of the 1939 Heisman Trophy). However, the book's focus is on the football field, not the battlefield. In Daye's account, the impacts of armed forces football on American athletics and culture are readily apparent. Its actual contributions to the war efforts, if any, are unclear.
The Encyclopedia of Armed Forces Football is thoroughly researched and well-written.  Football fans will enjoy the brisk narrative and the tales of heroism on the gridiron, while scholars of armed forces morale, welfare, and recreation programs (a topic that has attracted serious research interest in recent years) will appreciate Daye's exhaustive research and the book's utility as a reference work. I recommend it to both audiences. 
---
Encyclopedia of Armed Forces Football: The Complete History of the Glory Years (John Daye, St. Johann Press, Haworth, New Jersey, 2014)