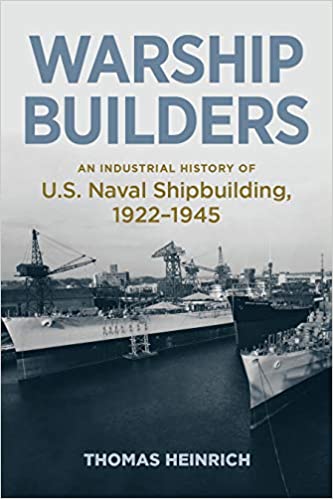 Reviewed by Charles C. Kolb, Ph.D.
There has been a deluge of new books and recent articles focusing on American wartime shipbuilding, 1939-1945, witness Evan Mawdsley's The War for the Seas: A Maritime History of World War II (New Haven, CT and London: Yale University Press, 2019) and Jamie McGrath 's "Peacetime Naval Rearmament, 1933-39: Lessons for Today," Naval War College Review 72(2): Article 7. (2019).
Combining information from industrial mobilization, shipbuilding, and construction technologies with business, labor, and political histories is unique in that an author must understand the interrelationships among these complex components. Heinrich is able to do just that, providing well-researched and documented scholarship resulting in his unique, clearly written Warship Builders: An Industrial History of U.S. Naval Shipbuilding, 1922-1945. In the latter part of this review, I shall summarize the contents of this book and illustrate some aspects of its uniqueness.
Heinrich's volume is a masterful and magnificent achievement and it is refreshing that a scholar, who focuses upon business history, rather than military conflict history, has undertaken this highly complicated task. He creates the first academic study of U.S. naval shipbuilding during World War II, focusing on the topic from the early 1920s to the end of the war in 1945. The author clearly demonstrates how American industry was mobilized to create the world's largest fleet that helped defeat the Axis powers in both the European and Pacific Theaters of war. In this volume, he concentrates on U.S. naval ship construction but also compares and contrasts the similarities and differences in American, British, German, and Japanese naval construction both in government-owned shipyards and private and corporately-owned shipbuilding facilities. In addition, his narrative incorporates information regarding the U.S. government's investments into shipbuilding facilities in both private and government-owned shipyards. This is a well-crafted book covering business aspects but also informs the reader about ship designs and the construction of warships which, in turn, enlightens us about differing naval performances, technological innovations, labor history and industrial development. This is a significant contribution to maritime history, World War II era military and industrial history illustrating the challenges faced by America to win a "Two-Ocean War."
Currently, the author is Associate Professor of U.S. Business and Labor History at Baruch College, City University of New York. German-born Heinrich received his doctorate from the University of Pennsylvania and maintains an obvious keen interest in naval history. Heinrich teaches a general course on American history and four advanced classes: Naval Battles, American Business Enterprise, World War II, and Cold War. He has written books on the consumer revolution and Philadelphia shipbuilding, and contributes to the journal Business History Review; and recently co-authored a textbook, A Concise American History (Abingdon, UK and New York: Routledge, Taylor & Francis Group, 2021). Heinrich is also the author of Ships for the Seven Seas: Philadelphia Shipbuilding in the Age of Industrial Capitalism (Baltimore: Johns Hopkins University Press, 1997, reissued in 2020). In this volume he examines the complex industry of shipbuilding from the workshop level to subcontracting networks spanning the Delaware Valley. Heinrich describes entrepreneurial strategies and industrial change that facilitated the rise of major shipbuilding firms; how naval architecture, marine engineering, and craft skills evolved as iron and steel overtook wood as the basic construction material; and how changes in domestic and international trade and the rise of the American steel navy helped generate vessel contracts for local builders. He also examines the formation of the military-industrial complex in the context of naval contracting. Much of the history of the Delaware Valley shipbuilding is also found in his new book.
Warship Builders contains an "Introduction," six chapters, "Conclusion," "Bibliography," and seven-page "Index." There are 15 illustrations, 13 tables, 13 charts, 11 figures, and 585 endnotes; the "Bibliography" includes Primary Sources (250 items within six categories including 22 American and European archival collections, plus documents and books) and Secondary Sources (288 books, articles, or book chapters, etc.). The author clarifies that numerical data such as U.S. Navy vessel tonnage is expressed as the weight of water displaced, while corporate tonnage reflects industry parlance. And, the New York Navy Yard was officially called that by naval authorities, however, the designation never caught on among New Yorkers, who still refer to it as the "Brooklyn Navy Yard," a convention followed in this book. When data is available, the chapters also include comparisons with British, German, and Japanese naval construction policies and practices which pinpoint distinct features of U.S. warship building.
In his "Introduction" The Workshop of American Sea Power (pp. 1-6), Heinrich points out that "American builders produced a fleet that was instrumental in defeating the Axis in the war at sea," delivering eight million tons of naval combatants, more than their British, Japanese, and German counterparts combined. This effort required a virtual army of workers and was performed in more than three dozen shipyards. At the time, most Americans were unaware of this colossal undertaking which was complicated because the Navy often changed blueprints and specifications while the ships were already under construction to ensure that designs incorporated recent combat experience.
Chapter 1 "A Highly Specialized Art" The Decline and Recovery of Interwar Shipbuilding (pp. 7-18). While World War I had precipitated phenomenal growth in American shipbuilding, with tonnage exceeding that of all other nations except Great Britain, the following postwar decade saw dramatic declines naval shipbuilding orders and even more during the Great Depression and postwar naval arms control agreements. The industry had begun slowly to recover because of demands for merchantmen but American naval shipbuilders mostly benefited from New Deal policies enacted by President Roosevelt's administration. The Royal Navy and both Japan and Germany were undergoing naval rearmament which coincided with a merchant shipbuilding boom, and America would follow suit. Heinrich argues persuasively that a vital core of experienced combatant builders "existed long before Pearl Harbor and weathered the interwar years with government work, particularly naval work." A similar trend is documented in the aircraft industry, notably companies like Boeing, Grumman, and Douglas survived due to small military contracts from the U.S. Army Air Forces. Military and civilian production was generally combined so that builders acquired highly specialized design and production expertise, which laid the groundwork for industrial mobilization in World War II.
The subsequent chapter is "An Unending Effort to Satisfy the Needs for High Speed and Great Strength" Warship Design, Welding, and Marine Engineering between the Wars" (pp. 53-85). Industrial technological changes and the training of naval architects and marine engineers resulted in the development of electric arc welding techniques, light weight alloys, and new prefabrication methods. More efficient propulsion systems such as turbines had significant implications for production systems and industrial organization. The Naval Academy at Annapolis, Lehigh University in Pennsylvania, MIT and the universities of Michigan, California, and Cornell were the primary providers of marine engineers. Preassembly was more common in the United States and Germany, where welding was introduced on a large scale, than in Britain and Japan. New propulsion technology, reduction gear, decreasing boiler scaling, and a very high degree of standardization and interchangeability facilitated servicing.
Chapter 3, "Superior to the Combined Strength of Our Enemies" Naval Strategy, Shipbuilding Programs, and Navy Department Reforms, 1940-1945 (pp. 86-121) focuses on the monumental task of planning and creating a two-ocean navy, the origins of which are examined in the context of political controversies, strategic developments, and major reforms of U.S. Navy procurement policies. War Plan Orange, the strategic offensive in the Pacific in the event of war with Japan, dated to the Japanese invasion of China in 1937, the possibility of further Japanese aggression, and issues regarding the redeployment of ships from the East Coast via the Panama Canal. The British likewise feared simultaneous conflicts in the Atlantic, the Mediterranean, and the Far East. American shipbuilding programs launched in 1940 produced massive capabilities for fleet action, but failed to prepare the Navy for antisubmarine warfare in the Atlantic because they did not provide for oceangoing escorts. Heinrich characterizes the National Defense Appropriation Acts, Navy Department and administrative contract reforms, and facilities improvements in privately owned shipyards and naval and private armor plants during 1940. It wasn't until January 1942 that a proposal to build 250 American destroyer escorts received congressional authorization, the precise time when German submarines commenced their assault on unprotected American coastal shipping during Operation Paukenschlag (Drumbeat). Plans for the invasion of Europe necessitated landing ships and by 1944 shipbuilders had delivered 1,088 landing ships in addition to 2,371 landing craft (LSD, LST, LSM, LCI, LCS, and LCT). The author also reviews marked differences of British from American production, Germany's inadequate submarine construction program due to fact that German strategy and construction schemes of the 1942-45 period constituted the exact opposite of the U.S. Navy's approach, and the Japanese inability to replace aircraft carriers lost at the Battle of Midway – 20 new carriers had been planned. He concludes that the formation of organizations like the Bureau of Ships was a sensible response to internal problems in the Navy's procurement apparatus that resulted from insufficient design coordination between the Bureaus of Engineering and Construction & Repair.
In Chapter 4, "We Can Build Anything" Wartime Navy Yards (pp. 122-167), the narrative focuses on warship building and repair in government-owned and -operated navy yards, which were among the nation's best-equipped shipbuilding facilities as a result of major investments before and during the war. Four smaller yards at Puget Sound, Washington; Mare Island, California; Charleston, South Carolina; and Boston were primarily responsible for destroyers. Four smaller yards at Puget Sound, Washington; Mare Island, California; Charleston, South Carolina; and Boston were primarily responsible for destroyers. The Philadelphia Navy Yard specialized in recommissioning mothballed destroyers and submarines, converted merchantmen for naval service, and repaired and overhauled American, British, French, Dutch, Canadian, and Norwegian ships, some of which were built according to the metric system and required appropriate tools. Specializations at Brooklyn, Boston, Norfolk, and Charleston on the East Coast, and Mare Island and Puget Sound are, likewise, documented. Management structure, physical plant and facilities improvements, and the construction of Iowa-class battleships provide insights into design routines, project administration, and worker skills at the point of construction. The chapter also examines the shipbuilding process in workshops and on slipways during the construction of Iowa-class battleships to provide insights into design routines, project administration, and worker skills at the point of construction. Heinrich also reports the work of Britain's Royal Dockyards at Chatham, Portsmouth, and Devonport; Japan's navy yards at Yokosuka in Tokyo Bay, Kure near Hiroshima, Sasebo at Nagasaki, and Maizuru in Kyoto Prefecture; and Germany's sole navy yard at Wilhelmshaven. In conclusion, government-owned industrial facilities played a major role in American naval construction. The author demonstrates that shipbuilding in navy yards was closely intertwined with specialty production in private firms, relying on subcontracting with producers of armor, hull steel, turbines, and many subsystems required to build complex weapons platforms.
"The Government Pays for Everything in There"
Private Builders and Contractor-Operated Yards (pp. 168-226) turns to the private sector, which received considerable Navy investments into facilities to equip yards for a massive expansion of tonnage output during the war. Following a discussion of management and industrial relations, Heinrich considers subcontracting networks that were composed of specialty firms that supplied everything from ship steel to steam valves. Established shipyards with decades-long experience in naval shipbuilding constituted the core of private-sector warship construction. The narrative begins with discussions and relevant examples of facilities improvements following the Neutrality Act of November 1939. Table 5.1 provides data on Navy investments of nearly $230 million in 49 private shipyards. The layouts of shipyards illustrate construction specializations and limitations. Topics covered include managers and workers, apprenticeship programs, industrial relations, design and subcontracting examples (cruiser and carrier construction), and prefabrication and modular construction. The latter was significant for American and British escorts and German submarines were built in serial formats; for example, the Buckley design produced the largest number of destroyer escorts with 154 units completed by nine builders. Patrol frigates of the Tacoma class were built in nine yards primarily in the American Midwest, but purchasing and distributing material for all builders was centralized with Kaiser Cargo in Oakland, CA, however, lift crane capacities for moving prefabricated units in the Midwest, rail transportation limitations, and serious quality problems hampered construction. Comparisons with British Admiralty reliance on merchant yards for Loch-class frigates, and German and Japanese naval construction policies and practices show that U.S. shipyards relied extensively on subcontractors and suppliers of subsystems — these formats were not unique to naval shipbuilding or military aircraft production.
"Conclusion"
Warship Building, Batch Production, and the U.S. Industrial Economy (pp. 227-233). Heinrich's final essay summarizes the major points made in previous chapters and provides additional, insights. He documents the industrial underpinnings of American sea power, and characterizes key features of naval shipbuilding before and during World War II. Heavy combatants like battleships, fleet carriers, and cruisers were usually built in small batches, in the most extreme case battleships of the Iowa class, only four of which were actually completed. Destroyers, destroyer escorts, and submarines were constructed in larger numbers, but design freezes were rare. Tank landing ships (LSTs), more than eight hundred of which had been delivered by 1944, were built with only slight variations within each class.
A key element for America's shipbuilding success is that batch formats involved a high degree of production flexibility in workshops and on slipways to accommodate design changes and combatants of various types. Most shipyards featured general-purpose facilities and shop floor equipment suitable for a range of projects but flexible specialization was evident in most yards and there was a heavy reliance on skilled and well-trained labor. An example is assembling, testing, and installing the fire-control apparatus of the ships' guns. Unlike the cookie-cutter "Liberty" ship builders, Navy welders often underwent training in advanced techniques. In addition, by World War II, the builders' procurement networks extended across the country, with East Coast naval builders relying on specialty suppliers located as far away as California. Batch formats, flexible specialization, extensive use of skilled labor, and subcontracting were common among naval builders in the United States, Britain, Japan, and Germany, but comparisons reveal that American warship building enjoyed a multitude of advantages over its foreign counterparts. Heinrich elaborates four advantages: specialization, federal investment, experimentation, and better organization. Notably, Americans avoided radical departures from established shipbuilding practice during the war. He also explains why mass production was unlike Henry Ford's automotive assembly lines and dissimilar to the Kaiser shipbuilding yards. Lastly, he provides evidence supporting the case for a revisionist interpretation of American industrial mobilization to include batch formats, but it also adds important caveats. As historian Philip Scranton has observed, "Batch and custom efforts intersected with bulk manufacturing at virtually every step in the creation of the nation's transportation, power, and communications systems."
Heinrich has written a highly significant military and business history on World War II naval shipbuilding.
Each chapter revisits interpretive questions raised by historians of industrial mobilization: How did prewar developments shape the American war economy? Were the armed services instigators of technological innovation or mere beneficiaries of civilian initiatives, as some scholars have argued? What was the role of the state in industrial mobilization? (p. 2). He cogently provides careful responses to these queries. My only caveat: I would have wished for more information on U.S. submarine builders and their production data (Chapters 4 and 5).
Final Comment: Readers should recall that "Liberty" ships were NOT naval ships but commercial merchant vessels; there were mentioned only three times in the narrative as being fabricated sometimes along with Navy ships in private and corporately-owned facilities such as the Kaiser shipyards. The following sources, alphabetically listed by author, provide the readers of this review with the more significant sources on these ships; several of these books are published by the Naval Institute Press, which published Heinrich's book.
---
David Doyle (2020) Liberty Ships: America's Merchant Marine Transport in World War II (Legends of Warfare: Naval). Atglen, PA: Schiffer Military History.
Peter Elphick (2001 and 2006) Liberty: The Ships that Won the War. Annapolis: Naval Institute Press; London: Chatham.
John Henshaw (2019) Liberty's Provenance: The Evolution of the Liberty Ship from its Sunderland Origins. Annapolis: Naval Institute Press; Barnsley, Yorkshire: Seaforth Publishing; Havertown, PA: Pen & Sword Books Ltd.
A. H. Hoehling (1990) The Fighting Liberty Ships: A Memoir (Bluejacket Books). Annapolis: Naval Institute Press.
Frederic Chapin Lane (1951 and 2001) Ships for Victory : A History of Shipbuilding under the U.S. Maritime Commission in World War II. Baltimore and London: Johns Hopkins University Press.
Michael Lindberg and Daniel Todd (2004) Anglo-American Shipbuilding in World War II: A Geographical Perspective. Westport, CT: Praeger.
Peter J. Marsh (2021) Liberty Factory: The Untold Story of Henry Kaiser's Oregon Shipyards. Annapolis: Naval Institute Press.
Herman E. Melton (Will Melton, editor) (2017) Liberty's War: An Engineer's Memoir of the Merchant Marine, 1942-1945. Annapolis: Naval Institute Press.
Leonard A. Sawyer and William H. Mitchell (1970) The Liberty Ships: The History of the "Emergency" Type Cargo Ships Constructed in the United States during World War II. Newton Abbott: David and Charles. (1985) 2nd ed. The Liberty Ships: The History of the "Emergency" Type Cargo Ships Constructed in the United States during the Second World War. London: Lloyd's of London Press; San Francisco: The National Ship Memorial, the SS 'Jeremiah O'Brien.'
Greg H. Williams (2014) The Liberty Ships of World War II: A Record of the 2,710 Vessels and Their Builders, Operators and Namesakes, with a History of the Jeremiah O'Brien. Jefferson, NC: McFarland & Company, Inc., Publishers.

---
Warship Builders: An Industrial History of U.S. Naval Shipbuilding, 1922–1945 (Thomas R. Heinrich; Studies in Naval History and Sea Power 9. Annapolis: Naval Institute Press, 2020)
Reviewed by Charles C. Kolb, Ph.D.  Golden Life Member, U. S. Naval Institute
Purchase your copy today! amzn.to/35H468P