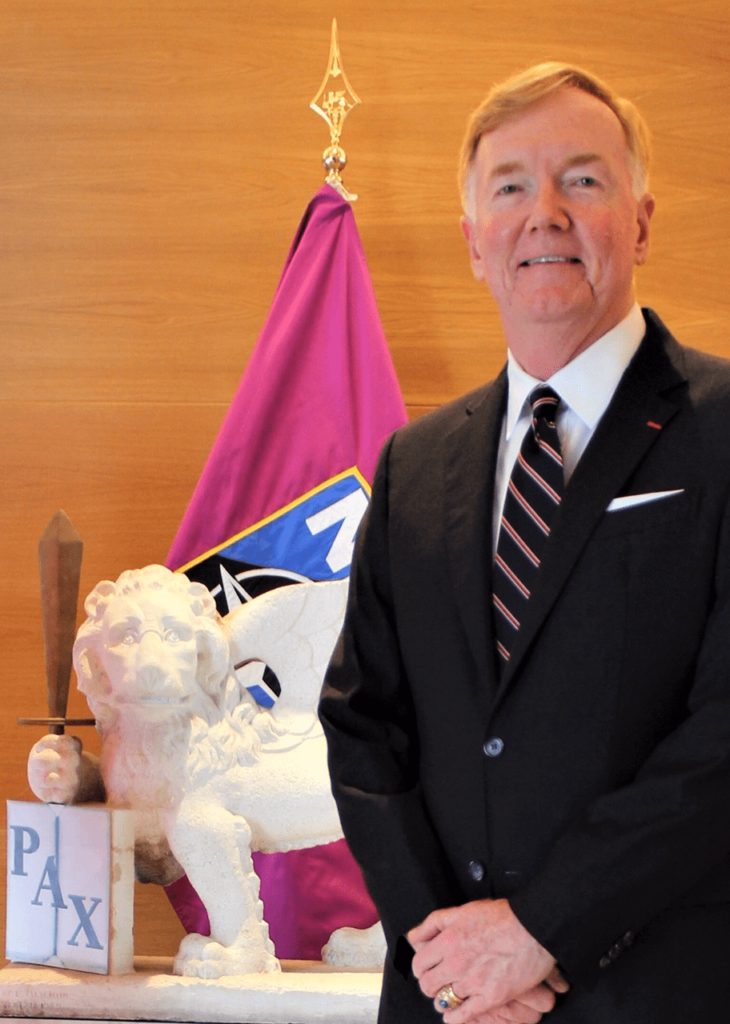 At a December 8th meeting of the NHF Board of Directors, the nominating committee submitted recently retired Admiral James Foggo as a candidate for the Board of Directors. The Board voted unanimously to welcome him on board. Per the foundation's by-laws, Admiral Foggo's nomination will be affirmed by the membership at the annual meeting of the NHF tentatively scheduled for June 12, 2021.
As the foundation's newest Director Foggo brings a strong academic as well as operational background to an organization that will celebrate its 95th birthday next March. A 1981 graduate of the U.S. Naval Academy, he went on to become an Olmsted Scholar and Moreau Scholar, earning a Master of Public Administration at Harvard University and a Diplome d'Etudes Approfondies in Defense and Strategic Studies from the University of Strasbourg, France.
Operationally, he commanded the attack submarine, USS Oklahoma City (SSN 723) in 1998, which was awarded the Submarine Squadron (SUBRON) 8 Battle Efficiency award and the Commander Fleet Forces Command Admiral Arleigh Burke Fleet Trophy for being the most improved ship in the Atlantic Fleet. Foggo served as Commodore of SUBRON-6 in 2007.
Over the last decade in Naples, Italy, he served in multiple major commands as Commander, Naval Forces Europe/Africa; Commander Allied Joint Force Command, Naples; Commander, U.S. Sixth Fleet; Commander, Submarine Group 8; and Commander, Submarines, Allied Naval Forces South. During this period, he also served as the Operations Officer (J-3) for Joint Task Force Odyssey Dawn (Libya). Additionally, Foggo was a NATO Task Force commander in Joint Task Force Unified Protector (Libya). In 2018, he commanded Exercise Trident Juncture (Arctic Circle), the largest NATO exercise since the Cold War with over 50,000 personnel.
Ashore, he has served in a variety of assignments, most notably as Executive Assistant to the Director of Naval Nuclear Propulsion (NAVSEA 08); Executive Assistant to Chairman of the Joint Chiefs of Staff; Executive Officer to the Supreme Allied Commander Europe (SACEUR) and Commander, European Command (EUCOM); and Director, Navy Staff.
His service to his nation and navy has been recognized with awards including the Defense Distinguished Service Medal, Distinguished Service Medal, Defense Superior Service Medal, Legion of Merit and NATO Meritorious Service Medal. In addition, he was awarded the 1995 Adm. Charles A. Lockwood Award for Submarine Professional Excellence and the State of Oklahoma Distinguished Service award by the adjutant general. In 2006, he was awarded the Chevalier de l'Ordre National de Merité and in 2017 he was awarded the Legion d'Honneur by the French Government. In 2020, he was awarded the Canadian Meritorious Service Cross, Commander of the Order of Merit of Italy, and Commander of the Cross of Saint George from Portugal.
In addition to serving the NHF as a new Director, Foggo is also a member of the Council on Foreign Relations and the Explorer's Club of New York and has served on Advisory Boards to the Naval Submarine League, Olmsted Foundation Board, U. S. Naval Institute Board and is currently an active member of the Marine Corps University Editorial Board in Quantico, VA.
Welcome aboard Admiral!