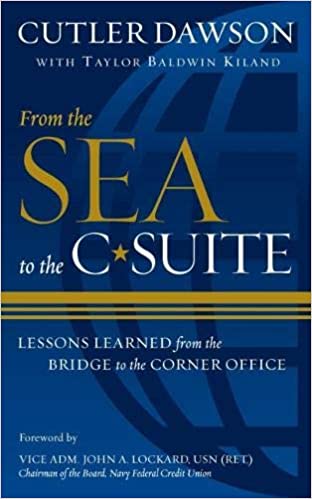 Reviewed by LTC Trey Guy, USA.
From the Sea to C Suite: Lessons Learned from the Bridge to the Corner Office is the first book from Cutler Dawson, a retired Navy Vice Admiral and former Navy Federal Credit Union (NFCU) CEO. His co-author, Taylor Kiland, has authored, co-authored, ghost-written, or edited a number of military non-fiction books. This book takes a more informal approach to leadership, and is directed to a general reader rather than a business executive. It relies heavily on Dawson's recollection of his experiences to illustrate a number of personal leadership lessons. Each of chapter relates an event from his military career, followed by a similar event related to his civilian executive career. Dawson highlights the common theme of most leadership books that leaders share common qualities, whether they are in charge of military organizations or business organizations.  
The personal stories that Dawson shares emphasize the "human" aspect of leadership that is integral to empathic leadership. Dawson never defines leadership in a succinct way, but with each chapter of the book gives the reader a peek into what made him a leader over the years in the Navy and furthermore how he related those experiences to his time as the CEO of NFCU. If I were to surmise Dawson's thoughts related in each chapter to providing empathetic leadership it is that leaders should go to where the action is, to the deckplates as chapter two is titled, and be involved in the lives of those they lead. In applying the examples that Dawson provides, leaders can help to change the culture of the military unit or civilian organization that they are a part of rather than just the climate. This will help those that they lead to use the leader's success as a springboard for even greater achievements than those of the leader.
The book, at 132 pages (including appendices) and 11 chapters, provides an overarching "road map" into leadership and empathetic leadership through various sea stories. In doing so it allows the thoughtful reader to take notes on certain attributes that he or she may want to research and study further for personal edification. This is not a critique on Dawson, only to say that this book may help other leaders in and out of the military to ask questions of themselves and as such require further reading on empathy, direct level leadership, being a change agent in your organization, or many other topics.
This is a very useful book for executive leaders of civilian organizations that work with and for the military as it opens some insights into the way senior military officers approach their responsibilities. Additionally, this book may help bridge the generation gap between senior officers/leaders (Gen X) and the junior officers (Millennials/Gen Z) in building a culture of trust and understanding.
---
From the Sea to the C Suite: Lessons Learned from the Bridge to the Corner Office, by Cutler Dawson with Taylor Baldwin Kiland.  Naval Institute Press, 2019. 132 pp. 
Reviewed by LTC Trey Guy, USA (Military Faculty, Joint Forces Staff College)
Purchase your copy today! amzn.to/3ndfaAQ