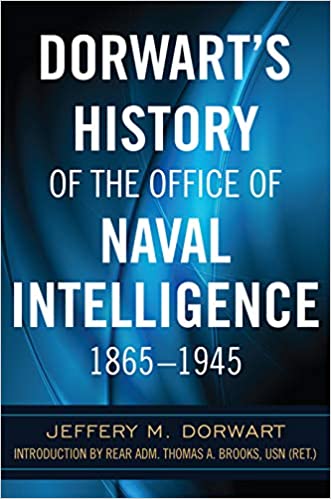 Reviewed by William A. Taylor, Ph.D.
In Dorwart's History of the Office of Naval Intelligence, 1865–1945, Jeffery M. Dorwart, professor emeritus of history at Rutgers University, has provided the most complete yet highly concise history of the Office of Naval Intelligence (ONI) available. A consolidation of two of Dorwart's excellent earlier works, The Office of Naval Intelligence (1979) and Conflict of Duty (1983), the current volume provides a handy single volume that will likely become the standard work on this topic for years to come. The Office of Naval Intelligence was the earliest organized intelligence agency in the United States. The secretary of the navy established ONI in 1882, and Congress subsequently chartered and funded it in 1899. The office initially focused on enemy warship design but gradually expanded into broader intelligence, both foreign and domestic. Its domestic endeavors targeted supposed spies, saboteurs, and even antiwar activists but led to highly questionable and often illegal methods, including wiretapping and even breaking and entering. Its international efforts quickly transcended warship design to more expansive intelligence, assessing intentions and capabilities of adversaries and allies alike. Dorwart's book reveals the haphazard maturation of naval intelligence from its ad hoc organization to its worldwide reach and increased sophistication by the end of World War II. Students, scholars, and general readers interested in naval intelligence, as well as analysts and members of the intelligence community, will greatly profit from reading it.
The author's purpose, which he admirably achieves, is to shed light on naval intelligence generally and ONI specifically. Most of the literature on U.S. intelligence focuses on the creation of the Central Intelligence Agency (CIA) through the National Security Act of 1947 and subsequent amendments and the CIA's ensuing intelligence activities and evolution as an agency. Through his extensive work, now combined into one convenient book, Dorwart achieves his goal and much more, revealing cogent insights about how ONI influenced American history as a whole. He therefore provides an instructive precedent to what would follow as the intelligence community evolved. The central theme throughout Dorwart's work is what he terms a dilemma wherein ONI had to gather robust intelligence on foreign navies while also providing internal security regarding naval affairs. These two threads constantly pulled at one another, in many ways hampering the overall effort.
This volume is deeply researched with an exhaustive array of sources. Dorwart's study is rigorous, meticulous, and impressive. He employs a wide range of declassified archival material from repositories across the country, including the National Archives, Library of Congress, Franklin D. Roosevelt Library, Naval War College, Washington Navy Yard, New York State Library, and Smithsonian Institution, among many others. The author uses a wide array of official records, intelligence reports, newspaper articles, oral histories, government memoranda, congressional hearings, individual letters, professional magazines, military periodicals, and personal papers. While centrally grounded on primary sources, Dorwart skillfully contextualizes them with a host of relevant academic books and scholarly journals. Overall, the author uses these robust materials to uncover a myriad of vital factors in ONI's development, including bureaucracy, technology, politics, society, war, and peace, admirably using exquisite detail to paint informed broad strokes. This book is a vivid story that outlines the institutional history of ONI but does so through the lived experiences of people involved in a myriad of intriguing roles, ranging from naval officers collecting information on maritime capabilities to undercover agents stealing code books and seemingly everything in between.
The book follows a chronological methodology and begins with a beneficial introduction by Rear Admiral Thomas A. Brooks, USN (Ret.), director of naval intelligence from 1988 to 1991, that provides useful context and nicely situates Dorwart's extensive work within the broader milieu of naval intelligence. Dorwart organizes his work into three parts, comprising 36 chapters total. Chronologically, Part I covers from 1865 to 1918, Part II spans from 1919 to 1938, and Part III reports from 1939 to 1945, together charting the staggering evolution of ONI over a period of roughly eight decades. Throughout these chapters, he reveals the work of an extensive bureaucracy based in Washington, DC, complemented by a worldwide network of naval attachés, liaison officers, and undercover agents, including many naval officers who would rise to prominence such as Chester Nimitz, William "Bill" Halsey, and Hyman Rickover and civilians who were already famous, most notably Vincent Astor. As a result, Dorwart provides a balanced and objective account, highlighting successes while revealing failures and portraying opportunities while acknowledging shortcomings.
Dorwart's History of the Office of Naval Intelligence, 1865–1945 is an excellent contribution to an informed understanding of naval intelligence, including its promises, challenges, and evolutions as it morphed from a haphazard approach often delving into domestic matters to a highly effective endeavor focused on international security. This story is an important one, and Dorwart has told it in a captivating, thorough, and accessible manner. This book is highly recommended to sailors, scholars, analysts, and the broader intelligence community.
---
Jeffery M. Dorwart, Dorwart's History of the Office of Naval Intelligence, 1865–1945. Annapolis, MD: Naval Institute Press, 2019. Pp. 400. ISBN 978–1–68247–391–7.
Reviewed by William A. Taylor, Ph.D., Lee Drain Endowed University Professorship, Angelo State University (william.taylor@angelo.edu).
Purchase your copy today! amzn.to/2IRtnop