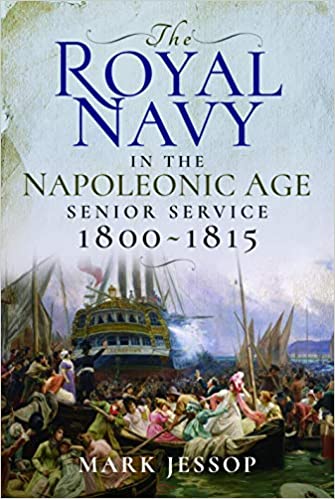 Reviewed by Dr. John R. Satterfield.
Maritime historians divide their discipline into eras, and the Age of Sail is undoubtedly studied most widely. Sailing ships dominated trade and naval warfare for about three centuries, from the Battle of Lepanto in 1571, the last large engagement involving rowed galleys to the Battle of Hampton Roads in 1862, when the armored steam vessels USS Monitor and CSS Virginia squared off. In much of this same period, no naval service figured more prominently than the Royal Navy, larger, more powerful and more heavily and widely engaged than any other. Designated during the reign of Henry VIII, the RN successfully defended Great Britain and later the United Kingdom from invasion threats, facilitated colonization and protected burgeoning trade in its expanding global empire.
Arguably, the apogee of British naval power was the 22 years of the French Revolutionary and Napoleonic wars, from 1793 to 1815. This period is the subject of Mark Jessop's somewhat unique history, The Royal Navy in the Napoleonic Age, companion volume to The Royal Navy 1793 – 1800: Birth of a Superpower, published in early 2019.
Jessop, an RN veteran during the Falklands War, who became a teacher and writer, has presented this rich history in novelized form. The book (180 pages with extensive source list and index) is so brief (a common publishing requirement these days) that this method, with entirely fictional introductions and conclusions framing historical essays may have been necessary to remain within acceptable length limits. However, its effectiveness, used in the earlier volume as well, is open to question, and in this reader's case creates moderate ambivalence about its content and coherence, despite copious footnotes with source references. The author offers nine episodic chapters covering the Baltic campaign and the Battle of Copenhagen; Parliamentary investigations of corruption in naval procurement and personnel practices that was rampant in the early 19th century; naval blockade and the Battle of Trafalgar; enforcement of slave trade abolition; navigation hazards, storms, and shipwrecks; manpower problems, impressment and conflict with the U.S.; technological advances and the War of 1812; and Napoleon's defeat and exile, rising professionalism, and the advent of steam power.
To his credit, Jessop touches on several issues not ordinarily considered in more comprehensive histories, and this small volume may foment interest in larger, more formal and developed histories, of which there are many to read.
---
Mark Jessop. The Royal Navy in the Napoleonic Age: Senior Service 1800 – 1815. Pen & Sword History, Philadelphia (2019 (Hardbound)
Reviewed by Dr. John R. Satterfield. Dr. Satterfield teaches military history and business.  He served as an ASW intelligence officer in a USNR maritime patrol squadron.  He recently contributed to From Across the Sea: North Americans in Nelson's Navy, available from Helion & Company, Warwick, UK.   
Purchase your copy today! amzn.to/3gryqXy