By Kyle Nappi
Sporting a brown jacket and a light checkered dress shirt, the bespectacled grey-haired gentleman shuffled several books and photos while seated in his electric wheelchair. Then sixteen years old, I approached the fellow Buckeye State resident who, at ninety-one years of age, spoke rather succinctly but with the trademark gruff of a retired U.S. Air Force Brigadier General. Following our exchange, the frail warrior gave me a firm handshake and faint smile as I departed.
It was not lost on me that I had just met one of the most consequential military figures whose wartime exploits ignited a combustible debate on morality and proportionality in times of war. Lionized by some and demonized by others, then-Colonel Paul Tibbets commanded the 509th Composite Group of the United States Army Air Forces (USAFF) and piloted the B-29 aircraft – dubbed the 'Enola Gay' – that dropped the atomic bomb over Hiroshima, Japan on August 6, 1945. Today, as the world observes the semi-sesquicentennial of the birth of nuclear warfare, I think back to my fleeting encounter nearly fourteen years ago with the late lifelong aviator.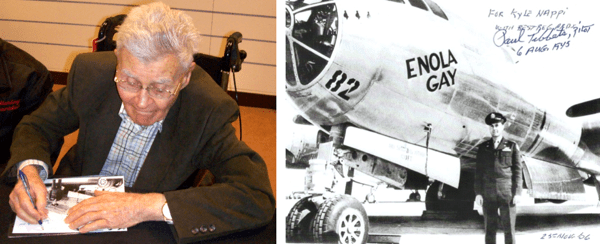 At the time of my chance meeting with Tibbets, I had interviewed more than 800 American World War II combatants in person, over the phone, via email, or hand-written correspondence. My quest subsequently grew to an international scale and even caught the attention of the BBC radio as well as leaders in the Pentagon. Over the span of a decade, I tallied nearly 4,500 individual testimonials from the victors and the vanquished of the former Allied and Axis Powers. Of particular interest were the dichotomies I noted from the once warring opponents, now in their twilight years.
Indeed, today is a poignant occasion to amplify the elder voices of American and Japanese warriors who recounted to me their respective connection to the voluminously chronicled and hotly contested atomic bombing of Hiroshima. Sadly, all of my subjects featured below have since passed away, an unavoidable eventuality. As one contributor to the National World War II Museum wrote in 2017, "one of the downsides to calling 85-to 95-year-old [veterans] your friends is watching them all fade way before your eyes."
While the USAAF delivered the devastating blow to Hiroshima on August 6 (and later to Nagasaki), one cannot overlook the invaluable contribution of the U.S. Navy weeks earlier. On July 16, 1945 – the day of the Trinity atomic weapon test in the barren New Mexico desert – the USS Indianapolis departed San Francisco on a mission of the utmost importance. "We knew we had a very highly classified container and a very fast departure," recalled South Dakota native Edward Brown, a seaman first class onboard the USS Indianapolis. "We did not know that we were carrying the bomb."


As she traveled at flank speed for the island of Tinian in the northwestern Pacific Ocean, the ten-time decorated U.S. Navy heavy cruiser transported assembly components of the atomic bomb later dropped on Hiroshima. Upon arrival to Tinian on July 26, the crew quickly offloaded the mysterious cargo without need or time to venture ashore. "I was operating the aviation crane when we lowed the atom bomb," Brown shared with me.
Afterwards, the USS Indianapolis carried on to Guam and subsequently charted course for the Philippines. En route, a Japanese submarine torpedoed the USS Indianapolis shortly after midnight on July 30. Within twelve minutes, the heavy cruiser sank with more than 300 of her 1,195-person crew. To make matters worse, the USS Indianapolis did not dispatch a distress signal in her last moments. Consequently, Brown and his surviving shipmates became stranded for five hellish days in shark-infested waters.
Admittedly, I first learned of this horrifying ordeal when I watched Steven Spielberg's 1975 blockbuster Jaws. In perhaps the film's most iconic scene, a crusty fishing boat captain dramatically recounts to his captivated audience the final moments of the ill-fated heavy cruiser and the ensuing struggle for survival. While the tragedy of the USS Indianapolis became popularized thanks to Spielberg, Brown shared his own close encounters. "Many sharks circled us all the time. I had one that swam through my legs at one point." Afloat with only the safety of a kapok life jacket, "I started to sing Bing Crosby's tune 'give me land, lots of land, but don't fence me in,'" Brown remembered.
Several of Brown's shipmates also recounted to me their own chilling moments as they bobbed helplessly at sea. Utah native and coxswain Woodie James wrote that the sharks he often observed were "close enough to touch." Seaman first class Lyle Umenhoffer of California added "I saw sharks every day. They were so close that I could kick them and I did." Shockingly, Washington State native and boatswain's mate second class Eugene Morgan shared "one took half my shorts." Meanwhile, fire controlman third class Paul Murphy of Missouri jokingly mused "sharks don't like Irishmen." Despite his levity, Murphy added "some swam under me and bumped my legs…too close."

Ultimately, the U.S. Navy recovered only 316 survivors from the ship's 1,195-person crew. Empty life jackets and life rafts were also discovered, eerily drifting and without signs of life. In spite of his harrowing ordeal decades earlier, Murphy proudly reflected "I was involved in delivering the bomb components to Tinian." From this thirty-nine square mile tropical island, the secretive cargo underwent assembly at USAAF's North Field. A bustling military installation with hundreds of aircraft and thousands of airmen and support troops, Tinian's North Field held the distinction as one of the world's busiest airfields in 1945. It also served as the launching point for the two atomic bomb missions to Japan.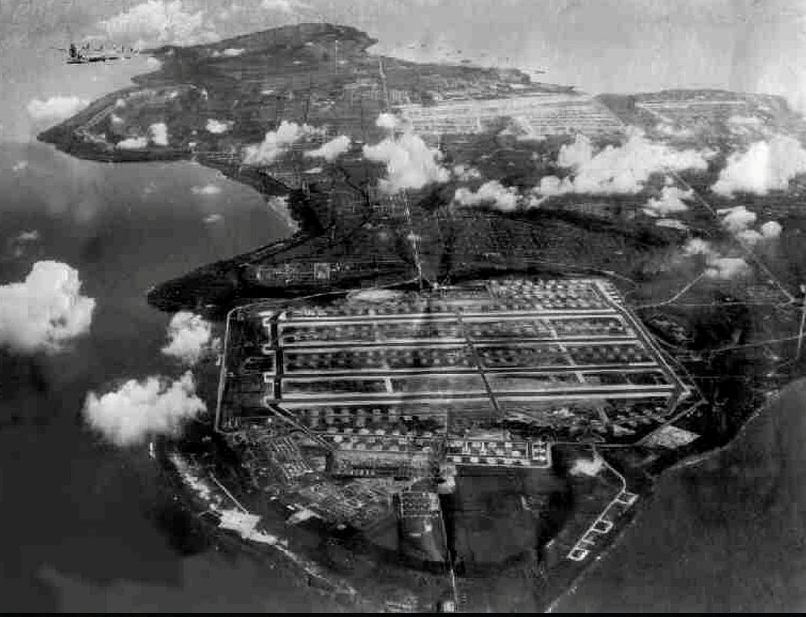 Though mountainous research and scrutiny forever trails the saga of the atomic missions, Utah native and USAAF Second Lieutenant Morris 'Dick' Jeppson explained, "we did not know at my level in the operation the long range implications of the use of a super powerful weapon." A student of USAAF electronics and radar schools at Yale, Harvard, and MIT, Jeppson arrived to Tinian in 1945 with more knowledge than most of the cargo ferried by the USS Indianapolis. Yet, Jeppson admitted, "the fusing system and the bomb itself were still experimental and were rushed into combat." Nonetheless, the promising lethality of the atomic bomb beat the alternative option.
In the spring of 1945, Allied war planners devised a massive multi-domain invasion of Japan's Kyushu and Honshu home islands. Indeed, the lessons and memory of the battles of Iwo Jima and Okinawa only underscored the new herculean task in which estimative Allied casualties ranged between half a million to one million dead or wounded. "In my personal belief," Jeppson opined to me, "after reading Japanese and US formerly classified records…I think the reason President Truman made his decision to use the atomic weapons was [because] he and possibly his advisors may have feared that the upcoming invasion might have failed and he would have on his watch a Dunkirk situation!"Jeppson's assertion suggests the possibility of a large-scale evacuation of combat forces analogous to the British retreat from France in 1940 branded by Prime Minister Winston Churchill as a colossal military disaster. "Our hope," Jeppson shared, "was that this unusual weapon might prevent the need for the planned invasion."
On August 6, 1945, Jeppson flew his first and only combat mission of World War II. Accompanying the crew onboard the 'Enola Gay' an as assistant weaponeer, Jeppson performed an in flight arming function of the atomic weapon before the aircraft reached bombing altitude. "My last responsibility," he wrote, "was to climb into the bomb bay and remove three green electrical plugs that had enabled testing of the bomb fusing, and replace them with red coded plugs. This allowed a detonation voltage to go from fusing to the explosive that fired a projectile of U235 into a target of U235 when the bomb reached a point about 1500 feet above Hiroshima." Ultimately, these actions made Jeppson the last person to handle the atomic bomb before it was dropped.

Two additional USAAF B-29 aircraft accompanied the 'Enola Gay' in formation to Hiroshima: 'The Great Artiste' as the observation/instrument aircraft and the 'Necessary Evil' as the photographic aircraft. Pennsylvania native and USAAF Second Lieutenant Russell Gackenbach served as navigator onboard the later. "We were four minutes behind the Enola Gay," he recalled to me. "The city was visible."
After falling for forty-three seconds from an altitude of more than 30,000 feet, "the bomb exploded about twelve miles in front of us," Gackenbach described. "It was very bright. I could have read a fine-print Bible with my dark glasses on." About a minute after the bomb's detonation, Gackenbach grabbed his personal Agfa PB20 folding camera and snapped two pictures. "The explosion lasted less than a second but the mushroom cloud could still be seen when we were 200 miles away."

Like the unsuspecting Japanese, many USAAF aircrews at Tinian were unaware of the exact nature of the new weapon. "No one at the time was to know that this was an atomic bomb!" recalled Jeppson. Likewise, Gackenbach remembered that he did not discover the weapon was indeed an atomic bomb "until debriefing after the mission." Later that day, U.S. President Harry Truman took to the radio and announced to the world an official statement of the mission: "Sixteen hours ago an American airplane dropped one bomb on Hiroshima…It is an atomic bomb." Imperial Japanese Army private Nobuaki Iwatake remembered this moment while stationed on Chichijima, a mountainous crag some 600 miles southeast of the Japanese mainland. "[I] happened to be monitoring enemy radio broadcasts when the bomb dropped," he shared. "The news said Hiroshima was completely destroyed…luckily my family in Hiroshima survived."
Born and raised on the Hawaiian island of Maui, Iwatake lived with his parents and five younger siblings. Tragedy hit as Iwatake's father drowned on a fishing trip off the island's coastline. The penniless family subsequently moved to Hiroshima for the financial support offered by Iwatake's uncle. Iwatake, on the other hand, remained on Maui until his high school graduation in the spring of 1941. Shortly thereafter, Iwatake reunited with his family in Hiroshima. Had he stayed in Hawaii, perhaps Iwatake might have fought with the U.S. military. "I had friends and classmates in the 442nd [Infantry Regiment] which served in Europe and was the most decorated unit during World War II," he shared with me.
Conscripted into the Imperial Japanese Army in 1943, Iwatake's fluency of English earned him the role of a radio communications interceptor. Later, an American submarine attack upon a troop convoy inadvertently rerouted Iwatake from duty on Iwo Jima to nearby Chichijima. There, in September 1944, Iwatake witnessed the dramatic shoot down of U.S. naval aviator – and future U.S. President – George H.W. Bush. "I am one of the few," Iwatake noted, "who saw [Bush's] rescue by the submarine [the USS] Finback," perhaps best chronicled in James Bradley's bestseller Flyboys: A True Story of Courage.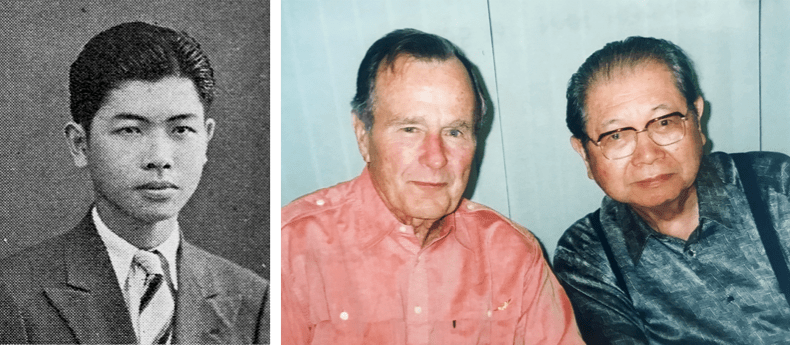 Upon returning to Hiroshima shortly after the war, Iwatake learned that his thirteen-year-old American-born brother perished in the attack on August 6. "He was in his classroom in middle school when the bomb dropped. His school happened to be right near the center of the explosion. We could find no trace of him."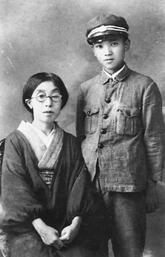 Despite the terrific destruction that reigned down upon Hiroshima on August 6, Imperial Japan's leaders did not capitulate. Three days later, in the early morning hours of August 9, the Soviet Union declared war against Imperial Japan (a stipulation with roots to the Yalta Conference of February 1945). Later that day, the U.S. dropped a second atomic bomb, this time over Nagasaki. As their cities smoldered, Imperial Japan's military conscriptions continued unabated. Among those last-ditch draftees was Yoshiro Yazawa, then seventeen years old.
"On August 13, 1945, I was suddenly given a draft paper from the Kantō-gun [or, 'Kwantung Army']," he reflected. Born in Tokyo, Yazawa's family lived in Japanese-occupied Manchuria where his father managed technical activities within the puppet-state government. Upon receiving his conscription notice, Yazawa embarked upon a series of train rides to join his assigned unit in Mukden (present-day Shenyang, China). "I felt proud to be able to do my duty as a Japanese citizen," he explained to me.
At high noon on August 15, Japanese Emperor Hirohito addressed the nation by means of a four-minute radio broadcast. While the Emperor cryptically alluded to the acceptance of the Allies' Potsdam Declaration, he made no explicit reference to surrender. For some, fatal circumstances ensued. "Although the war was over by August 15," Yazawa reflected, "we did not receive any news." Instead, Yazawa and his fellow draftees continued their journey by rail and witnessed an atmosphere of chaos.
"In many places in Manchuria there were riots. We were lucky to be armed, but the riots got worse and the Japanese became the target." After reaching their destination, Yazawa and his troops disembarked and continued on foot at night. "We didn't really know where we were going." A stray bullet then hit Yazawa's arm. "In spite of the injury I marched on but we were suddenly surrounded by Soviet tanks and [we] surrendered." Subsequently hauled to eastern Uzbekistan, Yazawa wrote "the Soviets used us for forced labor for the next three years." One can only ponder Yazawa's fate if his conscription notice arrived just two days later.
To complement the many elder voices who reminisced of these fateful fays in 1945, I also retraced some of the sites of associated with the atomic bomb missions. In 2012, I toured Tinian (among other Pacific battlefields) thanks to an academic program sponsored by The Greatest Generations Foundation and the history department of my alma mater, The Ohio State University. An opportunity unlike any other for us students and professors, the ability to walk these now-tranquil killing grounds was a catharsis for our elder travel companions: a dozen surprisingly active, sharp minded, and humorously good natured octogenarians who fought as teenagers with the U.S. Navy and Marine Corps during World War II.
As our intergenerational entourage explored North Field, we gazed upon sites often referenced within history books: Runway Able, where the 'Enola Gay' departed for its historic mission, and two glass-encased bomb pits, where the atomic weapons – euphemistically dubbed 'Little Boy' and 'Fat Man' – were loaded into the strike aircraft with the aid of a hydraulic lift. Now, these fabled sites are abandoned, crumbling, overtaken by brush, and seemingly lost to time under the humid tropical sun. Like the passage of time that rendered these once active sites into a state of obscurity, also fading under life's eternal metronome are the war's firsthand witnesses. Least we forget seventy-five years hence the day the sun rose twice.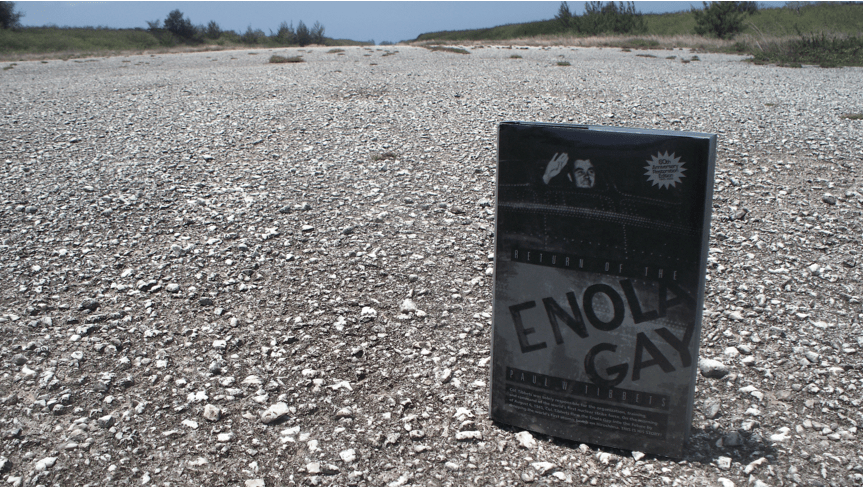 About The Author: Kyle Nappi is an Associate at Booz Allen Hamilton, a Fortune 500 management-consulting firm in the Washington, D.C. metro area. In April and July 2020, NHF featured Mr. Nappi's "Die letzten Wölfe: Veterans of the Kriegsmarine's U-Boat Force" and "Divine Wind: Reflections From Two Kamikaze Veterans" essays in Thursday Tidings, respectively. Mr. Nappi is also a recipient of the NHF's Volunteer of the Year award for efforts to return photographs and memorabilia seized on the island of Saipan to families of fallen World War II Japanese combatants.

This article was prepared by the author in his personal capacity. The views and opinions expressed in this article are those of the author and do not necessarily reflect the official policy, opinion, or position of their employer.
---
Sources and Image Credits
Brown, Edward, Letter and photos to Kyle Nappi, Santa Maria, CA, 31 January 2009.
"Chapter XIII: 'Downfall' The plan for the invasion of Japan," U.S. Army Center of Military History, accessed July 2020, history.army.mil/books/wwii/MacArthur%20Reports/MacArthur%20V1/ch13.htm.
"Countdown to Hiroshima: The bomb that changed the world," BBC Teach, accessed July 2020, www.bbc.co.uk/teach/countdown-to-hiroshima-the-bomb-that-changed-the-world/zkpwrj6.
"Crimea (Yalta) Conference, 1945: entry of Soviet Union into war against Japan," United States Treaties, Law Library of Congress, accessed July 2020, www.loc.gov/law/help/us-treaties/bevans/m-ust000003-1022.pdf.
Hulver, James, "A Grave Misfortune: The USS Indianapolis Tragedy," Naval History and Heritage Command, Washington, D.C., 2018.
Gackenbach, Russell, Letter and photos to Kyle Nappi, Melbourne, FL, 22 September 2005.
Iwatake, Nobuaki, E-mail message to Kyle Nappi, 23 February 2009.
Iwatake, Nobuaki, E-mail message to Kyle Nappi, 30 May 2011.
James, Woodie, Letter and photos to Kyle Nappi, Salt Lake City, UT, 5 July 2005.
Jeppson, Morris 'Dick,' Letter enclosure and photos to Kyle Nappi, Las Vegas, NV, Originally dated June 2002.
Jeppson, Morris 'Dick,' Letter to Kyle Nappi, Las Vegas, NV, 15 January 2009.
"Little Boy and Fat Man," Atomic Heritage Foundation, 23 July 2014, www.atomicheritage.org/history/little-boy-and-fat-man.
Morgan, Eugene, Letter and photos to Kyle Nappi, Seattle, WA, 8 August 2005.
Murphy, Paul, Letter and photos to Kyle Nappi, Broomfield, CO, 30 September 2005.
Murphy, Paul, E-mail message to Kyle Nappi, 20 May 2011.
Sebag-Montefiore, Hugh, "Dunkirk's darkest day: when the evacuation came close to disaster," The Guardian, last modified July 16, 2017, www.theguardian.com/world/2017/jul/16/dunkirk-darkest-day-29-may-1940-evacuation-came-close-to-disaster.
Paridon, Seth, "'Iron' Mike Mervosh," The National WWII Museum, 6 November 2017, www.nationalww2museum.org/about-us/notes-museum/iron-mike-mervosh.
"Sinking of USS Indianapolis (CA-35): The Saga of a Ship and Its Crew," Naval History and Heritage Command, accessed July 2020, www.history.navy.mil/browse-by-topic/disasters-and-phenomena/indianapolis.html.
"The Yalta Conference, 1945," MILESTONES: 1937–1945, Office of the Historian, Foreign Service Institute, United States Department of State, accessed July 2020, history.state.gov/milestones/1937-1945/yalta-conf.
"Tinian Island," Atomic Heritage Foundation, accessed July 2020, www.atomicheritage.org/location/tinian-island.
"Truman Statement on Hiroshima," Atomic Heritage Foundation, accessed July 2020, www.atomicheritage.org/key-documents/truman-statement-hiroshima.
Umenhoffer, Lyle, Letter and photos to Kyle Nappi, San Gabriel, CA, 3 January 2006.
Yazawa, Yoshiro, Letter and photos to Kyle Nappi (Translated from Japanese), Tokorozawa, Japan, 2 April 2009.