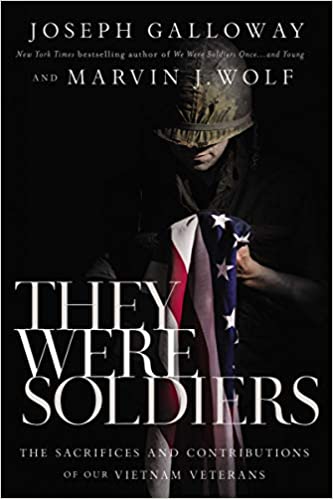 Reviewed by Captain William H. Peerenboom, USN (Ret.)
Many Americans, perhaps including the authors, look back on the Viet Nam war as a misguided and mis managed effort. Not only that, these Americans believe that the disdain for the war  caused those who fought there – ordinary soldiers, sailors, marines and airmen to suffer loss of respect through no fault of their own, since most were sent under conditions beyond their control.
The authors, Joseph Galloway and Marvin J. Wolf are, respectively, a war correspondent and decorated Viet Nam veteran and photojournalist. Galloway is a well-known author whose co-authored works, We Were Soldiers Once—and Young (1992) and We Are Soldiers Still (2008) became movies. Marvin J. Wolf served as an Infantryman in Korea and combat correspondent in Viet Nam. He earned a battlefield commission, the only one awarded in the Viet Nam war. Today he is an author and independent journalist. With both authors having extensive close experience in the war, their goal in this work is to illustrate "the real accomplishments of America's Viet Nam generation."[1] To achieve this they conducted interviews of multiple contacts gained from their extensive wartime experience to bring the lives of their subjects into view. This would show the reader not only their subjects' war experience, but how that affected their lives and what their lives became after the War. This unique book that tells the stories of forty-eight people – some famous, but most just "ordinary Americans." The common thread is Viet Nam. Many – but not all – were soldiers there. All are Americans now, but some began life as citizens of the Republic of Viet Nam. Each tale relates the wonderful contributions these men and women made by their life and work both in and after their service in the war. Each story illustrates a life that combines struggle -in war, mainly – with dedication, hard work and perseverance leading to success.
One of the most beneficial features of the book is that it is really a compilation of short stories making it an easy read. It is an ideal book for the casual reader, enabling it to grant a few minutes of inspiration in the manner of a snack. The writing is easy flowing and brings the stories to life. Some of the lives featured are people most recognize, such as Oliver Stone, and Colin Powell. Others are probably relatively unknown. Their mixture lends a texture to the book that makes it even more interesting.
Among the well-known, each story often begs the question, "Who knew?' For instance, Oliver Stone's initial stay in Viet Nam as a late teenager was teaching French to the children of rich Chinese in a Catholic school in the Cholon district of Saigon. [2] Or that Fred Smith, of FEDEX Fame was once a fraternity brother of both John Kerry and George W. Bush[3]
The notable accomplishments of the lesser known among those featured turn out to be a fascinating feature of the book. Each success is related back to the Viet Nam experience. Two that were impressive to me were Diane Carlson Evans and Hal Kushner. Diane spent much of her post- Viet Nam nursing battlefield experience continuing to serve veterans suffering from then undiagnosed Post Traumatic Stress Disorder. Her efforts in that work, and in seeking proper recognition for women who served in the war ultimately led to the creation and placement of the Viet Nam Women's Memorial.
When we think of Prisoners of War in Viet Nam, we remember pilots. Hal Kushner, an Army flight surgeon, was rare among our POW's . In 1967, Hal was captured by the Viet Cong after a helo crash in South Viet Nam. The VC marched him barefoot to Hanoi. After repatriation in 1973 he pursued his very successful career as an ophthalmologist. He has given many years of eye service to the poor as part of Project Orbis. These doctors perform eye surgery and other treatments overseas in a specially outfitted DC-8 that has three operating rooms. Hal remained with the Army Reserve and retired as a Colonel. [4].
The book is well documented and is a rich mixture of incredibly interesting people whose stories are fascinating, inspirational, and instructive. Joseph Galloway generously gave time to appear in Dr. Dave Winkler's Naval Academy upper division Naval History class on Conducting Oral History. I had the pleasure of "Zooming" in to hear him tell them a few war stories, and about researching and writing the book. He offered wit and wisdom to the midshipmen who clearly enjoyed and benefitted from his words.
In conclusion, I am pleased to recommend They Were Soldiers and say the authors achieved their goal! As a Viet Nam War service-disabled veteran I thank them and applaud their work -Bravo Zulu! The book is available on Amazon in print and electronic form.
---
They Were Soldiers: The Sacrifices and Contributions of Our Vietnam Veterans-Joseph Galloway and Marvin J. Wolf, Nelson Books, Nashville, TN 2020       
Reviewed by Captain William H. Peerenboom, USN (Ret.)
Purchase your copy of They Were Soldiers Today! amzn.to/2O8fXne
Citations:
[1] Joseph Galloway and Marvin J. Wolf,They Were Soldiers, Nelson Books, Nashville, TN 2020 Pg xviii
[2] Ibid., Pg 67.
[3] Ibid,., pg 126
[4] Ibid., pp142-146