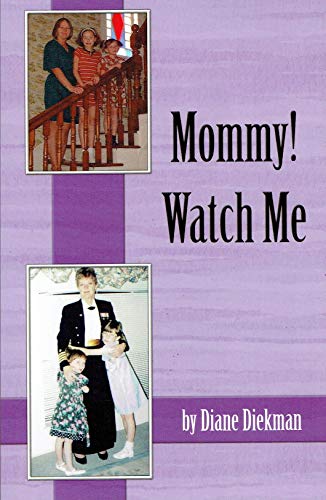 Reviewed by Captain Lee Duckworth, USN (Ret.)
Captain Diane Diekman's latest book, "Mommy!  Watch Me" is the sequel to her 2001 memoir, "Navy Greenshirt:  A Leader Made, Not Born."  I reviewed the latter two years ago and expected her latest book to be similar in content to the previous one.  However, as the title implies, "Mommy!  Watch Me" has a significantly different focus.  This book takes the reader through Diekman's final years in the Navy and her transition to civilian life. 
Well established in her Navy career, the author makes the decision to adopt children, being aware of the difficulties that could lie ahead as she faces balancing her career, bureaucracy (in the Navy and the child adoption system), and becoming a first-time mom as a single parent at age 50—a time in life when many of her contemporaries are experiencing the joy of being a grandparent.
The book's detailed chronological timeline provides the reader with a perspective of the struggles Captain Diekman faced while handling her Navy career, raising two young daughters (ages 8 and 5) and sorting through the legal system that seems to delay her every move toward obtaining foster children and adoption. The title indicates it is all about her two children. Yet, there is plenty of drama surrounding the obstacles she encounters and successes she achieves in the Navy, as well as her personal life, and the concerns with finding time to complete the book she is writing. Her bottom line is: "My priority was these two vulnerable little girls who needed to feel wanted and secure." Diekman is steadfast in that endeavor.
There are two situations in the book that startle the reader. The first is the move with the girls (still foster children) from California to Washington DC and the decision she had in accepting a set of orders that she knew would require considerable travel (both in and out of country). Surprisingly, in this instance, Captain Diekman encounters no obstacles from the California judicial system in moving the girls out of state. The second situation is late in the book when she has to make the decision on placing her oldest daughter in a boarding school. After reading of the abuse her two daughters endured with their birth parents and multiple sets of foster parents, the mental and emotional issues of the girls, extensive counseling sessions, and the growing pains of raising a rebellious teen and pre-teen, the reader is struck with the magnitude of the importance of selection of public high school vs. boarding school.
The daily dilemmas the author faced demonstrate just how difficult it is to raise any child, but are compounded by being a full-time working single mom with no family nearby to assist. I was amazed at her energy level to keep things on an even keel and her ability to seek a balance between being mom, military leader, author, and community volunteer.
I recommend "Mommy! Watch Me" to every parent and to anyone thinking of adopting a child or becoming a foster parent. Some of the myriad questions she poses in her book are: should I seek counseling for my children and family, and how do I handle the birth father when he and his family suddenly reappear in the girls' lives years later? This book will also hit home with every parent who has struggled with how much time to devote to "family" and how much to "me?" The author ponders the thought, "Perhaps I should have played more with the girls, instead of merely being present, but my free time focused on writing." As every parent grapples with parenting decisions, Captain Diekman says, "On a daily basis, I struggled with my lack of parenting experience." It will be especially poignant for military personnel and singles hoping to adopt.
Like me, as you read the final page when the author and two daughters are leaving Washington DC for South Dakota, you will be glad you read this book and hope that she will write one more so we can learn how the family fares in their new environment.
---
Mommy! Watch Me by Diane Diekman. Altruria Publishing, 2020.
Reviewed by Captain Lee Duckworth, USN (Ret.) – Captain Duckworth is a retired naval aviator and for ten years served as Director of Education at the Hampton Roads Naval Museum.
Purchase your copy of Mommy! Watch Me today: amzn.to/2BsMCB8