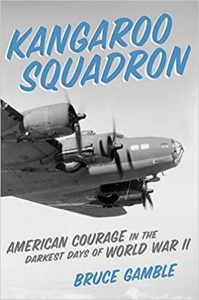 Reviewed by CWO Darien Garland
On December 6th 1941, in the days of celestial navigation, there were flying boats in the sky over the Pacific Ocean, heading towards the Hawaiian island of Oahu. As the sun appeared above the horizon, the pilots of the approaching B-17 Bombers were ready for their island-time crew rest and relaxation on the beach. The air crews could not have imagined what was waiting for them: the Japanese destruction of Pearl Harbor and other U.S. bases on Oahu, the United States thrust into war, nor the impact they would have during the initial months of World War II.
In Kangaroo Squadron: American Courage in the Darkest Days of World War II, Bruce Gamble illuminates the lost story of the B-17 Flying Fortresses and the courageous men who flew them into harm's way. Through the pages of this dark history, the author brings to life the B-17 Flying Fortress as its own character that played a pivotal role in paving the way for America's entrance into the Pacific Theater. 
Representing the biggest display of aerial strength to date, the Flying Fortress was designed as a long-range bomber with a massive wingspan, supercharged radial engines, retractable landing gear, and a streamlined fuselage that in essence locked the Boeing Company into its rightful place in aviation history. This aircraft also employed the firepower of .50 caliber machine guns and twin machine guns in the turret. For many pilots and crewmen, the Flying Fortress would become one of the most revered bombers that ever crossed the sky.
As the pages fly by, the readers will visualize the struggles that the brave crews of the Flying Fortress went through and the courage displayed as they led the way to United States success in the Pacific Theater of War during the opening months of battle. The crews that flew the airborne monstrosity frequently found themselves in aerial dogfights with the much smaller, agile Japanese Zero, putting to the test the durability of the aircraft and the determination of the men aboard.
With his well-researched and descriptive narrative, Gamble successfully recounts the nearly-forgotten stories of the innovators that selflessly flew the B-17 Flying Fortress into the face of danger during countless reconnaissance and long-range bomb missions, as well as rescuing General MacArthur from the Philippians. The members of the Kangaroo Squadron overcame insurmountable odds in the most formidable conditions.  Their legacy and extraordinary heroism when the United States needed them most is a story that begs to be told.
---
Bruce Gamble. Kangaroo Squadron American Courage in the Darkest Days of World War II. New York: Da Capo Press, 2018. 415 pages, $28.
Reviewed by Chief Warrant Officer Darien Garland, who is as of this review serving aboard Marine Corps Air Station Iwakuni, Japan