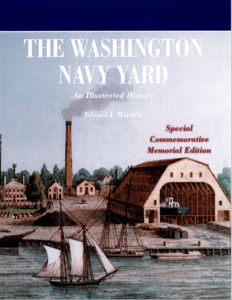 Reviewed by Kenneth J. Blume, Ph.D.
The original edition of this volume was published in 1999 to commemorate the bicentennial of the Washington Navy Yard. This slightly revised edition has been published to honor those workers killed in the infamous September 2013 mass shooting at NAVSEA Building 197.
The main changes in this edition include a new introduction by Admiral Bruce DeMars, USN (Ret), Chairman of the Board. (The introduction in the original edition was written by Rear Admiral Christopher E. Weaver, USN, Commandant Naval District, Washington.) Also new in the 2013 edition is an updated final page that brings the story up to 2013. In addition, the inside back cover lists the names of the workers who were killed in 2013.
For over 200 years, the Yard has had a central role in U.S. naval history, and as result many authors have written about that role. The two standard older works, of course, are Round-Shot to Rockets: A History of the Washington Navy Yard and U.S. Naval Gun Factory, by Taylor Peck (1949) commemorating the sesquicentennial, and Navy-Yard, Washington: History From Organization, 1799 to Present Date, by Henry B. Hibben (1890), a detailed overview of the Yard in the 19th century.
Edward Marolda is not trying to "compete" with those older works, but his book makes its own significant contribution. The book's accessible narrative and remarkable illustrations provide a convenient and useful introduction to, as Marolda says in his Preface, "the U.S. Navy's oldest and most historic base." (xii) In eleven chapters, the book provides a chronological history of the Yard. In effect, the narrative provides a convenient overview that amounts to a capsule summary of all U.S. naval history.
The illustrations are well-reproduced and include a good selection of the people, ships, and physical facilities associated with the Yard over two centuries. The book also includes a convenient bibliography that includes archival and special collections, published books and reports, and articles and unpublished dissertations.
In short, Edward J. Marolda's The Washington Navy Yard: An Illustrated History provides a convenient introduction to the history of the Yard. Anyone interested in the Yard itself or U.S. naval history more generally will enjoy the overview and the illustrations.
---
Edward J. Marolda, The Washington Navy Yard. An Illustrated History, Special Commemorative Memorial Edition. Washington: Naval Historical Foundation, 2013. 112 pp.
Review Dr. Kenneth J. Blume, Ph.D, NHF Member and frequent reviewer.