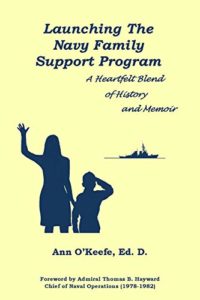 Reviewed by David F. Winkler, Ph.D. Class of 1957 Chair of Naval Heritage, U.S. Naval Academy.
The 1970s were tumultuous years for the U.S. Navy, a transitional period from the war in Vietnam where a draft kept the sea service fully-manned with young single Sailors who readily enlisted in the Navy rather than serve "In Country" with the Army or Marines. With the end of the war and the end of the draft, the traditional manpower spigot was shut off. With the advent of the "All Volunteer Force," the Navy would aim to "professionalize" the enlisted force by making the Navy an attractive long-term career option. The sophistication of weapon and engineering systems also made retention important. Generous enlistment bonuses proved cost effective considering the costs associated with recruiting and training skilled replacements.
The challenge was most young male Sailors desired to marry and have families. This ran counter to a cultural attitude towards spouses that exclaimed "…if the Navy wanted you to have a wife, it would have issued one in your sea bag." For those Sailors who took the matrimonial plunge, the newlywed wives found themselves in a unique arrangement where the man of the house could be away for months at a time. Efforts were made to alleviate the situation through Navy wives Clubs, Ombudsman programs, Chaplain services and support the organizations such as the Navy Relief Society and the Navy League. Recognizing the strain of deployments affected retention, morale, and the quality of life, Adm. Thomas Hayward saw the need to create Family Support Centers – now known as Fleet and Family Support Centers – to provide holistic and comprehensive support for Sailors and their families and brought in Dr. Ann O'Keefe to lead the effort.
In Launching The Navy Family Support Program: A Heartfelt Blend of History and Memoir, Dr. O'Keefe tells of those early days of the program and how it progressed during her six-year tenure as its first director. It's a story that she wanted to tell since 1993 and in this self-published manuscript the reader is informed, often charmed. and yet sometimes frustrated.
As a female operating in a predominately male world, her story is reminiscent of Rear Adm. Grace Hopper who used guile, wit, and intelligence to overcome barriers and achieve her objectives. When she came to the Navy in 1979, her knowledge of "Navy" came from her son who had recently graduated boot camp. Arriving mid-day on her first day at the Washington Navy Yard with its non-existent parking, she grabbed a spot marked "Flag Officer" after noting the flag had been raised and thus the officer responsible for putting the flag up had come and gone. From that inauspicious start, Dr. O'Keefe would immerse herself in the Navy culture and earn the respect of senior leadership. So just who is Dr. Ann O'Keefe? This is where the book is a bit frustrating because the backstory that lead to her appointment of the Navy's Family Support Program isn't clear. Thanks to a short bio in the back of the book and some references in her narrative, we know she grew up outside of St. Louis, earned a B.A. in Psychology from Bryn Mawr College, an M.A. from the University of Maryland, and her doctorate in Education from American University. She got into the Federal Government serving with the Head Start Program. She must have established a reputation as a go-getter to make her a leading candidate to head the Navy program. As such with nominal resources and staffing and cultural barriers to overcome, she succeeded in opening Family Support Centers at the majority of naval facilities during Admiral Hayward's tenure. That objective was critical, not knowing if Hayward's successor, Adm. James Watkins would be as supportive. He would.
O'Keefe's immediate boss, Chief of Naval Personnel Vice Adm. Joe Metcalf, also had her back. During one episode where a budgeteer had zeroed out funding for her and her staff, Metcalf interceded. In another episode where she was to testify on Capitol Hill only to be told not to bother as her program was not going to be funded, she asked to testify and won the day.
Laudatory to those who supported her up the chain of command, O'Keefe saved her most generous praise for those who worked for her. Several of her former colleagues took the effort to write testimonial chapters to discuss aspects of the program from their viewpoint. Though repetitious in some areas, these perspectives offer helpful insights of the challenges facing Sailors and their families during the programs early years up to and including the impact of 9/11.
In producing her narrative and adding a compilation of experiences with the program, Dr. O'Keefe has performed a herculean effort to capture an aspect of naval history that tends to be overlooked. To quote Admiral Hayward who wrote the Foreword: "This book is her story. Read it with anticipation and gratitude. It is a history that cries out to be recorded and preserved."            
---
Launching The Navy Family Support Program: A Heartfelt Blend of History and Memoir, by Ann O'Keefe, Ed.D. Amazon Kindle Direct Publishing, 2019.
Reviewed by David F. Winkler, Ph.D. Class of 1957 Chair of Naval Heritage, U.S. Naval Academy.