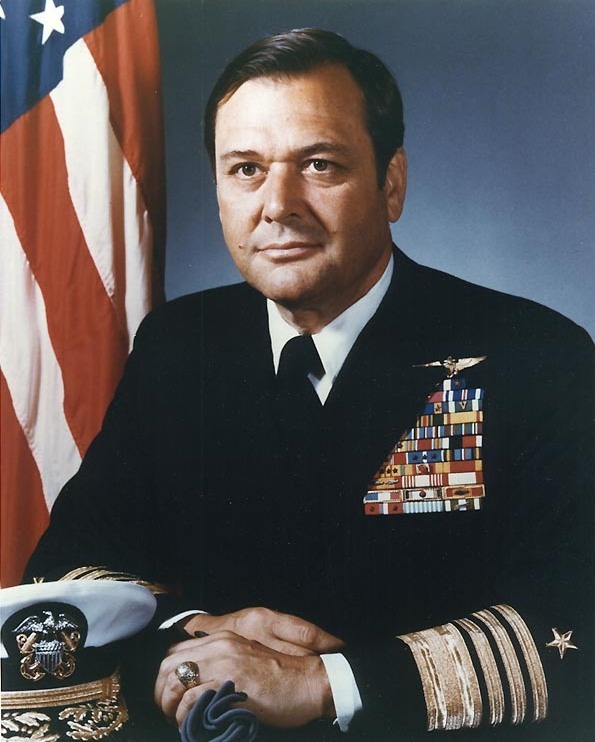 It is with great sadness that the Naval Historical Foundation announces the passing of Admiral James L. Holloway III, the 20th Chief of Naval Operations, a true Navy legend, son of a Four-Star Admiral, and former Chairman of the Naval Historical Foundation. The NHF is humbled to pay homage to this incredible warrior and public servant. Admiral Holloway's life was an inspiration, full of heroic accomplishments and achievements to which many might aspire, but few achieve. Admiral Holloway's life was one of exemplary service, dedication, sacrifice, leadership, and honor.
Admiral Holloway served as the President, and subsequently Chairman, of the Naval Historical Foundation for twenty-eight years from 1980 to 2008, for which he was presented the Distinguished Public Service Medal by the Secretary of the Navy and elected Chairman Emeritus. Admiral Holloway's service to the Foundation followed a storied 36-year career in the United States Navy, during which he served in combat in World War II, Korea, and Vietnam and was appointed as Chief of Naval Operations. His career will forever stand as a shining example of exemplary Naval leadership, dedication, and service to others.
James Lemuel Holloway III was born in Charleston, SC, on February 23, 1922 to James L. Holloway, Jr., and Jean Gordon Hagood. His father was a member of the U.S. Naval Academy Class of 1919, and attained the rank of Admiral, distinguishing them as the only father-son pair in the history of the Navy to achieve that rank during active service.
Admiral Holloway attended Saint James School near Hagerstown, Maryland and upon graduation in 1939, entered the United States Naval Academy, graduating in 1942 as a member of the accelerated Class of 1943 (and where he was a proud member of the wrestling team). He served in both the Atlantic and Pacific theaters during World War II, including North Atlantic convoy duty and in the Western Pacific at Saipan, Tinian, Palau and Leyte Gulf campaigns as gunnery officer of the destroyer USS Bennion (DD-662). During the Battle of Surigao Strait in October 1944, the Bennion was heavily engaged and helped sink the battleship Yamashiro with torpedoes, in addition to shooting down three Japanese aircraft. For his actions during the battle, Admiral Holloway received the Bronze Star Medal, the Navy Commendation Medal, and the Philippine Presidential Unit Citation.

Following World War II, Admiral Holloway reported for flight training and was designated a Naval Aviator. During the Korean War, he flew many combat sorties in the Grumman F9F-2 Panther, earning the Distinguished Flying Cross, three Air Medals and the Korean Presidential Unit Citation. Admiral Holloway was a pioneer in this early era of carrier-based jet aviation and completed two tours in the heavily contested warzone. During one particularly challenging time, the Commanding Officer of his squadron, Fighting Squadron 52, was shot down, and Admiral Holloway abruptly found himself in the leadership role as commander. Shortly after the war, he served as a technical expert in the production of the critically acclaimed movie, The Bridges at Toko-Ri, a film which generated much-needed public awareness of the conflict and the sacrifices made during it.
From 1965 to 1967, he commanded USS Enterprise (CVAN-65), the Navy's first nuclear-powered aircraft carrier. Admiral Holloway was the third Commanding Officer of the ship, but the first to take her into combat. He was subsequently promoted to Rear Admiral and then Vice Admiral in 1970, commanding the U.S. Seventh Fleet through the end of the Vietnam War.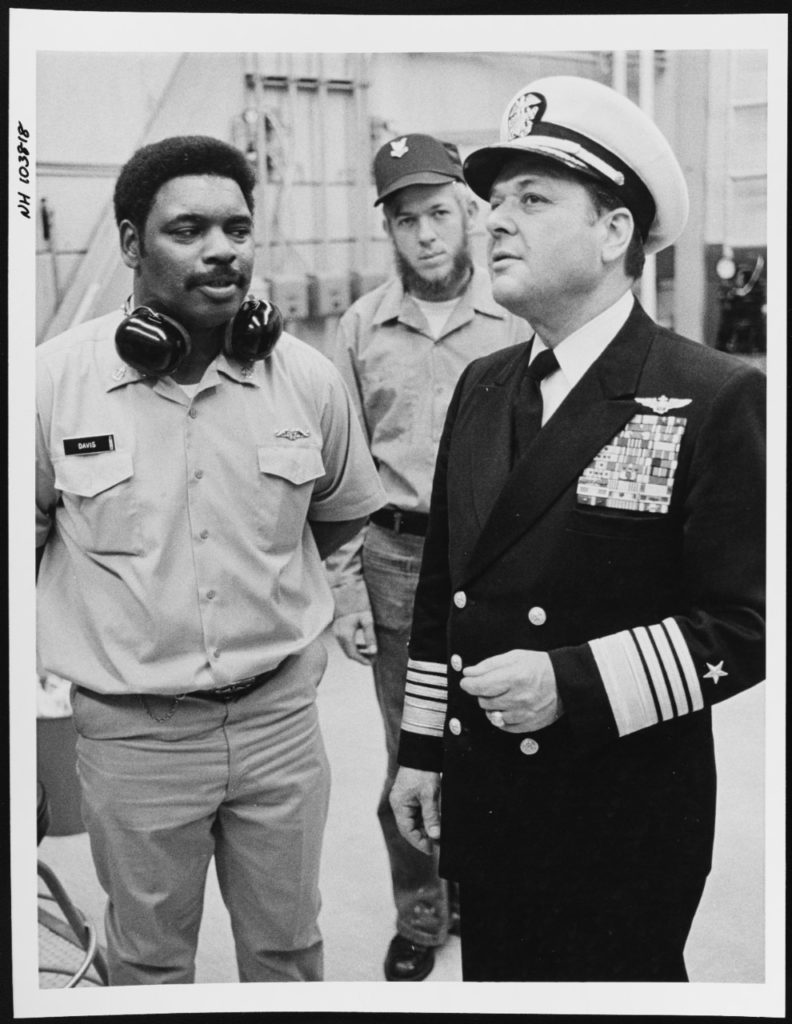 Admiral Holloway served as Chief of Naval Operations from 1974 to 1978 (including periods where he was acting Chairman of the Joint Chiefs of Staff) during a particularly challenging time in the history of our nation. His accomplishments as a flag officer earned him four Navy Distinguished Service Medals and two Defense Distinguished Service Medals. Following his naval service, Admiral Holloway continued in public service and authored Aircraft Carriers at War: A Personal Retrospective of Korea, Vietnam, and the Soviet Confrontation, a testament to his passion for analyzing history in order to better understand the present and future.
Our Navy and our Nation have lost a great hero. The Naval Historical Foundation is forever indebted to Admiral Holloway for his vision, leadership, and accomplishments at the helm of NHF. Fair winds and following seas, Admiral Holloway.
Dr. Dave Winkler's biography of Admiral Holloway and overview of his leadership, published by the Naval War College:
www.navyhistory.org/wp-content/uploads/2019/11/ADM-Holloway-Naval-War-College.pdf
Admiral Holloway's oral history on the Battle of Surigao Strait at Leyte Gulf in October 1944:
Memorial Information:
Overview: The funeral service for former Chief of Naval Operations Admiral James L. Holloway III will be held at the US Naval Academy Chapel, Annapolis, MD, on Wednesday, December 18, 2019 at 10:00 am.  Chapel doors will open at 8:00 am.  The Chapel service will be followed by a brief committal service at the nearby Academy cemetery, and then a reception hosted by the Holloway family for all guests at nearby Alumni Hall. Those wishing to pay their respects to Admiral Holloway may attend the funeral service and reception in accordance with guidance below.
Access: 
a. Every funeral guest must go through security screening when entering the US Naval Academy and will be required to show a government-issued ID (military ID, driver's license, passport, etc.). 
b. There is very limited parking available on the Naval Academy Yard for the service, so guests are asked to park at Navy-Marine Corps Memorial Stadium (directions below). Parking will be free by mentioning funeral attendance.
c. Shuttle buses from Towne Transport will stage near the Blue Angel jet on display in the Blue parking area on the west side of the stadium.
d. Shuttle buses will run continuously from 8:30 to 10:00 am to transport guests to the Academy's Alumni Hall where guests will go through security screening before walking to the nearby Chapel. Guets with mobility issues will be assisted in getting to the Chapel.
e. Pedestrian guests may walk into the Academy from Annapolis at any of the several gates, once again showing a government-issued ID.
f. Following the Chapel service, approximately 11 am, there will be a formal military procession on foot (approx. 3/4 mile) to the cemetery. Transportation will be provided to the cemetery for those who need that option.
After the brief graveside committal service, there will be a Holloway family-hosted reception for all guests in the Bo Coppedge Room (2 nd floor) at Alumni Hall, located between the Chapel and cemetery.
g. Shuttle buses will be available to take guests back to stadium parking after the service and after the reception.
Directions: to Navy-Marine Corps Memorial Stadium, 550 Taylor Ave, Annapolis, MD
1. From Rte. 50, take exit 24, MD-70 / Rowe Blvd.
2. Continue on MD-70 S/Rowe Blvd. to Taylor Ave.
3. Turn right on Taylor Ave and follow signs to "Blue" parking. Enter at Gate 5. Tell attendant you are a guest for the Holloway funeral.
4. Shuttle buses from Towne Transport will load near the Blue Angel jet, just up the hill from the parking area gate.
5. In case of inclement weather, there is a small bus shelter, or remain in your car until a shuttle bus arrives.