This week for Thursday Tidings, we are looking back on the rich history of the United States Navy Chaplain Corps, which was officially established on November 28th, 1775. For the first two decades of the Chaplain Corps, clergy served alongside sailors as civilians – finally in 1799 William Balch became the first officially commissioned, permanent Navy chaplain. For the past 220 years since Balch's commissioning, Navy chaplains of all faiths have served across the world to promote the free exercise of religion, provide counseling and care to Sailors, Marines, Coast Guardsmen, and Merchant Mariners in times of need, and advise commanders on ethical dilemmas.
Below, we highlight just two of the many remarkable chaplains in the history of the Navy, in honor of the 244th birthday of the Chaplain Corps.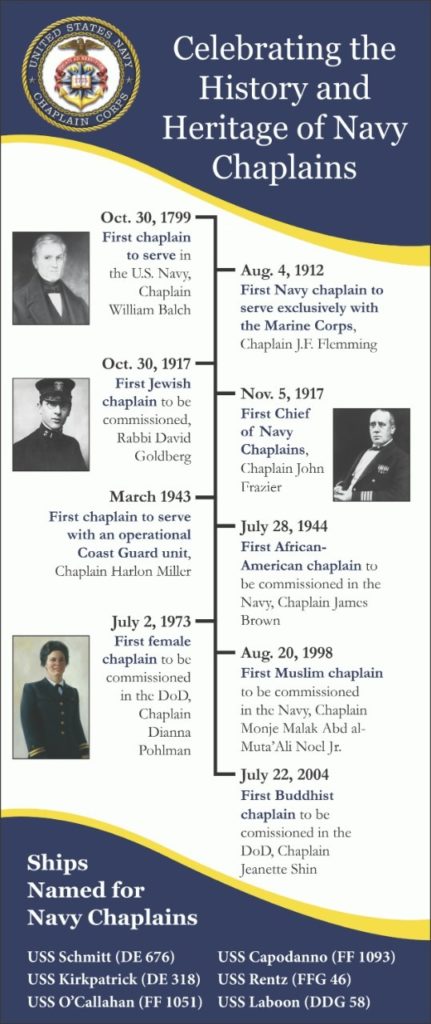 Chaplain Vincent R. Capodanno
Chaplain Vincent R. Capodanno was a Roman Catholic Priest and Navy Chaplain. Capodanno joined the Navy during the Vietnam War and volunteered to serve in the Fleet Marine Force, where his bravery and dedication earned him the nickname "Grunt Padre." Capodanno returned to Vietnam after just one month of leave for another, voluntary, six-month assignment.

Capodanno was killed in action on September 4, 1967 while caring for wounded Marines and giving last rites. For his bravery and sacrifice, Capodanno received the Medal of Honor. His Medal of Honor citation is reprinted below:
For conspicuous gallantry and intrepidity at the risk of his life above and beyond the call of duty as Chaplain of the 3d Battalion, 5th Marines, 1st Marine Division (Reinforced), FMF, in connection with operations against enemy forces in Quang Tin Province, Republic of Vietnam, on 4 September 1967. In response to reports that the 2d Platoon of M Company was in danger of being overrun by a massed enemy assaulting force, Lieutenant Capodanno left the relative safety of the Company Command Post and ran through an open area raked with fire, directly to the beleaguered platoon. Disregarding the intense enemy small-arms, automatic-weapons, and mortar fire, he moved about the battlefield administering last rites to the dying and giving medical aid to the wounded. When an exploding mortar round inflicted painful multiple wounds to his arms and legs, and severed a portion of his right hand, he steadfastly refused all medical aid. Instead, he directed the corpsmen to help their wounded comrades and, with calm vigor, continued to move about the battlefield as he provided encouragement by voice and example to the valiant Marines. Upon encountering a wounded corpsman in the direct line of fire of an enemy machine gunner positioned approximately fifteen yards away, Lieutenant Capodanno rushed forward in a daring attempt to aid and assist the mortally wounded corpsman. At that instant, only inches from his goal, he was struck down by a burst of machine gun fire. By his heroic conduct on the battlefield, and his inspiring example, Lieutenant Capodanno upheld the finest traditions of the United States Naval Service. He gallantly gave his life in the cause of freedom.
On November 17, 1973, USS Capodanno (FF-1093), a Knox-class frigate, was commissioned in honor of the 'Grunt Padre.'
Chaplain Barry C. Black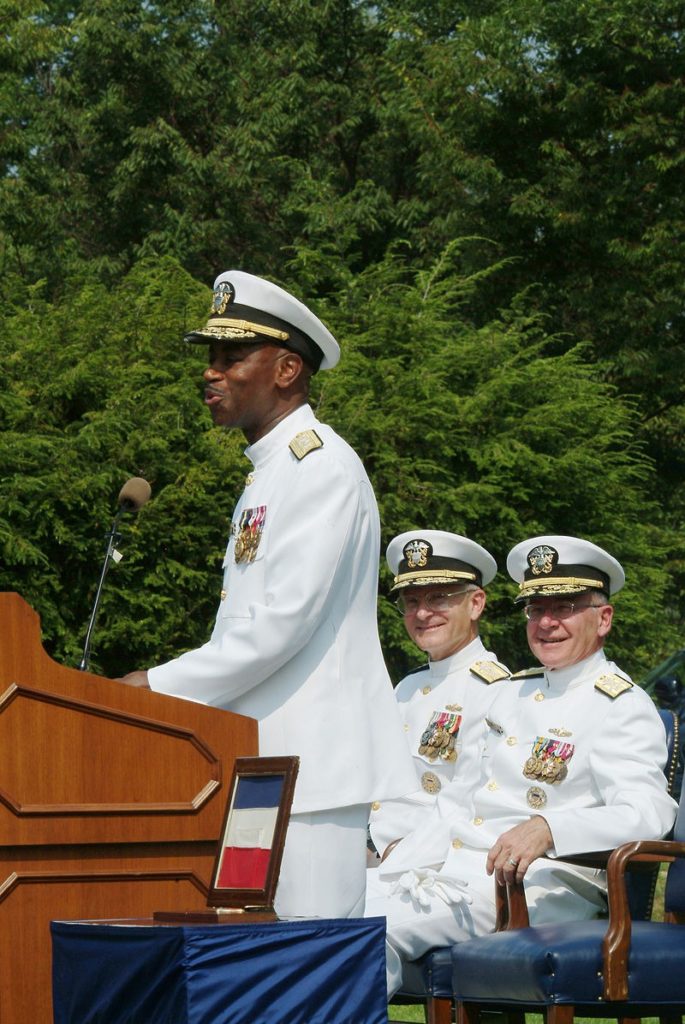 Current United States Senate Chaplain, Barry C. Black, previously served as the 22nd Chief of Chaplains of the United States Navy. Black was the fist Seventh Day Adventist to serve in either of these positions.
Black has authored a number of books and continues to serve as an example for all Chaplains in leadership and ministry excellence in the diverse and pluralistic environment of the Navy. Learn more about Black's historic service from the links below.
www.senate.gov/reference/office/chaplain.htm
www.c-span.org/video/?c4776139/user-clip-dr-barry-black-chaplain-senate-opening-prayer-20190123