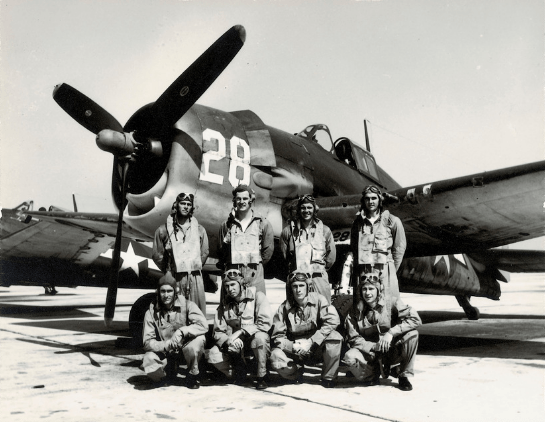 This October 24th will mark the 75th Anniversary of the Battle of Leyte Gulf, the largest naval battle in history and a watershed moment in World War II. The Naval Historical Foundation remembers our friend and selfless supporter, Lt. Jack Taylor.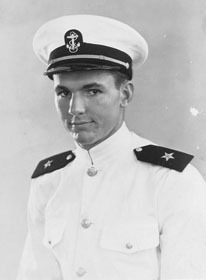 Jack Taylor passed away at the age of 94 in July of 2016, but his legacy continues to inspire. As a young ensign, Taylor was selected to fly the F6F Hellcat and joined VF-15, one of the participating squadrons of the famed "Marianas Turkey Shoot" that splashed sixty-seven attacking enemy aircraft. Taylor would play a significant role within Carrier Air Group 15 as he flew as wingman to many of its aces, including Group Commander David McCampbell, insuring his fellow pilots could press forward with their attack. He would go on to receive two Distinguished Flying Crosses for his actions.
One of Taylor's most notable of many successes was the sinking of the Japanese superbattleship, Musashi off of the Leyte Gulf. Flying off of the USS Essex on the 24th of October, Jack and his squadron mates spotted the Northern Japanese fleet and prepared for attack. Taylor would make not just one, but two strafing runs on the Musashi. Bearing down on the superbattleship with guns blazing, Ens. Taylor helped suppress the ship's anti-aircraft defenses and would allow for accompanying torpedo planes and dive bombers to deliver their ordnance and send Musashi to the bottom of the Sibuyan Sea. In July 2001, Dr. Dave Winkler had the opportunity to interview Mr. Taylor in St. Louis. Taylor recalls the battle in his conversation, "Three things I remember most vividly about the attack, and remember this is over 50 years ago, was the color of the anti-aircraft bursts, my first strafing dive that was almost vertical, and how I pulled out at the last minute because I did not want to stop firing, and having to go back in a second time which frankly scared the hell out of me."
Lt. Jack Taylor's story of valor is one of many of those sailors who took part in the Battle of Leyte Gulf 75 years ago. Their perseverance and heroism would alter the course of the war in the Pacific ultimately leading to victory.
The Naval Historical Foundation hopes to continue to honor and celebrate the legacy of the brave sailors who triumphantly fought in the Battle of Leyte Gulf this October.
---
Check out the NHF's full transcript of the interview with Lt. Jack Taylor done by our historian, Dr. Dave Winkler back in 2001 HERE.