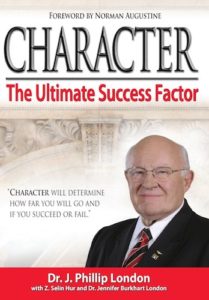 With over 55-years of experience as a military leader and corporate executive, J. Phillip London has developed a singular guiding premise which directly relates one's character to one's success: "your character will absolutely determine the kind of life you will live." (p. 18) He systematizes this concept in what he refers to as character-driven success, described as the process of "recognizing and optimizing your choices." (p. 18) London's character-based model distinguishes success as the, "the knowledge that you have acted with honesty and integrity, and performed to the best of your ability." (p. 19) This point underpins the value of London's book for leaders, by identifying character as the causal factor for success. Since success of a leader is measured by ethically and morally virtuous performance in excellence, such success is a corollary to the notion that each leader is responsible for their own character development.
London directs his work to the individual leader because he believes that it is individual character that separates one leader from others. He declares that each leader is ultimately responsible for his or her own character and is accountable for their own ethical/moral actions.  After establishing the thesis of his work in the first chapter, he then explains his model in five sections.
Chapters 2-5, subtitled "Keystone: Character," comprise the first section of London's work, in which London presents character in leadership as analogous to a keystone in an arch, holding all other pieces together. London expands on what he sees as critical elements of character, such as integrity (chapter 2), a positive attitude (chapter 3), the ability to sense and view the rest of the team as an asset (chapter 4), and the importance of setting the example for others to follow (chapter 5). Throughout these chapters, he skillfully weaves personal examples and observations to facilitate visualization of these principles in practice and demonstrate his thesis that character leads to success.
The next section, subtitled "Blueprint: Vision," looks at the process by which a leader develops a vision for the future and uses character as the instrument to reach that vision. While chapter 6 specifically deals with the subject of developing a vision, chapters 7-9 deal with subjects not typically associated directly with developing a vision, but rather focus on the broader aspects of leadership that require keen insight, such as change management, identification of opportunities, and an eye for innovation, respectively.
London looks at character-driven success in practice in the following section, aptly titled, "Structure: Action." In chapter 10, London exhorts the leader to action and bravery to risk failure. In chapter 11, he deals with the importance of being a decision-maker and how to avoid poor decision-making practices. The importance of communication receives treatment in chapter 12, while character as a means of leadership is considered in chapter 13.
Chapters 14-17 deal with varying aspects of tenacity and endurance in leadership, ranging from management of risk and uncertainty to knowing when to walk away from missteps, in the fourth section titled, "Appraise: Resolve." This leads to the final section titled, "Build: Momentum," which is a single chapter devoted to encouraging the leader to see character-driven success in leadership as a continuing process vice a destination.
Overall, London's book is suitable for a wide audience of leaders at virtually every level, since the context of character is applicable to leaders from the most junior to the most senior. It serves as teaching tool for some, a reminder for all, that character forms the backbone of leadership and the foundation for its success. The strength in his work lies in its simplicity.  London, himself, acknowledges that many of his principles seem obvious, but emphasizes that it is often the obvious points that go overlooked when dealing with character. (p. 20) As such, this book serves as a guide to all leaders in informing them of the basic principles of leadership in character, and the case examples provided facilitate a visualization for the reader as to how these principles have been aptly applied.
However, the simplicity of principles presented in this book form a two-edged sword.  It also makes this work less beneficial as a source that reflects on the deeper philosophical or ethical understanding of character development. There is a depth of information for study on the subject of character: what character is, how it is developed in the individual, and what are its philosophical and ethical applications. On these topics, London's work lacks depth. Yet, such critique may form a strawman in light of London's stated intent. Rather, London's work serves any leader as a guide in applying character unto success, and can serve as a valued element of any leader's reading list.
---
Character: The Ultimate Success Factor
By London, J. Phillip, Fortis, Jacksonville, FL, (2015).  
Reviewed by CDR Stuart M. Mattfield, Assistant Professor, Joint Forces Staff College
Click here to buy Character: The Ultimate Success Factor now!