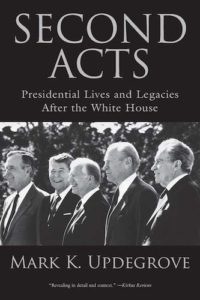 Aside from what extraordinarily provocative stories we hear in the news today, few citizens are familiar with the U.S. presidents' lives following their departure from Oval Office. Ex-presidents continue to have the highest celebrity status and use their influence in their follow-on efforts to support the current administration, help society through philanthropy, and focus on family. Mark K. Updegrove's Second Acts: Presidential Lives and Legacies After the White House tells the post-presidential stories of the lives of nine U.S. presidents, from Harry S. Truman, through the Reagan-Bush era, concluding with Bill Clinton. Most of us know a handful of facts related to their years in the White House, but far less regarding their years following. Couldn't we gain insight by continuing to survey the lives of the most powerful people in the world?
Second Acts: Presidential Lives and Legacies After the White House, published in 2006, is the first of Mark K. Updegrove's four published books. His fourth and most recent book The Last Republicans: Inside the Extraordinary Relationship Between George H.W. Bush and George W. Bush was published in 2017. The author's impressive personal interview catalog and extensive research more than adequately validates the support for his published works. A historian at heart and a journalist by trade, Updegrove displays an entertaining style that is balanced between formal and informal and is appealing to the seasoned historian and the casual reader.
I am not a historian, so I cannot rank this work with that of other prominent authors in the space or critique dates or events described by Updegrove. If his reports differ from those of other reputable sources, it was not noticed. The bibliography lists hundreds of sources of information including speeches, reputable websites, television programming, periodicals, and at least sixteen author-conducted interviews – including those of available presidents described in the book and their professional associates. About thirty pages are dedicated to the telling of each of the nine presidents' stories. This seems to be appropriate, allowing a general conveyance of what is likely more popular knowledge by historians while wading into some more obscure, yet interesting facts.
Personally, I enjoyed the book and recommend it. It was easy to read and gave an entertaining history. This book reduced my level guilt for not having much more than a high school understanding of the topic. A die-hard historian or fan of a particular president likely won't find much new information here, opting for an in-depth biography instead. But, for the casual reader who just wants to learn just a little bit more, Updegrove's Second Acts: Presidential Lives and Legacies After the White House fits the bill.
---
Second Acts: Presidential Lives and Legacies After the White House
By Mark K. Updegrove, The Lyons Press, Guilford, CT, (2006).
Reviewed by CDR David Q. Baughier, USN, Military Faculty, Joint Forces Staff College, National Defense University
Buy Second Acts: Presidential Lives and Legacies After The White House now!