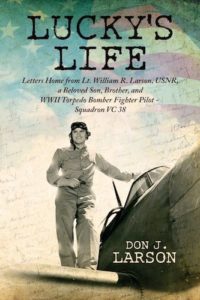 Rear Admiral Randall Jacobs sent the telegram at 6:49 PM, 3 January 1944, informing Mr. and Mrs. Olaf Larson Hanks that their son William was missing "in the performance of his duties" in the Pacific. The Chief of Personnel expressed his "sincere sympathy" for their "great anxiety." He told them, from the reports, that it was likely their son had perished in a crash. The family later learned that the DC-3 transport carrying William back to his squadron from Sydney, Australia had crashed and all hands were presumed dead. Letters of sympathy poured in to the farm in North Dakota. Known by his fleet nickname "Lucky," their son had made an impression on many people during his four and a half years as a naval aviator, and the letters included those from his Commanding Officer in the composite squadron VC-38, and from Vice Admiral John Sidney "Slew" McCain, the Deputy CNO for Aviation. Lucky Larson flew over 1800 hours as a scout pilot, flung into the air by Cruiser catapults, and as a TBF Avenger pilot. Don L. Larson's book Lucky's Life is the story of his career as a naval aviator, told in rich detail and with a wealth of material for both scholars of naval aviation and the reading public.
This book is a marvelous work of family history and personal discovery. Don Larson, Lucky's nephew, was raised on the stories of his uncle's adventure and daring in the Second World War as he grew up. As a young boy he discovered William's letters home in a footlocker and they made a long, lasting impact on him. Thus, a dedicated amateur historian was born.  Lucky's Life begins with a brief discussion of the Larson Hanks family and their home in North Dakota, and young William's decision in 1939 to join the Navy, well before the attack on Pearl Harbor drew others to the service. From there Larson relates the story of his uncle's training, pre-war service, and wartime exploits in clear prose and a vivid chronology.
As a professor accustomed to reading academic works and scholarly histories, it was refreshing to read a book that made absolutely no claim to be impartial and objective. The book is clearly a family story and a labor of love, and because of this the Larson family personality glows throughout the book. Don Larson's painstaking research and gathering of documents and evidence helps remind us that the work of the "historian" is not limited to those with academic degrees and formal training. Instead, there should be one in every family, in every neighborhood, in all of our communities.
This description of Lucky's Life, however, does not mean that the book is just a simple telling of family history. The project turns out to be extremely valuable to scholars of naval aviation and the Second World War as well. Much of the book includes what a prior generation of historians would have derisively called "cut and paste" history, where whole sections of primary documents are simply copied into the text. In addition to this, the appendices that Larson included are a magnificent treasury of primary documents and historical sources for scholars to pour over. Roughly, 400 pages of the 600 page paperback are made up of transcribed letters and memoirs, photographs, direct images of family and official papers, declassified intelligence reports and war diaries, and many other materials that offer the reader a mini-archive experience in the comfort of their own home.
Lucky's Life: Letters Home from Lt. William R. Larson, USNR, a Beloved Son, Brother, and WWII Torpedo Bomber Fighter Pilot – Squadron VC-38, is a fascinating look at the personal and professional challenges of being a junior officer and naval aviator in the Second World War.  Reading this book reinforces the danger and risks of the naval profession, and illustrates the personal tragedy that more often than not accompanied the heroism and stories of wartime glory.  Larson writes:
My uncle Lucky was never found. After four-and-a-half years in the US Navy Reserve, including astonishing adventures and countless recoveries in the impenetrable fog of the Aleutian Islands and the Bering Sea, island hopping in the Solomon Islands off carrier decks and jungle airfields, and dive bombing Japanese troops, ships, and airfields on 22 TBF combat missions, Lucky's flight log records suddenly stopped. (p.197)
Told with love, and with a clear style and structure, the book is at the same time a wonderful example of family history and also a valuable resource for scholars and academic students of naval aviation.
---
Lucky's Life: Letters Home from Lt. William R. Larson, USNR, a Beloved Son, Brother, and WWII Torpedo Bomber Fighter Pilot – Squadron VC-38
By Don J. Larson, Amazon Digital Services, (2017).
Reviewed by Benjamin Armstrong. CDR Benjamin "BJ" Armstrong, PhD is Assistant Professor of War Studies and Naval History at the U.S. Naval Academy where he teaches courses on American Naval History and the History of Air Power.
Buy Lucky's Life now!