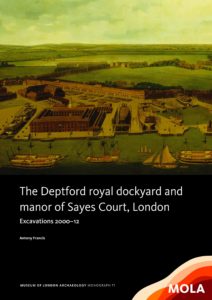 Your reviewer became vocational archaeologist by accident but is also an avocation historian (The Naval History of Great Britain, 206 pp., 1962, was my senior high school thesis). I am quite familiar with the MOLA publication series, having reviewed A Dated Type Series of London Medieval Pottery: Part 5, Shelly-sandy Ware and the Greyware Industries (Lyn Blackmore and Jacqueline Pearce, Monograph Series 49, London: MOLA, 2010) in SAS [Society for Archaeological Sciences] Bulletin 34(3):4-7, 2011). MOLA [Museum of London Archaeology] publications are superbly written, highly illustrated, printed on high-quality glossy paper, and well-bound – this monograph is no exception.
The volume under review, the 71st in the MOLA Monograph Series, is written by Antony Francis, an archaeologist with 30 years' experience and a MOLA Project Officer who has written about Roman and medieval excavations and multi-period sites in London and beyond, and especially historical maritime commerce. Before directing the Deptford Project, he supervised the excavation and wrote the book Stepney Gasworks: The Archaeology and History of the Commercial Gas Light and Coke Company's Works at Harford Street, London E1, 1837-1946 (MOLA Archaeology Studies 22, 2010), detailing the surviving structures at the site, the first such undertaken on a gasworks site, has revealed that the works was continually upgraded and rebuilt to keep pace with increasing demand for coal gas. Archaeological research is combined with documentary studies including previously unpublished reports, directors' minutes and other evidence. A reviewer (Paul Stamper in British Archaeology Review, May-June 2011) stated that "What this report does with exemplary clarity and superb illustrations is to recount the story of the Stepney works and it operated… This is how our industrial heritage should be written about."
Francis was an obvious candidate to direct the excavations at the Royal Navy Deptford, Lewisham Borough, located on the south bank of the River Thames about four kilometers southeast of the City of London, and to prepare a detailed monograph about the history of this 16.6 hectare site. Deptford, the furthest upriver, focused on "smaller" vessels, and was one of six Royal shipyards: Plymouth, operating from 1492 to the present is the oldest, followed by Plymouth and Sheerness which served the needs of the home fleet; while Deptford, Woolwich, and Chatham concentrated on shipbuilding and the preparation of naval stores. Some of these facilities have succumbed to demolition and reuse, and a few remain in diminished states. Notably, the Deptford project is the largest ever scientific excavation of a British naval dockyard and began with small excavations in 2000 and 2010 with extensive work by MOLA personnel 2011-2012.
The monograph written by Francis also incorporates specialist studies by 28 colleagues. There are ten chapters and 199 mostly color illustrations of original cartography, relevant paintings of ships and docks, the excavations, and artifacts. An introductory chapter offers background on the site, circumstances of excavation, the Deptford yard and its workforce, cartographic and pictorial evidence, and historical sources. A second chapter "Before the Dockyard," considers the topography and geoarchaeology, medieval history of the site A.D. 964-1485, and archaeological evidence in the pre-dockyard era (Period One). Chapters 3-9 review chronologically Periods Two through Six: Tudor, Stuart, Early Georgian, Late Georgian and Victorian, and "After the Dockyard" – an expanded discussion follows in this review. Chapter 10 provides "Specialist Appendices" with details on building materials (especially roofing, tile, and brick), clay tobacco pipes, pottery, plaster mouldings, glass vessels, woodwork, animal bone, dendrochronology (tree-ring dating), and wood species identification. A useful "Bibliography" with 275 entries includes references to 63 manuscript collections in the British Library, London Metropolitan Archives, National Maritime Museum, and National Archives, London, as well as primary and secondary works. A highly detailed "Index" completes this excellent publication.
The history of the Deptford shipyard spans much of the "Age of Sail" — Renaissance, Age of Enlightenment, and Industrial Revolution – specifically 1513 when it was founded by Henry V and expanded by Henry VIII through its expansion and decline when the yard served maintenance functions, and final closure in 1869.  The first ship built there in 1518 was the 100bm-ton Kateryn Plesaunce designed to carry the king to France, while the timber-hulled steam-powered, the 'sloop' screw corvette HMS Druid, launched on 13 March 1869, was the final ship. [bm- ton = builders' measurement in tons].   Crucial to the maintenance of the nation's naval power, the dockyard grew from a single storehouse and wet and drydocks to a complex including stores, slipways, mast docks, and other structures supporting ancillary industries, such as sailmaking, timber, and ironworking. The shipbuilding was accompanied by constant repair and rebuilding as the dockyard worked to keep the navy at sea including the provision of naval stores, particularly pitch and rope.
A number of "famous" ships were built or repaired in Deptford during the 350-year life of the facility, including the Mary Rose (built 1509-1511 at Portsmouth) but "housed" [docked] at Deptford.  Francis Drake was knighted on the deck of the Golden Hinde (renamed from Pelican) by Queen Elizabeth in April 1581 at Deptford. In adjacent Sayes Court, John Evelyn entertained his friend Samuel Pepys but Czar Peter the Great and his entourage "wrecked" the house in 1698. Deptford was also associated with ships used by James Cook on his voyages of scientific explorations in the Pacific (1768-1771, 1772-1775, 1776-1779). His vessels were refitted at the dockyard, including HMS Endeavour, HMS Resolution and HMS Discovery. Deptford-constructed vessels, HMS Discovery and HMS Chatham, were used by George Vancouver on his expedition to survey the northwestern Pacific coast of North America (1791-1795). Other notable vessels were the cutter HMS Bounty commanded by Captain William Bligh which was refitted at Deptford in 1787 before sailing to Tahiti, and the HMS Providence which he employed on the second "breadfruit expedition" (1791-1793). Two of 27 ships of the line used by Vice Admiral Horatio Lord Nelson at the Battle of Trafalgar (1805) had been built at Deptford — HMS Neptune and HMS Colossus – while the, Deptford-built former HMS Swiftsure, captured by the French in 1801, fought for the Franco-Spanish fleet of 33 at this battle.
I shall briefly review the most significant events documented at Deptford by Francis and his colleagues. Period Two: Tudor Dockyard (1513-1603), the reigns of Henry VIII, Mary I, and Elizabeth I. The remaining archaeological evidence comprises the Thames frontage dock, the Tudor storehouse, and the house of the Treasurer of the Navy. Period Three: Stuart Dockyard (1603-1714), the reigns of James I, Charles I, the Commonwealth era (1649-1660), Charles II, James II, William III, and Anne. The archaeological remains indicate an expansion of the storehouse and renovation of the Treasurer of the Navy's house, and the rebuilding of the drydock and its gates (1711-1713), as well as and a number of new maritime facilities: mast dock, oar maker's shop, officers' quarters, Master shipwright's house, and pitch house. As the dockyard acquired more land, John Evelyn's Sayes Court, was constructed beginning in 1652 on the site of a former manor house (1528-1652) and would last into the 19th century. Remains of the house, additions, and renovations and elaborate gardens are archaeologically documented. Czar Peter the Great visited from February to April 1698 to study British shipbuilding methods; he and his retinue trashed both the house and gardens. Period Four: Early Georgian Dockyard (1714-1774). There was considerable rebuilding and upgrading of the dockyard; both archaeological and historical evidence document the construction of new storehouses, a rebuilding of the mast dock, construction of a new drydock and wet dock, and painters' shop by 1720. Afterwards, the smithy was rebuilt, and renovations undertaken in the eastern part of the yard with a new mast house and slipway (1765-1770), and building of the brick Quadrangle Storehouse. Archaeological and historical data were used to create a scale model of the dockyard as it appeared in 1774 (a number of illustrations of this model appear in the illustrations).
Period Five: Late Georgian and Victorian Dockyard (1774-1869). A new taphouse was built and repairs made to the mast dock, officers' quarters, and offices. Studies also document the building of a sawmill, steam kiln, water tank (for fire-fighting), rigging and sail loft, cranes, and new wet dock designed and built by a leading civil engineer, John Rennie, with wooden roofs or covers over slipways and docks. Deptford's decline began at the end of the Napoleonic Wars (1799-1815) and the relative peace that followed resulted in a decline in the need for new naval vessels and the number that required repair. In addition, Deptford's location upriver and the shallow silted riverine waters led to temporary closures in 1830 and 1840 and use of the facility as a victualling depot; work was moved to other royal dockyards with final closure in 1869. Period Six: After the Dockyard (1869-present). The historic and archaeological evidence from 1869-1914 indicates that most of the machinery and building materials (brick, tile, and stone) were dismantled and sold, and a majority of the area converted to the "Foreign Cattle Market" for the housing and slaughter of imported cattle and sheep. Waterways were infilled and a railway was built across the site, the Tudor storehouse became a lorry stand, but the Quadrangle Storehouse survived as a warehouse until 1981 when newer warehouses were constructed throughout the area. During World War II the extant warehouses had been bombed by the Luftwaffe and hit by three V-l flying bombs, but there was only general damage.
Chapter 9 focuses on significant discoveries derived from the specialist reports (Chapter 10). The oak timber supplies used in the dockyard and ship construction came from southeast England and East Anglia while coniferous wood used in masts and other building had been imported from Scandinavia and the Baltic. Changes in shipbuilding technology are reflected in the dimensions, size ranges and reuse of the oak timbers. Notable innovations tested at Deptford were diving bells and double-hulled wooden ships, and development of complex timber construction techniques in wet dock walls. Outside of the dockyards there had been important acquisitions of private houses to expand the dockyard. Archaeologists found evidence of pubs, taverns, lodging houses, tenements, butcher shops, green grocers, and tobacconist shops. A great deal of evidence recovered from these dwellings and cesspits provided documentation on the origins of household items (especially Dutch, Chinese, and Portuguese ceramics and glass ware), dress, dining and drinking, diet, smoking, household activities (toilet and pharmaceutical bottles) and domestic animals. As an example: Nearly all of the 1,047 clay tobacco pipe fragments recovered from 104 archaeological contexts studied by Jacqui Pearce (pp. 212-215) were fabricated by makers in or near Deptford. Her excellent report and illustrations have allowed your reviewer to finally identify the manufacturer of pipes I have studied from Barcelona, NY, USA since 1983 (C. C. Kolb [2018] Clay tobacco pipes, in Claire Smith (ed.) Encyclopedia of Global Archaeology, 2nd ed. Cham: Springer. Living reference work entry. 11 pp. DOI: doi.org/10.1007/978-3-319-51726-1_2717-1)
Naval historians, particularly those focusing on the "Age of Sail" will find this unique clearly written and well-documented publication a goldmine of information, but it can also be enjoyed by those interested in British history, architecture, commerce, and material culture studies. I can only echo Antony Francis' comment that "History and archaeology are complementary and powerful tools for understanding the development of a historic site" (p. 205). A wealth of data remains untapped in the historical documents regarding the individual ships constructed at Deptford, as well as construction methods and officers' surveys of ships to be repaired. Archaeologically, a great deal of study remains to be conducted on the artifacts recovered and their provenance as well as learning more about the dockworkers and their families, and the people who lived near the yards. No other dockyard has been excavated or studied to such an extent and a valuable, detailed report published so quickly — this excellent monograph sets as standard for future studies.
---
The Deptford Royal Dockyard and Manor of Sayes Court, London: Excavations 2000-2012.
By Antony Francis, Museum of London Archaeology, London. (2017).
Reviewed by Charles C. Kolb, Ph.D. Kolb is a Golden Life Member at the US Naval Institute, an independent scholar, and "accidental archaeologist." He is the Associate Editor for Archaeological Ceramics at the Society for Archaeological Sciences and served as senior program officer at the National Endowment for the Humanities for 24 years.
Buy The Deptford Royal Dockyard and Manor of Sayes Court, London: Excavations 2000-12 now!