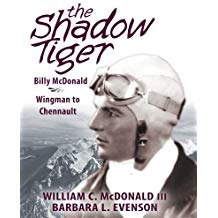 The Shadow Tiger: Billy McDonald, Wingman to Chennault.
by William C. McDonald, III and Barbara L. Evenson
Shadow Tiger Press, Birmingham, Alabama, 2016. 313 pp. Ill.  $39.95 Special Hardback Edition, $24.95 Soft-Cover Edition.
This new book is one of the most unusually conceived and designed books on any military aviation subject I have seen in more than 60 years of buying and reading such publications. If you have any interest in Claire Chennault, the Flying Tigers, also known as the American Volunteer Group (AVG), or the mysterious, often complicated history of aviation in China between the world wars, you must get this book!
Using a fine collection of photos, maps, contemporary letters and other correspondence, the authors immerse the reader in a period when many factions were not only fighting the Japanese but also themselves. The authors employ blocks of clear, readable type lifted from selected sections of letters to emphasize points they consider important. It's a unique concept and presentation. (It should be explained that "Billy" McDonald III is the son of Billy McDonald, Jr., who flew alongside Claire Chennault after the retired Army aviator had reported to Chiang Kai-shek as the then-warlord's military advisor in 1937. Co-author Evenson also conducted research and helped write the text as well as designed the layout.)
There ae no color photos, although limited color photography was available at the time and there are several contemporary color pictures of the Flying Tigers that show up from time to time. Whether there were any such photos taken of the years before the actual formation of the AVG is uncertain. Perhaps the authors' self-publishing budget prohibited color. The special edition does include color in the maps. The only criticism I would make is that the book needs an index. They are admittedly very difficult and time-consuming to create, but having an index would certainly improve the book's usefulness as a research tool.
Unlike other well-known stories or events of military aviation such as Pearl Harbor, the Doolittle Tokyo Raid of April 1942, the Battle of Britain of 1940, and associated ground actions like D-Day 1944, the buildup of aviation in China in the 1930s (largely supported by Western concerns to oppose Japan's onslaught) has seen very little dramatization. The John Wayne movie of 1942 dealt mainly with the AVG's struggle to maintain mission-ready aircraft and pilots, using contemporary film showing real P-40s taking off and landing, and rather clumsy-looking P-40 mockups that waddled along the ground for a few seconds of scramble sequences. There is nothing about how Chennault built up the Flying Tigers, or his role in the late 1930s flying the planes available at that time. This book certainly provides a guide for any interested film producer to produce a more modern take on the AVG story.
McDonald has many side stories, several of which deal with his father and Claire Chennault working to provide Chiang Kai-shek with a viable air force to help unite the various factions in China against the Japanese. There's the story of the Curtiss Hawk 75M, perhaps the most advanced aircraft in China at the time, the first of which the Chiangs bought expressly for Chennault and which he might have flown in combat. The question of whether Chennault scored any kills in the Hawk is also covered, although without any truly publishable confirmations it is difficult to confirm he did. The myth goes on, however, but there is information that might change the story if it could be presented at a future time.
Osprey's highly successful "Aircraft of the Aces" series now includes an account (No. 126) by Raymond Cheung that focuses primarily on Chinese aces of this same period flying various fighters, such as Curtiss Hawk biplanes, Boeing P-26s, and even P-47 Thunderbolt ancestor P-43 Lancers. Over the many years since the formation and brief-but-intense battle history of the Flying Tigers, many articles and books have been written, but this new book sheds welcome light on the formative years of the AVG and what ultimately became the Chinese Air Force. Today's publishing industry might have produced a volume with now de rigeur color profiles and hard to find color photos, but The Shadow Tiger is an exciting new look at one of aviation's most storied groups of military aviators.
Peter B. Mersky is a book reviewer and author of several books on U.S. Navy and Marine Corps aviation subjects, as well as the first book on Israeli fighter aces to be published outside Israel (Specialty Press, 1997). A retired U.S. Navy commander, he was the editor of Approach, the Navy's aviation safety magazine and has written his book review column for Naval Aviation News since 1982.