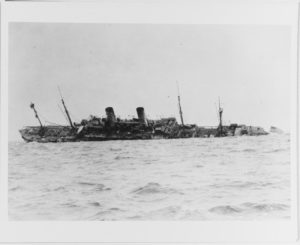 THREE MCSORLEY MEN-THE LOSS OF USS NARCISSUS (January 1866) and the torpedoing of USS COVINGTON (July 1918) and USS MENGES (May 1944)
BY:  CAPTAIN LAWRENCE B. BRENNAN, U.S. NAVY (RETIRED) [i]
"It was a pathetic sight. . .  [reminiscent] of
some huge animal, mortally wounded, yet struggling on."
Commander William F. Halsey, Jr. United States Navy
Commanding Officer, USS SHAW (DD 68)
The famous New York City bar, McSorley's is best known for reportedly hosting Abraham Lincoln following his 1860 speech at Cooper Union and, a century later, for resisting female patrons until 1970.[ii] The bar's first owner, John McSorley, emigrated from County Tyrone, in Ireland in 1851 and joined  many relatives who came to New York throughout the 19th century.[iii] Founded in 1854, this establishment serves only two kinds of ale. By legend, the hands on its clock stopped when Admiral Dewey defeated the Spanish at Manila in 1898.[iv]
Three McSorley men, who were my relatives, served on three United States Navy ships which were lost or combat-damaged in 1866, 1918, and 1944. A large number of McSorleys, probably from Linsarable, Clogher Parish, County Tyrone emigrated to New York during the nineteenth century. A fair number of them lived on Staten Island, before the incorporation of the City of New York in 1898.
On January 2, 1866, 21 year old Eugene McSorley was a crewman on board USS NARCISSUS at Egmont Key, near Tampa, Florida, which was lost with all hands.
Fifty-two years later, on July 1, 1918, 23 year old John McSorley was a crewman on board USS COVINGTON when she was torpedoed by U 86, about 450 miles south and west of Brest and sunk the following day.  He survived the sinking. He died at age 81 in 1976.
Twenty-six years later, during the early morning hours of May 3, 1944, 24 year old Ensign Wilbur J. McSorley, USCGR was an officer on board USS MENGES (DE 320) which was torpedoed by U 371 off Djidjelli on the Algerian coast [37° 01'N, 5° 29'E]. He was lost at sea along with 30 other men and 25 others were wounded.  He was survived by his wife, Ann F. McSorley, of Boston, Massachusetts who died on December 19, 1993 at age 76.  They had a son, John Wilbur McSorley.
Primarily, this is the century-old story of my great-uncle, John A. McSorley, the only one of the three McSorley men to survive his ship's casualty. Uncle Tiny, as he was known because of his diminutive size, regularly visited my grandparents after Sunday Mass. He was taciturn but  kind, particularly to my father who served in the US Navy during World War II and the Korean Conflict. He smoked Piedmont cigarettes and drank Piels Beer after the R&H brewery on Staten Island was closed. My grandmother reserved a beer glass for his exclusive use which was confusing when I was a child. He was employed by the City of New York. We never discussed the sinking of his ship or his naval service. His older brother, James McSorley, a World War I AEF veteran, was the father of Wilbur and a second son, James, who was a US Navy World War II veteran.
Following the First World War, the United States Navy bragged that it had delivered the American Expeditionary Force ("AEF") to Europe without loss. While that statement is factually accurate, Navy lost at least three large transports while returning to the United States from France. This article addresses the loss of one of those transports, USS COVINGTON (ex SS CINCINNATI).
This shot from the bow likely was taken in the harbor at Brest, France soon before the torpedoing.
 On the back is written "1917 USS Covington–July 1918 Torpedoed & Sunk."
The loss of COVINGTON was described in Admiral Halsey's Story:[v]
July 1st. At 10:30 P.M. received SOS from USS Covington, saying torpedoed and giving position about 450 miles south and west of Brest. Immediately headed for her at 20 knots and reported my action to C-In-C.
July 2nd. Found Covington about 8:30 A.M. in tow of three tugs, the, [destroyers] Reid and Wadsworth standing by. She was towing easily, making about 5 knots, lifting about 10° to port and slightly down by the stern. .Everything went swimmingly until 2:30 P.M., when one of our tugs made signal to get all men off immediately. All hands were clear by 3:00 P.M.  The Covington was listing further and further and rolling heavily, righting a little less each time.  It was a pathetic sight. Reminded you of some huge animal, mortally wounded, yet struggling on. You hoped against hope that she would not go down, yet you knew she must. Finally, the new, large American flag dipped in the water. Shortly after this there was an expulsion of air from her aft, and the stern commenced to settle. She righted and her bow rose majestically, almost perpendicular, with about 200 feet of her hull sticking clear…As she started down, there was a black cloud given forth, probably due to the rush of air through furnaces and smokestacks. When her bow disappeared there was a bubbling on the water, as if from a depth charge A surprisingly small mass of debris came to the surface.
The Covington had already been towed about 50 miles, a third of the distance we needed to make port, and I'd had every hope of getting her there, with the help of the perfect weather and the smooth sea. This was a real heartbreak!
By message to Admiral Bayly, simply informing him that I was proceeding to assist her, may sound presumptuous, but it would have been silly to request instructions.  The Admiral himself always pointed out that a man on a spot had so much better information then the man at headquarters, it was impossible for HQ to give proper instruction. This was a lesson that has stood by me all through my naval career.
July 4th.  All American ships and personnel in Queenstown received the following signals from Admiral Bayly: "The Commander in Chief congratulates the United States officers and men on the day and wishes them all success."
Such courtesy was typical of him.[vi]
It took me half a century of collecting naval postmarks and envelopes to find a USS Covington cover. While the ship was in commission for about one year, no postmarks were reported[vii], probably because she never had a name postmark for security reasons. Undoubtedly, the crewmen sent and received mail but collectors have reported few covers over the past 100 years.
FIGURE ONE is the face of a cover sent to a member of the crew of USS COVINGTON before her first voyage from the United States to France. It is a Special Delivery cover postmarked at Hudson Terminal New York on 28 September 1917. Two steel postmarks – similar to Locy type 6 hand cancels –  dated Sep 28, 1230 PM, 1917, mark the three stamps (a yellow 10 cent stamp [Scott's number 510] and an unconnected  pair of green 1 cent Washington stamps [Scott's number 498]). The cover was delivered to Frank Bossong on board COVINGTON in Boston on 29 September 1917.
In addition to the postmarks. there are two faint auxiliary markings on the face of the envelope and the word "Boston" written in red ink in the lower left corner.    In the lower left center a red rubber stamp reads, "Forwarded . . . NOT claimed/. . . P.O. . . . STA".   To the left and centered over the right side of the typed address is a light purple rubber stamp with pencil markings that reads:
FEES PAID AT CHARLESTOWN STA. BOSTON, MASS., No. 1635, Dated 9/29, Time 1030 AM.
FIGURE TWO is the reverse of the cover.  It bears a large circular rubber stamp postmark in red ink without killer bars. Around the circular device reads the words, "N.Y.P.O FOREIGN . . . NEW YORK, N.Y. RECEIVED".  In the center of the mark read the date and time, "Sep 28 3PM 1917.
USS COVINGTON (ID-1409) was a U.S. Navy transport during World War I; she was torpedoed by U-86 on 1 July 1918 en route home from Brest, France and sunk the next day with the loss of six men of a complement of 776 officers and men. The coal-burning ship was built by F. Schichau, Danzig, Germany in 1909 as a passenger liner for Hamburg America Line and was named SS CINCINNATI. COVINGTON, named after the city of Covington, Kentucky, was 603 feet long with a beam of 63 feet. The ship displaced 16,339 tons and her quadruple expansion steam engines powered twin screws at 15.5 knots. She could carry 2,827 passengers (246 First Class, 332 Second Class, 448 Third Class and 1,801 in Steerage).
After five years of Atlantic service, in August 1914, when hostilities began in Europe, the German-flag liner took refuge in U.S. waters, and was seized and interned at Boston, Massachusetts along with Hamburg America line-mate SS AMERIKA; North German Lloyd steamers KRONPRINZESSIN CECILIE, KÖLN, WITTEKIND, and WILLEHAD; and Hansa Line freighter OCKENFELS. In March 1916, all except KRONPRINZESSIN CECILIE and OCKENFELS were moved from their waterfront piers to an anchorage across the harbor from the Boston Navy Yard.  Daily "neutrality duty" by U. S. Coast Guard harbor tug, WINNISIMMET, monitored these ships. Many crew members went ashore, were processed through immigration, and found employment, while a contingent of musicians from the vessels toured New England, frequently playing at department stores and restaurants, and drawing the ire of the local musicians. After the U.S. declared war on Germany, CINCINNATI and the other interned ships were seized on 6 April 1917 and handed over to the United States Shipping Board (USSB).
The ship was transferred to the Navy 26 July 1917 and commissioned 28 July 1917, Captain R. D. Hasbrouck, US Navy in command. Damage caused by the German crew was repaired and COVINGTON was converted into a troopship. The ship began her active war duties in mid-October 1917 when she left port for her first voyage carrying U.S. troops to France. Between 18 October 1917 and 1 July 1918, COVINGTON made six voyages between Hoboken, New Jersey and Brest, France, safely transporting carrying 858 Officers and 20,871 soldiers to the AEF.  The German liners' piers in Hoboken had been seized and became an integral part of the New York Port of Embarkation which was the major port for sending and receiving the AEF. After World War I, the Port of Embarkation became part of what has become the Port of New York Authority which was renamed in 1972 as the Port Authority of New York and New Jersey, the bi-state billion dollar behemoth.
One sailor, Joseph Edward Roche, Fireman 2nd Class, USN, wrote a detailed account about his service on board COVINGTON which began less than a week after he enlisted. Apparently, he escaped the benefits of boot camp. Joseph Roche was a "steamer" who enjoy liberty, authorized or not, and alcohol on board ship despite the recently-imposed prohibition under General Order 99 which made the US Navy dry. This Order was signed by Secretary of the Navy, Josephus Daniels, five years before Wilson's November 18, 1918 temporary Wartime Prohibition Act [enacted a week after the armistice but effective on June 30, 1919, the day before the "Thirsty-First"] and the ratification of the Eighteenth Amendment and enactment of the Volstead Act which became effective on January 17, 1920. [viii]
Fireman Roche's account covers the active service of COVINGTON from her sea trial through sinking. Coincidently, after the loss of his ship, Fireman Roche was assigned shore duty at the "Naval Post Office at Royan, France. We called that the Vincent Astor Post Office. He was the Post Officer and had a crew of eleven. Royan is a summer resort on the Gironde estuary." This is the story of "Notes & Memos from the Diary".
September 29, 1917: Enlisted in the U. S. Navy at Charlestown Navy Yard, Boston. Sent to Commonwealth Pier for Training.
October 6, 1917: Transferred from Commonwealth Pier to U.S.S. Covington at the Charleston Navy Yard.
October 7, 1917: Steamed out of Navy Yard on trial trip. Cruised around Provincetown for forty eight hours on a trial run.  Everything was OK.
October 9, 1917: We anchored off Ninth Street on the North [Hudson] River in New York City and went ashore on a Liberty Party. I got steamed up and on my return to the ship, I fell overboard. Out of my foolishness, I got a bad cold.
October 15, 1917: The troops started to board the Covington at 9:00 p.m. and the Headquarters Troops of the 42nd Division got acquainted with a number of the boys from the Louisiana Calvary. One, Adrean Burrows had a good supply of liquor. We had quite a party that night!
October 18, 1917: Steamed out of Hoboken, N. J. at 11 p.m. on our first trip to France. (Covington sailed in convoy with the transports USS Henry R. Mallory, Tenadoes, Pastores, President Lincolin and the President Grant. The convoy was escorted by one Cruiser and several Destroyers.) Had a very pleasant voyage of 14-days. Not much excitement but interesting for our first sea voyage. Landed in St. Nazaire, France at the beginning of November.  At the Main Street pier, one could shake hands with the Frenchmen through a porthole. One of the soldiers got caught passing a letter to a man who later proved to be a German spy. We never found out what happened to them, but we could guess easy enough.
November 2, 1917: I was on the sick list with a bad case of Bronchitis and was told that I couldn't go ashore. After being at sea for weeks, I made up my mind that I was going regardless of the doctor's orders. I managed to get my pass with the help of my friends, Al "Mutt" Jennings and Ray Patteri.  I got pass the O. D. and was ashore and enjoying myself in due time. We saw some very interesting sights on our first visit on French soil. The one that struck us funny was seeing a Ford car. After looking over the town, we decided to have a few drinks. We did, and got in a jam with the Marines and were escorted back to ship. I, rather sore and with a cut lip. The outcome was the brig for "Mutt" and back to the sick bay for me.
No date given: On the return trip to the States we were attacked by a submarine the first night out or rather at 3:00 a.m. we were awakened by a blowing and shrieking sound. I jumped out of my hammock and landed in a couple feet of water. The scupper, or drain being blocked up, the water lodged there. My first impression was that we got hit and were sinking. Believe me, it didn't take me long to get up on deck, buckle on my life preserver on and then stand-by awaiting to hear the crash and then overboard! The sub fired three torpedoes, Thank God!, they all missed. We couldn't fire our own guns for fear of hitting one of our own ships in the convoy. After a half hour that seemed like years, everything quieted down and we were on our way. For the first time we realized what war really was and found out why one could turn gray overnight. We did not have any more excitement the rest of the way back. We arrived at Hoboken, New Jersey the day before Thanksgiving and sure had a lot to be thankful for as we put our feet on land in the good old U.S.A. I had forty-eight hours leave and spent Thanksgiving with my buddies.
The next four trips over and back were uneventful. We ran into a few severe storms and several encounters with subs, but there were no causalities on those nights.
In June 1918 we left Hoboken, New Jersey under cover of darkness, the same as usual, sneaking out like rats. The trip over was uneventful and we arrived at Brest, France in due time. We unloaded our cargo of freight and also had a human cargo of 5200 soldiers. We had a few hours of liberty and enjoyed ourselves and thought up plenty of stories for the folks back home.
We steamed out of Brest, France at 9:15 a.m. on July 1, 1918. Most of us "for some strange reason" with a feeling that we were never going to reach the good old U.S.A. as the submarine traffic was reported to be extremely high. Every topic of the day was subs. At the last point of land a French fishing vessel signaled us that a German sub was waiting for the good old Covington.
At 6:00 p.m. we heard a wireless warning to change our course, which we did. I had the 4:00 p.m. to 8:00 p.m. watch. I went on and when I came off at 8:00 p.m. I turned in to my hammock to sleep as I was all in. After lying down for a few minutes I got up, took my life belt or vest and went down to the troops mess hall where there was a movie show in progress. I just got seated when there was a merciful explosion and crash so terrible that it cannot be put into writing. That was about twenty minutes after nine. It seemed as if the ship rose out of the water and then laid on its side. We could hear the rush of water below deck but couldn't see our hand in front of us. Complete darkness, cursing and praying. The events following couldn't be explained. It was a good hour before I managed to get on deck, cut and bleeding, nothing serious but enough to make it miserable.
I don't believe my buddy Paine ever saw the top side after the crash, at least no one saw him. We got away from the ship on a longboat raft and floated around until 3:30 or 4:00 a.m. when the destroyer USS Smith picked us up. Believe me, it felt good to have our feet on board a sea going ship headed for the nearest port, Brest. We arrived back there about noon the following day. I was taken to [unreadable], where a good feed, cigarettes, and drinks awaited us. I was then put in sick bay and remained there for the next three weeks, restless, sick and sore. We figured on being sent back to the United States but one of the crew came and told us that Captain Hasbrouck had tears in his eyes when he notified the crew that we were to stay in France. They needed all the trained men they could get, so they picked on us. That night, the brigs were full of men from the Covington, the bad news was the last straw. They broke loose and raised Hell!
Not just a ship but something to the crew that was almost human, a home, a pal that weathered the toughest storms of the Atlantic. When I look back on those events, it was not the USS Covington, but an old pal like Ambrose Ford and Paine, two buddies that went down with her. Ford was from Sommerville, Massachusetts and Paine was from Staten Island, New York.
I left the sick in the later part of July and was transferred to the Typaux River [sp], a tug at Rochefort, France, Naval Base 20. I got as far as headquarters and was put in sick bay there. I stayed in sick bay for another week and then was made an orderly and stayed there until September 3.  I was then transferred to the Naval Post Office at Royan, France. We called that the Vincent Astor's Post Office. He was the Post Officer and had a crew of eleven. Royan is a summer resort on the Gironde estuary. The Post Office was located on Boulevard Botten [sp] and two minutes' walk [sic] from the beach. We were living in high society and sure enjoying every outing with the French people and getting a $2.00 a day substance. I was beginning to think that being a shipwrecked sailor wasn't so bad after all. I surely enjoyed this life until three weeks after the Armistice and then I was shipped back to headquarters at Naval Base 20, in Rochefort. I stayed around there until April 1919 and then was shipped on to Naval Base 14 in Bordeaux.[ix]
During the early evening of 1 July 1918 COVINGTON was steaming in a U.S. Navy convoy of eight transports [USS DEKALB (ID 3010) , USS GEORGE WASHINGTON (ID 3018), USS RIJNDAM (ID 2505), USS LENAPE  (ID-2700), SS DANTE ALEGHIERI,[x] USS PRINCESS MATOIKA (ID 2290), and USS WILHELMINA (ID 2168)[xi]], escorted by seven destroyers [USS LITTLE (DD 79), USS CONNER (DD 72), USS CUMMINGS (DD 44), USS PORTER (DD 59), USS JARVIS (DD 38) , USS SMITH (DD 17) and USS ROE (DD 24)], and was heading westbound approximately 150 nautical miles southwest of Brest, France, (47° 24′ N., 7° 44′ W) bound for port of New York. The sea was calm with good visibility, and all ships were zigzagging with lookout posted and guns manned. At 2119 a torpedo from U-86 detonated against COVINGTON's port side; she was steaming second from the left in the convoy's first row of five transports. The explosion, below her forward smokestack, blew open the ship's forward boiler room, and she soon went dead in the water as the rest of the convoy split up and continued on course.
Two of the seven escorting destroyers, LITTLE and SMITH, remained with COVINGTON, which had developed a serious list to port. In the darkness, COVINGTON's crew took to the lifeboats but the destroyers, which actively dropped depth charges in an effort to keep the submarine away, rescued 770 survivors. COVINGTON was still afloat early the following morning; it appeared that she might be saved. Captain Hasbrouck assembled a small salvage crew of 25 men where they re-boarded the COVINGTON to make preparations for a tow and attempt to make her as seaworthy as they could. On the morning of July 2, the salvage tugs arrived from Brest and took her in tow but water from progressive flooding gradually penetrated her compartments. Her list increased and the ship sank in mid-afternoon on July 2, 1918.
Within the week following the loss of the ship, an East Coast newspaper printed the following detailed report.
Bridgeport Telegram Bridgeport Connecticut, Saturday Morning, July 6, 1918

U.S. TRANSPORT TORPEDOED WHILE RETURNING – ALL BUT SIX RESCUED
Daniels Announces Sinking of Covington – U-boats projectile strikes steamer forward of engine room bulkhead, making it necessary to abandon her. – Vice Admiral Sims reports attack on Monday night. – Attempt to salvage vessel proves failure. – Missing men all members of crew. – All others accounted for, none seriously injured.
Washington July 5th 1918. – The American army transport USS Covington, homeward bound after landing several thousand soldiers in France, was torpedoed and sunk in the war zone last Monday night. Six members of the crew are missing all the other men, with the ship's officers, have been landed at a French port. No Army personnel or passengers were aboard.
The missing men are: Ernest C. Anderson, firemen, Lynn, Mass. Joseph P. Bowden, seaman, Mountain Lake, New Jersey Ambrose C. Ford, firemen, Sommerville, Mass. William Henry Lynch Jr., firemen, Manchester, New Hampshire Albert S. Payne, seaman, West New Brighton, Stanton [sic] Island, New York,[xii] Lloyd H. Silvernail, seaman Bainbridge, New York.
The Navy Department's announcement tonight of the torpedoing of the Covington said none of the officers and men landed was "Seriously injured." apparently some of them were hurt, but the number probably was not given in Vice Admiral Sim's dispatch.
Sub Not Seen
The Covington was struck at 9:17 o'clock Monday night while proceeding with a fleet of other transports convoyed by destroyers. The submarine was not sighted. The transport remained afloat until Tuesday when efforts were made by other vessels and two tugs to tow her to port, but she was too badly damaged to keep afloat.
"The torpedo struck forward of the engine room bulkhead," says the Navy Department's report, "and the engine room and the fire room were rapidly flooded. With its motive power gone, the vessel was helpless and, facing the possibility of the torpedoing of another ship in the convoy, the Covington was temporarily abandoned. This was done in excellent order and the officers and the crew were taken on board a destroyer. The submarine was not seen."
Unable To Salvage Ship
"At daybreak the captain, several officers and a number of members of the crew returned to supervise salvaging operations. Another vessel and two tugs took the Covington in tow in the effort to get her to port, but she was too badly damaged to keep afloat and sank. Vessels have been searching for the missing men and the Navy Department awaited the report of the names of those missing which were not received until today, before announcing the sinking of the vessel."
There was no explanation by the Department as to whether the six men were missing after the transfer of the crew from the troopship to the destroyer or after the transport actually went down. It was feared, however, that they either were killed by the force of the explosion or were caught by the inrush of water into the engine and fire rooms.
Former German Liner.
The Covington formally was the Hamburg-American liner Cincinnati, which was laid up at Boston and taken over when the United States entered the war. She was 608 ft. long and 16,339 gross tons and had a speed of 15 1/2 knots an hour.
The Covington is the second of the great German liner's seized at the outbreak of the war to be sent down by Germany's sea wolves and is the third American troopship to be destroyed. All were homeward bound. The former Hamburg-American liner President Lincoln was sunk last May 31st and the Antilles formerly a Morgan liner, was sent down last October 17th.
As the result of the rescue of the survivors, five Navy Cross medals awarded to men aboard COVINGTON, SMITH, and USS REID (DD 21). They were:
Bickford, Archie M., Water Tender, U.S. Navy, USS COVINGTON
Byrnes, James C., Jr., Lieutenant Commander, U.S. Navy, Commanding Officer, USS SMITH
McCabe, George C., Chief Boatswain's Mate, U.S. Navy, USS REID
Sanders, David T., Boatswain's Mate First Class, U.S. Navy, USS REID
Udolfsky, David , Gunner's Mate Second Class, U.S. Navy, USS REID
This photo is of Covington during her May 10, 1918 voyage. During this voyage she carried the Headquarters Company of the 65th Infantry (33d Division), 129th Infantry (33d Division) less the 3d Battalion and Company H and the entire 58th Artillery, CAC. On This photo was one of Seaman Conway's collection and he has written on it." We took these soldiers over. Covington was torpedoed coming back."  Seaman Conway's photos were shared by Shirley Conway-Algie, Granddaughter of Seaman Conway.
| | |
| --- | --- |
| | |
| Another photo from Seaman Conway. Aft Mast Crow's Nest and Lookout. | Another photo from Seaman Conway. One of her gun crews in action. |
Photo #: NH 55504
USS Covington (ID # 1409)
Sinking off Brest, France, on 2 July 1918. She had been torpedoed the previous day by German submarine U-86.
Note towing lines rigged from her bow.
Courtesy of Captain William Baggaly, USN.
Photo #: NH 55509
USS Covington (ID # 1409)
Sinking off Brest, France, 2 July 1918, the day after she was torpedoed by German submarine U-86.
Courtesy of the Reverend W.R. Siegart, 1927.
Photo #: NH 61488
USS Covington (ID # 1409)
Sinking off Brest, France. She had been torpedoed by German submarine U-86 on 1 July 1918 and sank the next day.
The ship's flag is still flying from her stern, just above the water.
Photo #: NH 55506
USS Covington (ID # 1409)
Sinking off Brest, France, on 2 July 1918. She had been torpedoed the previous day by German submarine U-86.
A tug is visible ahead of Covington, which may have been under tow at the time of this photograph.
Note lifeboat some distance away from the ship's port side.
Photo #: NH 55505
USS Covington (ID # 1409)
Sinking off Brest, France, on 2 July 1918. She had been torpedoed the previous day by German submarine U-86.
Covington may still have been under tow at the time of this photograph, as two tugs are visible ahead of her.
Photo #: NH 67716
USS Covington (ID # 1409)
Sinking off Brest, France, 2 July 1918 after being torpedoed by the German submarine U-86.
Photograph received from the U.S. Naval Library, Treasure Island, California, 1969.
Photo #: NH 1225
USS Covington (ID # 1409)
Sinking off Brest, France, on 2 July 1918. She had been torpedoed the previous day by German submarine U-86.
Note U.S. Ensign flying from her flagstaff.
Photo #: NH 55508
USS Covington (ID # 1409)
Sinking off Brest, France, on 2 July 1918. She had been torpedoed on 1 July by German submarine U-86.
Note the National Ensign flying from her flagstaff, lifeboat in the foreground, and tug at far right.
Photo #: NH 55507
USS Covington (ID # 1409)
Sinking off Brest, France, in July 1918. She had been torpedoed on 1 July by German submarine U-86 and sank the following day.
This photograph may have been taken in the late stages of abandonment, as a lifeboat is alongside by the aftermost survivor disembarkation ladder, with a few men visible above.
Photo #: NH 1620
USS Covington (ID # 1409)Subject: USS Covington (SP1409) Caption: Survivors of USS Covington (SP1409) which was torpedoed without warning on 1 July 1918 by U-86 off Brest, France. It sank 2 July, all but six of her complement of 776 were rescued. U.S. Naval Historical Center Photograph. Released.

This photo was identified with the above description but may actually have been of the 25-man salvage crew assembled to re-board the Covington to rig her for a tow on the morning of 2 July. This is known from the family of Chief John Thomas Cunningham who was part of the Engineer force. Chief Cunningham is identified in the second row of men in the right side of this photo, on the extreme left facing the camera with the watch cap and pea coat.

Photo #: NH 41741
USS Covington (ID # 1409)
A boat load of Covington's survivors come alongside a rescue ship.
Covington was torpedoed by the German submarine U-86 during the evening of 1 July 1918 and sank the following day.
Photo #: NH 55512
USS Covington (ID # 1409)
Sinking off Brest, France, on 2 July 1918, the day after she was torpedoed by German submarine U-86.
Courtesy of the Reverend W.R. Siegart, 1927.
Photo #: NH 55511
USS Covington (ID # 1409)
Sinking off Brest, France, 2 July 1918, the day after she was torpedoed by German submarine U-86.
Courtesy of the Reverend W.R. Siegart, 1927.
Photo #: NH 1224
USS Covington (ID # 1409)
Two tugs stand by floating wreckage, after Covington sank off Brest, France, on 2 July 1918. She had been torpedoed the previous day by German submarine U-86.
Photo #: NH 105615
USS Covington (ID # 1409)
Fitting out for Navy service in or near the Boston Navy Yard, circa mid-1917. Note the masts of USS Constitution in the background.
Photo #: NH 55503
USS Covington (ID # 1409)
Fitting out for Navy service, circa mid-1917.
Photo #: NH 52857
USS Covington (ID # 1409)
At the Boston Navy Yard, Massachusetts, 4 October 1917.
Photo #: NH 85173
USS Covington (ID # 1409)
Fine screen halftone reproduction of a photograph taken in 1918. This ship was torpedoed and sunk in July of that year.
ALL PHOTOGRAPHS COURTESY OF US NAVY HISTORY AND HERITAGE COMMAND.
Images of a Troopships Death
| | |
| --- | --- |
| A pre-war German Post Card of the S.S. Cincinnati. Later renamed USS Covington when she was taken over by the US Navy for use as a Troop Transport.  Contributed by Russ Davis | Another pre-war German Post Card of the S.S. Cincinnati.  Contributed by Russ Davis |
| Photo of  USS Covington at anchor after dropping off her last load of troops from the States. This photo was likely taken in the harbor at Brest, France in the last few days of June, 1918. Her life as a Trooper was short at hand as on July 2, 1918 the Sea would claim her for all time. Covington was commanded by Captain R. D. Hasbrouck. | This photo is of  Covington during her May 10, 1918 voyage. During this voyage she carried the Headquarters Company of the 65th Infantry (33d Division), 129th Infantry (33d Division) less the 3d Battalion and Company H and the entire 58th Artillery, CAC. On the back of this photo was written: "May 17, 1918. Aboard the Covington after target practice. Note the soldiers on deck. About 4500 on board." This is a view of the stern area of the ship. During this voyage this was the area where the men of the 129th Inf. were bunked. The men of the 58th Artillery were bunked in the forecastle of the ship on this voyage. The mast on the right side of the picture is the mast that is the closest to the stern of the ship. |
| July 2, 1918 after being torpedoed by the German submarine U-86 the night before,  Covington is listing to port with a tow line to the two tugs who were preparing to render assistance. It was a gallant effort but the Covington sank latter in the day with only 6 men killed. Just off the port side of the Covington can be seen a life boat with several men. | ARA Photo Post Card showing  Covington on the morning of 2 July listing heavily to port and down by the stern. All were saved and only 6 men were killed. |
| As day breaks on the morning of July 2nd  Covington has been mortally wounded and several ships are assisting her. Here in this view looking down on her once proud bow shows her riding low in the water. The sea is nearly awash on her port side decks as she has only a few hours left. Behind her is a US destroyer standing guard. This may be the USS Shaw as she received an SOS from  Covington and rushed to her aid. On arrival the Shaw found that her survivors had been removed to another ship and that she had been taken under tow. | Two ocean going French Tugs were dispatched from Brest, France to help with the rescue and this series of photos were taken from one of the tugs. Again this view is port side bow. |
| Another view from the rolling deck of the French Tugboat. This may have been early in the morning on July 2nd as she is riding somewhat higher in the water then some of the other photos. | Another view of Covington's bow. A tow line can be seen with a US warship providing protection in the distant background. |
| This view is almost straight on with her bow. I believe that the French Tug is getting ready to send a tow line to her. In the left background can be seen two US Destroyers probably USS Little and USS Smith, protecting the rescue operations. | These two views were taken from one of the ocean going French tugboats. The one on the left shows the Covington's bow. The photo on the right shows the stern of the French tug with the tow rope visible across the top of the deck of the tug. Coils of the tow rope can be seen in the lower right hand side of this photo. Three French crewmen can be seen on the stern of the tugboat. |
| This is a view of her starboard side. She is still flying the Colors and is not ready for the sea to claim her yet. Farther up her starboard side can be seen the ropes and ladders that were used to lower the lifeboats hanging down her sides. | A close in view of the Covington's Starboard side. |
|  Covington in her final moments before her death plunge, sinking stern first. | The final view of the Covington from the French Tugboat before the Sea claims the ship for all time. |
| | The final remains of the Covington. The two tugs stand by to collect the wreckage. The tug on the right is the tug where several of the above photos were taken from. |
During December of 1919 Captain Hasbrouck was involved in a dispute between some of the Navy's Admirals and Secretary of the Navy Josephus Daniels. Vice Admiral Hilary P. Jones and Captain Raymond D. Hasbrouck had followed Admiral Sims in refusing to accept the medals awarded to them, disagreeing with the policy determining the officers to be rewarded for services during the war. Admiral Sims believed that the Navy Awards Board was too liberal in its awards. Vice Admiral Jones, who commands the first Division of the Atlantic, wrote to Secretary Daniels declining the Distinguished Service Cross and protesting against certain awards to members of forces under his command during the war. Captain Hasbrouck, then commanding USS MINNESOTA (BB 22) requested removal of his name from the list of awards of the Navy Cross. On December 26, 1919, Secretary Daniels ordered Navy's Board of Awards to reconvene on January 5, 1920 to revise their recommendations which were the source of a controversy brought to a head by declination by Admiral Sims of the Distinguished Service Medal.
According to the Trenton Evening Times of November 11, 1920:
the matter was concluded by Secretary Daniels's Armistice Day announcement. That day, became the occasion for the belated distribution of the 2,624 decorations to members of the Navy and Marine Corps who served in the World War. The awards were sent to commanding officers of all ships, stations and posts for presentation with simple ceremonies. The Daniels-Sims controversy started when Sims refused his award and charged that Daniels had showed favoritism in distribution of others, finally led to a congressional investigation of the Navy's conduct of the war. Daniels reconvened the Naval Awards Board to make a new study of naval honors and the results of the board's second report and the secretary's final actions.
Sims again was awarded the Distinguished Service Medal, which he formerly refused, but no effort will be made to present it to him. It will be held at the Navy Department for him along with the honors for two other officers who joined Sims in attacking Daniels. These officers are Captain Benton C. Decker, who was Naval attaché at Madrid during the war, and Captain Raymond D. Hasbrouck, who did not agree with Daniels policy in giving awards to officers who lost their ships, which, Hasbrouck himself lost a ship.
Daniels again refused to give the Distinguished Service Medal to Admiral Cary T. Grayson, President Wilson's physician, as recommended by the board. Grayson was given the Navy Cross. The Secretary stuck to his award of Distinguished Service Medal to Lieutenant Commander David Worth Bagley, his brother-in-law, and to Commander Percy Foote, his personal aide, which both men lost ships during the war. Daniels made a total of 29 changes in the original list of awards. The new naval awards include three Distinguished Service Medals, 311 Naval Crosses and 98 Commendations. In the Marine Corps there are two new Distinguished Service Medals and sixty-six Navy Crosses.
To commemorate the 150th anniversary of the United States Navy, October 27, 1925, coincidence with Navy Day and the birthday of President Theodore Roosevelt, the Navy League of the United States arranged for "a host of speakers throughout the country would inform the public, both in person and by radio. Naval vessels and shore stations will hold open house. Captain Raymond D. Hasbrouck was one of these speakers and gave talks before seven Rotary clubs in Montana on October 20-27, 1925."  Captain Raymond DeLancey Hasbrouck died 19 March 1926 at the Naval Hospital in San Diego, California and he was buried at sea with full honors from USS CALIFORNIA (BB 44).
For decades a magnificent, large panting of the sinking of USS COVINGTON was displayed at the Naval Reserve Center/Naval Armory in New Rochelle, New York. This corroborates her connection with the New York Naval Militia, a forerunner to the US Naval Reserve. When the New Rochelle Naval Reserve center was closed, a few decades ago, the painting of COVINGTON disappeared.
The McSorley family has enjoyed long and extensive connection with the sea services despite the losses and injuries the men have suffered.
John McSorley married Helen Daley; their only child, Thomas McSorley, was born in 1935. He too served in the US Navy. John died in 1981 at age 81, 62 years after COVINGTON's sinking, Helen died in 1994. Tom served was an active in veterans organizations on Staten Island for years and arranged a bagpiper for my father's funeral. He served in the US Navy at sea on two destroyers, USS BRAINE (DD 630) and USS ORLECK (DD 886). He was the Grand Marshal of the 2012 Staten Island St. Patrick's Day Parade. In 2005, he was awarded the Commodore John Barry Medal for his commitment to his community.[xiii]
Nicholas McSorley, John's younger brother, was a merchant seaman between the wars. He was married and had two children. Nicholas died in 1959 at age 54.
Annabelle McSorley, John's younger sister, was married to George Burkey, a US Navy veteran from 1910 to 1918. He became a civilian worked at the New York State Armory on Staten Island. Their son was a heroic Armed Guard US Navy sailor during World War II on the Murmansk run and followed his father in New York State service and also transferred to the New York National Guard.
A cousin, JoAnn Donovan, married Captain George Enright, US Navy who was Naval Attaché to Greece in the early 1950s. They had no children but are buried in Arlington National Cemetery.
Forty-four years before COVINGTON was sunk, on 4 January 1866 USS NARCISSUS ran ashore near Tampa, her boiler exploded and all hands were lost. Nearly 26 years after COVINGTON was sunk, John's nephew, Wilbur John McSorley, who was lost at sea when USS MENGES (DE 320) was struck by an acoustic torpedo fired by U 371 on 3 May 1944 in the Mediterranean Sea. MENGES survived and was towed to New York where her stern was replaced by one removed from a sister ship. Previously, my article about Ensign McSorley and USS MENGES was published in the USSC LOG.
USS MENGES (DE 320) AND ENSIGN WILBUR J. MC SORLEY, USCGR[xiv]
During World War II every family had relatives in uniform and everyone was related to or knew someone who was killed in action.  Even today, communities, universities, colleges, and private clubs have monuments and plaques listing the names of its sons who served and those who were killed.  Perhaps we only remember them on Memorial Day but when you look closely you will find those lists and the names. The impact of World War II spared few.
This is a story of the death of a relative, a Coast Guard Reserve officer, who was killed on board a destroyer escort in a U boat attack in May 1944.  We begin, however, with another family event, just a year later, when my parents were married on 5 May 1945, the last Saturday before the German surrender.  My grandmother's nephew, Ensign Wilbur J. McSorley, USCGR, was lost at sea on 3 May 1944 when U 371 attacked USS MENGES (DE 320) with acoustic torpedoes. The after end of the ship was destroyed by the explosion, to be cut away and replaced by the stern of a sister ship.  As was the practice during the war, Wilbur was declared missing in action for a year and on the first anniversary of the attack his status was changed to killed in action. Thus, his parents, my grandmother's brother James and his wife Lillian, were unable to attend the wedding because they were mourning the loss of their elder son. Uncle Jim was a World War I Army veteran; he and Aunt Lil went to their graves, more than 30 years later, unable to accept the death of Wilbur, whose body was not recovered.  But there was more pain that day.  Known only to my grandmother, a longtime family friend, who had been in the army since before Pearl Harbor, was killed in action in Germany during the end of April 1945.  His death came shortly before Germany's surrender and after he had fought with the first division in North Africa, Sicily, and then from Normandy across Western Europe. My grandmother kept that tragic news to herself all day sparing her family and friends the inevitable painful news.
MENGES, manned by an all Coast Guard crew, had intensive combat experience in the North Atlantic and in the Mediterranean Sea in the first half of 1944 and nearly was lost in a U boat attack.  She was an EDSALL-class destroyer escort was laid down by Consolidated Steel Corporation of Orange, Texas on 22 March 1943; launched on 15 June 1943, sponsored by Mrs. Charles Menges, mother of the late Ensign Menges; and commissioned on 26 October 1943 with Lieutenant Commander Frank M. McCabe, USCG, in command. After shakedown off Bermuda, MENGES spent January 1944 on "school ship" duty in the lower Chesapeake Bay. On 26 January she got underway from Norfolk for New York City, and on 31 January departed for Europe, on the first three month long deployment escorting convoys.
In addition to MENGES, Escort Division 46 included the Coast Guard-manned USS MOSLEY (DE 321), USS NEWELL (DE 322), USS PRIDE (DE 323), USS FALGOUT (DE 324), and USS LOWE (DE 325). On 28 January 1944, these vessels except LOWE and FALGOUT, had completed shakedown and started first operations as a division.  On that date, with the Commander of Escort Division 46 in MENGES, she departed Norfolk with MOSLEY, PRIDE and NEWELL, for New York, to escort a section of UGS-32 to Hampton Roads, Virginia.  They returned on February 2nd with the 23 ship convoy section they were escorting and on that date began operating under Commander, Task Force 65, which consisted of Escort Divisions 6 and 46 and USS EBERLE (DD 430).  From 3 to 19 February this task force escorted convoy UGS-32 to the Straits of Gibraltar and then moored at Casablanca from 20 to 25 February.  They began escorting convoy GUS-31 from the Straits of Gibraltar to the United States on 26 February, arriving at New York on 18 March without incident.  From the 19th to the 28th of March the division had an availability period at the New York Navy Yard, and then conducted exercises in the practice area off Montauk Point until the 31st.
MENGES, NEWELL, PRIDE, and LOWE, arrived at Norfolk on 1 April 1944, and on the third, together with MOSLEY and FALGOUT, began escorting convoy UGS-38 from Hampton Roads to Bizerte, North Africa.  The Task Force (66) consisted of Escort Division 46, two vessels of Escort Division 9, four vessels of Escort Division 21 and the Coast Guard Cutter TANEY (WPG-37).  The escort mission was carried out without incident until the early morning of April 20th, when a HF/DF bearing on an enemy transmission was obtained, indicating a submarine within 30 miles of the convoy's rear. About 2100 on 20 April, the convoy was attacked with torpedoes from some 20 or 30 German aircraft, north of Algiers in the Mediterranean.  During the engagement, five ships were torpedoed; three were sunk. One of these, USS LANSDALE (DD 426) was sunk in about four minutes. MENGES picked up 113 survivors of LANSDALE, using bowlines and her motor whaleboat for men who could not reach the ship.   NEWELL picked up the remaining 119 of LANSDALE's survivors. SS PAUL HAMILTON, an ammunition freighter, was struck first and exploded, killing all 600 men, including 498 who were part of a specially trained demolition squad en route to the Anzio beachhead.  MENGES shot down one of the attacking aircraft and rescued two of the bomber's crew.  SS SAMITE, torpedoed in the bow, was towed to Algiers. SS STEPHEN F. AUSTIN, also torpedoed in the bow, managed to reach Algiers.  SS ROYAL STAR, torpedoed aft, was abandoned by her crew, who took to life rafts arid were taken aboard USS CHASE (DE 158).
Half a month later, on 3 May MENGES was 15 and a half miles astern of the convoy chasing down a radar contact when she was hit at 0118 hours by an acoustic torpedo from U-371 (which was in turn sunk the next day by USS JOSEPH E. CAMPBELL (DE 70), USS PRIDE (DE 323) and other warships). The explosion destroyed the aft third of the ship, killing 31 men and wounding 25. Commander McCabe, however, refused to give the order to abandon ship as long as there was chance of saving her. In addition, several of the crew members jumped astride torpedoes loosened in the blast to disarm them. MENGES remained afloat.
One of the survivors has described the attack that was reported in a newspaper article. George Patrick Duffy, of Pawtucket, Rhode Island joined the Coast Guard on April 20, 1942 and was stationed around New England for a year.  "I ended up in a lighthouse in Chatham," he said. "I came home one day and said, 'I can't do this anymore. I have to volunteer for sea duty." Duffy ended up in Texas on the crew of the newly commissioned USS MENGES.  "My job was to man a 20-millimeter anti-aircraft gun on the starboard side of the ship," Duffy recalled. "I also worked the depth charge rack. Our mission was to escort cargo and troop ships to North Africa."
Duffy explained the aftermath of the attack that killed 31 and wounded 25 of his shipmates. "People were crying and yelling," Duffy recalled. "A friend of mine was cut in two when hit by a washing machine that was knocked free of its mooring and slid down the deck like a human knife. The ship tilted and began taking on water. We were preparing to abandon ship but Commander McCabe waited and the ship hung on. The steel that got twisted from the explosion swept upwards and prevented water from coming in.  We got an SOS out and then just floated in the water like a cork," Duffy continued. "The big fear was that a German sub would surface and blow us away with its deck guns. But fortunately that never happened."  Duffy and some of his shipmates landed in a hospital in Long Island where they stayed for two or three months, he recalled. The war was over for them.
Four hours later, MENGES was taken in tow by HMS ASPIRANT, and later on 3 May reached Bougie, Algeria to debark her dead and wounded. The damaged stern was cut off at Oran. On 23 June, the temporarily repaired MENGES got underway from Oran, under tow by USS CARIB (AT 82) via the Azores and Bermuda, slowed by damage to the towing gear.  She arrived at New York on 22 July. Repairs were undertaken at t the New York Navy Yard; 95 feet of the stern of USS HOLDER (DE 401), which had been torpedoed amidships by an aerial torpedo, was welded onto the bow of MENGES between 14 and 31 August.  This was the first known case of a large section of a battle damaged ship being welded to another battle damaged ship to make a complete ship.  A new crew was put aboard, except for the commanding officers and a few of the original officers and men, and MENGES departed from the Navy Yard on 16 September 1944.  She underwent a shakedown cruise from 26 September to 20 October in Casco Bay, Maine.
On 15 November MENGES steamed in convoy CU 47 from New York for Europe, arriving Plymouth, England on 26 November. She spent the next few months again on Atlantic convoy duty before joining PRIDE, USS MOSLEY (DE 321), and USS LOWE (DE 325) late in February 1945 to form the only hunter-killer group in the North Atlantic to be manned completely by Coast Guard personnel. On 18 March MENGES assisted LOWE in sinking U-866, their first target. She continued antisubmarine sweep and patrol operations until the German surrender on 7 May.
On 30 May she escorted her last convoy to Europe, CU 73, arriving Cheshire, England on 8 June. MENGES arrived back in New York on 21 June for duty as a training ship for the U.S. Coast Guard Academy, with two cadet cruises to the West Indies before arriving New London, Connecticut on 7 September. Three days later she departed for the Cape Cod area, arriving Boston, Massachusetts the 17th. By Navy Day, 27 October, MENGES was moored at Fall River, below Boston. The escort ship moved on to Green Cove Spring, Fla., in March 1946 to the 16th (Inactive Reserve) Fleet. MENGES decommissioned in January 1947 and entered the berthing area in the St. Johns River to spend the next 15 years there in reserve. By 1 January 1962, she was berthed at Orange, Tex., in the Atlantic Reserve Fleet where she remained into 1969. MENGES received two battle stars for World War II service. Stricken from the Navy Register on 2 January 1971, MENGES was sold for scrap on 10 April 1972.
Wilbur John McSorley was a native Staten Islander born in 1919.  His parents were James and Lillian McSorley.  He was educated on Staten Island and enlisted in the US Coast Guard, appointed a Warrant Officer and then commissioned as an Ensign in the US Coast Guard Reserve. His younger brother served in the US Navy during World War II in the Naval Amphibious Force. Wilbur was married to Ann F. McSorley and they lived in Suffolk, a suburb of Boston and had a son.  He died in his 25th year. The accompanying photograph is Ensign Wilbur J. McSorley, USCGR in dress whites, probably taken in 1943. Ensign McSorley was one of two Coast Guard officers killed in this attack. The other was Lieutenant Jonathan D. Grout, USCG of Bridgeport, Connecticut.
USS MENGES (DE 320) offical mail envelope with Locy Type 2z dated 05 June 1944.[xv]
USS NARCISSUS AND FIREMAN FIRST CLASS  EUGENE MCSORLEY, US NAVY
Fireman First Class Eugene McSorley, US Navy was one of 26 officers and men lost with USS NARCISSUS when boiler exploded after she grounded on Egmont Key, near Tampa Bay, on 4 January 1866. As the senior non-commissioned sailor in the ship's engine department, it is most likely he was in the engine room, tending to the boilers, when they exploded. His duties were similar to those of Chief Watertender Peter Tomich, US Navy who died in the fireroom of USS UTAH (ex BB 31) at Pearl Harbor on 7 December 1941. The first Medal of Honor signed by President Roosevelt was the posthumously awarded medal for Chief Tomich's premeditated sacrifice to save his shipmates and attempt to prevent the explosion of UTAH's boilers.[xvi]
The remains of one of NARCISSUS's firemen were found on 5 January 1866. They apparently were not identified by name but Fireman First Class McSorley was one of only three designated firemen on board the lost ship. NARCISSUS now is one of 12 designated Underwater Archaeological Preserves in Florida, scattered from the far northwestern Panhandle to the Florida Keys. The tug was one of hundreds of Union vessels taking part in the Anaconda Plan, the Union strategy to strangle Confederate commerce by blockade.
Eugene McSorley was 18 years old when he first enlisted in the US Navy for a term of one year for General Service and was rated as a Landsman on Friday, 14 November 1862. He was from Richmond County (Staten Island), where he was born, and had no prior service or occupation. The enlistment record described him as having Blue eyes, Brown hair, and a "Florid" complexion. He measured 5 feet, fire and three quarter inches tall. He would serve through the remainder of the Civil War and die after three years and a month and a half in uniform.[xvii]
NARCISSUS was a screw tug laid down as MARY COOK, at East Albany (now Rochester), New York and launched in July 1863. Two months later she was purchased by the Navy at New York City on 23 September 1863, from James D. Stevenson. A fourth rate, wooden-hulled screw tug, she was commissioned USS NARCISSUS, on 2 February 1864, at New York Navy Yard, with Acting Ensign William G. Jones in command. The vessel displaced 101 tons with a hull 81 feet, six inches long, a beam of 18 feet nine inches, a six foot draft, and a hold eight feet deep. Armed with a pair of cannon (one 20-pounder Parrot Rifle and one heavy 12-pounder) NARCISSUS had a crew of 19 officers and men and made a speed of 14 knots but regularly steamed at a more economical nine knots.
The new tug soon got underway south; and touched at Port Royal, South Carolina for fuel on 14 February, before pushing on to the Gulf of Mexico. She joined the West Gulf Blockading Squadron at New Orleans late in the month and was assigned to patrol and blockade duty in Mississippi Sound. On the morning of 24 August, she captured sloop Oregon in Biloxi Bay, Mississippi Sound, and took the prize to New Orleans for adjudication.
Subsequently ordered to Mobile Bay, she bombarded Ft. Powell as part of the Battle of Mobile Bay. NARCISSUS supported clean-up operations following the great Union naval victory there on 5 August.
While on picket duty at Dog River Bar and paying out her anchor line, she struck a Confederate torpedo off Mobile in a heavy storm on 7 December 1864. The mine exploded causing a large hole in the hull amidships on starboard side. Although NARCISSUS sank in 15 minutes, no lives were lost and all ammunition and arms were removed. Refloated on December 28th, 1864, NARCISSUS was brought to the Pensacola Naval Yard for repairs where she remained through the war.
A month later, on 12 January 1865, on board USS GENESSE at New Orleans, the cause of NARCISSUS's sinking was the subject of a Court of Enquiry instigated by Commodore Palmer. The anonymous author of a false report claiming some of the crew were absent from their station was identified and it was determined that the Commanding Officer was the author and that he was not to be worthy of an "officer or a gentleman." The charges were dismissed by the Secretary of the Navy. [xix]
Early 1865correspondence and sketches contain an account of the sinking of NARCISSUS.
Recently, a photograph of some of the officer and crew of NARCISSUS was discovered in Canada.
Al and Nina LePage of Alberta, Canada, discovered a photo of the crew. The image, depicting the officers of USS Narcissus, was taken in Pensacola. It is dated December 10, 1865, less than a month before it was lost off Egmont Key. J.M. Young, who was not on the official list of lost sailors, signed the photo.[xxii]
NARCISSUS had a new Commanding Officer, 25 year old Acting Ensign Isaac Snow Bradbury. Born on 11 August 1839 in Maine, he joined the Navy on 2 February 1862. Before given command of NARCISSUS, Bradbury served in the Massachusetts-built armed steamer, USS CAMBRIDGE on the North Atlantic Blockading squadron for three years where he participated in heavy action. On 21 September 1862 she picked up escaped slave William B Gould I off Cape Fear NC when Gould and seven other escaped slaves, then called "contraband" rowed a boat 28 miles down the Cape Fear River to sea. Gould immediately joined the Navy and served in CAMBRIDGE for the remainder of the war. Gould wrote a detailed diary, only one of three escaped slave diary's known to exist.[xxiii]
In October 1865, with the war concluded, Acting Rear Admiral Henry Knox Thatcher no longer needed so many vessels previously required for the blockade and on January 1, 1866, USS NARCISSUS and USS ALTHEA, both screw tugs, began their journey along the eastern shores of the Gulf of Mexico on their way to New York to be decommissioned and sold.
A letter written on December 11, 1865  by John Young, who was shown in the only known photographs of the officers and some men from USS NARCISSUS.[xxiv] He was not lost with NARCISSUS.
In late December 1865, Acting Ensign Bradbury was ordered to take the NARCISSUS to New York City, where he and the crew mustered out. Bradbury looked forward to returning to his Maine hometown "Old Machias."[xxv] When she began her return voyage, Eugene McSorley was a Fireman First Class, the most senior non-commissioned sailor in the Engine Department serving under four commissioned engineers. At least seven other junior sailors, mostly coal handlers, also served in the Engine Department.
NARCISSUS departed Pensacola on New Year's Day 1866, along with her consort, tug USS ALTHEA. They encountered into a fierce storm outside Tampa Bay on 4 January 1866. After running aground on a sandbar, USS NARCISSUS's boiler exploded; she was wrecked, and sank at Egmont Key with loss of all hands.
The last hours of NARCISSUS, her officers, and men is set forth in 290 Foundation's on- line blog.
According to the deck logs of USS Althea, both 'Althea' and 'Narcissus' encountered a storm off the coast of Tampa on January 4th, 1866. The commanders made the decision to anchor outside the port and wait out the storm. USS Althea headed northwest against the tide and the wind while Narcissus took a seemingly easier route to the west, feeling the brunt of the wind and tide on her starboard beam. It was during this final journey to avoid the shoals that 'Narcissus' travelling at full speed, ran aground on a sandbar. 'Althea' also briefly grounded but was able to power-up her engine to break free.
At 6:15 pm, the crew of 'Althea' noticed Coston signal flares coming from 'Narcissus'. USS Althea returned the signal at 6:30 but received no response. Thirty minutes later, 'Althea' noted more signals from 'Narcissus' but could not understand them. USS Althea returned with a final signal but again received no response from 'Narcissus'. Just after 7:00, 'Althea's' deck logs note the 'Narcissus' boiler exploded as a result of grounding on a sandbar. The crew of 'Althea' stood by in disbelief and watched USS Narcissus break up and sink into the water along with her entire crew. The next morning 'Althea' anchored off Egmont Key and noticed the beaches strewn with wreckage from 'Narcissus' along with the unidentified body of one of the firemen and the papers of Acting Ensign Bradbury and Mate L. J. Hall. USS Althea stayed in Tampa for two more days to look for survivors and finding none continued her journey to New York.
USS Narcissus came to rest on a sandy bottom with her stern pointing roughly east. Despite the violent nature of the vessel's demise in a catastrophic boiler explosion. Diving visitors to the site today will find all of the major features of the vessel still largely in their original positions, although the engine and stern assembly have both fallen over to port. The lower hull is completely buried along the centerline forward of the break in the keel near the forward end of the stern knee. Starting from the stern and moving towards the bow, are the four-bladed iron propeller and the stern assembly. The assembly is comprised of the keel, a keel rider, the inner and outer sternposts, the stern knee, two pieces of deadwood, the shaft, the shaft log, and the stuffing gland. Immediately forward of the stern assembly is a pillow block and shaft cap that would have provided support for the propeller shaft. Forward of the block is the engine and shaft assembly, fallen to port. The single cylinder engine is extremely well preserved, with the valve chest, cylinder cap, cross-head, cross-head guides, eccentrics, bell crank assembly, flywheel, and the forward end of the shaft all still in place. Pipework for the air pump and the condenser is still present, although sections are missing. The nearly intact engine, standing above the seafloor, is one of the most interesting aspects of the site. Depending upon the sand cover, visitors may also see hull structure.[xxvi]
In December 2011, The Bureau of Archaeological Research, Division of Historical Resources, Florida Department of State, initiated a proposal to dedicate the wreck site of the Narcissus as Florida's twelfth Underwater Archaeological Preserve.
Franklin H. Price, archaeologist with the Florida Department of State, wrote:
The USS Narcissus Today
Visitors to the Narcissus will see several recognizable features from the original tug. The direct-acting inverted steam engine rises four or five feet off the seabed. It's home to sponges, hydroids, schooling fish, and the occasional Goliath grouper. The pillow block, a bearing that once supported the propeller shaft, sits near the engine. Standing proud off the seafloor, the stern assembly can give a patient diver a primer on ship construction, with its keel, deadwood, stern post, sheathing, shaft log, shaft and propeller. Hull structure is often visible underneath the stern assembly, including the outer hull planking and wooden pegs, called treenails that once fastened the hull to the frames, or ribs, of the tug. Depending on sand cover, visitors can see other parts of Narcissus, such as boiler fragments left over from the explosion, and the cables from when its crew deployed anchors during the storm.
Nominated by the Florida Aquarium and South Eastern Archaeological Services, USS Narcissus is now one of Florida's 12 Underwater Archaeological Preserves. The community has rallied around the preserve, with support from dive shops, local governments and an area dive club. Like all of Florida's historic shipwrecks, USS Narcissus is protected by law. In addition, it remains the property of the U.S. Navy under the Sunken Military Craft Act of 2005. The site is not only an historic site, but a military grave. Please honor the men who lost their lives there by taking only photos and leaving only bubbles. The USS Narcissus is about 2.75 miles northeast of Egmont Key, in 15 feet of water. Divers can visit the site on local dive charter boats. To avoid damaging this historic site, please do not deploy an anchor.[xxviii]
In all, 26 men perished when Narcissus wrecked near Egmont Key on that cold day in January 1866.[xxix] They were: Commanding Officer: Acting Ensign Isaac S. Bradbury, Executive Officer: Acting Ensign Charles C. Dunbar, Crew: George Anderson, James Burns, Francis A. Case, Jacob Chism, John Chrystal, John Donnelly, Daniel Dwyer, John L. Hall, Joshua Halsall, John Hamilton, James Heenan, Edward A. Hopkins, John Jones, John Kennedy, George H. McGuire, Fireman First Class Eugene McSorley, John Ross, Branton Scoble, Barney Sheridan, R. Shoemaker, Henry Smith, William Thomas, William Wilkinson, and Columbus Williams.[xxx]
The other ship lasted another 30 years.ALTHEA, survived the heavy weather, avoided further damage and eventually headed north for decommissioning and return to merchant service.Like NARCISSUS, ALTHEA had been sunk and repaired from prior mine (torpedo) damage. Her Dictionary of American Naval Fighting Ship account details:
Too late to participate in the historic Battle of Mobile Bay, Althea busied herself in ensuing months supporting Farragut's combatant ships as they joined Army forces in operations against the city of Mobile, Alabama. On 12 April, the day Mobile finally surrendered, Althea struck a torpedo (Naval mine) in the Blake River and sank while returning from a run up that stream in which she had dragged primitive sweep gear in an effort to clear the channels of explosive devices. Two members of her crew were killed in the accident, and three others—including the tug's commanding officer, Acting Ensign Frederick A. G. Bacon—were wounded.
Raised and repaired after the Confederate collapse, Althea was recommissioned at Mobile on 7 November 1865, Acting Ensign William F. Kilgore in command. She carried out towing chores and performed other varied services there, at Pensacola, Florida, and at Key West, Florida.[xxxi]
The offical entry omits ALTEHA's short, fatal voyage with NARCISSUS and her role in recovering the remains of one fireman, flotsam, and jetsam. Eventually, ALTHEA headed north to end her naval service.
[T]owing the monitor
Sangamon
– she departed [Key West …] on 10 April 1866. After reaching the Philadelphia Navy Yard on the 18th, she was decommissioned on 25 April 1866 and sold at auction on 8 December 1866. Redocumented Martin Kalbfleisch on 10 January 1868, she served as a merchant tug until 1896.
[xxxii]
For nearly a century and a half, the wreck of USS NARCISSUS and the story of her crew remained lost. Through a joint US Navy-Division of Historical Resources – Florida Department of State project the wreck has been located, marked, and made available to divers. This memorial is a rare monument for so many sailors who "have gone down to the sea."
CONCLUSION
The 150 year old wreck of USS NARCISSUS is the only physical remain tied to the three ships in which the trio of McSorley men served and two died. USS COVINGTON was sunk in the North Atlantic. There have been no reports of attempts to locate and photograph her century old wreck.USS MENGES survived the torpedoing, was returned to New York where the stern of another damaged Destroyer Escort, replaced her badly damaged after section. USS MENGES served in the US Navy until decommissioned in January 1947; she remained in the Reserve Fleet for 24 years until stricken from the Naval Vessel Register 2 January 1971. The ship, which was built in just over seven months had served in commission for less than three years before beginning the decommissioning process in March 1946, finally was sold for scrapping on 10 April 1972, just 29 years after she was launched.
Eugene's older brother, Lewis, who was born in 1840, enlisted in the Union Army at the outset of the Civil War. He was medically discharged at Camp Butler, Virginia on 17 June 1861. He married Eliza Prenties in 1865; they had three daughters. Lewis died at age 35 on 31 July 1875. Their father, Patrick McSorley, born in 1811, emigrated from County Tyrone in either 1822 or 1835. He was naturalized on 2 November 1840, in New York. His first wife, Abbe, was the mother of the two Civil War veterans, Lewis and Eugene. Patrick was remarried on 27 January 1869 in St. Peter's Church, Staten Island, to Mary Walsh. Their only child, Joseph Leo was born on 11 April 1874. Patrick McSorley survived his first two sons and died 24 June 1877 at age 66.
Charles McSorley, the Irish-born cousin of Eugene and Lewis, also served in the Union Army during the Civil War, assigned to Company "D", 40th Battalion, New York Infantry. He was discharged near Washington DC on 27 June 1865 soon after the end of the war. His grandson, John A. McSorley, survived the sinking of USS COVINGTON in July 1918 and his great-grandson, Wilbur J. McSorley, was lost in the torpedoing of USS MENGES in May 1944. Wilbur's younger brother, James McSorley, Jr., served in the US Navy during World War II in USS LST 57. After the war, he was a rigger at the Naval Depot, Bayonne (an annex to the New York Naval Shipyard aka Brooklyn Navy Yard). He died at age 40 in 1960.
Other McSorley descendants were seafarers. Charles McSorely (1904-1964) was a deck hand on the Staten Island ferries. His son, Lawrence (1913-1976), worked on New York harbor tugs and was a World War II veteran who was stationed in Italy. During the past three-quarters of a century since the end of World War II, McSorley men and women have continued the family tradition of armed and naval service. My parents were married on 5 May 1945, the last Saturday of World War II before Gemany surrendered. My father's 173' long ship, PC 1549 returned to New York earlier that week; he was transferred and the ship went to the Pacific th evening of the wedding. A year later, my father's bestman and PC 1549 shipmate married my mother's sister further linking the McSorleys to the US Navy.
A century ago, a McSorley man survived the sinking of his ship which was torpedoed by a U boat off the French coast as it was beginning its return voyage to the United States after delivering part of the AEF. John A. McSorley was the second of three McSorley men to be on a battle damaged or sunken United States Navy ship; he was the only one to surive.Nearly 26 years later, his nephew, US Coast Guard Ensign Wilbur McSorley would be lost at sea when his destroyer escort also was torpedoed by a Uboat. The first McSorley American sailor to be sunk was Eugene McSorley who died, with all hands, in January1866 when his Navy ship ran aground and her boiler exploded.
The McSorley family's service and losses typify those of many families who immigrated to the United States in the 19th century. For a century and longer they would volunteer to serve, to fight and die; primarily these were sons who joined the armed and naval services.
Another Irish-American family, which lived in Massachussets and New York during the first half of the 20th century, had three sons who volunteered to serve in the US Navy during World War II. A 29 year old naval aviator, Lieutenant Josph P. Kennedy, Jr., USNR was killed in action on 12 August 1944. His BQ-8 "robot" (converted PB4Y Liberator) patrol bomber attached to Special Air Unit ONE  prematurely exploded before the pilot and co-pilot could parachute to safety. The aircraft was engaged in an early Operation Aphrodite misson-a joint service effort to crash explosives-laden, unmanned radio-controlled bombers into German targets. He was awarded the Navy Cross posthumously. A year earlier, his 26 year old brother, Lieutenant (junior grade) John F. Kennedy, USNR was the Commanding Officer of PT 109 when she was rammed and sunk by the Imperial Japanese Navy Destroyer, AMAGIRI causing the death of two crew members. Due to John Kennedy's personal heroism, the survivors were resuced. He was awarded the Navy and Marine Corps Medal. The final brother to serve in uniform during World War II was Seaman Robert F. Kennedy. The 17 year old high school student enlisted in the Naval Reserve in November 1943, two months after the rescue of his brother, John, and eight months before the death of his brother, Joseph. An officer candidate in the V-12 program, who studied at Harvard University and Bates College, his request to serve as a Seaman Apprentice in the newly commissioned USS JOSEPH P. KENNEDY, JR. (DD 850), and he was released from officer training on 1 February 1946. He served during the Caribbean Shakedown cruise of  the ship named in memory of his brother and was honorably discharged on 30 May 1946. He returned to Harvard as a junior in September 1946. He was appointed the Attorney General of the United States by his brother in 1961 and became the junior senator from New York in 1965 following his defeat of incumbent Sentor Kenneth Keating in the 1964 election.
In a similar manner, all three McSorley men volunteered to serve the United States at sea during war. They were young men: Eugene was only 19 and single, John was 23 and also single; Wilbur was 25, married and the father of one son.  The opening words of the Prayer of St. Brendan are a powerful reinder of sacrifice and service:
Help me to journey beyond the familiar
and into the unknown.
Give me the faith to leave old ways
and break fresh ground with You.
[i] Copyright MMXIII V by Captain Lawrence B. Brennan, U.S. Navy (Retired).  All legal and moral rights reserved; No claim to copyright is made to official U.S. Government publications and documents or item in the public domain. This article may not be copied or reprinted in any form whatsoever without the prior, express written consent of the copyright holder.
[ii] player.fm/series/history-author-show/rafe-bartholomew-two-and-two-mcsorleys-my-dad-and-me and Joseph Mitchell's famous 1940 piece in the New Yorker: "The Old House at Home'.
[iii] The author's maternal grandmother, Catherine L. McSorley, was the daughter of John McSorley and Catherine Meade. Her paternal grandfather, Charles McSorley, was born in Ireland in 1848 and a Civil War veteran, Company "D" 40th Battalion, NY Infantry. He was discharged in late June 1865 near Washington, DC. In 1866, he married Mary Mullen who had been born in Ireland in 1844. He died on Staten Island at age 38 in 1886, as the result of an industrial accident. His parents, also born in Ireland, were Charles, born in 1812, and Catherine Murray, who died prior to 1860, both arrived in the United States in 1853 on ISAAC WRIGHT, along with four sons. The author's elder daughter, Mary Kate Brennan, Esq., is the seventh generation Staten Islander.
[iv] player.fm/series/history-author-show/rafe-bartholomew-two-and-two-mcsorleys-my-dad-and-me and Joseph Mitchell's famous 1940 piece in the New Yorker: "The Old House at Home".
[v] Commander William F. Halsey, Jr., US Navy was awarded the Navy Cross for his service as Commanding Officer of two destroyers during World War I.
AWARDED FOR ACTIONS DURING World War I
Division: U.S.S. O'Brien & U.S.S. Shaw
CITATION:
The President of the United States of America takes pleasure in presenting the Navy Cross to Commander William Frederick Halsey, Jr. (NSN: 0-5035), United States Navy, for distinguished service in the line of his profession as Commanding Officer of the U.S.S. O'Brien and the U.S.S. SHAW, engaged in the important, exacting and hazardous duty of patrolling the waters infested with enemy submarines and mines, in escorting and protecting vitally important convoys of troops and supplies through these waters and in offensive and defensive action, vigorously and unremittingly prosecuted against all forms of enemy naval activity during World War I.
valor.militarytimes.com/hero/10313
[vi] Admiral Halsey's Story, Page 34.
[vii] David A. Kent, editor-in-chief, USCS Postmark Catalog (5th ed. 1997)  p.C-28 .
[viii] Former resident of Lee, Massachusetts, Joseph Edward Roche who was born in Pittsfield, Massachusetts on January 27, 1899. He was the son of James Roche and Margaret Navin. Joseph E. Roche would live the rest of his in Massachusetts and would pass away on March 10, 1976 in Arlington, Massachusetts. This story was written by Mr. Roche in a diary that he kept during his time in the Navy and was not brought to light until after his death.
[x] She was an Italian-flag passenger ship chartered by the United States Navy and operated with US Navy Cruiser and Transport Force. In 1928, the liner was sold to the Japanese firm of Nippon Yusen Kaisha (NYK) and renamed ASAHI MARU. In 1937 she was converted into a hospital ship. In 1940, she had one of her funnels removed. On 24 January 1942, the hospital ship was hit by gunfire during the Battle of Java Sea from USS JOHN D. FORD (DD 228) , during an incursion on Balikpapan. On 5 February 1944, SS ASAHI MARU was damaged in a collision in the Japanese Inland Sea. She was scrapped in 1949.
[xi] SS WILHELMINA, sailing under the White Ensign, was in Convoy HX 90, steaming from Halifax, to Liverpool on 2 December 1940 when the German submarine U-94 which sunk her with two torpedoes.
[xii] Should read Staten Island, New York. Payne and my uncle both were from West Brighton or West New Brighton, Staten Island, New York. It is probable that they knew each other since the population of Staten Island at that time was modest.  Only after the opening of the Verrazano-Narrows Bridge [spelling corrected in light of 2018 legislation] in 1964 did the population explode from about 60,000 to half a million.
[xiii] www.silive.com/news/2012/02/thomas_mcsorley_named_parade_g.html
[xiv] Sources:
www.uscg.mil/history/webcutters/Menges.asp
Dictionary of American Naval Fighting Ships, (1969) Vol. 4, pp. 322-323.
Edgar M. Nash, World War Two USCG Warriors of USS Menges, DE 320. Privately published, 2003. [A publication put together by a MENGES veteran and includes copies of official documentation and reports and reminisces of some of her crewmen.]
Scott Price, "Battle in the Mediterranean." Commandant's Bulletin (July, 1994), pp. 24-29.
United States Coast Guard. The Coast Guard at War. V. Transports and Escorts. Vol. 1. Washington: Public Information Division, Historical Section, U.S. Coast Guard Headquarters, May 1, 1949, pp. 123-25.
[xv] www.navalcovermuseum.org/wiki/File:JonBurdett_menges_de320_19440605.jpg
[xvi] See my 20xx article "FROM THE STARBOARD DELTA:      " Universal Ship Cancellation Society LOG,
[xvii] Enlistments at New York in 1862, Return of the United States Naval Rendezvous at New York for the Week ending, Saturday, November 15, 1862.
[xviii]www.google.com/search?q=uss+narcissus&source=lnms&tbm=isch&sa=X&ved=0ahUKEwj0ibySp9jbAhUNrVkKHRV2DwIQ_AUICigB&biw=1680&bih=936#imgrc=_
[xix] The language of Secretary Wells may be viewed as imprecise. Because the endorsement was on the action of a Court of Enquiry, not Court Martial, there was no jurisdiction to direct dismissal of an officer.
[xx]books.google.com/books?id=RwpAAAAYAAJ&pg=PA752&lpg=PA752&dq=uss+narcissus+torpedo+sinking&source=bl&ots=_hPE5IiEv8&sig=DyvVbqPSw7fepqZl3blbWdcZMc&hl=en&sa=X&ved=0ahUKEwjLw_Dh_afZAhUCI6wKHdSjAw0Q6AEIQzAG#v=onepage&q=uss narcissus torpedo sinking&f=false
[xxi] www.swanngalleries.com/3dcat/2473/51/
[xxii] This column originally ran in the October 2014 issue of the Civil War News. civilwartalk.com/threads/unusual-circumstances-1861-civil-war-letter-found.143013/page-2
[xxiii] museumsinthesea.com/narcissus/index.htm
[xxiv]www.pinterest.com/pin/499829258639231386/sent/?sfo=1&sender=499829396052446509&invite_code=02ed6d67433d43bca664cb2567e9076a
[xxv] . Report of Acting Rear-Adm. Henry Knox Thatcher, December 31, 1865, ORN I, 22: 261-63
[xxvi] sites.google.com/site/290foundation/history/uss-narcissus
[xxvii]www.google.com/search?q=uss+narcissus&source=lnms&tbm=isch&sa=X&ved=0ahUKEwj0ibySp9jbAhUNrVkKHRV2DwIQ_AUICigB&biw=1680&bih=936#imgrc=hJLcBwq38EijaM:
[xxviii] A Proposal to Establish the Shipwreck USS Narcissus as a State Underwater Archaeological Preserve. Bureau of Archaeological Research. Division of Historical Resources. Florida Department of State. Kurt S. Browning, Secretary of State. December 2011.   www.google.com/search?q=uss+narcissus&source=lnms&tbm=isch&sa=X&ved=0ahUKEwj0ibySp9jbAhUNrVkKHRV2DwIQ_AUICigB&biw=1680&bih=936#imgdii=FOegygi3JgCbmM:&imgrc=njhLYcc-fcBupM:
www.google.com/search?q=uss+narcissus&source=lnms&tbm=isch&sa=X&ved=0ahUKEwj0ibySp9jbAhUNrVkKHRV2DwIQ_AUICigB&biw=1680&bih=936#imgrc=njhLYcc-fcBupM: Link broken
[xxix] . (USS Narcissus Muster Roll 1865; Kilgore 1866; New York Herald-Tribune 1866:5
[xxx] www.divenewswire.com/eternal-reefs-helps-create-uss-narcissus-underwater-memorial/
[xxxi] USS ALTHEA entry Dictionary of American Naval Fighting Ships, on line. Last visited 26 June 2018.  www.history.navy.mil/research/histories/ship-histories/danfs/a/althea-i.html
[xxxii] USS ALTHEA entry Dictionary of American Naval Fighting Ships, on line. Last visited 26 June 2018.  www.history.navy.mil/research/histories/ship-histories/danfs/a/althea-i.html