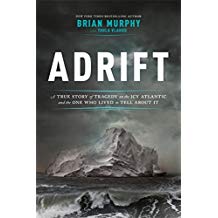 Adrift: A True Story of Tragedy on the Icy Atlantic and the One Who Lived to Tell About It
Brian Murphy with Toula Vlahou
New York: Da Capo Press, 2018
240 pp., Bibliography, Map, and Illustrations
If in the mid-19th century an ocean crossing wasn't the blind leap into the unknown that it had been at the dawn of 16th, 19th century sailors still braved open salt water without weather forecasts, without ship-ship or ship-shore communications; without electric light, heat or refrigeration; in vessels without water-tight compartmentation; and reliant entirely on open ship's utility boats if they had to abandon ship, and in such case on whatever drinking water, provender, and supplies they could hastily take on board.
Moreover, the 1850s were exceptionally hard on shipping moving under sail or by steam in the sea lanes between Europe and North America.  In that decade, among the many ships that either suffered disaster or narrowly escaped it, were at least twenty-five vessels whose nemesis was icebergs calved off northern glaciers and silently drifting south to congest open water with their enormous bulk—intrusions that seem to have been prompted by atypical weather.  The greatest loss of life in that epoch from one such collision between ship and ice was suffered by the Inman Line's nearly new steam barque SS City of Glasgow, sailing out of Liverpool for Philadelphia in the spring of 1854.  Of the 480 lost off the barque that March without a trace, nearly 300 were emigrants, traveling in steerage.
For his fourth book, Washington Post journalist Brian Murphy has chosen another such tragedy to describe: the tale of the packet John Rutledge, Captain Alexander Kelley, out of Liverpool on January 16, 1856 for New York, sunk after collision with an iceberg off Newfoundland a month later.  All but one of Rutledge's 119 souls on board died February 19-20, most of exposure in ship's boats hastily launched in anticipation of the packet's sinking.
Such a catastrophe at sea—a ship holed, the vessel entirely alone, drifting on freezing water; frightened crew and passengers suddenly forced to flee into boats; and all but one soon to  inevitably die of exposure—is great drama; the stuff of a great story, and Murphy does it well (excepting a tendency to lubberly vocabulary: "shift" in place of "watch;" the surveyor's "rod" as a measure of distance at sea, etc.), but what he's done is to write fiction.  His sources are evidently too thin to carry him through, and as he concedes in a frank and forthright note, the specific scenes set and the dialogue uttered are almost all the products of informed imagination.
For less imaginative but much more exciting shipwreck story-telling, I recommend you first read one or another of my three personal favorites:
Batavia's Graveyard, the True Story of the Mad Heretic Who Led History's Bloodiest Mutiny, by Mike Dash, a brilliant telling of the story of the wreck in 1629 of the Dutch East Indiaman Batavia on Morning Reef off western Australia; of the mutiny by her supercargo, and of her captain's epic sail to seek relief.
The Wreck of the Medusa, the Most Famous Sea Disaster of the 19th Century, by Jonathan Miles, a gripping account of the grounding in 1816 of the French flagship Medusa off the West African Coast, on a fumbled post-Napoleonic War mission to re-establish a French colony. The suffering of her cast-aways was made famous in a contemporary painting by Theodore Gericault.
And finally, Lost at Sea, by Patrick Dillon, the superb story of the mysterious simultaneous losses of the crabbers Americus and Altair, both out of Anacortes, Washington, in February 1983 somewhere in the Bering Sea, and the silent disappearance of all 14 crewmen on board.
Captain Andrew Jampoler, USN (Ret), was the author in 2010 of Horrible Shipwreck! A full, true and particular account of the melancholy loss of the British convict ship Amphitrite, the 31st of August 1833, off Boulogne, When 108 female convicts, 12 children, and 13 seamen Met with a watery grave, in sight of thousands, None being saved out of 136 souls but three!, published by the Naval Institute Press.