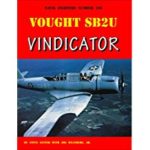 Ginter, Steve with Joe Weathers, Jr. Vought SB2U Vindicator.
2018. 249 pp. Ill. $52.95.
Number 106 in the successful Naval Fighters series, this new book is one of a few dedicated to Vought's dive-bomber that saw very little combat but flew under at least three colors—U.S., French and British. Perhaps best known for its brief and violent participation in the Battle of Midway in June 1942 with the U.S. Marine Corps—one of whose pilots received a posthumous Medal of Honor—the SB2U was a late 1930s design that included two crewmen, very light defensive armament—a single rearward facing .30-caliber machine gun and a similar weapon firing forward in the starboard wing These light guns and its slow speed almost certainly doomed the SB2U to destruction from enemy defenses.
Following the series' long-established format, this book shows the aircraft in all aspects, and given the number of model kits available, the later one of admirable detail, as well as the unique advantage of having a beautifully restored example at the National Naval Aviation Museum–from which to shoot a walk-around selection of close-up details–in Pensacola, Florida, any ambitious modeler should produce a fine replica.
There are quite a few first-person memories of the Vindicator, which, by themselves, place this book in a rather unique position to let the reader get to know this rare, but historic naval aircraft.
All in all, a fine addition to this open-ended series.
Peter Mersky is a former US Navy commander who was the assistant editor, then editor, of Approach, the Navy and Marine Corps aviation safety magazine, for 16 years, and he has also reviewed more than 400 books on military aviation. Peter has now retired from service and is a full time aviation writer.