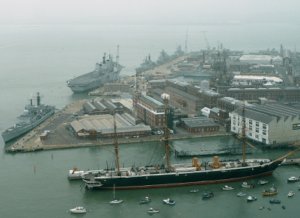 NHF Exploring Membership UK Tour to include
Royal Navy Museum and World War I Conference
NHF is offering a unique opportunity for members to travel to Great Britain from November 5-10, 2018. Members will tour the National Museum of the Royal Navy in Portsmouth with its historic ships and participate in a landmark naval history conference titled the First World War at Sea: Conflict, Culture and Commemoration at the National Maritime Museum at Greenwich.
The tour will be led by renowned British naval historian Brian Lavery, accompanied by NHF historian Dave Winkler. Considered one of the world's leading naval historians, Lavery has worked at the Chatham Historic Dockyard and at the National Maritime Museum developing informative exhibits and has served as a consultant on movie projects such as Master and Commander and numerous television documentaries. However, he is best known for authoring over 30 books and many more articles covering a broad swath of naval history and tangential topics such as his recently acclaimed Churchill Warrior: How a Military Life Guided Winston's Finest Hours. 
For the first day of the tour, the group will take a motor coach from London to Hatchlands House, built by Admiral Boscawen in the 1750s on the proceeds of prize money. The group will then have the opportunity to view Portsmouth harbor and the Isle of Wight from the top of Spinnaker Tower followed by a walk through Old Portsmouth, with special attention paid to the assassination of the Duke of Buckingham, Jane Austen's Fanny Price, and Nelson's last walk. The day will conclude at the Still and West Inn at the harbor mouth.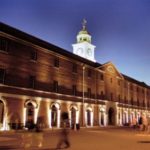 Following breakfast the next morning, Lavery will lecture on the historic ships of Portsmouth, followed by a guided tour of the Mary Rose by Chris Dobbs, one of the original divers. After lunch in the Midships Cookhouse restaurant in the dockyard, our host will provide a guided tour of HMS Victory and then the group will have free time to see the other museums in Portsmouth, including the Royal Naval, Royal Marines, Priddy's Hard, Submarine Museum, and D-Day Museum.
On November 7, Lavery will offer a talk on Portsmouth Harbour and the Solent followed by a tour of HMS Warrior. After lunch in the Loch Fyne Restaurant in the Gunwharf, the NHF tour group will conclude its visit to Portsmouth with a harbour tour and Solent cruise in the sailing barge Alice. The group will then re-board the motor coach to Greenwich to either independently sightsee or participate in the World War I at Sea conference scheduled for November 8-10 featuring keynote papers given by Professor Andrew Lambert, Professor Jan Rüger, and Matthew Seligmann.
Costs for the trip are determinant on the number of attendees and single-double occupancy. To express interest or ask questions, contact Dr. Winkler at dwinkler@navyhistory.org no later than June 4, 2018.